If you
follow me on Instagram
or if you like
the Babysavers
 Facebook page
you may have noticed that I was recently in Florida. My husband and I, along with our kids, my sister and her family spent last week together on a Disney vacation.
Our trip was fantastic, and one thing that simply made several aspects of the vacation easier was my new Sony Xperia Z2 tablet.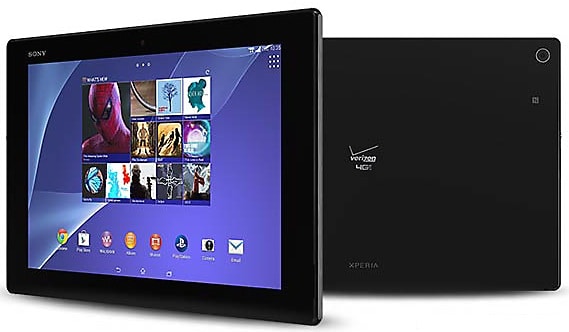 Since my Sony Xperia Z2 has access to Verizon's super-fast 4G LTE network, I was able to all sorts of things that just lightened the heavy load that often goes along with traveling with young children.
1. Airport Parking Check: The Minneapolis airport has a really cool airport parking site that shows exactly how much parking space is available at any given time. I was able to check MSP Airport Surepark while my husband got behind the wheel. That allowed us to determine if we should park in our airport's budget parking or if we should head to an offsite park and fly.
2. In-Flight Entertainment: While our everyday routine usually keeps our kids separate from our phones and tablets, travel is a huge, gigantic exception to plenty of parenting rules. That includes our technology rule. I loaded up the Xperia Z2 tablet with a few kids movies and packed a headphone splitter with two pairs of headphones. That was enough to keep Haiden and Piper entertained and happy for our flights to and from Florida. As the parent of those two kids, I really can't ask for more than that!
3. Reward hotel reservations: Between James and I, we had a lot of IHG reward points to redeem for free accommodations. But the hotels that gave us the most value for our points weren't the closest to the Disney World area. Instead of booking a hotel and regretting the distance for the rest of the week, we decided to start out with a few nights at one hotel, then make more reservations after we arrived. The IHG app is a bit difficult to use on a smartphone, and I had far better luck logging into our accounts and making the rest of our reservations on the Xperia tablet.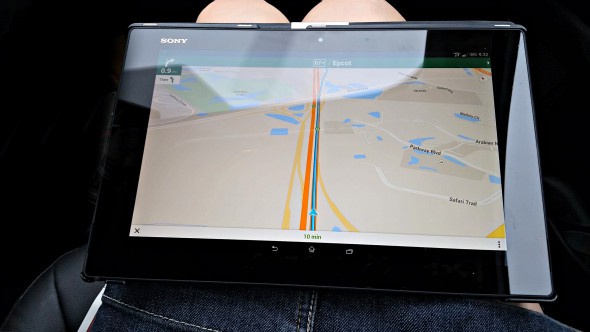 4. Synced Navigation with Google Maps: My husband is used to his GPS, I'm accustomed to either Google Maps or VZ Navigator, but I really fell in love with Google Maps on this trip.
Because the Xperia Z2 is an Android tablet, it syncs with my Google account. That's the same account I use on my phone and my computer. Each night, I looked up all the addresses we'd need for the following day, then input them using my computer and the maps.google.com site. If I was just searching for something on my phone, I'd use Google Maps to find locations, drive times and more.
When we needed navigation while on the road, I could just open the Google Maps app on the tablet and all the addresses would be there. The surround sound speakers made it easy to hear the turn-by-turn directions, even with the car stereo on. The synced navigation seriously eliminated a huge source of stress from our entire vacation.
If I'm being completely honest, I think any functioning tablet (especially one on Verizon's network) would do for us what the Xperia Z2 did. At the same time, the Xperia Z2 just feels good. It's light, sleek and has a super streamlined feel. Plus, it makes using an Android tablet an easy experience. If you haven't had the chance to see it in person, check out the Sony Xperia Z2 tablet, and be prepared to be amazed!