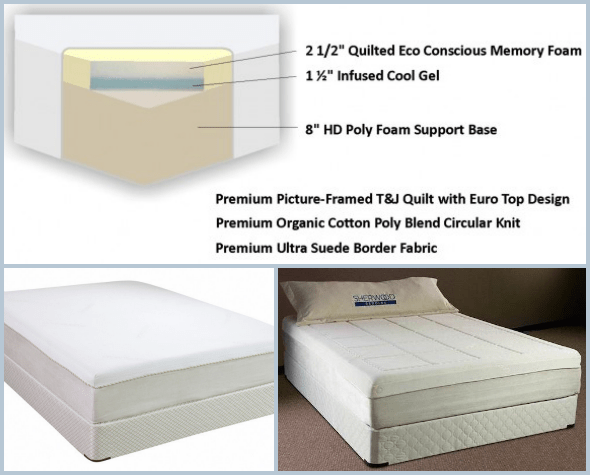 I don't know about you, but I feel like I'm always hearing that plenty of sleep is essential for optimum health. I also know I'm just not the only one who really has to work to get enough rest every night.
Note: This fantastic memory foam mattress is no longer available, but I have other recommendations! Take a look at my Nectar mattress review and Zoma mattress review posts to see my honest thoughts about both of these bed-in-a-box brands.
About a year ago, I found myself waking up each morning with uncomfortable aches and pains, especially across my neck, shoulders and back. I have a pretty high pain tolerance, so it didn't seem like something to complain about until my husband confessed that he had never liked our mattress, but now he was finding it increasingly uncomfortable.
I'm embarrassed to say that I chose to live with an uncomfortable bed, an unhappy husband and my own aches and pains because I couldn't stand the thought of stepping into a store and dealing with mattress salespeople.
The last time I shopped for a mattress was 10 years ago. I'm still a bit traumatized by the aggressive salesperson who grilled me about how much I valued myself, and how much I could "afford." After fighting off all the add-on costs that were shoved in front of me I decided that mattress shopping was probably my least favorite thing to do.

Then a blogging friend introduced me to the owner of ZZZ Sleep Products, and that turned into an offer to review one of their mattresses. I admit, I was excited about the possibility of a new mattress, but I was hesitant. After all, we're talking about something I would be sleeping on. My bed is the single spot where I spend most of my time! I wasn't familiar with the store. I couldn't try the mattress before getting it, and I didn't even know where they came from!
I was encouraged to read up on the brand and ask any questions to become comfortable with their products. I was impressed and totally on board for getting a new mattress. Then, I had an impromptu chat with the owner of ZZZ Sleep Products and now I'm convinced that I'll never buy a mattress in a furniture store ever again!
Why You Shouldn't Buy a Mattress from a Furniture Store:
Mattress manufacturers and furniture stores make it impossible to comparison shop: Every mattress brand supplies each chain store brand with near-identical mattress models. But they change things like color and quilting pattern so they can assign unique product numbers for each store. This makes it close to impossible to make an apples-to-apples comparison of models among different stores.
Mattress manufacturers incentivize sales for different brands and models at various times throughout the year. Since the rewards change depending on the season, you can bet that salespeople are pushing products based on their own income potential, not on what's best for you, the customer.
Product Descriptions are Confusing: One company's description of "ultraplush" may be exactly the same as another brand's "supersoft". Throw in the fact that brands are deliberately renaming similar models and you realize there's no way to truly understand how one product compares to another.
You're subjecting yourself to upselling tactics: Salespeople are notorious for convincing you to add in extras that increase your overall expenses. This is a really big reason why I don't want to shop in furniture stores! Delivery, extended warranties, protectors, and other "suggested" buys can greatly increase how much you spend.
Why You Should Buy a Mattress from ZZZ Sleep Products:
ZZZ Sleep Products only sells mattresses from a nationally known supplier. I can't share the name of the stores where they're sold, but I can tell you that the mattresses you see on ZZZSleepProducts.com are identical to those you might see in physical and online stores at far higher prices. In fact, I actually looked at one of them in a furniture store while shopping for twin mattresses several months ago!
Mattresses from ZZZ Sleep Products are made with premium materials. Here are just a few facts:
Mattresses from ZZZ Sleep Products are made from organic, sustainable fibers and innovative, naturally derived foams. Their formula is recognized for its purity and quality.
ZZZ Sleep Products doesn't use fillers to artificially increase density in their memory foam.
They don't use solvent-based adhesives, formaldehyde or other harmful volatile organic compounds (VOCs) in their manufacturing process.
Mattresses from ZZZSleepProducts.com are made to far higher standards than what the US requires. All their memory foams are tested, approved and certified to exceed our national standards and criteria for sales, meaning they only strive to sell the highest quality products.
ZZZ Sleep Products stands by their mattresses: They offer a 120 day satisfaction guarantee on all mattresses. In short, if you don't like your mattress after you've tried it, you have 120 days to return it for a full refund. Further, ZZZSleepProducts.com gives every single one of their mattresses a 10 year warranty against manufacturing defects. 10 years! The combination of the guarantee and the warranty certainly only come from a company that stands behind and believes in their products.
ZZZ Sleep Products is an American company: ZZZ Sleep Products has been based in Verona, Mississippi since it was founded in 2005. Mattresses from ZZZ Sleep Products are manufactured in efficient, state-of-the-art factories in both the United States and China, and they're distributed from from their huge warehouse in Mississippi.
ZZZ Sleep Products is offering amazing deals on mattresses right now with FREE Shipping! Use the ZZZSleeproducts.com promo code babysaverslaborday14 and you can get a queen-size mattress from just $289 with FREE shipping. I don't think I need to tell you how amazing that price is. Read on for more details on the best deals.
ZZZ Sleep Products Review
I've been using the 12″ Gel-Memory Foam Mattress, and I'm not exaggerating when I say the difference between this and our old mattress is incredible.
I'm not just saying that. If I didn't like the mattress, I'd tell you. But I'm in disbelief at exactly how great this mattress really is, especially in comparison with the inner-spring mattress I've been using for the last decade.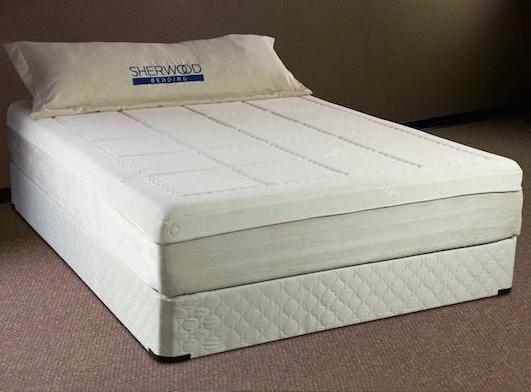 I've heard that memory foam can be warmer than a traditional mattress. I use an electric blanket in the summer, so I wasn't worried about that 🙂 My husband, however, is extremely warm-blooded, so I figured he would be most comfortable with the addition of gel.
What does the gel in memory foam do? Memory foam combines with a layer of cool-action gel memory foam for a cooler, more comfortable sleep experience. The gel is designed to dissipate heat and keep our bodies at optimal sleep temperatures.

This gel mattress is manufactured in a way that improves quality while reducing both cost and environmental impact. Mattresses are made in a vacuum-sealed chamber where heat, humidity and barometric pressure are precisely controlled.

This production process produces a higher-quality foam, enhanced performance and strength, plus it elimiates inconsistencies in cellular structure.
How to get the best deal from ZZZSleepProducts.com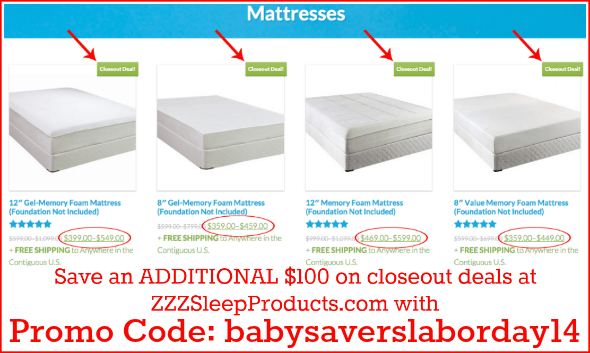 Right now, ZZZSleepProducts.com is making room for their newest models so they're offering all of my readers an extra $100 off their already low (insanely low!) priced "closeout deals" mattresses. If you're looking at the mattresses on the website, they're any of the products that have the green box that says Closeout Deal.
Let me tell you, the mattress I'm using from ZZZSleepProducts is a closeout model. I can only say good things about it, and it's actually far exceeded my expectations! If I needed another mattress, I wouldn't hesitate to buy one of those closeout deals.
I also have word straight from the owner that they need more warehouse space for the "tan and brown" models, so the white mattresses need to go.
First, these all ship for FREE. That's a huge savings right off the bat if you've ever had to pay for delivery from a furniture store.
Even better, you can use ZZZSleepProducts.com promo code babysaverslaborday14 to save an extra $100 off the price of any of the mattresses listed as a Closeout Deal.
If you use that promo code, you can get a queen-size mattress from just $289 with free shipping. A full-size mattress is just $259!
If you want a bigger or thicker mattress or one with gel, the prices do increase, but none of these mattresses will cost more than $499 after the promo code is applied.
The promo code is only available for a through Midnight CST on Labor Day (9/1/14), and it's only valid for closeout deals. When those mattresses are sold out, the deal is over.
I'm more than happy to answer questions about ZZZ Sleep Products, and if I don't know the answer, I'll find out what you need to know!
Have you ever had a bad experience buying a mattress? I have to say, after my excellent experience with ZZZSleepProducts.com, I can honestly tell you that I'm never buying a mattress in a physical store ever again.