Looking for really honest Zoma mattress reviews or wondering if the Zoma sports mattress is worth it? This is a really comprehensive post with everything you need to know before you spend your money!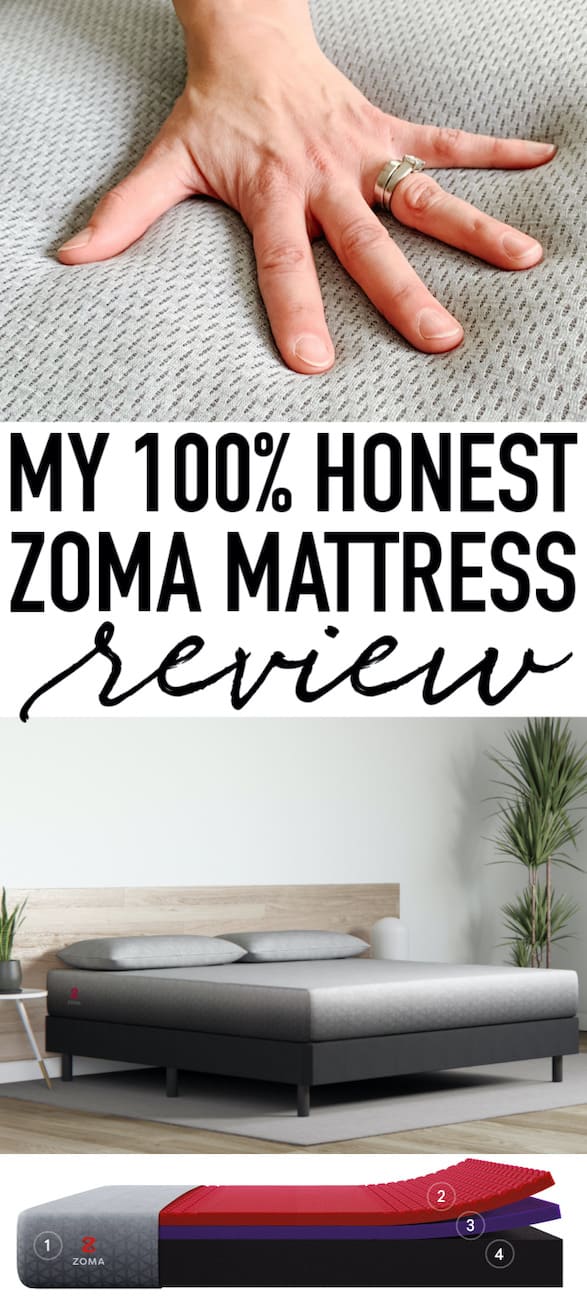 Use Zoma promo code WIN100 to save $100
PLUS get free shipping and free returns on your Zoma mattress!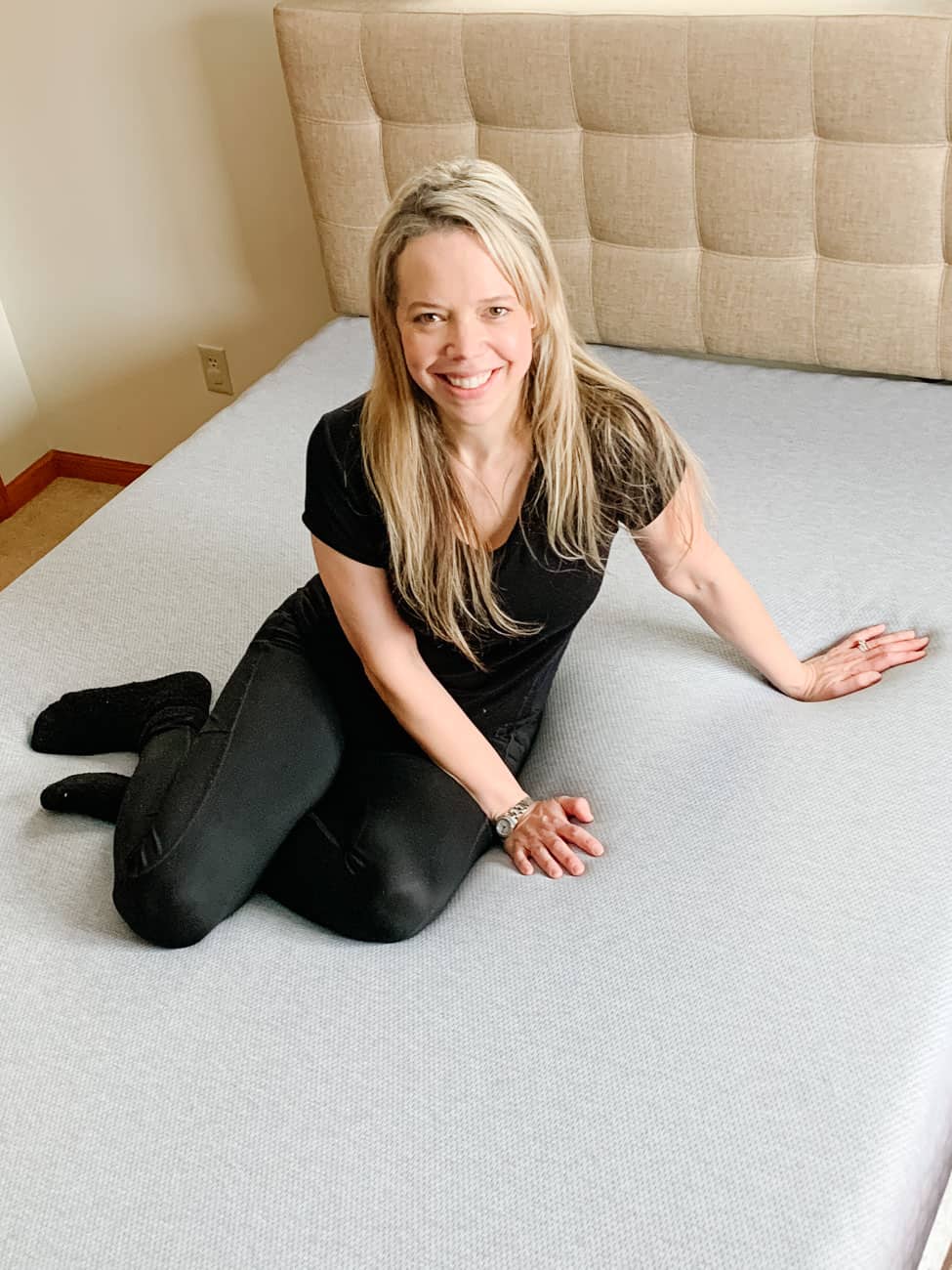 I always love to read articles about spending and saving money, and I especially love hearing opinions about which products are "worth it."
I want to know when I should consider quality over price, and when I can just sort price from lowest to highest and be fine with whichever one I choose. (Hello store brands!)
I recently heard something that made so much sense when it came to how much thought you should put into buying something:
Don't skimp on things that separate you from the ground.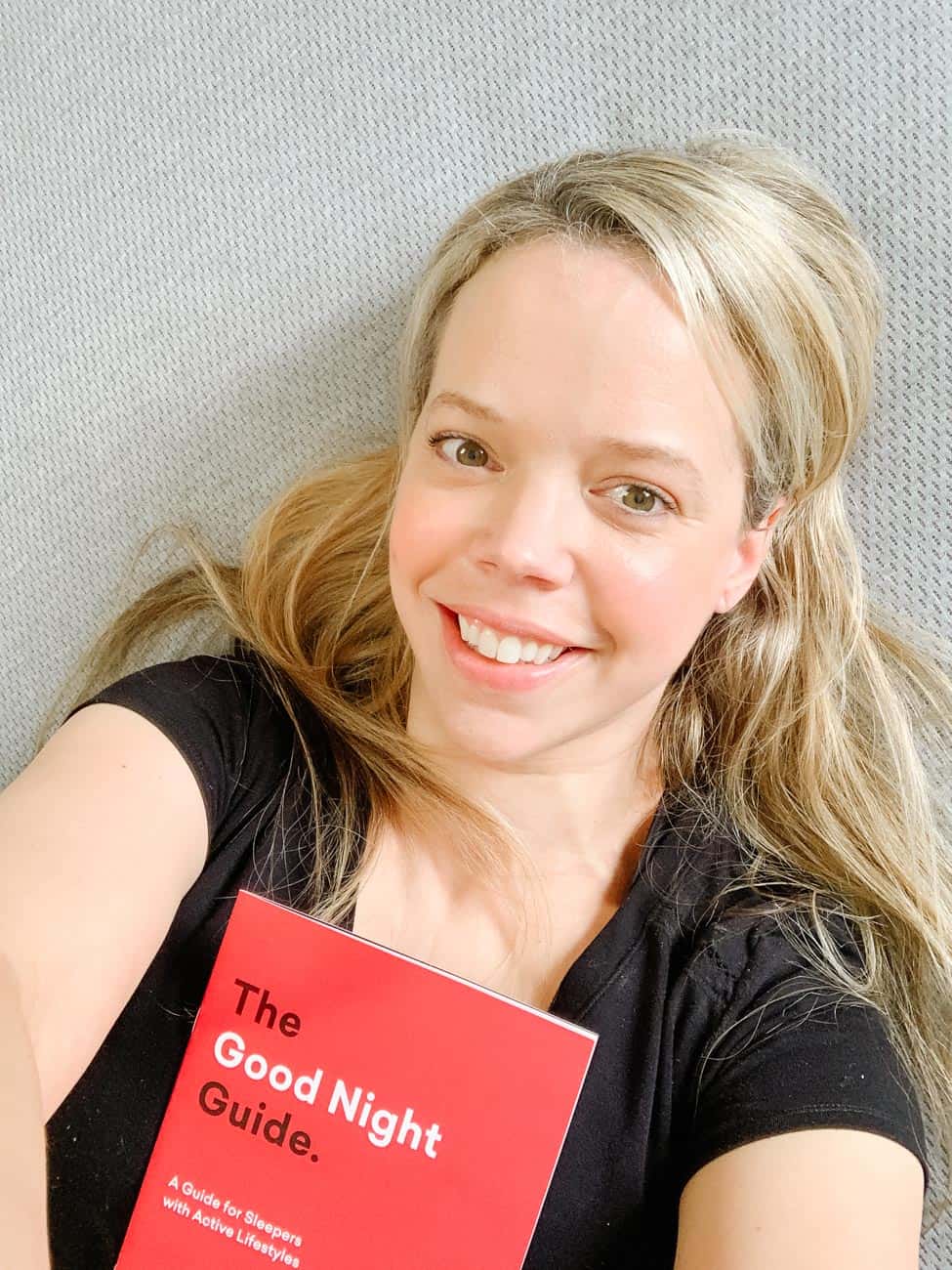 What does that mean? It means things like shoes, tires, beds and desk chairs are all things that affect your safety and/or your comfort. They're important to your well-being, and it's not in your best interest to buy them without doing your research.
There are certainly exceptions, but I can appreciate the message, and it does make me rethink how I consider certain products in my life.
My bed, for example. My husband and I had been sleeping on a discontinued brand of mattress for several years when we realized it wasn't working for us anymore.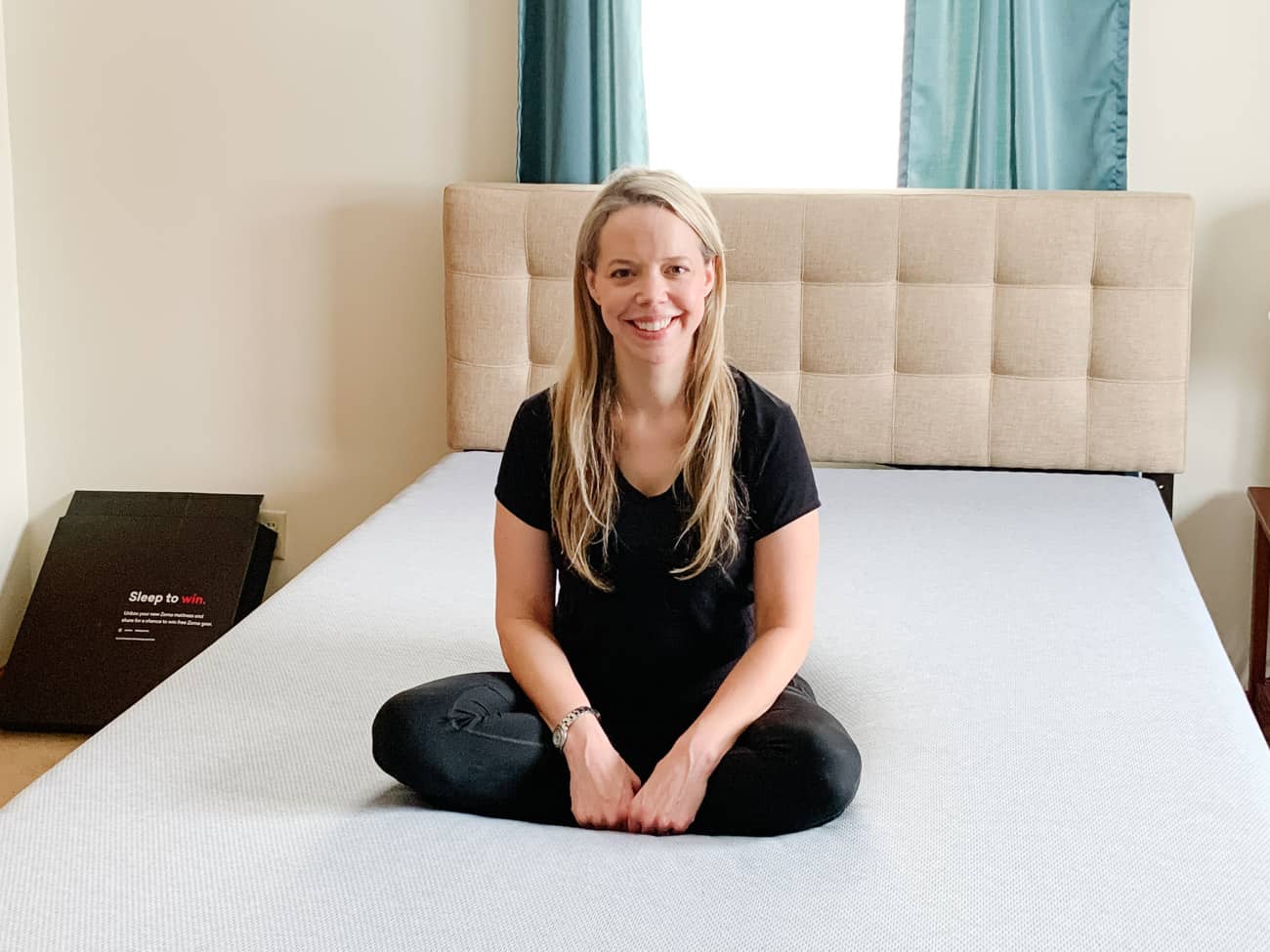 I was waking up with an aching neck, and my husband didn't feel as well-rested. There was also a new development. We were both also super hot in the middle of the night, every night.
The old mattress had started to sag a lot in the exact positions where we slept. In short, it was time for a new mattress.
Zoma sent me a queen size Zoma sports mattress to review, and I'm so happy to share our experience with it!
Be sure to check out all my other honest product reviews.
Zoma mattress review
My Zoma sports mattress review consists of four parts:
What is a Zoma mattress?
Zoma Mattress video review and unboxing
What I like about the mattress
My Zoma mattress experience
What I don't like about the mattress
Zoma mattress FAQ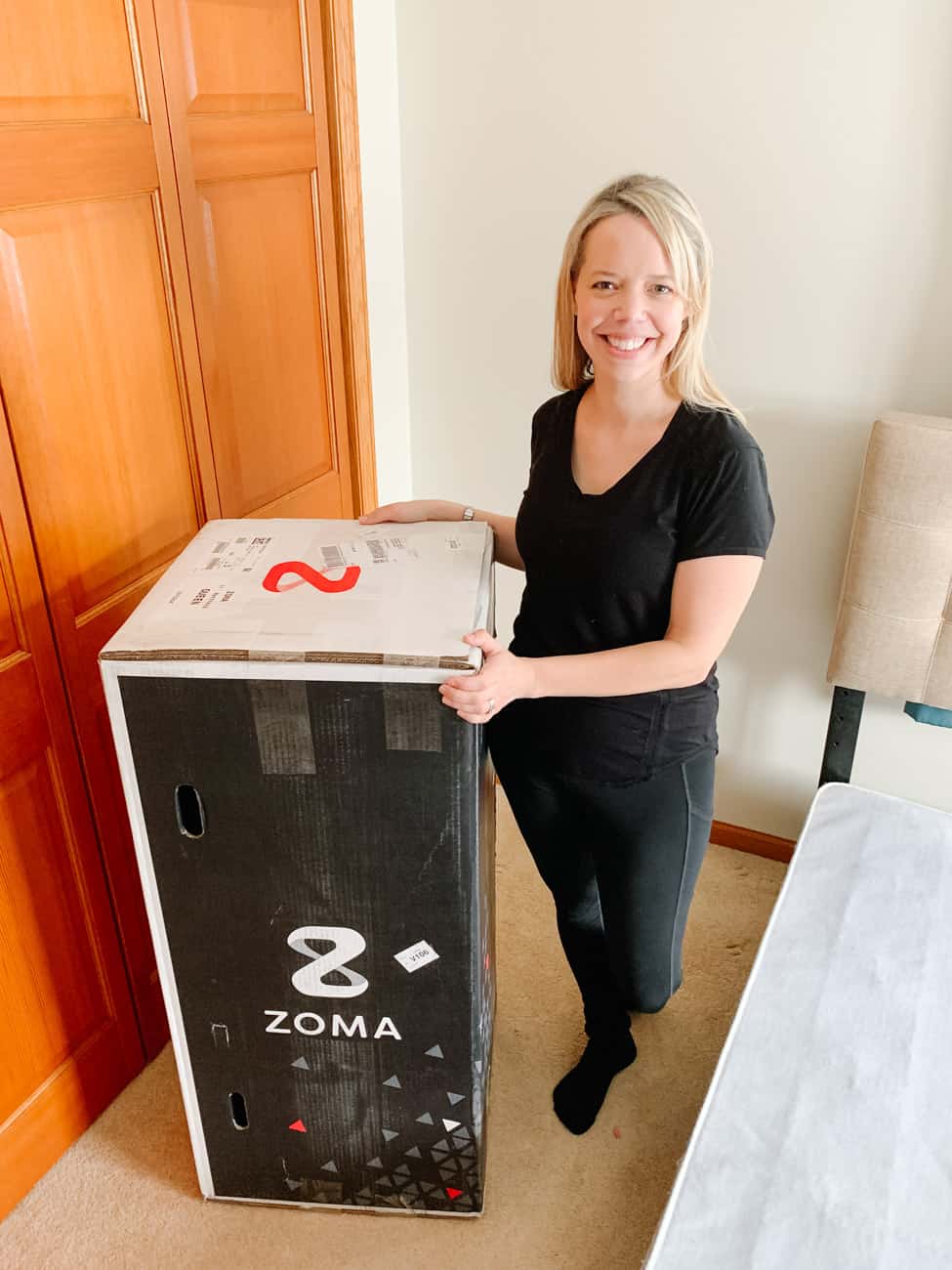 What is a Zoma mattress?
Zoma is a memory foam mattress designed to help you sleep better so you can do more with your day.
The brand is approved by athletes and backed by years of research, design and testing. It delivers enhanced rest and rejuvenation for individuals with demanding lifestyles.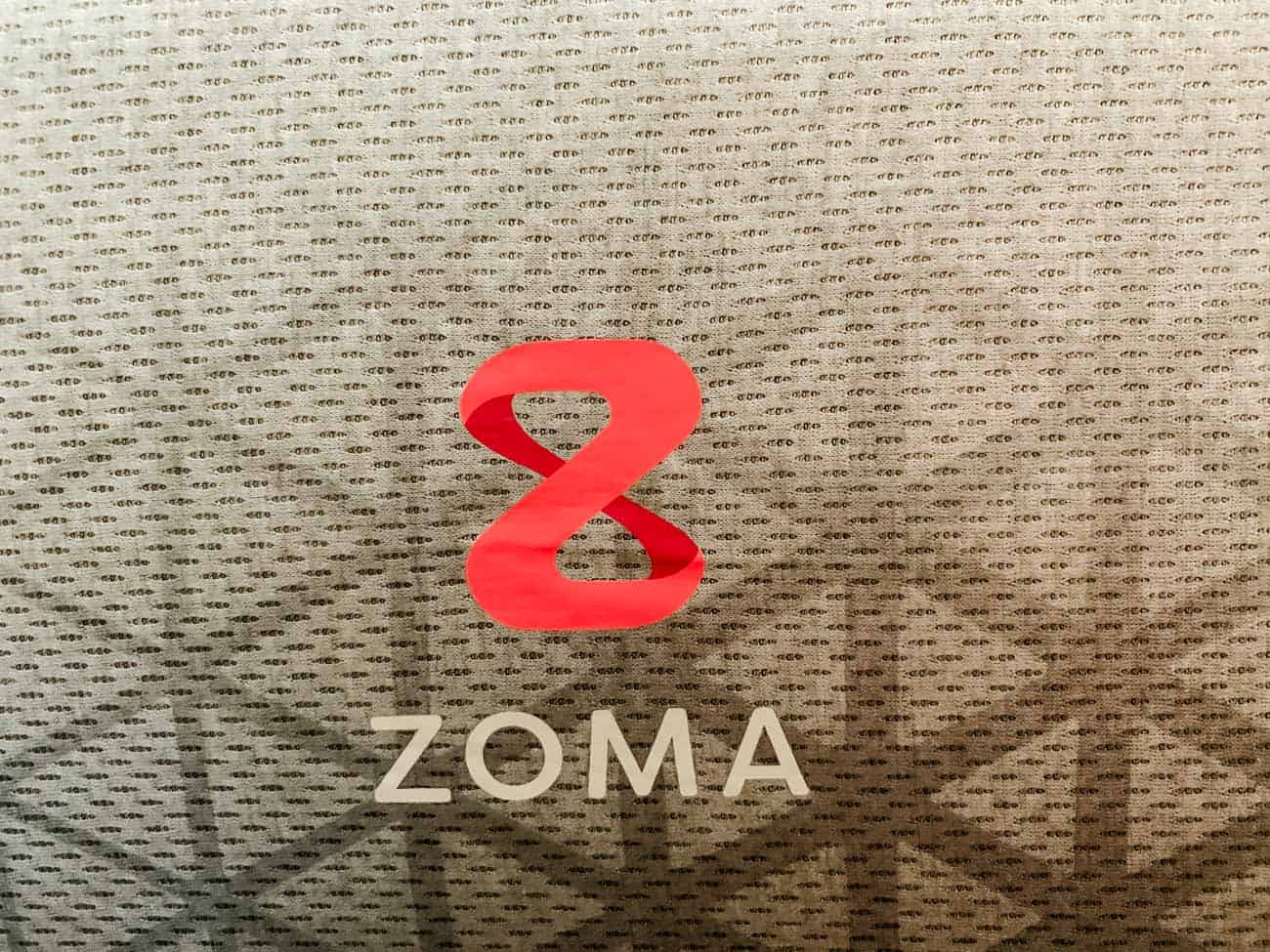 Zoma mattress construction
The Zoma mattress is made with four distinct layers that complement each other and work together to help you get a good night's sleep.
The four layers from the top down are:
Mattress cover: The breathable fabric cover wicks away heat and moisture, helping you stay cool throughout the night for uninterrupted sleep.
Triangulex layer: This is a layer made of hundreds of triangular segments that are spaced according to areas of the body. There's a head and shoulders zone, a hips and lower back zone and a leg zone. The layer is designed for comfort, support, targeted relief of painful pressure points and optimal temperature control.
Reactiv layer: A responsive layer that adjusts as you change positions. It contours to your body so it provides continuous support. It also minimizes motion transfer.
Support+ layer: The base layer is pure support to ensure mattress stability and durability.
In my opinion, it's these layers that make the Zoma mattress so special.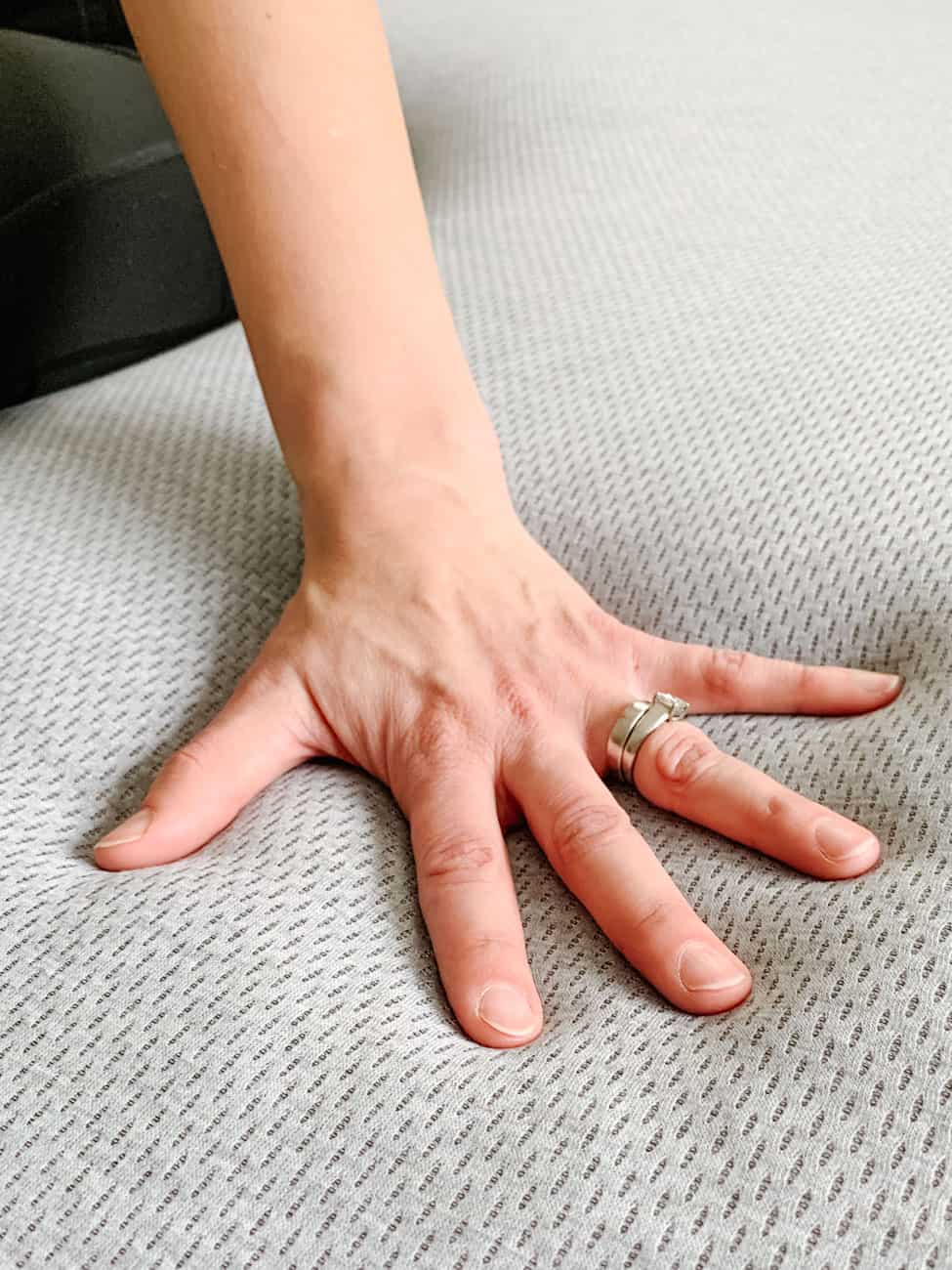 What is the Zoma mattress made of?
What's in the Zoma mattress layers is super interesting!
Mattress cover materials:
The mattress cover is made from a mesh blend of polyester and spandex. The fabric material feels similar to those fitted athletic shirts that are made to wick sweat away from the body. It's very soft!
The mesh allows for air to travel and circulate, preventing heat retention. The blend, along with the mesh, helps you stay cool while sleeping.
Mattress layer materials:
The layers that make up the mattress are all different types of memory foam.
The Zoma is constructed with zoned memory foam, poly foam and high-density poly foam. You can take a look at this diagram to see how thick each layer is and how it reacts to weight on it.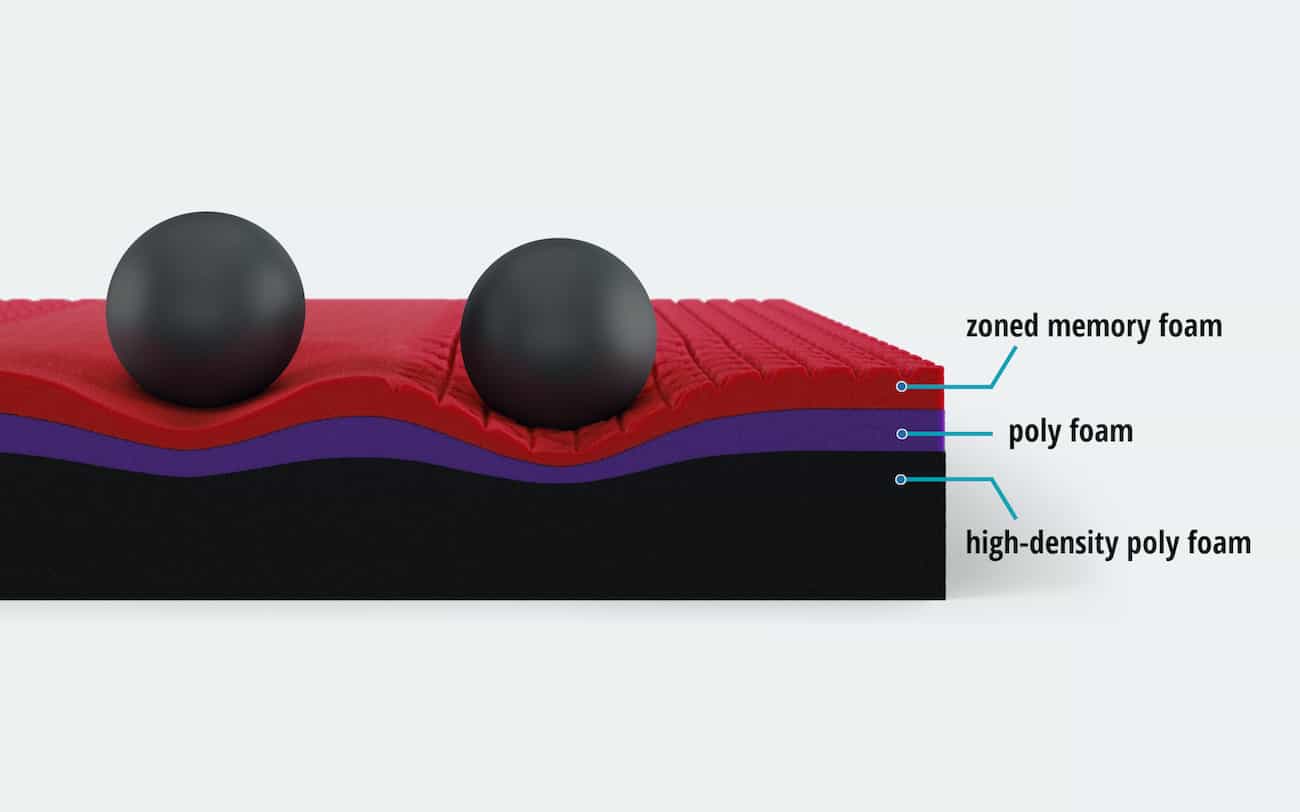 Zoma Mattress Review and Unboxing Video
Watch my mattress unboxing with a review and first impressions of my Zoma mattress! Just click Play on the video below. You can also click here if the video doesn't load.
What I like about the Zoma mattress
As soon as I got the mattress out of the protective plastic covering, I had a good feeling about it. The grey mesh mattress cover was so smooth and silky, it felt fantastic under my hands!
Then I unrolled it and gave it a bit of time to expand to full size. It felt like it had a moderate amount of sink to it when I pressed my hand to it. Not rock solid, but not pillow soft. Our old mattress was very, very firm, and our Nectar sleep mattress was a good amount softer. I think the Zoma mattress is about equal to the Nectar mattress in terms of firmness.
One thing I noticed right away, and I mentioned it in the video, is the textured memory foam under the mattress cover.
The top memory foam has a fantastic egg crate-like section across the top third and the bottom third of the mattress. That's the "head and shoulders zone" and the "leg zone."
What is it? It's the Triangulex layer! It provides comfort and support, while allowing air movement for great ventilation.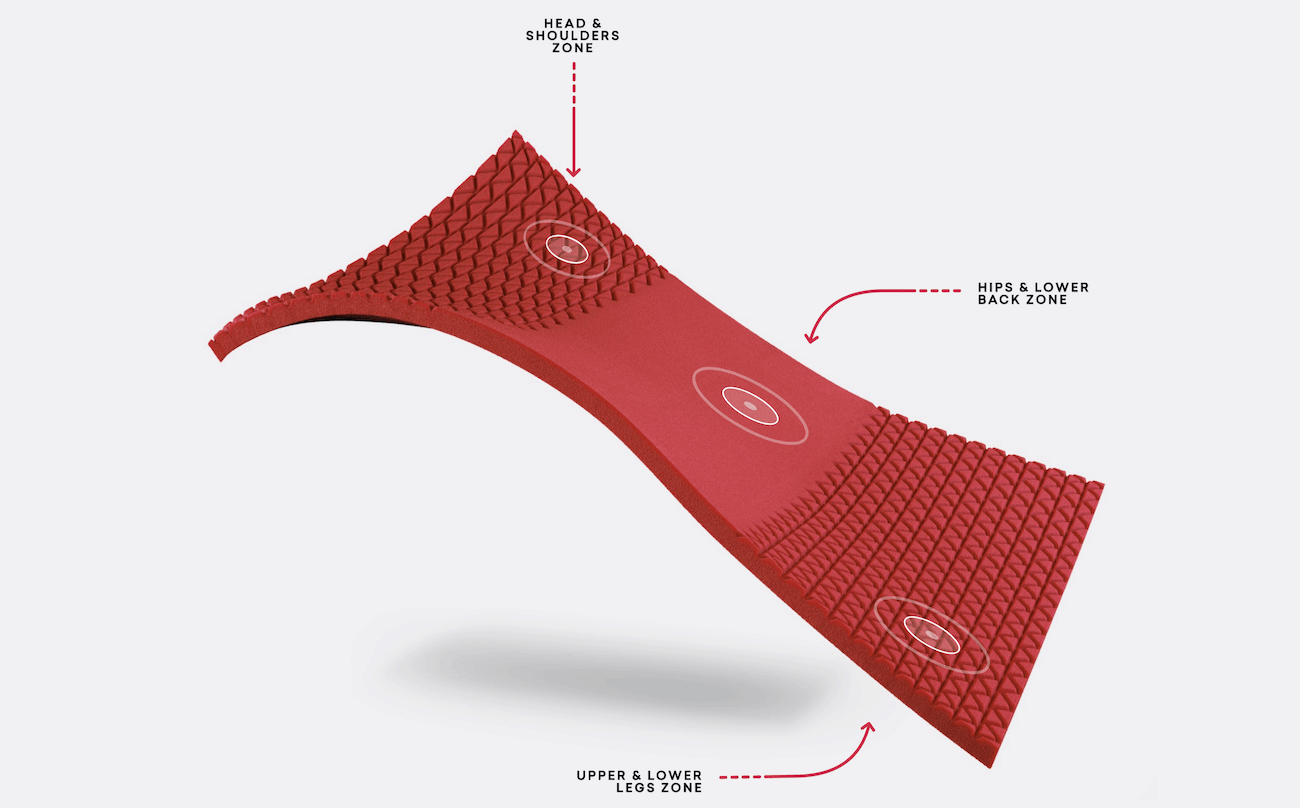 Zoma Sports Mattress Off-Gassing Smell
It struck me later in the day that there was no noticeable off-gassing smell or sour odor when I first opened the Zoma mattress..
This is my third memory foam mattress, and there was no hiding the offgassing from the previous two.
This time, the room didn't have that "new mattress" smell, and it didn't smell like anything when I laid down to sleep the night after unwrapping it.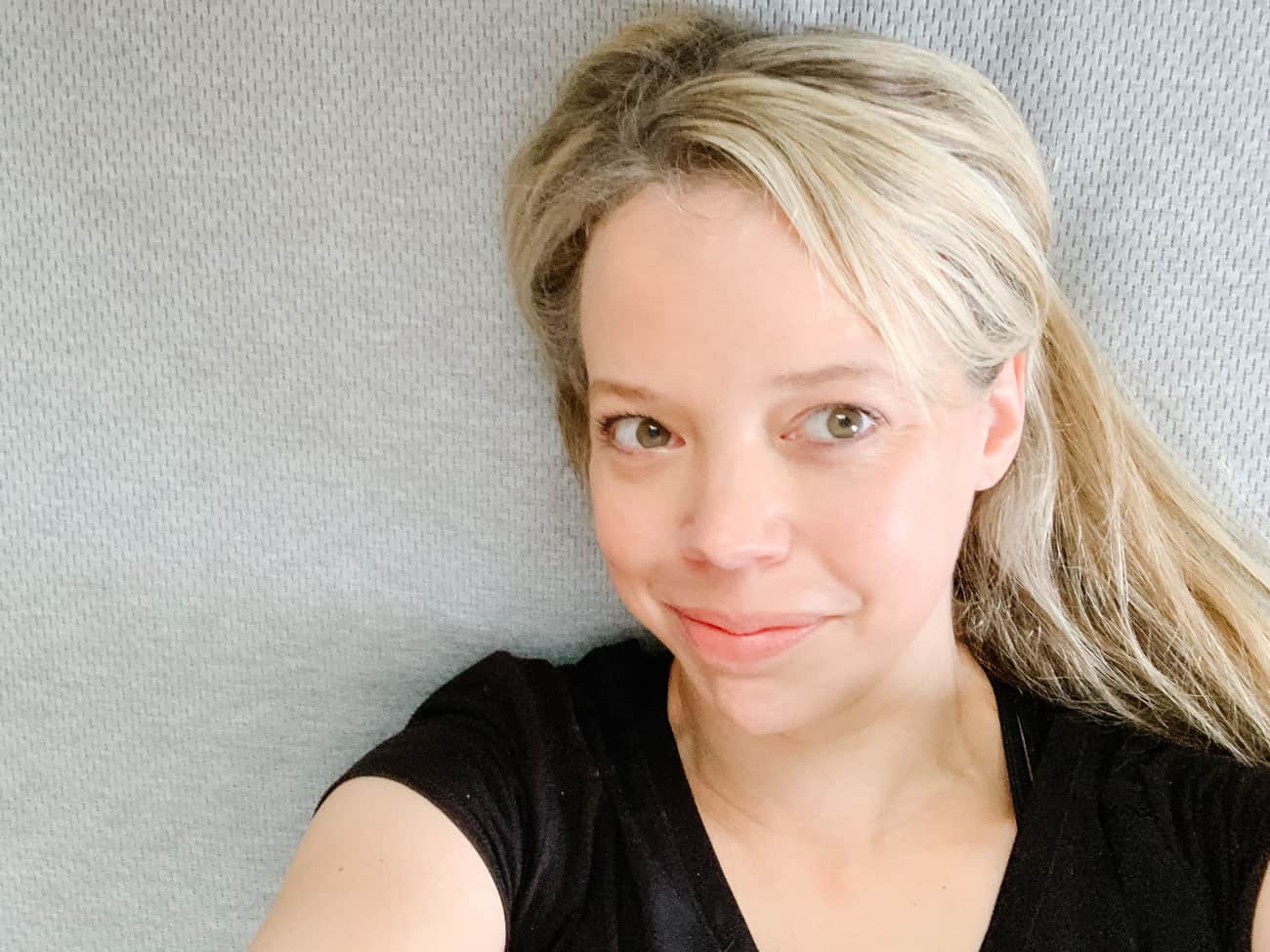 How we slept on our new mattress
To say that my husband and I are different sleepers is an understatement.
I sleep on my back with my head turned to the right. I'm also relatively motionless when I sleep. When I stay at a hotel by myself, I sleep on one side of the bed while the other side stays perfectly made through the morning.
My husband, James, on the other hand, sleeps in any position. He moves around constantly during the night. He steals blankets and disrupts our sheets. It's not easy to share a bed with him!
The Zoma mattress felt relatively soft when laying down on it, but I also instantly felt a resistance that kept me from sinking into the mattress.
I like to lay on my side to read at night, and I loved how the Zoma mattress cushioned my elbow and hip. When I rolled over to fall asleep, the previous spot I had been in bounced back into place within a few seconds.
When I woke up the next morning I immediately noticed a few things:
I had slept really well.
My husband's constant shifting and rolling around hadn't woken me up.
I hadn't woken up feeling hot and sweaty in the middle of the night.
My neck and back weren't as sore as they usually were in the morning.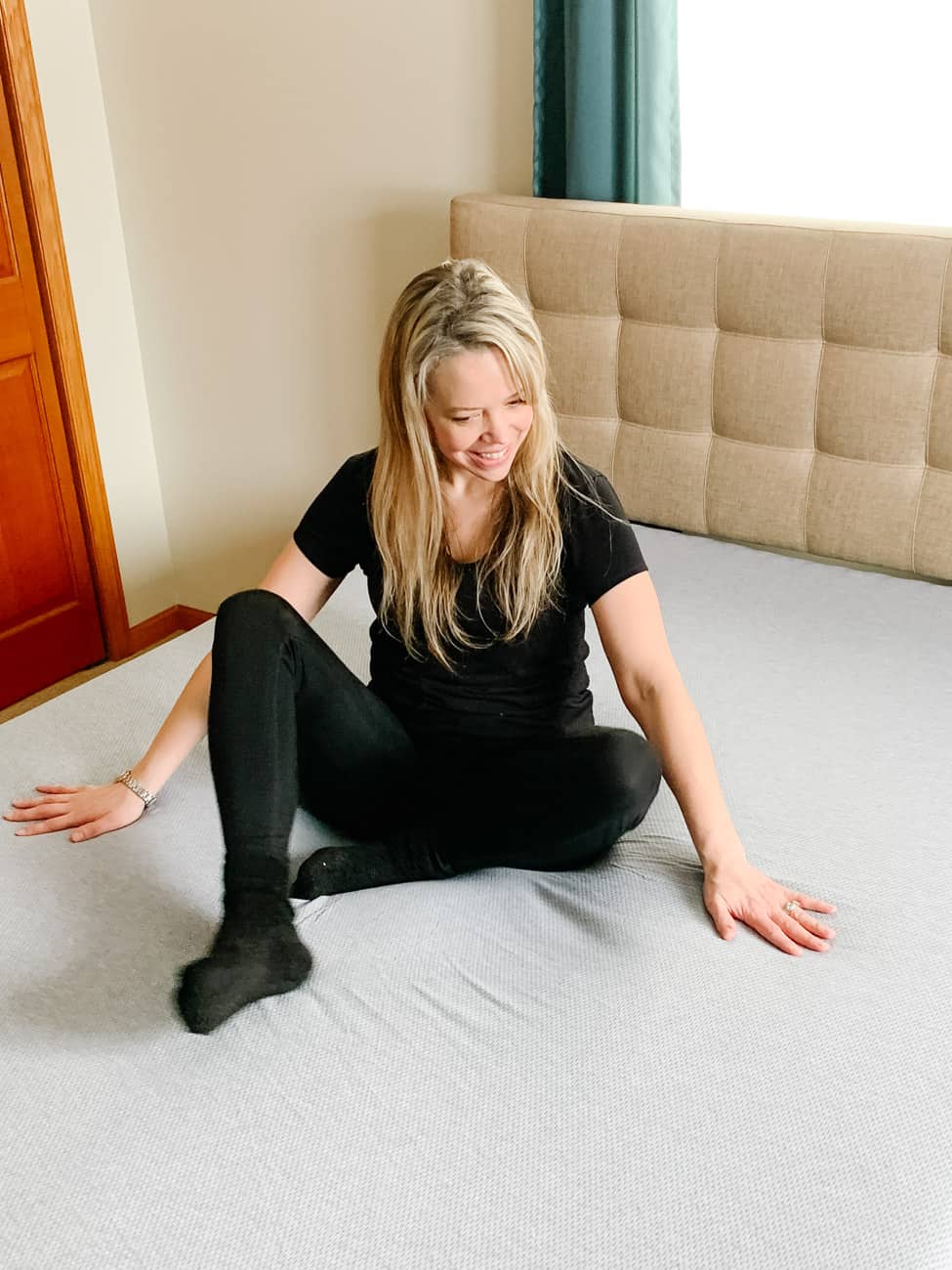 Now, after sleeping on the mattress for about a month, I can honestly say that my back and neck pain is gone!
I asked James how he slept on the Zoma sports mattress after a few nights. He agreed that he slept much cooler on this mattress than he was used to.
James said he wasn't waking up hot at night, and he thought he was sleeping better.
He's been having ongoing issues with his hip and thigh – a combination of sciatica and bursitis, and he said he could tell he was more comfortable and less stiff upon waking up.
My favorite part of sleeping on the Zoma was the Triangulex layer. I keep mentioning it, but that textured layer made sleeping so comfortable, and I know it's a big reason why I'm staying cooler while I sleep.
What I don't like about the mattress
This Zoma mattress review wouldn't be 100% honest if I didn't share my criticisms, right?
My biggest dislike of this mattress is when I found myself sleeping on my stomach. I usually only do this if I wake up early and fall asleep again.
Just like my old mattress, sleeping on my stomach led to a backache when I woke up.
Are the pains that happen after sleeping on my stomach a me problem or a mattress problem? I really don't know. But I'm glad I'm not consistently sleeping on my front, because I know I wouldn't be nearly as comfortable.
I also don't like that Zoma doesn't recommend using a box spring with their mattress.
Can I use a box spring with my Zoma mattress?
We don't recommend it. But if you do, you need to place a flat piece of moisture-resistant plywood on top that is at least 0.75 inches thick. This will provide even support across the entire box spring and help prevent moisture from accumulating in your mattress. (Note that using a box spring without the added plywood may void the mattress warranty.
You can see in my video that I assumed that the mattress could just go on top of a box spring. I was wrong! We've since adjusted our setup so the mattress sits on top of a solid base.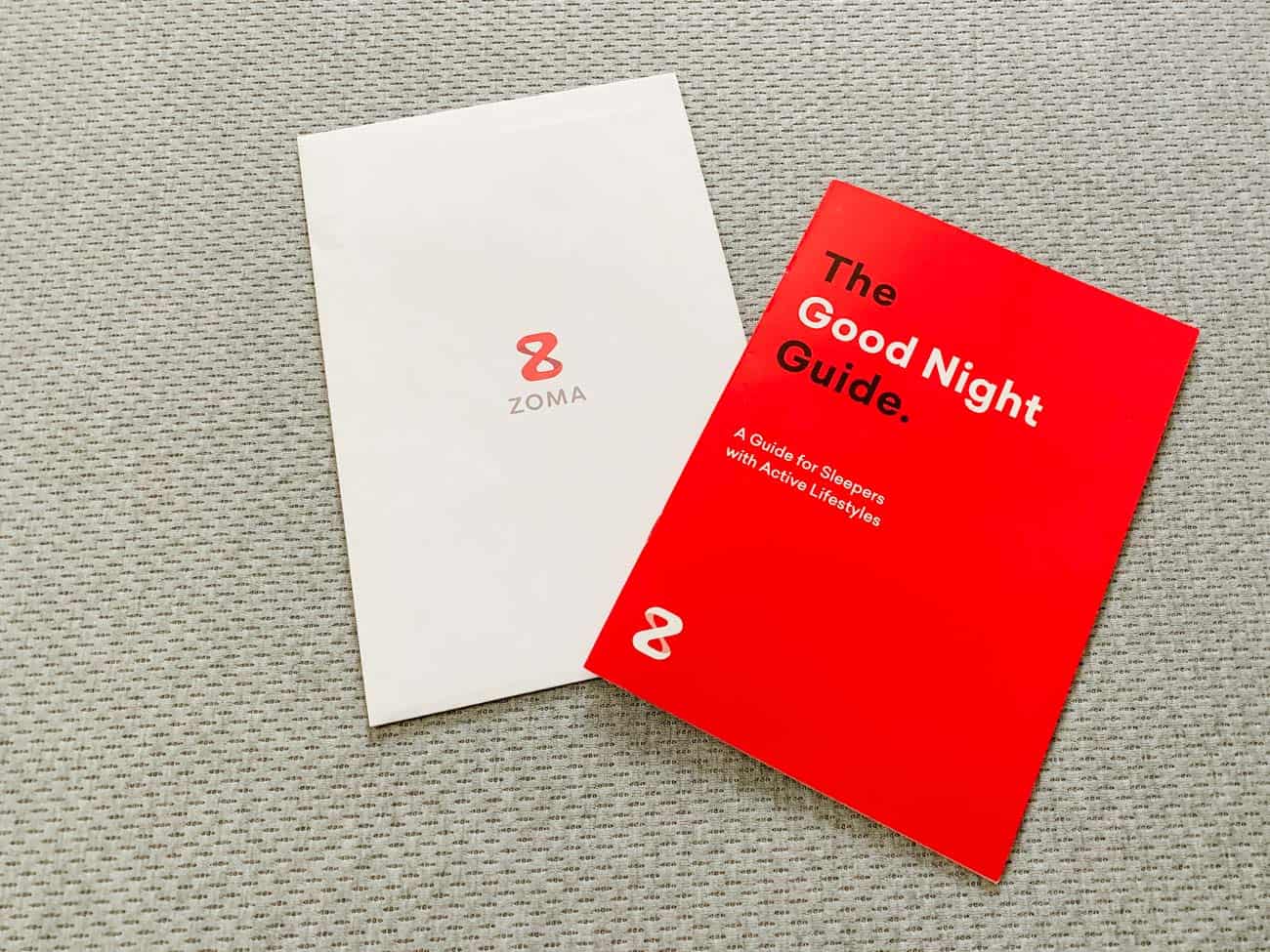 Zoma Mattress Review FAQ
I always do a lot of research before I review a product. When I was searching for Zoma mattress reviews and details online, I found a lot of unanswered questions.
I'm hoping this FAQ gives you the best information to make an informed decision.
Why is the Zoma mattress a sports mattress?
It's well known that quality sleep is the foundation to an elite athlete's routine. Sleep is also an incredibly important factor in exercise recovery. (source). It's also been shown that athletes who sleep longer have improved athletic performance and mood.
Zoma's founders wanted to enhance the way athletes sleep and recover, so they invested years in develping a mattress specifically for athletes and individuals with demanding lifestyles.
With that being said, I am certainly not an athlete and I truly appreciate the way the mattress is so well made!
My husband, while also not an athlete, has a physically demanding job that has him lifting and hauling throughout the day. He has seen a big difference in how he feels after sleeping on our Zoma mattress.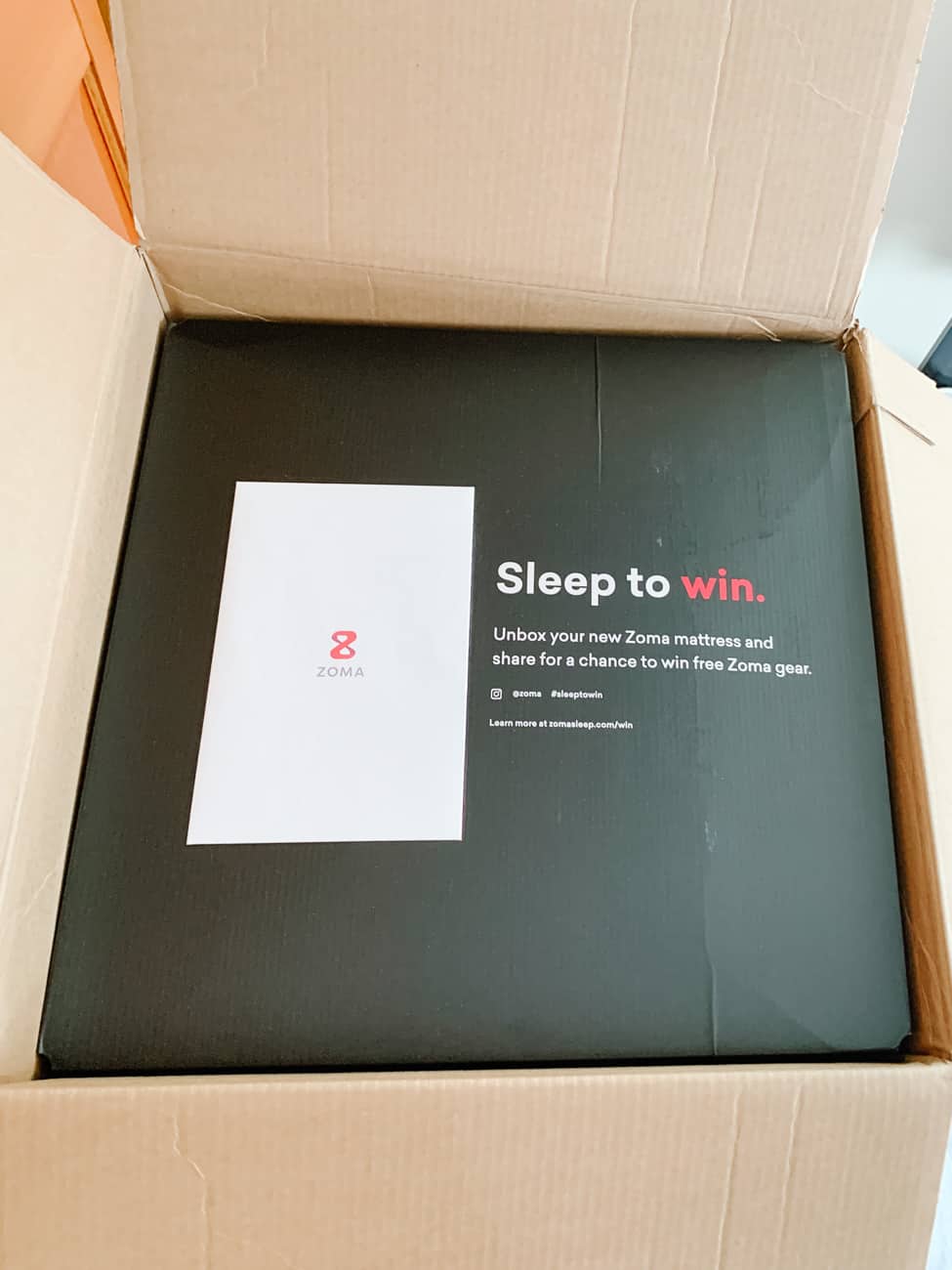 Does the Zoma Mattress have a trial offer or guarantee?
Zoma offers a risk-free 100 day trial period. They even state, Love it or your money back, guaranteed.
Try our mattresses risk-free for 100 nights.
If you aren't completely satisfied, we'll give you a full refund and even pick up your mattress for free.
Zoma says that our bodies need time to adjust to a new mattress, so they recommend trying your new bed for at least 30 nights to make sure you get the full experience.
Zoma wants you to have time to adjust to your new mattress, so your 100 day trial doesn't start until the mattress in a box is delivered.
Can I return my mattress?
You can easily return your mattress for free within 100 days of delivery. Free means you'll get your money back AND you don't have to worry about shipping it back or disposing of your mattress. Zoma will pick it up and give you a full refund!
If it's after the 100 day trial you can refer to the Zoma warranty to see how you're covered if you're unhappy with your mattress. You can also call or email Zoma's customer service.
Zoma can be emailed at [email protected] or called at 888.400.8856.
You can find their full contact details here.
Does the Zoma Mattress have a warranty?
Yes! Zoma mattresses come with a full replacement warranty for 10 years from the original purchase date. There are plenty of details involved in this, so you can read all about the Zoma Sports mattress warranty here.
Are these mattresses non-toxic?
Yes. The mattress is made using an eco-friendly process that minimizes VOCs. VOCs (Volatile organic compounds) are usually the source of that "memory foam smell" that I mentioned earlier.
How can I clean the mattress cover?
I'm getting mixed answers on this one. On one hand, I used the customer service chat function on zomasleep.com to ask if the mattress cover was washable, and the response was YES. I took that to mean it's machine washable.
On the other hand, their FAQ states, We'd hate for a spill, accident, or perspiration to ruin your Zoma mattress. That's why we recommend using a mattress protector. If you don't get a protector, the mattress can also be gently spot-cleaned with warm water and soap.
Is Zoma a good mattress?
Yes! You can read my experience in the above Zoma mattress review.
Is the Zoma mattress worth it?
I think it's worth it! My husband and I are sleeping better and more comfortably than we have in years, thanks to the Zoma Sports mattress!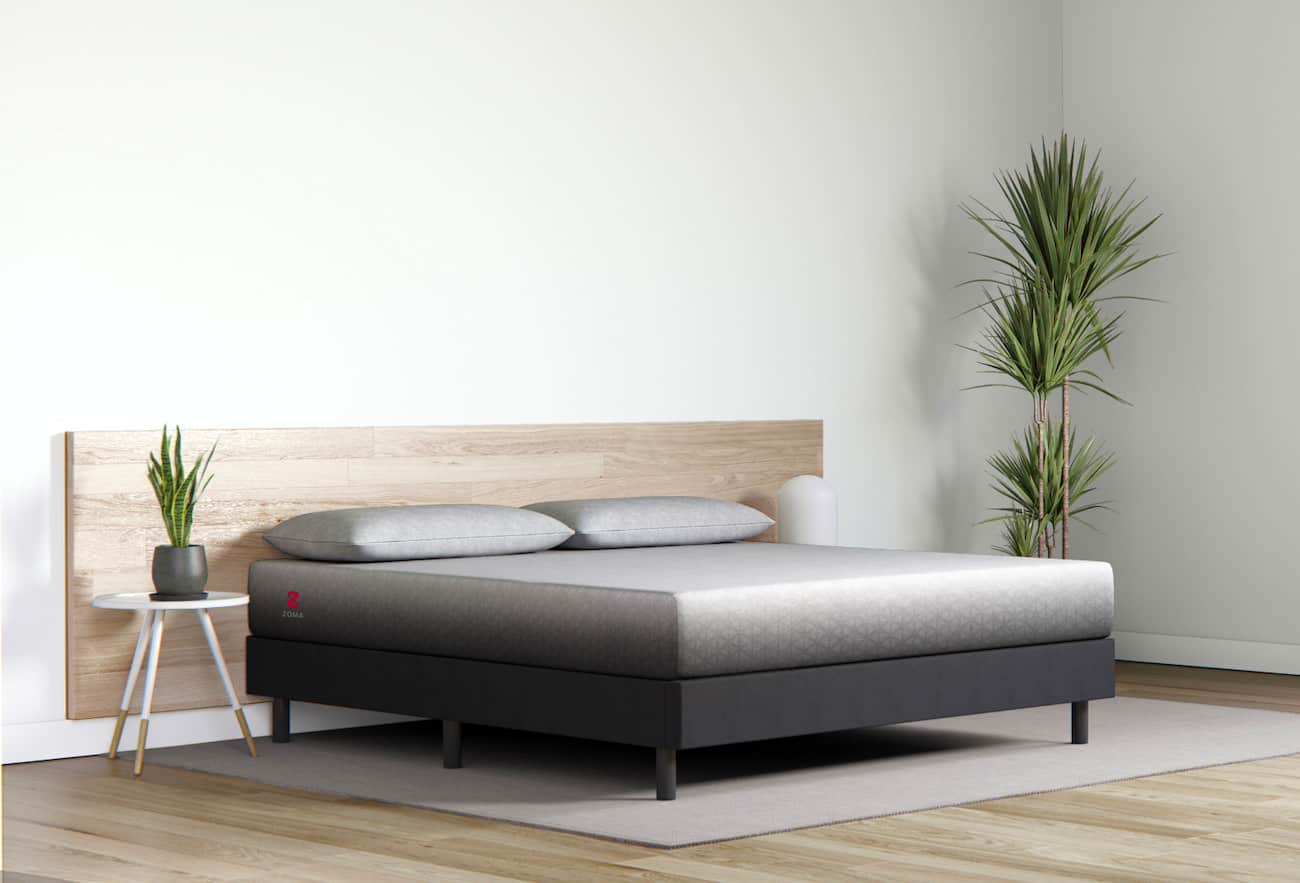 Zoma mattress Review purchasing FAQ
How much is a Zoma mattress?
Zoma offers mattresses in every size from Twin all the way up to Split King. You can see them all here!
Here are the regular retail prices for the various sizes of Zoma mattresses:
Twin: $550
Twin XL: $650
Full: $750
Queen: $850
King: $950
California King: $850
Split King: $1200
Be sure to look below for Zoma coupon codes!
Are there ZomaSleep.com coupons or promo codes?
Yes! Use Zoma promo code WIN100 to save $100 off your mattress, plus get free shipping and returns.