Michael Kors Smartwatch Review
The Michael Kors Access Runway smartwatch works with iPhones and Android, but is it right for you? Read this Michael Kors smartwatch review to see what it does best, and also why it might not be the watch you need.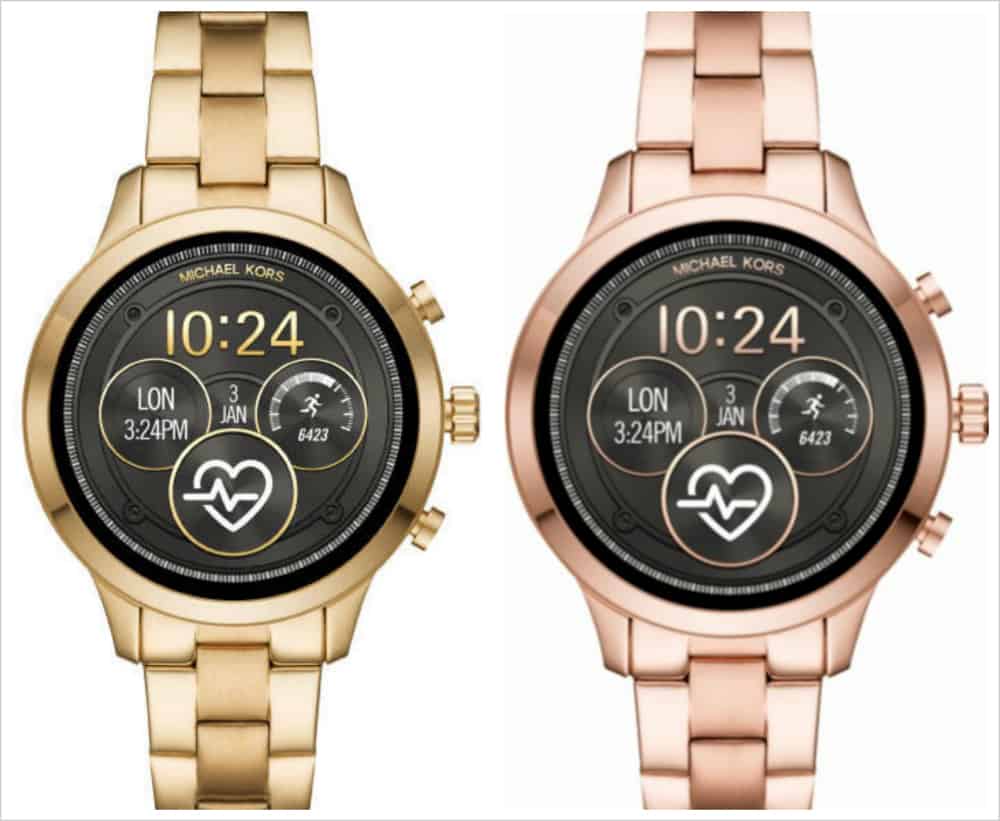 If you know me, you know that I love gadgets. I especially love smart gadgets, because so many of them have the ability to make life better or easier.
But there's one corner of the smart product market that I haven't been able nail down yet. Wearables. I've tried to use a fitness tracker. I've tried to two different brands of smartwatches over the past few years. They all worked, but they didn't match my style.
I love wearing a watch. I feel lost when I'm not wearing one. But over the years I've become picky over the style of watch I want to wear. I don't want anything cheap. I don't want a silicone band or fake leather.
Honestly, I recently decided that I only wanted to try another smart watch if I could find something similar to my diamond Swiss Army watch that I never take off.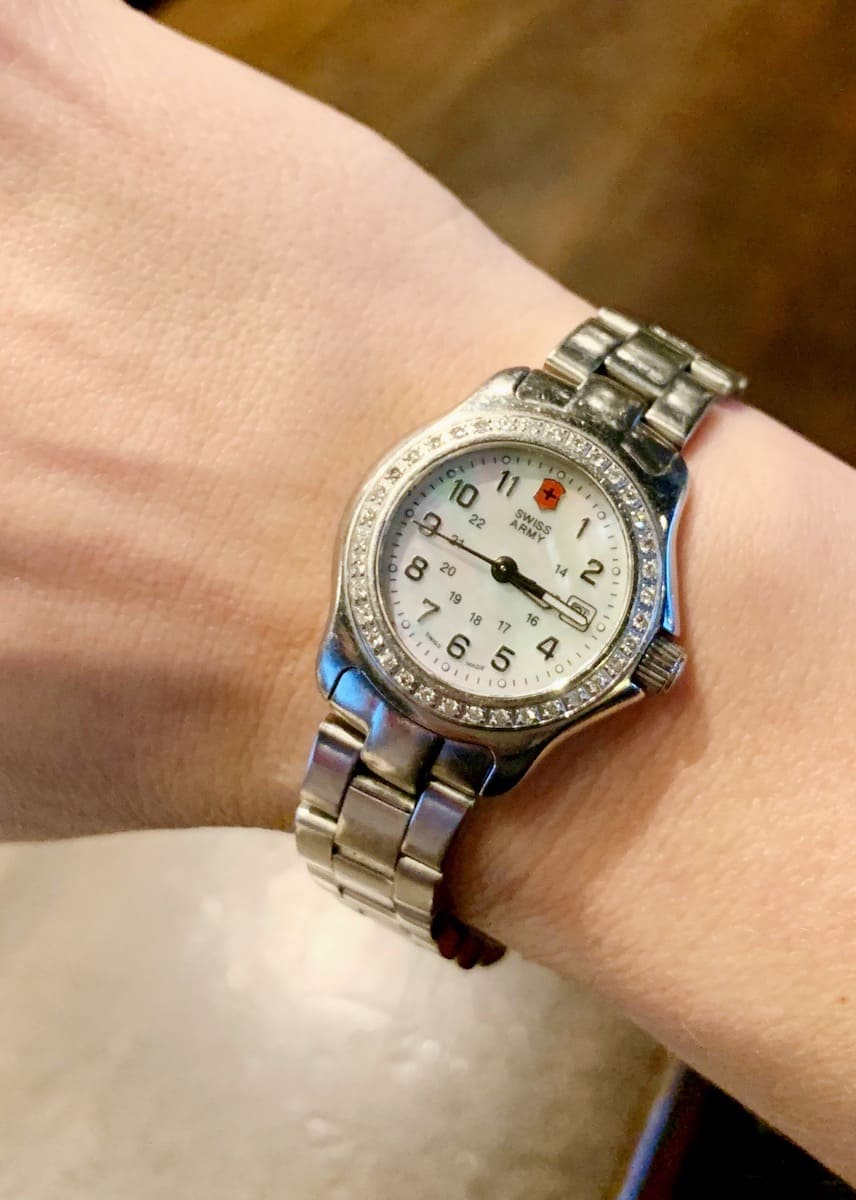 Of course, once I decided that, the universe made a different decision for me. It was time to try a Michael Kors Smartwatch!
When Best Buy offered to provide me with the new Michael Kors Access Runway SmartWatch to review, I couldn't bring myself to say no. I had to see if this was the watch that I could work for me.
About the Michael Kors Access Runway Smart Watch
Stay punctual and poised with the Michael Kors Access Runway smart watch.

It has a gold-tone or rose gold-tone finish that embodies timeless sophistication, and its smartphone connectivity lets you take selfies, ring your phone, access music and keep track of personal goals.

The round 42mm case of this Michael Kors smart watch makes it easy to see the interface.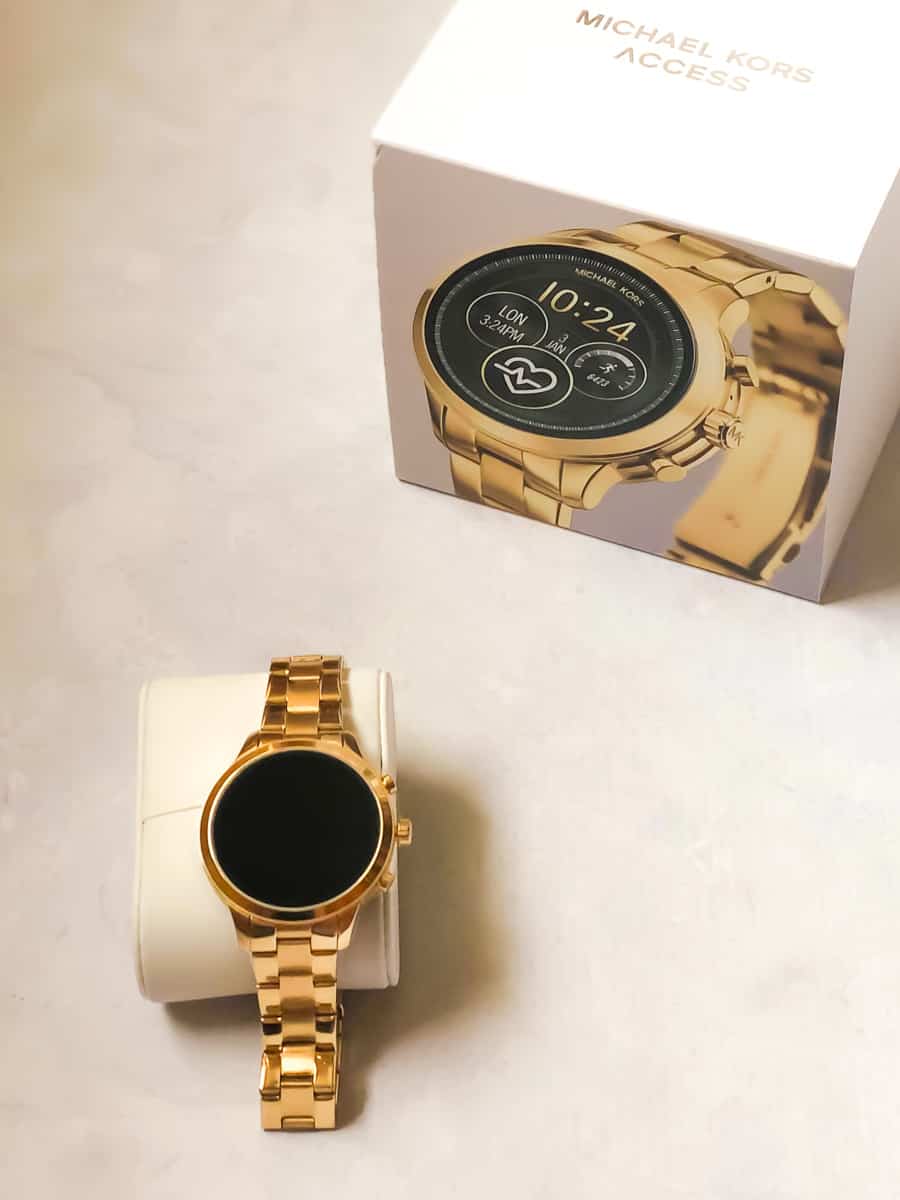 What I love about the Michael Kors Access Runway SmartWatch
The style
This smart watch has great style. I love the round face, the chunky metal and the bracelet-like band. While I received this Michael Kors watch in gold tinted stainless steel, it's also available in rose gold. I actually wish I had the rose gold color instead of the gold stainless, but I'm not complaining.
Even better, I think the Michael Kors Access Runway watch style is great for both men and women. For women, I love big watches on small wrists. This watch definitely delivers! The face with the bezel is 42mm in diameter. Not only is it just my style, it's also going to work for wrists of all sizes!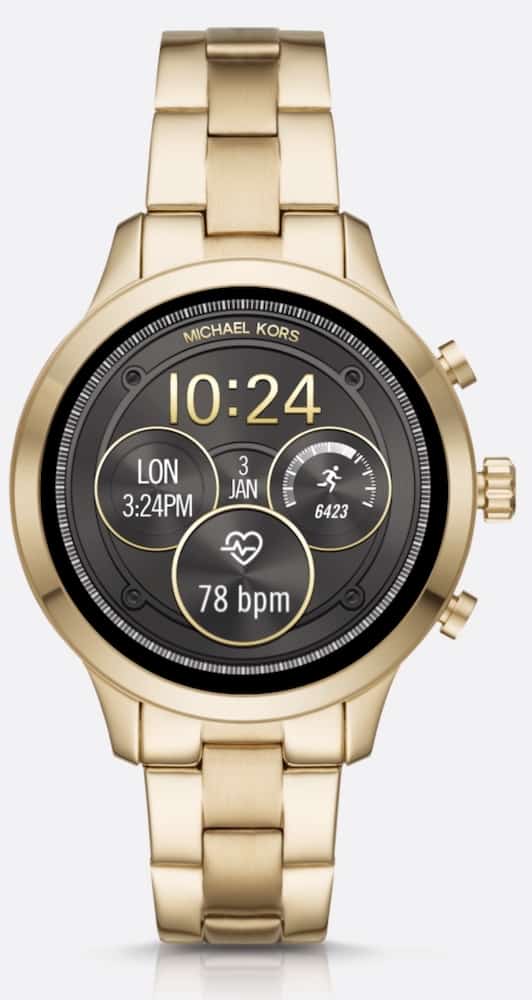 I also love watches that aren't excessively feminine. This watch is sturdy and heavy. It doesn't feel delicate. When I'm wearing it I don't feel like I need to be extra-careful with it – it feels like it can take some of my personal brand of carelessness.
The touch screen on the Michael Kors Smartwatch
Maybe it goes without saying that this smart watch has a touch screen, but, when it's lit up with the clock face, you have to get close to see that it's not an analog watch. The touch screen makes every app and function accessible. It's easy to navigate and responds quickly to the touch.
The functions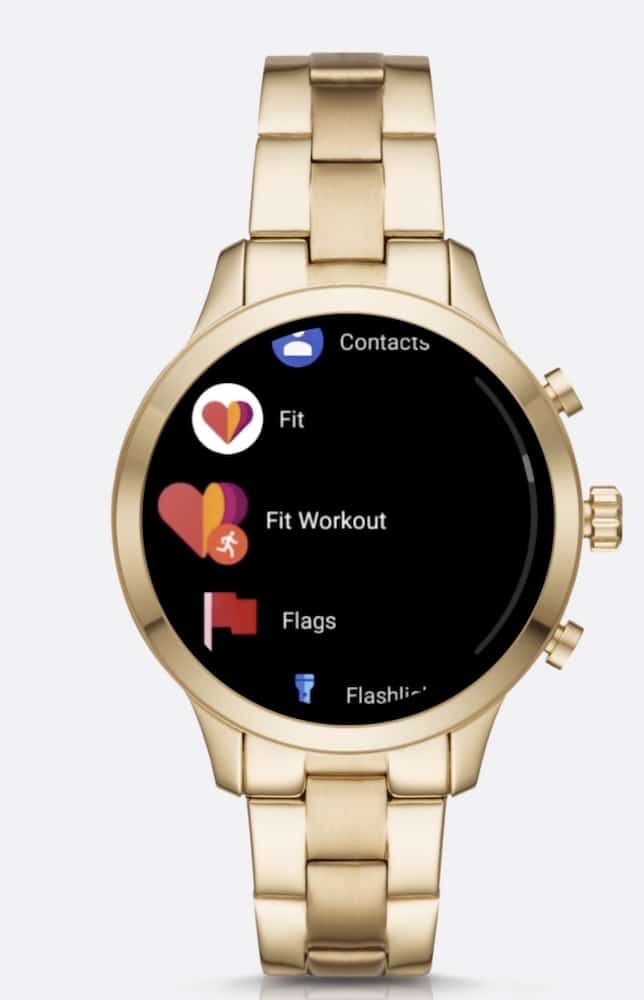 I also just love what the Michael Kors Access Runway smart watch can do. It's running on the OS by Google operating system, which means it has a variety of features. Here's just a sample of its capabilities:
Proactive help from the Google Assistant: This keeps me ahead of my day with proactive, personalized help from Google Assistant, even before I need it.
Smarter health coaching from Google Fit: I can always stand to be healthier, even though it's my least favorite thing to think about. But Google Fit pushes me toward a healthy life with coaching and activity tracking based on guidelines from the American Heart Association and the World Health Organization.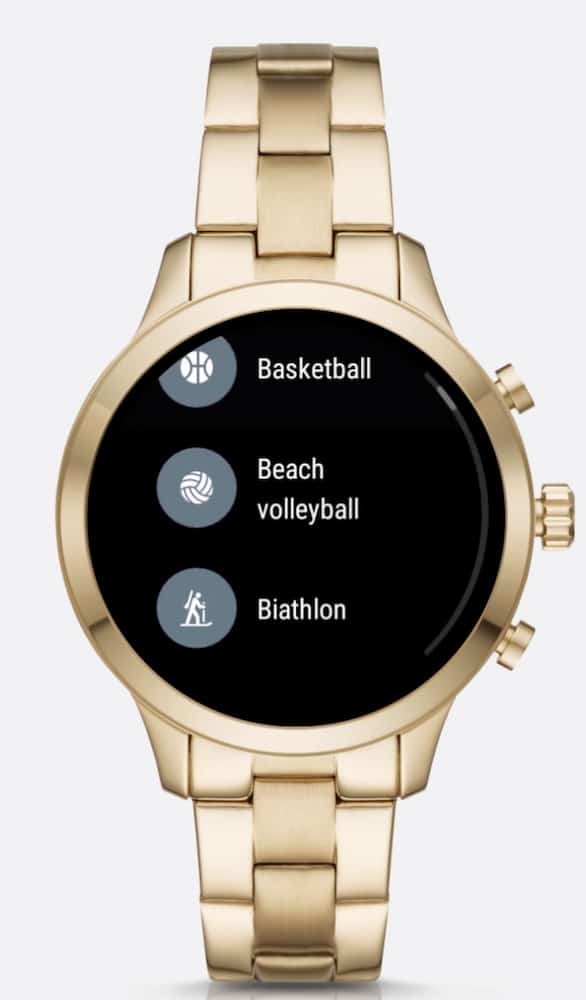 Maximizing time: Notifications that would usually show on my phone now only require a glance at my wrist. Plus, the Google Assistant helps me with travel times, countdowns and more.
Google Pay: I admit, I haven't used this one yet, because I rarely use the phone-based pay systems I already have. But I love that you can pay at most terminals that accept credit cards with just a wave of a watch, instead of fumbling with anything in my purse.
Compatibility: You can use the Michael Kors Access Runway Smart Watch with both iPhones running on iOS and Android phones.
Your Android needs to be on version 4.4 or later. iOS needs to be 9.3 or later. Note: keep reading to see that this isn't a perfect setup, but the ability to pair and communicate with either type of phone is definitely a plus – especially when you're giving it as a gift.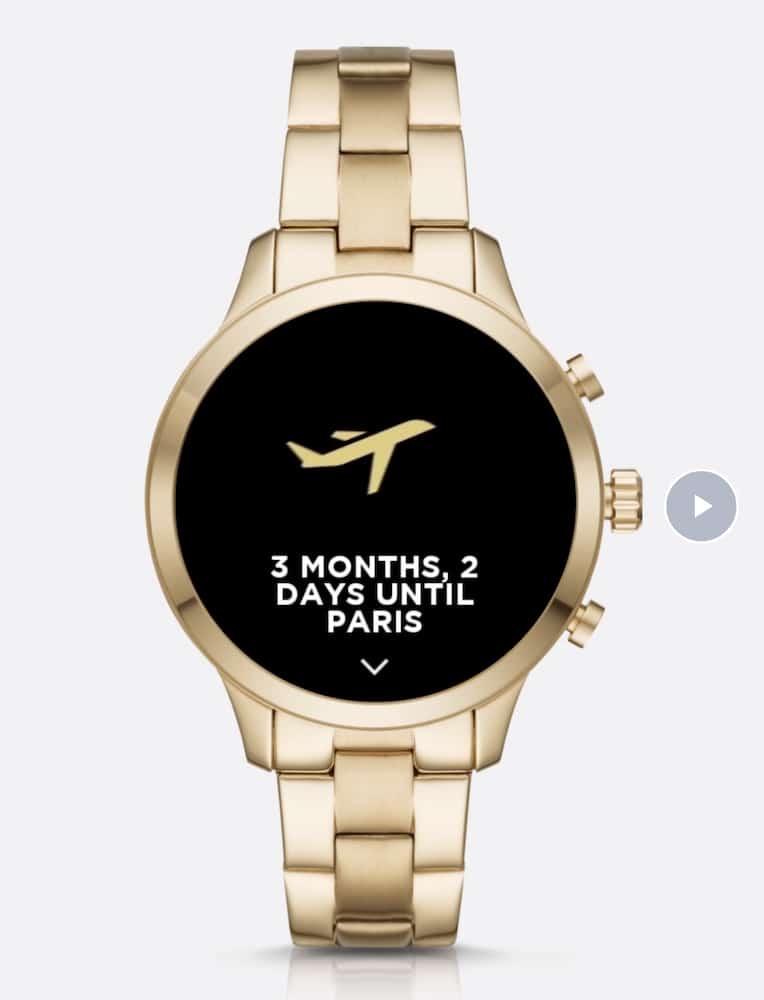 What I don't love about the Michael Kors Access Runway SmartWatch
I only have one issue in this Michael Kors SmartWatch review. It's the compatibility. You can use it with an iPhone as well as with an Android phone. It's just that it has limited functionality when it's used with an iPhone.
If you're an Android user and you want to integrate this smartwatch into your tech, then you are 100% good to go.
If you're an iPhone user you'll want to keep reading. Depending on who's using the watch and what her or she wants from a smart watch, a Michael Kors SmartWatch could still be the perfect gadget for you!
iPhone users who wear the Michael Kors Access Runway smartwatch will not be able to:
Respond to text messages and emails
Use the watch as a receiver for phone calls.
With that being said, the iPhone users only have limited functionality when it comes to calls, text messages and emails.
Here's what can be done when the Michael Kors watch is paired with an iPhone. You can:
Receive and read text messages.
Receive and read emails.
Receive incoming call notifications and answer the phone.
Almost all the other functions of the Michael Kors Access Runway smart watch work just fine, regardless of what kind of phone you use.
Michael Kors Access Runway Smartwatch review: Conclusion
Overall, I think the Michael Kors Access Smartwatch significantly steps up the smart watch game in terms of style.
If I could change one thing, I'd love to see it work equally well with both operating systems, but that's something Google and Apple have to hash out.
If you want a smart watch that looks amazing and keeps you updated without checking your phone, the Michael Kors Access Runway Smartwatch could be perfect for you. Check it out here!