I don't mention it very often, but I have a third "baby" in my house. It's my miniature poodle, Jersey!
Jersey is a very special dog; James and I decided to adopt her in February 2008, just a few months before I was due with our first baby. I truly believe finding Jersey was one of those things in my life that was just meant to be.
My sister had been talking about getting a little dog, and I decided to browse around on Petfinder to see if there were any dogs in my area that could be a good fit for her. I found Jersey's "profile" and immediately emailed my sister and said I wanted that dog. My sister responded with an email that said, "If you don't get that dog, I'm going to!"
A phone call to Jersey's foster mom revealed that Jersey was a little pup who had been brought to the shelter after failing to breed in the beginnings of a puppy mill. James and I met Jersey the following night. We made our donation to the shelter and completed all the paperwork to adopt our new dog. This is what Jersey looked like the night we met her: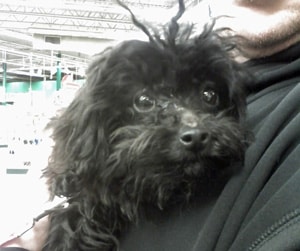 Adopting Jersey has had its ups and downs, but I've always felt that Jersey and I are so lucky to have each other. While she loves our entire family, we have a special bond that others just don't share. She follows me around the house and always knows where I am.
Jersey also easily welcomed both Haiden and Piper into our family without a single issue! This is a photo of the night they met: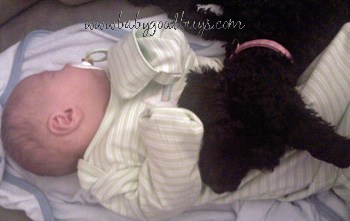 Since adopting Jersey, we've tried a few different dog foods with very mixed results. I started with Nutro's puppy formula, because that's what the pet store recommended. After some vey awful bowel issues, I was advised to switch her to Iams small breed dog food. When that didn't work, I settled on a Purina variety that I found at Target. While it seems better for her than the other brands I've tried, I simply don't have anything good or bad to say about it.
I was recently invited to switch Jersey to Pedigree dog food and look for any improvements from her current state. I know in my heart that Jersey's practically perfect, there are a few physical qualities that I wouldn't mind seeing changes to:
Jersey's Coat: Right now, Jersey's coat is a bit dull. Her hair has slowly been changing from black to gray, so I'm not sure if it's the tone or the quality of her hair that's changing.
Jersey's Skin: During Jersey's annual checkup in January, even our vet commented that Jersey's skin needs more moisture. He suggested a daily fish oil supplement, but I have a hard time getting her to eat the food I mix the fish oil into. Hopefully this food will improve her skin.
Jersey's Oral Care: Jersey is getting to a point where she may need to have her teeth cleaned. The vet has recommended a few techniques to maintain her teeth at home, and I'd love to see this new food help keep her teeth clean.
Our switch to Pedigree dog food just started and I don't have anything to report on it. Stay tuned for future posts where I share how the switch is affecting Jersey!
I wrote this review while participating in an Ambassador campaign by Mom Central Consulting on behalf of Pedigree and received dog food to facilitate my reviews and a gift code to thank me for taking the time to participate.