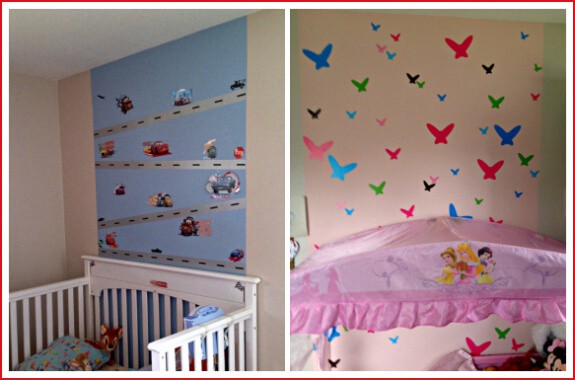 I've written a few times about my big project of adding more personality to Haiden and Piper's bedroom with Disney Glidden Paint. My biggest challenge was figuring out a creative paint project for a girl and boy sharing a bedroom!
Before the specialized paint project, the entire room got a fresh coat of the very neutral Pawprint hue of Disney Glidden paint. My husband often gets exasperated at my gravitation toward neutral walls, and this time I certainly couldn't blame him. Once the paint dried, I found that it ended up nearly exactly the same color as the previous shade!
On the upside, the room was small and easy to paint, and I definitely only had to use one coat! Plus the Disney Glidden paint covered up the marks and scuffs that just happen in a toddler's bedroom.
Haiden and Piper have their beds on opposite sides of the bedroom, making it easy to do a creative paint project for each of them on the wall next to their toddler beds.
In my last Disney Glidden paint update I showed how I had taped off and painted a big vertical rectangle of Haiden's wall Rally Blue from the Disney Glidden paint line.
After Piper saw Haiden's blue wall, she started asking if someone was going to paint her wall pink. It seemed like a small job compared to what I needed to do to Haidens' wall next, so I headed back to Walmart to pick up a quart of Butterfly Fly By from the Winnie the Pooh palette to do the same to Piper's wall.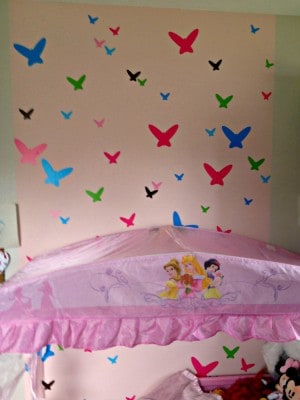 After both sides of the room had their blocks of color, I decided to tackle the jobs from easiest to most difficult. I'd bought Wall Candy Flutterflies butterfly wall decals during a sale a few months ago, and they were perfect to add some excitement to the pink painted panel on Piper's wall.
With Piper's wall done, I attacked Haiden's wall. I taped out a 2-inch wide horizontal strip and three other strips going diagonally from one side of the blue panel to the other and painted the strips with Magnificent Metallic Disney Glidden Paint tinted Glimmering Silver.
I knew as I was rolling the Disney Glidden specialty paint on that it was going to work perfectly. The directions for using Disney's metallic paint were spot-on, and I had no problems with it. This close up picture shows how shiny and metal-like the metallic finish really is: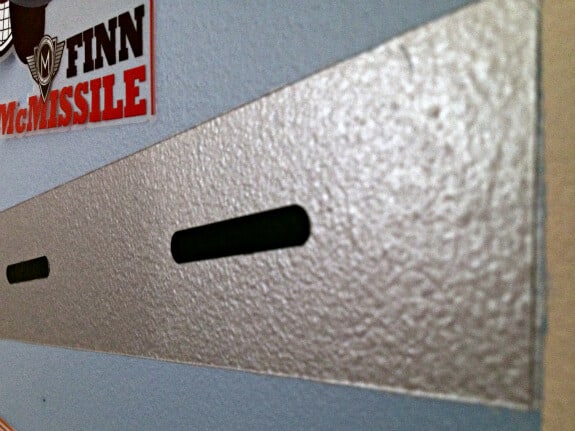 Once the paint had dried and the tape was removed, I added stickers from the WallCandy Arts Race Cars decals to make dashes through the roads. I added Stop and Go signs and a set of Disney Cars decals to complete the look.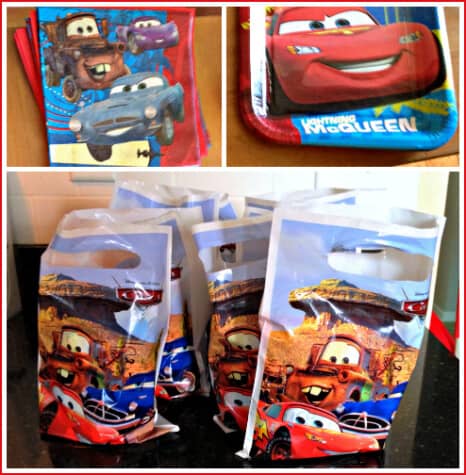 Over the weekend, we had a little My Magic Room PJ Party to celebrate the big reveal of the bedroom. (Although we opted out of the "PJ" part of the party since none of the parents were up for a sleepover!).
We celebrated by putting together Disney Cars treat and favor bags and making Stoplight Brownies for a fun themed treat. I also served plenty of snacks and drinks for both the kids and adults!
Haiden and Piper were so proud of their new walls, and they were so excited to show the kids and adults who attended the party! I ended up being pretty proud of myself when everyone seemed impressed with my detailed painting job on Haiden's roads!
Although I had made a super-fun racetrack to race cars down our steep stairs, and distributed plenty of cars for playing, the kids actually abandoned most of our planned activities to enjoy our (finally!) beautiful spring weather. The kids played racing games, hauled and pushed sand in the sandbox and just soaked up the warm weather.
At the end of the party, I announced a $50 Walmart gift card giveaway, and made two attendees very happy when I agreed to give away 2 $25 Walmart gift cards instead of one $50 gift card!
There's only one thing I wish I would have done differently with the Magnificent Metallic painting project: I wish I would have used 3M blue painter's tape rather than the green Frog Tape. The metallic paint bled through both sides of the Frog tape, which left me the tedious job of touching up tiny little specks of silver paint around each road.
Other than the painting tape not working as well as I expected it to, the Disney Glidden Paint was great to work with and I would definitely use it again! I actually still have quite a bit of the Disney Glidden Magnificent Metallic silver paint left, and I'm brainstorming a creative way to make sure it gets used up!
Compensation and products for review were provided by Glidden via MomTrends. The opinions expressed herein are those of the author and are not indicative of the opinions of Glidden.