I'm pretty cautious when it comes to my own kids and technology. Haiden and Piper don't have phones or tablets of their own. They get 15 or 20 minutes of computer time each day where they can play games on select websites, and they're only allowed to play games on our family tablets on long car rides.
At the same time, I can't hide the fact that I love tech. It would be foolish to make my kids believe that electronics and technology aren't playing a part in making our lives easier every single day when I'm actively turning our house into a smart home!
With all that in mind, I've been wanting to get Haiden and Piper a video game console that worked with my tech-cautious parenting. I think I've found the very best option in the Microsoft One S and its parental controls.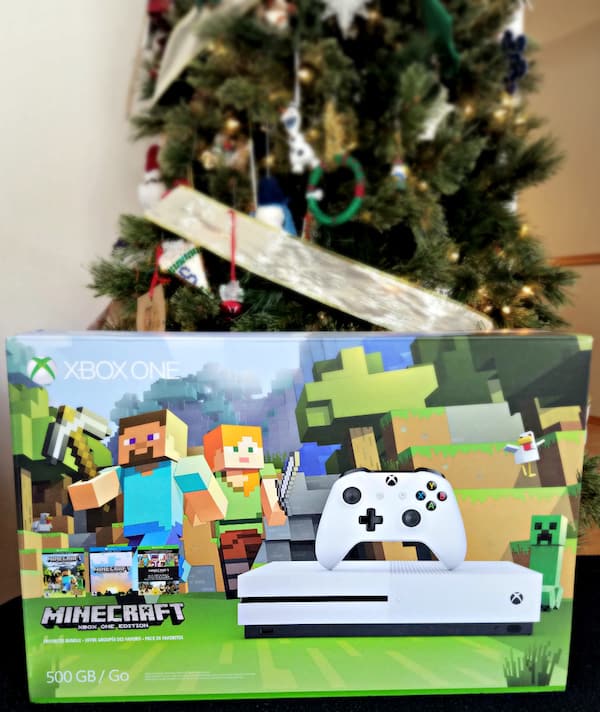 Haiden and Piper were over the moon excited when I told them we were getting an Xbox One S.
They were even more thrilled when we opened the box to find the Xbox One S Minecraft bundle!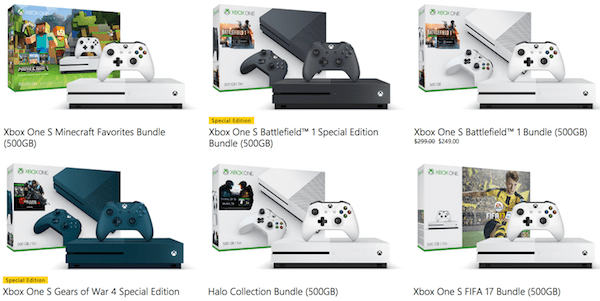 The Xbox One S is available in a variety of bundles, which means you get the console and controller plus at least one game for $299. Right now, all the 500gb bundles are on sale for $249 until Christmas AND you'll get a free $30 gift code!
The Xbox One S Minecraft bundle comes with the Minecraft game plus a Builder's Pack that Haiden and Piper are loving.
Here they are talking about the Candy Textures pack that came in the Minecraft Builder's pack:
The Xbox One S is so much more than a video game console and it's also the smallest and most compact Xbox yet!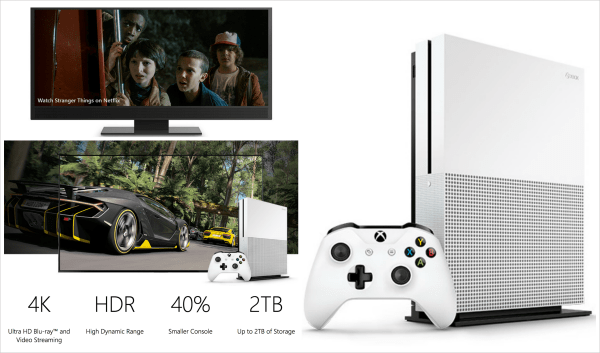 This is just a sampling of what the Xbox One S can do:
It's one of the top 4k Ultra HD Blu-ray players on the market. You can watch and stream video at four times the resolution of regular HD!
Integrated apps let you stream movies and shows in the highest definition from your favorite services. Netflix is available now. Amazon Video and so many others are coming soon.
High Dynamic Range lets you experience richer, more luminous colors. It brings out the true visual depth of your games.
Configure your Xbox One S to turn on your other devices like your TV, a/v and cable or satellite receiver.
Backwards compatibility means you can play all your Xbox 360 games on the new Xbox One S.
Xbox One S Parental Controls

While I might come across as a control freak, I do my very best to sit back and let Haiden and Piper enjoy what they're doing when they're doing it. The Xbox One S parental controls allow me to do just that!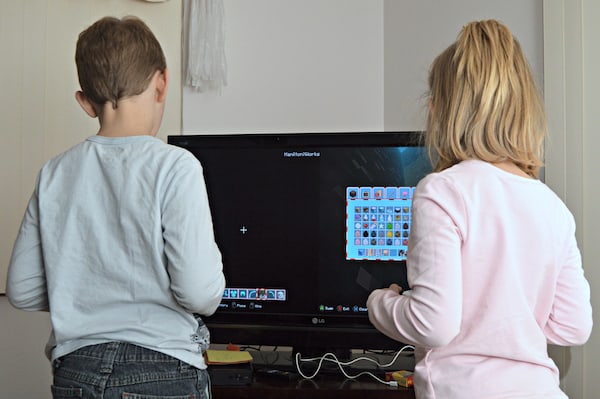 Since the Xbox One S is a Microsoft product, the parental controls for the console are integrated across Windows 10 and Windows devices. I love this because my family's settings can all be adjusted in one place on the Microsoft website.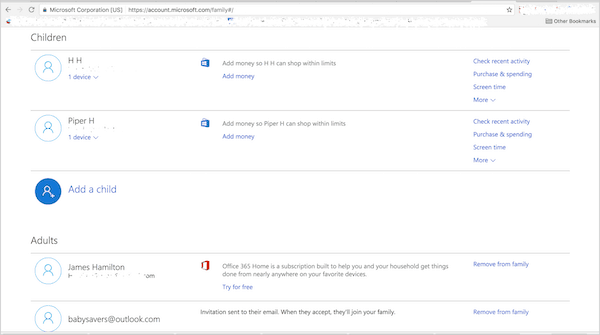 Setting up the family takes some time, because each family member has to have his or her own Microsoft account. A child's account must be verified by an adult with a Microsoft account. That adult has to prove their identity by inputting a credit card number and paying $0.50 to an undisclosed charity.
It does take a while but it all feels very secure, which is important when it comes to letting your children use a device that's capable of so much!
But once each account is created and added to the family that part of the process is done (hopefully) forever. The designated adults can customize each child's access in a variety of ways.
Xbox One S Parental Controls: Screen Time Limits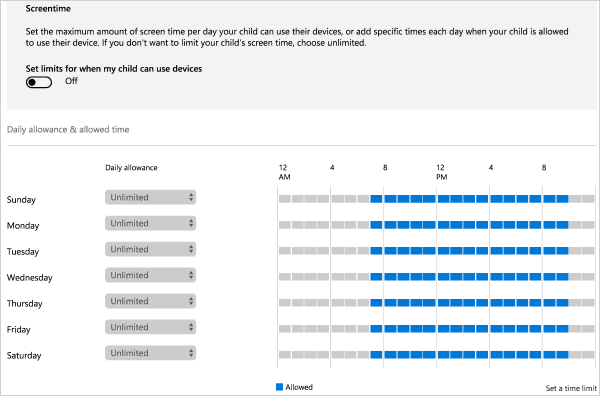 I think a big concern with kids and video games is  the amount of time kids could spend playing. With the Xbox One S parental controls you're easily able to set daily time limits and/or allowed hours of use for each child in the family.
Xbox One S Parental Controls: Web Browsing, Allowed Websites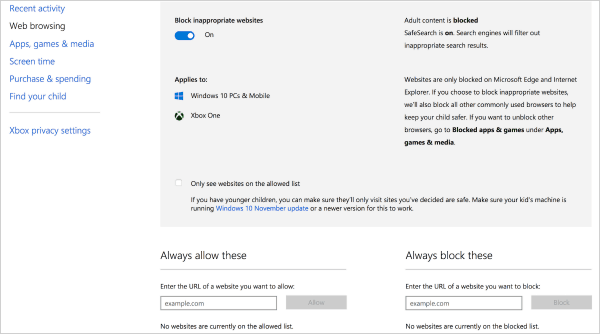 The Microsoft Xbox One S has so my features, it's not a stretch to think that anyone could accidentally exit the gaming system and end up browsing online. That's totally ok for adults, but it's scary to think about a child online without any boundaries.
You don't have to worry about this with the Microsoft Xbox One S parental controls. The Web Browsing settings let you determine if your child should be allowed on any websites. Then, you can set it up to always block or always allow certain URLs.
Xbox One S Parental Controls: Purchase and Payment Options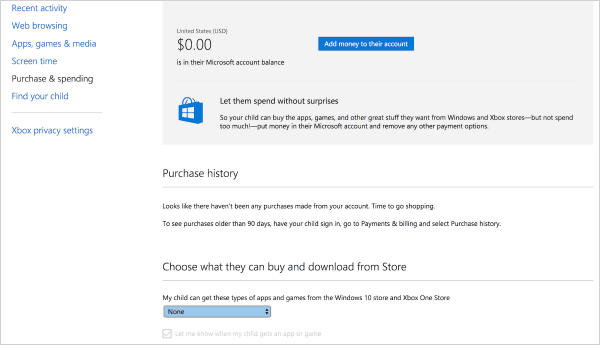 I don't know about you, but it's going to be a long time before either of my kids has access to something connected to my credit card. The Xbox One S parental controls understand me 🙂
You have several options for allowing or not allowing your child to spend money in the Xbox Store. You can completely turn off access to the store or permit only free downloads. Alternatively you can deposit money into your child's account, manage their payment methods and prevent them from purchasing content in different categories.
How to Find Age-Appropriate Games for the Xbox One S

While there are all those amazing parental controls to limit what our children have access to, it doesn't help all of use choose or find age-appropriate games for the Xbox One S. For that, we can turn to the ESRB app.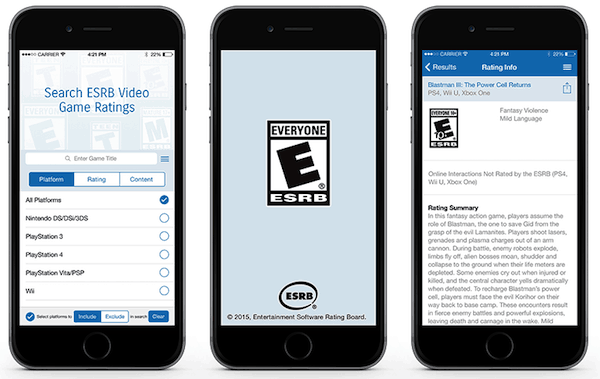 In short, this app allows you to search for, discover or vet any video game for the Xbox One S and many other platforms. It's a great way to find age-appropriate games for your new gaming system!
If you have even a fraction of the cautiousness that I have when it comes to children and video games, I feel your concern!
I'm so surprised and happy with how secure the Xbox One S makes me feel as a parent. It's definitely the first video game console you should look at if you're ready to introduce your kids to gaming!