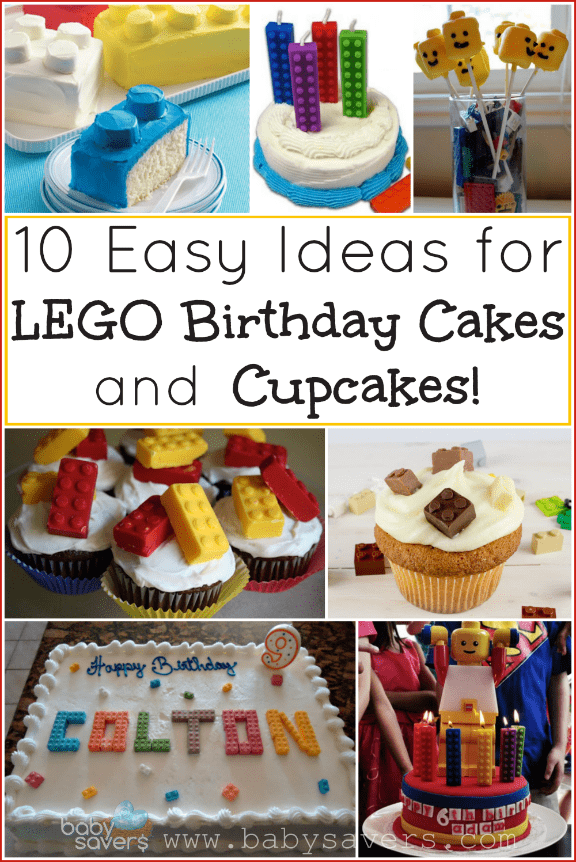 It's never too early to start planning a birthday party (or any other celebration)! I have to say, I see a LEGO cupcakes or a great LEGO cake and I get excited!
Share this post by pinning it on Pinterest (or repin it), then follow me on Pinterest!
There's always a lot interest in the LEGO birthday cake I shared last year, so I want to share some inspiration for fun and easy LEGO cupcakes and LEGO birthday cakes!
Easy LEGO Birthday Cakes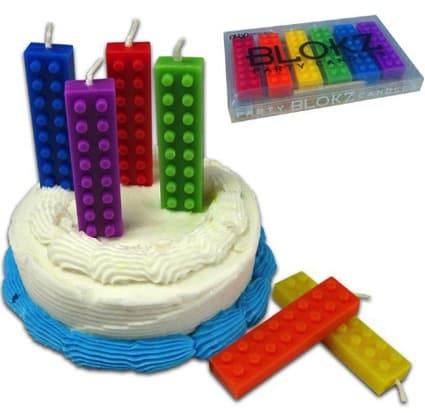 These LEGO birthday candles will create a festive LEGO-themed cake, even if you pop them into a bakery birthday cake!
You can bake your own cake or buy a frosted cake (Almost all grocery store bakeries have plain round and sheet cakes ready for purchase), then decorate with these fancy LEGO candles!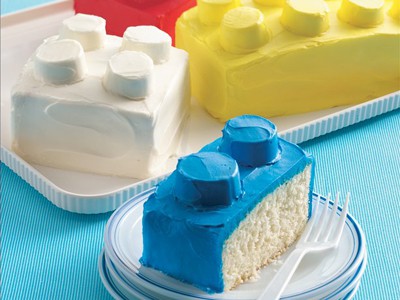 Lego Building Blocks Birthday Cake :: Bake a cake in a standard 9×13 pan and follow the directions to make cake "bricks" with marshmallows.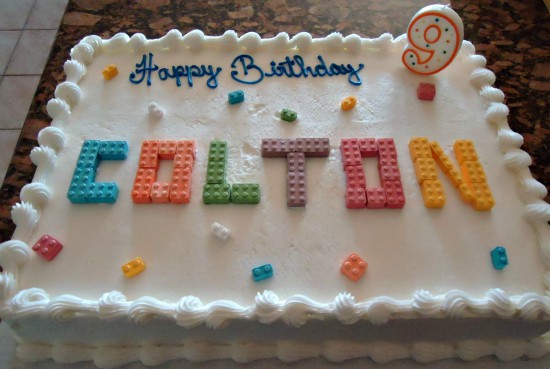 This sweet LEGO birthday cake looks like a fantastically dressed-up sheet cake from Costco, and it's definitely something I would try to do!
The cake is embellished with super-fun Candy Blocks edible LEGO candy and the child's name can be spelled out with the same LEGO candy!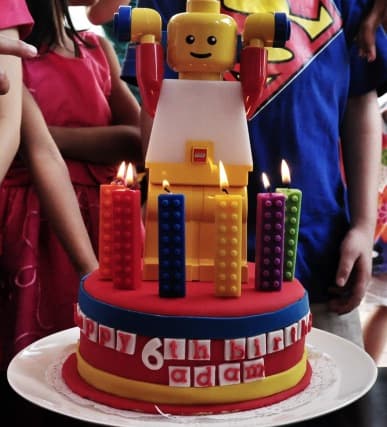 I wouldn't classify the actual base of this LEGO cake as "easy" but the decorations that top the cake are definitely doable. They would have a "Wow!" factor even without the fondant-covered cake! Think about Buying a simple round cake from a bakery and topping it with an oversized toy.
The LEGO birthday candles are used here, but the real eye-catcher is the LEGO figure on top of the cake that can double as a birthday gift! The one above is the LEGO lantern, but you can also use a LEGO Policeman Alarm Clock or a LEGO Brick Bank.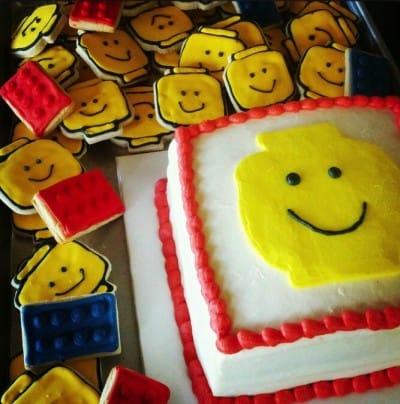 This LEGO minifigure head birthday cake would be easy to replicate. Use a LEGO head template to get the shape right and fill it in on a white cake!
Easy Lego Cupcakes Ideas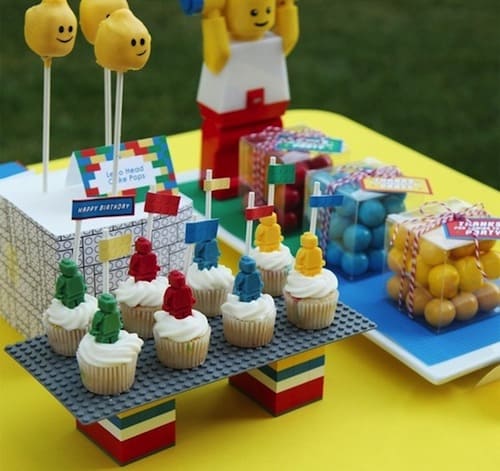 I love how dressed up these store-bought cupcakes are after making them LEGO cupcakes! Creating edible LEGO minifigures is remarkably easy when you use this LEGO minifigure mold and various colors of Wilton candy melts!
Notice that the LEGO cupcake stand is simple to replicate and literally brings your LEGO cupcakes to the next level 🙂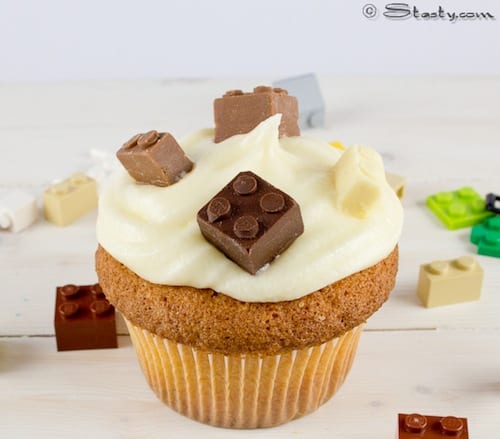 LEGO Chocolate cupcakes! Make your own edible chocolate LEGO bricks with this LEGO candy mold, then decorate with flavor and color of cupcakes and frosting!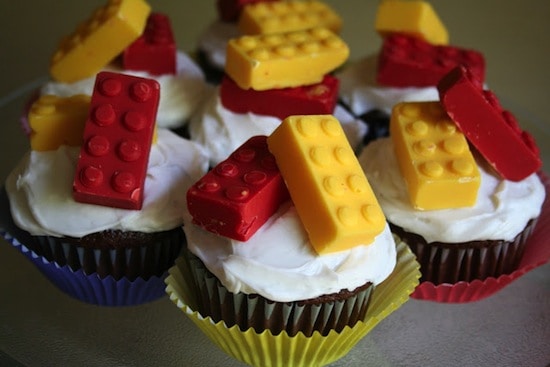 Anyone can do this idea! These LEGO cupcakes are topped with candy made with a LEGO candy mold. I also think the loose outside cupcake liners in primary colors bump these treats up to the next level!
LEGO Cake Pops & LEGO Brownies Ideas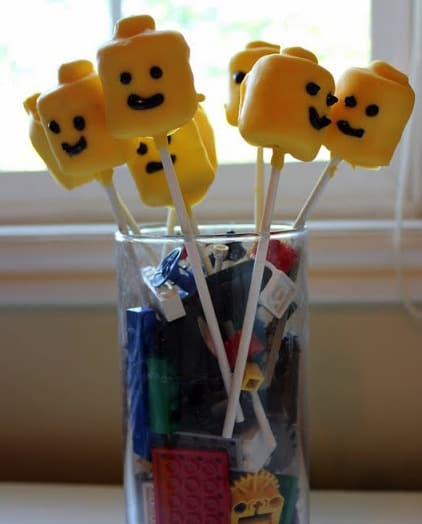 Way easier than traditional cake pops! These adorable LEGO pops are marshmallows topped with M&Ms, then dipped in bright yellow candy melts.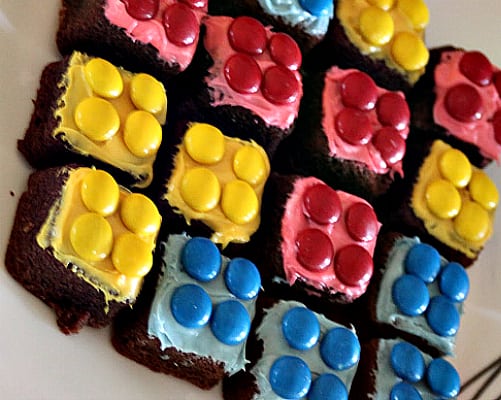 I love the simplicity of these LEGO brownie bites! Bake perfect squares in this affordable 24-cavity brownie bites pan, frost and top with M&Ms in all the right colors.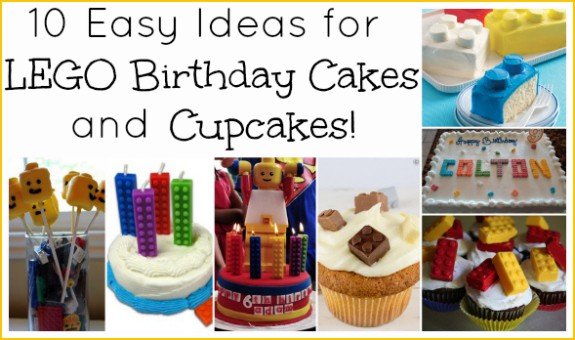 For more LEGO cake ideas, be sure to take a look at this article: LEGO Cake Ideas: 15 Seriously Easy LEGO Birthday Cakes with tutorials!
Your Turn: Which one of these LEGO Cupcakes or birthday cake ideas is your favorite?