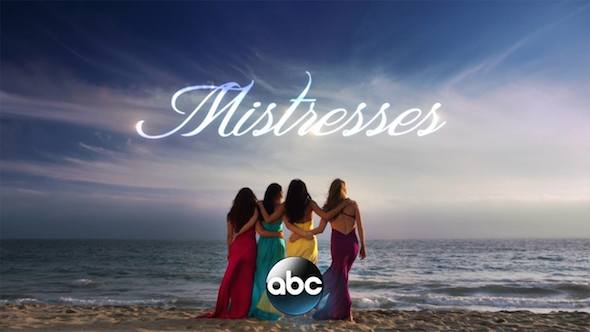 Last week I shared that I had an inside look at Mistresses when I was in LA for a variety of Disney events in May 2014. In addition to meeting Jason George, winning a beautiful necklace and learning about how the costume designer works with the latest trends, we also got to visit the set and go on location with the cast and crew!
The second episode of the second season of Mistresses is on tonight, 6/9 on ABC at 10pm EST. I've said all of this before:
If you haven't watched Mistresses yet, I promise you won't be lost if you jump in to watch the show tonight before seeing any other episodes. It's a light drama, so most of the storylines are easy enough to follow without prior knowledge.

I also want to say that the title Mistresses definitely shouldn't be taken 100% literally. If the title turns you off, I want you to know that the show does not glorify cheating. While the characters aren't wild with deceit and infidelity, it's definitely there. But their actions come with consequences and the show's stories depict the (soapy, dramatic and sometimes humorous) fallout and aftermath of those actions.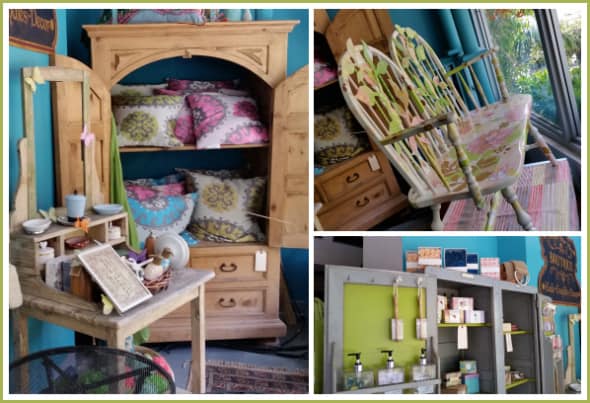 If you're a fan of Mistresses, I'm pretty sure you've dreamed of shopping in April's store. We were lucky enough to walk through the set of the store, and it was pretty much just like walking through a unique Anthropologie combined with real storefronts for Modcloth and Ruche. In short, it was amazing!
We also learned that Mistresses is filmed on the same set that's used for ABC's Cougar Town. I think it's great that even locations are repurposed to save money, and it looks like someone was having a fun time with that fact. Look what I spotted when I was examining a deliberately arranged messy desk used in Mistresses: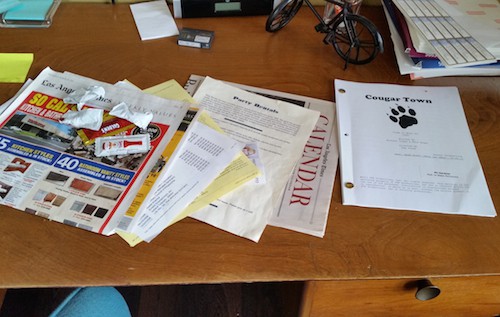 After our tour of the Mistresses set we all hopped into a shuttle to take us to an "undisclosed location" to see where the show was currently filming.
As we approached the house in a gorgeous California neighborhood, Jes Macallan (who plays Joss in the show) came bounding out of the house.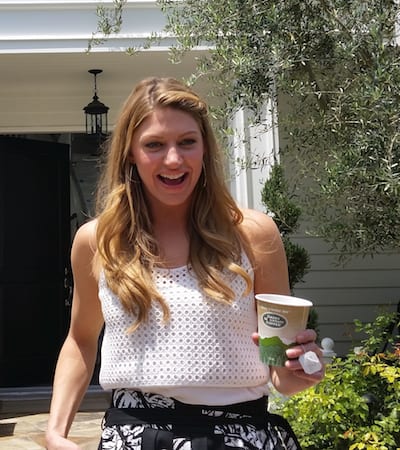 Jes was super-friendly and incredibly energetic, and she really, really wanted to give all of us the full set experience! She invited us into the house (but was immediately told that we couldn't go inside), she started talking about what she was filming (and was told not to share any secrets), she wanted pictures and started connecting with a blogger from her hometown.
Jes was also super-eager to have us meet her costar, Justin Hartley, so she ran back inside the house and came back with him.
While I had never seen him before, another blogger, Dusty, told him that she loved his prior work and he immediately surprised her with a hug. It was so friendly and she was so happily surprised, I'm kind of in love with this picture I snapped of them: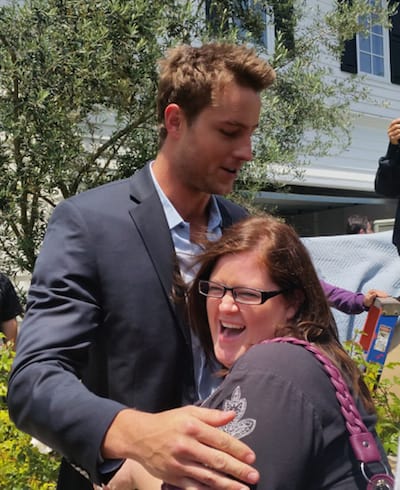 Let's be honest: Justin Hartley is an incredibly good-looking guy. He had all of us eating out of the palm of his hand within minutes of meeting him. He made us give a group of random people a round of applause and we sang Happy Birthday to him, even though it wasn't his birthday!
At the same time, he was just as nice as Jes, and they both went above and beyond what I would ever expect for a meet and greet. They both posed for tons of pictures, answered questions and were generally happy to interact with all of us. Justin even took on the job of actually taking a selfie with each of us while holding the camera: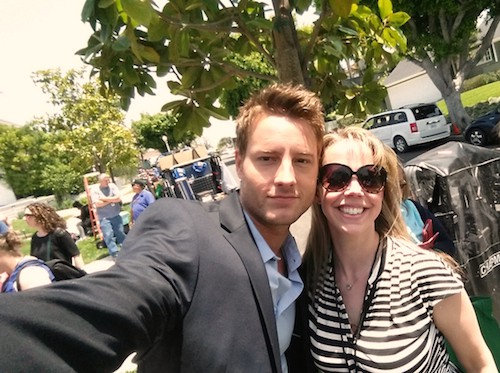 To be completely up front, Both Jes Macallan and Justin Hartley were so nice it makes me like Mistresses even more because of them! Meeting both of them was a great experience, and I can't wait to see what they're up to when their storyline appears in Season 2!
Follow both Jes and Justin on Twitter at these links:
https://twitter.com/jesmacallan
https://twitter.com/Hartleyjustin
Be sure to tune into Mistresses at 10PM EST on Mondays on ABC!
Disclosure: Travel and expenses were provided by Disney to participate in this press trip. All opinions are my own, and all experiences were real.