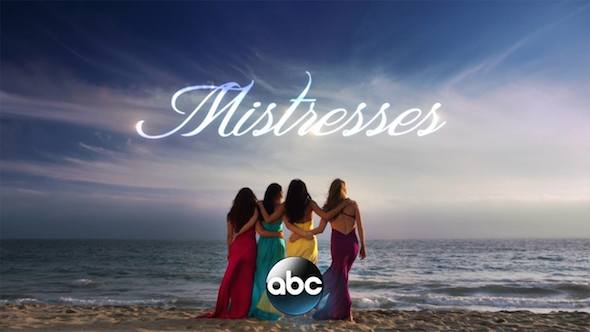 I know, I've been going on a lot about my recent blogging trip to California to work with Disney on a variety of television and movie promotions.
One fun thing I did was get an exclusive set tour of the hit ABC show Mistresses, along with a super-fun interview with one of the stars, Jason George!
First, I want you all to know that Mistresses premieres tonight, 6/2 on ABC at 10pm EST. If you're a fan, I wish I could share all my Mistresses season 2 spoilers with you–I've already seen the season premiere and I got some fun information from Jason George about the direction the show is heading this summer!
Unfortunately, I'm under strict no-tell orders, but I can say that you probably don't want any spoilers for Mistresses season 2. It's so good I don't want to ruin any of the surprises!
If you haven't watched Mistresses yet, I promise you won't be lost if you jump in to watch Season 2 before seeing any other episodes. It's a light drama, so most of the storylines are easy enough to follow without prior knowledge.
I also want to say that the show title Mistresses definitely shouldn't be taken 100% literally. If the title turns you off, I want you to know that the show does not glorify cheating. While the characters aren't wild with deceit and infidelity, it's definitely there. But their actions come with consequences and the show's stories depict the (soapy, dramatic and sometimes humorous) fallout and aftermath of of those actions.
Back to the good stuff (sorry, I'm still not giving up any Mistresses spoilers :))!

Thanks to Mary Jo from TheMommers for this photo!
Jason George plays Dominic, a charming attorney, on Mistresses. When Season 1 ended, we were all left wondering if Savi (played by Alyssa Milano) would choose her husband or Dominic, who plays her lover on the show.
Jason George was just as charming in real life as he is on the show. He was super-sweet to one of his biggest fans who happened to be in our group of influential bloggers. He even kissed her on the cheek!
I can't spoil what happens in the first episode of Mistresses Season 2, but it's safe to say that Savi makes her choice and our group was split down the middle on who she chose!
As for Jason's future on the show, he says that "Dom has big plans…" and left us hanging with what those plans involved. Unfortunately, he wasn't in a place to share Mistresses spoilers, either!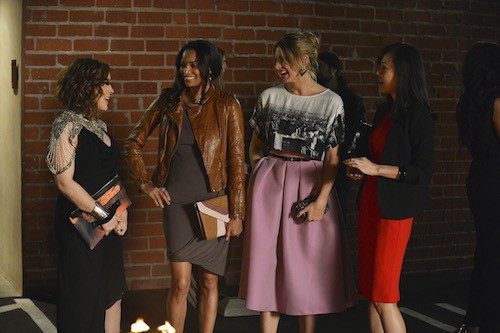 Finally, we talked with Roemel Hawkins, the head costume designer for the show. She had dressforms set up with the clothing seen in the photo above, and I just wish you could have seen the shoes on those ladies!
While I'm far from a fashionista, I do take a serious interest in style. It was fun to learn about where Hawkins gets her inspiration from, and I loved hearing that she was inspired by style bloggers!
She also gave a lot of credit to Robin Rhodes, the jewlery designer who does lots of work for Mistresses. We were all blessed with a beautiful cuff bracelet courtesy of Rhodes, and I was lucky enough to be a big winner among our group of bloggers!
If you follow me on Instagram, you likely already know that I won a gorgeous necklace that's a replica of one that April wears in Mistresses. I had actually fallen a little bit in love with that necklace while watching the episode, so I was absolutely thrilled to take home one of my own!
All in all, I loved learning more about Mistresses, meeting Jason George and learning about what goes into the costume design for the show. If you haven't seen Mistresses, tune in tonight and see what you're missing!
Disclosure: Travel and expenses were provided by Disney to participate in this press trip. All opinions are my own, and all experiences were real.