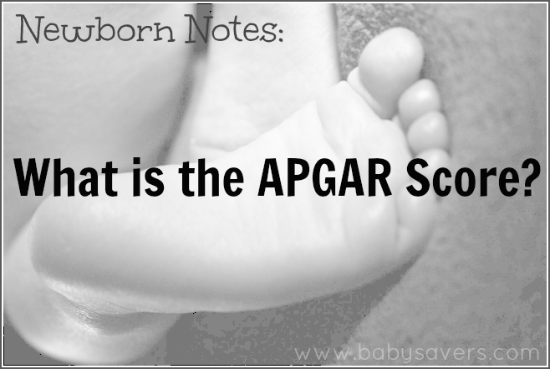 I know I wasn't the only brand new mom in the hospital asking What is the Apgar Score? This is my attempt to get you to be a little more knowledgeable about this important assessment that's done on every baby in a hospital or birth center!
If you like this post please share the information by pinning it on Pinterest!
What is the Apgar Score?
The Apgar scale and score were devised by Dr. Virginia Apgar. The apgar score is a standardized method of assessing the immediate condition of a newborn baby. It's far more specific than I ever dreamed it would be, and it's something I didn't know all that much about before the births of my own children.
How the Apgar Score works:
At exactly one minute and 5 seconds after baby's birth, the doctor or nurse does five checks to gauge your baby's overall health:
Heartbeat
breathing
muscle tone
reflexes
skin color
Each of those 5 factors is assigned a score of 0, 1 or 2 with a possible total of 10. This score will be assessed more than once as determined by the hospital staff.
A total score of 7 or more is deemed "normal," and a low first score followed by a normal second score is also normal.
Why would the first Apgar Score be low and the next one high?
Everyone wants the Apgar Score to improve, and there are a few obvious reasons that the first score reflects lower numbers and the second one is in the normal range. Those reasons can include:
Mom experienced a long second stage labor
Demorol was administered during labor
If either of those factors apply, or if the doctor concludes that other factors contributed to the score difference, then that second Apgar score is considered to be the "final" score.
How is the Apgar Score calculated?
Newborn heart rate is over 100 = 2
Newborn heart rate below 100 = 1
No heartbeat = 0
Regular breathing or crying = 2
Slow or irregular breathing = 1
Absence of breathing = 0
Active baby with good muscle tone = 2
Only hands and feet are moving = 1
Baby is not moving = 0
Strong reflexes = 2
Weak reflexes = 1
No reflexes =0
Pink skin coloring = 2
Body pink with blue extremities =1
Blue or pale coloring = 0
It's interesting knowing the specific signs that will be checked immediately at baby's birth!
Moms and Dads: Did you know about the Apgar Scale before your had your baby? Do you remember your newborn's score?
As I always say, I'm not a doctor and this isn't medical advice. Any questions about the Apgar score or any other health-related questions can be answered by your doctor or hospital staff.