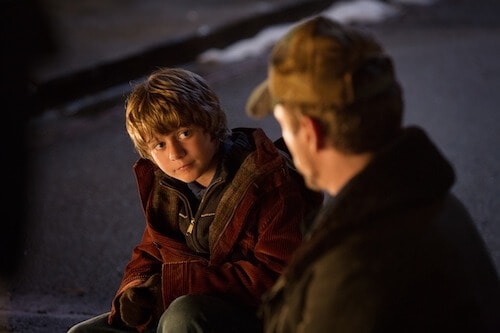 I have a feeling you all know that Iron Man 3 opened in US movie theaters last weekend. If you happened to see it, you may have asked, Who is the kid in Iron Man 3?
I knew next to nothing about Ty Simpkins two weeks ago. Then I had the chance to interview him just before seeing Iron Man 3 at the Hollywood premiere. Not only is he a smart, funny kid, he's a great actor, too!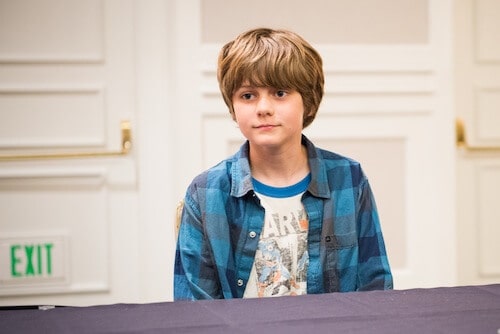 Ty Simpkins answered a lot of questions from the group of 25 bloggers who asked him questions. Here are my favorite parts of the interview:
What's your favorite aspect of your character [in Iron Man 3]?

I think my favorite aspect of being my character is that I get to meet Tony Stark. But I'm similar to him. Because I'm, like, a genius in the movie. And he's a genius in the movie, of course, more of a genius than my character.
How does it feel to be working with Robert Downey Jr.? 

Oh, it's awesome. Like literally Robert Downey Jr. is my favorite person.
Were you nervous when you met him?

He actually asked me that. And I said, no, I'm just really excited to meet him.
How did you react to getting the part [of Harley in Iron Man 3]?

I screamed yes! I was really excited. I was at a cello class, and  it made cello even better.
How did you get into acting?

So I've been acting since I was born. I was still in my mom's stomach when people called and asked me to be on either a TV show or a soap opera.  But…they asked my mom. And she said I'm not born yet. But and then they said we'll wait.
What's your next project?

So I just finished Insidious 2. That comes out in September.

And I'm really excited for this movie called Conversations with Andy. It's about a sixth grade kid who is having a tough time…with his family. They're getting a divorce and stuff. And then he meets Andy Warhol and Andy helps him out and stuff. So I'm really excited for that.
Are stunts fun?

Yeah, I love doing my stunts. It's really fun.
Who are your biggest role models?

So there's Robert Downey Jr., Chris Evans and Johnny Depp…Besides Robert Downey Jr. I would love to work with Chris Evans or Johnny Depp.
Who's your biggest supporter?

My biggest supporter? My mom.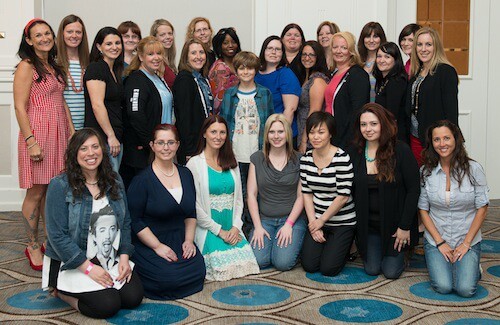 It was fun asking Ty Simpkins questions and hearing about an acting career from his perspective. He's a smart, articulate guy, and we'll be seeing much more of him in the future!
Iron Man 3 opens on May 3rd, 2013 and distributed by Walt Disney Studios Motion Pictures. Follow the hashtag #IronMan3Event on Twitter to see updates from the bloggers who attended the Iron Man 3 Hollywood premiere.
Like IRON MAN 3 on Facebook: www.facebook.com/ironman, follow IRON MAN 3 on Twitter: @Iron_Man, visit the website: https://marvel.com/ironman3.
Marvel's Iron Man 3 pits brash-but-brilliant industrialist Tony Stark/Iron Man against an enemy whose reach knows no bounds. When Stark finds his personal world destroyed at his enemy's hands, he embarks on a harrowing quest to find those responsible.

This journey, at every turn, will test his mettle. With his back against the wall, Stark is left to survive by his own devices, relying on his ingenuity and instincts to protect those closest to him. As he fights his way back, Stark discovers the answer to the question that has secretly haunted him: does the man make the suit or does the suit make the man?

Starring Robert Downey Jr., Gwyneth Paltrow, Don Cheadle, Guy Pearce, Rebecca Hall, Stephanie Szostak, James Badge Dale with Jon Favreau and Ben Kingsley, Marvel's Iron Man 3 is directed by Shane Black from a screenplay by Drew Pearce & Shane Black and is based on Marvel's iconic Super Hero Iron Man, who first appeared on the pages of Tales of Suspense (#39) in 1963 and had his solo comic book debut with The Invincible Iron Man (#1) in May of 1968.

"Iron by "Iron Man 3" is presented by Marvel Studios in association with Paramount Pictures and DMG Entertainment. Marvel Studios' President Kevin Feige is producing and Jon Favreau, Louis D'Esposito, Charles Newirth, Victoria Alonso, Stephen Broussard, Alan Fine, Stan Lee and Dan Mintz are executive producers. The film releases May 3, 2013, and is distributed by Walt Disney Studios Motion Pictures.
Disclosure: Thanks to Disney for covering my travel expenses for my participation in this press trip. 
Photos courtesy of Disney and Dear Crissy.