It's pretty great to be walking through a resort in Hawaii, seeing that sign and knowing that yoga at the Four Seasons Resort Maui is next on your list of things to do!
As anyone with curly hair knows, before I did anything that day, I had to figure out what to do with her hair!
Humidity and packed agenda including yoga, ziplining at the Maui Zipline Company, and a luau with celebrities meant I needed a style that stayed in place throughout the day and kept my hair tame.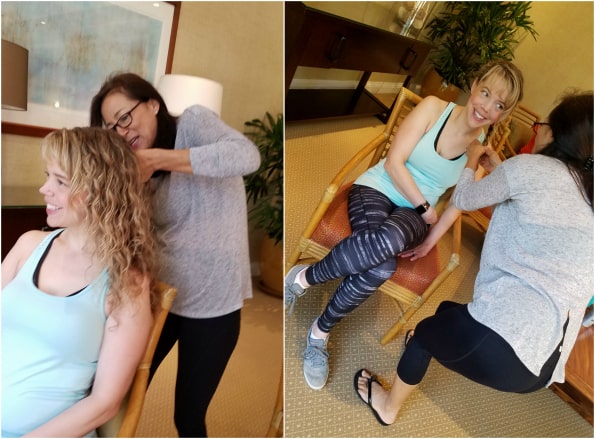 Thankfully, Sony provided a hair and makeup artist to help us out. I didn't need makeup, but I was happy to have my hair braided just before I started my day.
After my hair was done I went to The Four Season's front lawn to take in the decorations for The Angry Birds Movie:
I liked this selfie I took with Bomb. It looks like he's giving me the side-eye!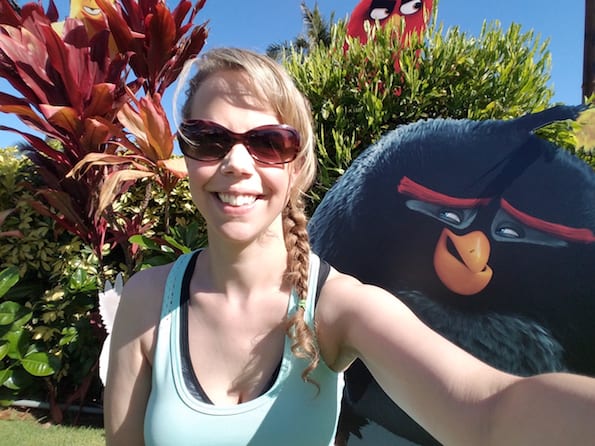 It was absolutely impossible to ignore the gorgeous view!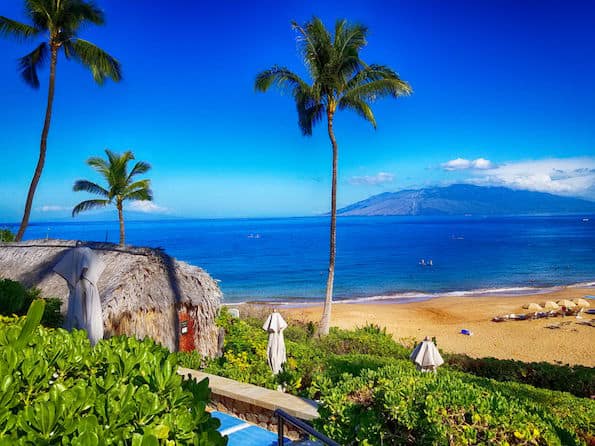 It only took a few minutes for Chuck, Red and Bomb to show up to kick off the yoga lesson. Chuck even had his own yoga mat!
Let me tell you, I'm not an athletic person, and I generally don't care for being outdoors. But I'm pretty sure I could do yoga next to the beach at The Four Seasons Resort every day for the rest of my life and die happy!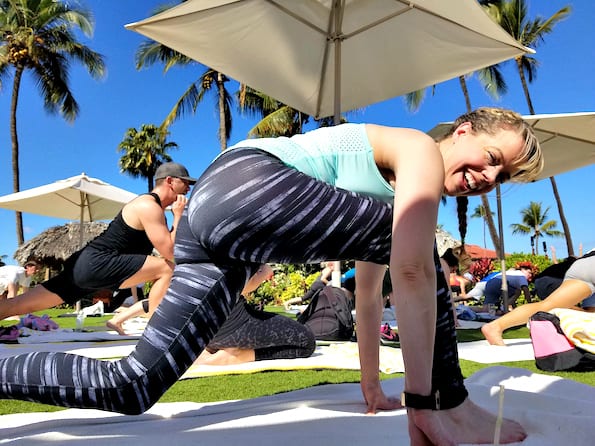 The instructors for yoga at The Four Seasons Maui were also top notch. I'm generally not very coordinated, and I had no problem doing the yoga poses or keeping up with the teachers.
By the end of the class, I felt so happy and relaxed. It make me think that if I were to take up any sort of exercise, it would be yoga.
I was even more validated when I stretched to touch my toes and I was able to reach way beyond my feet. That's not something I could do before the yoga session, and it felt so good!
When we were done with our yoga session we had a few minutes to spend at the Nest and Relaxation Lounge. I grabbed a smoothie and some fruit infused water before heading to our next adventure: ziplining!
Read how I soared like an Angry Bird in my Maui Tropical Plantations zipline review!
Check out the newest trailer for The Angry Birds Movie:
The Angry Birds Movie opens in theaters everywhere on May 20th. Get your tickets today!
About The Angry Birds Movie:

In The Angry Birds Movie, we'll finally find out why the birds are so angry.

The movie takes us to an island populated entirely by happy, flightless birds – or almost entirely.

In this paradise, Red (Jason Sudeikis, We're the Millers, Horrible Bosses), a bird with a temper problem, speedy Chuck (Josh Gad in his first animated role since Frozen), and the volatile Bomb (Danny McBride, This is the End, Eastbound and Down) have always been outsiders. But when the island is visited by mysterious green piggies, it's up to these unlikely outcasts to figure out what the pigs are up to.

Featuring a hilarious, all-star voice cast that includes Bill Hader, Maya Rudolph, and Peter Dinklage, as well as Kate McKinnon, Keegan-Michael Key, Tony Hale, Tituss Burgess, Ike Barinholtz, Hannibal Buress, Jillian Bell, Danielle Brooks, Latin music sensation Romeo Santos, YouTube stars Smosh, and country music superstar Blake Shelton, who writes and preforms the original song "Friends," the Columbia Pictures/Rovio Entertainment film is directed by Fergal Reilly and Clay Kaytis and produced by John Cohen and Catherine Winder.

The screenplay is by Jon Vitti, and the film is executive produced by Mikael Hed and David Maisel.
Disclosure: Sony flew me to Maui and covered most expenses to facilitate this and other experiences related to The Angry Birds Movie.