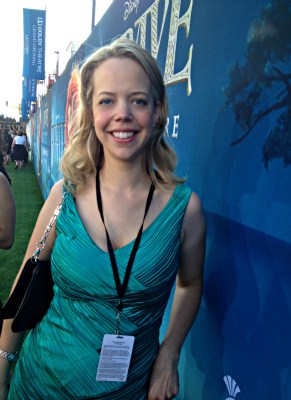 Last Monday I was feeling incredibly fortunate to even be in Los Angeles, let alone attend the premier of Disney/Pixar's newest movie, Brave. But there I was, press credentials around my neck, able to walk the green Astroturf "carpet" with a slew of stars before viewing the movie at the Dolby Theater.
Attending the premier was exhilarating. I knew we wouldn't be able to linger on the walk into the theater, and I'm thankful my phone had the camera-reversing self-portrait feature! I barely had time to take a a handful of pictures on the fly before I was ushered into the theater. While they aren't my best photos, I'm happy that I was at least able to document the experience and share it with all of you. The Walt Disney Studios also provided some pictures to show the entire setting and how magical it was.
The top photo is me just after stepping onto the green carpet. I wish I looked a bit more excited to be experiencing the entire event. Believe me, I was thrilled on the inside!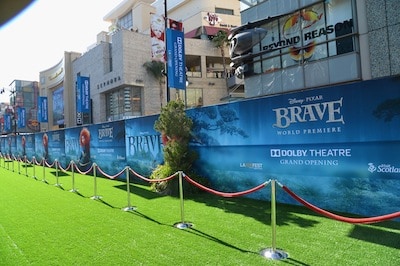 This photo is the "official" photo of the green carpet before the festivities started. It's as big as it looks! There are two sides of the carpet that are divided by the red velvet rope. Important people walk on the wider side. I walked on the narrow side 🙂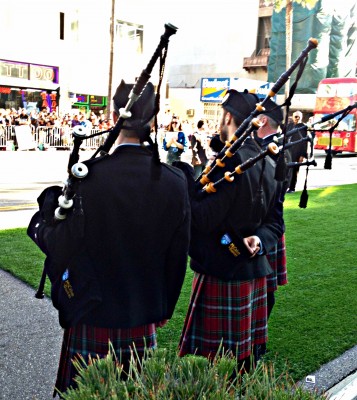 Even as we approached the theater we could hear the sound of bagpipes playing. As a film based in Scotland, it made the entire experience pretty majestic!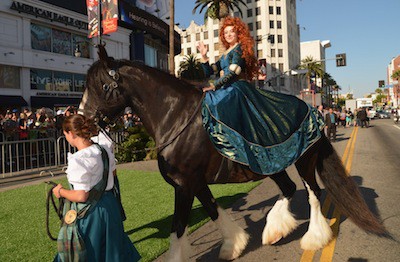 Merida, the star of the movie, made a live-action appearance at the premier. I wasn't around for her arrival, and I wish I could have seen it!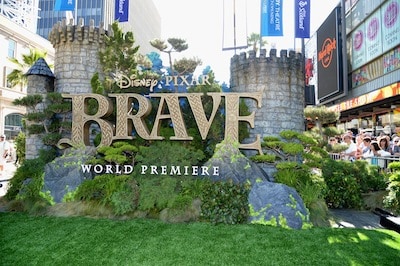 This is a huge 3-dimensional backdrop for celebrity photos. A few people in our group were able to get in front of it for a photo but I wasn't one of them.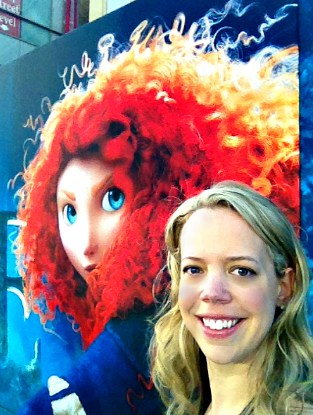 This is a photo I snapped that captured me with a larger-than-life image of Merida, the main character from the movie. I love how it looks like she's staring right into the camera!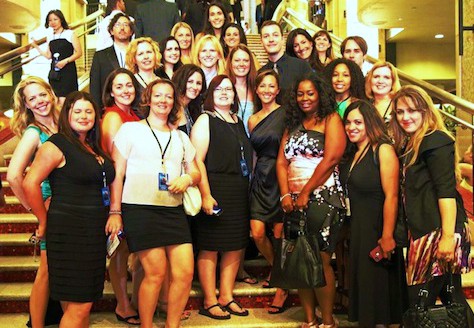 Our group leader was able to round up almost all of our entire group in between the red carpet and the theater for a quick group photograph before going to get our popcorn and 3D glasses. I'm so happy I was with such an amazing group of bloggers for this event! (I'm the one that's farthest to the left).
I'm at a bit of a loss for words when it comes to describing the entire evening of Brave's green carpet and movie premier. It was a once-in-a-lifetime experience that wouldn't have come true without this blog and, in turn, without all of you, my dear readers. While I have Disney to thank for the invite and the experience, I want to express a huge THANK YOU to all readers for making this possible! 
Brave opened on June 22, 2012. I've seen it, I loved it and I'm ready to see it again! You can read my Brave movie review, then stay tuned for another Brave-themed post coming your way tomorrow!
Like BRAVE on Facebook and follow BRAVE on Twitter to stay on top of all the Brave news!
Disney provided transportation and accommodations for this event. All opinons expressed are my own.