The Best Thermometer for Baby and Kids
When I was sixteen years old, I learned that any fever above 104 degrees is an emergency. I've never forgotten it.
There were very few times I had to call on that information in the time following high school. But once I had my first baby it was called up from memory every single time I thought I felt the slightest increase in my baby's temperature.
High fevers put such fear in me that I remember the day my baby Haiden's temperature went over 103 degrees. He was so little, and my sister was with me to help me prepare for a family gathering at my house the next day.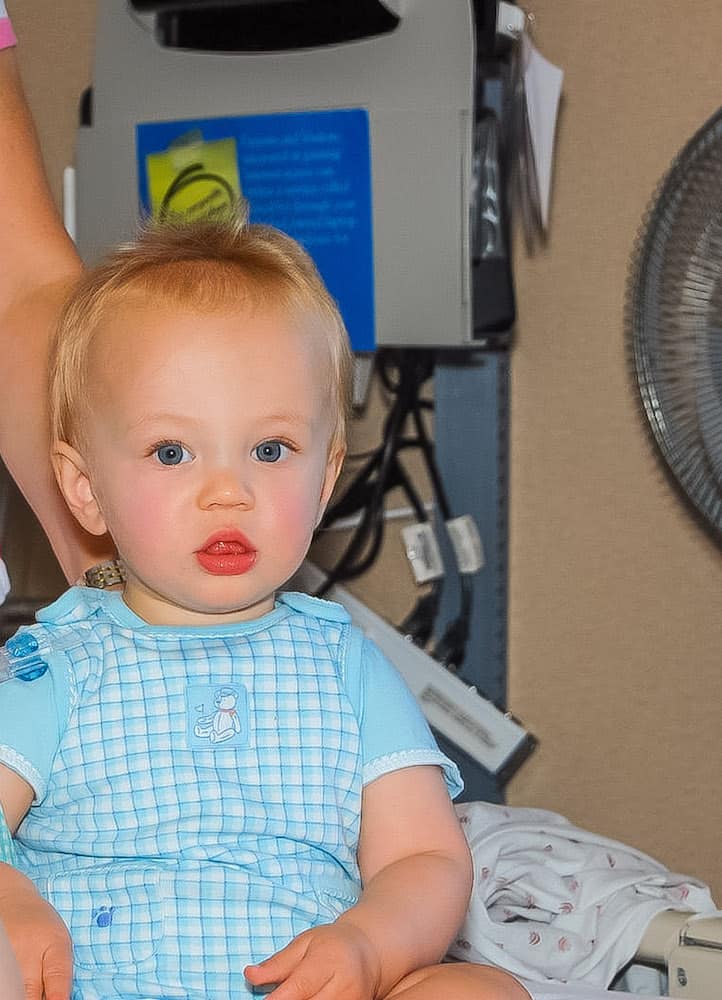 My sister, a mom to four, went to get Haiden up from his nap and she called to me to get a thermometer. I didn't have a thermometer I had 100% confidence in, but my cheap drugstore thermometer had to do.
When it registered over 103 degrees, I froze. Thank goodness for the experienced mom by my side. She jumped into action, getting him undressed, asking me for medication and telling me to call the doctor.
Less than two hours later, the three of us were home from the doctor where Haiden, my little baby, had been diagnosed with pneumonia. A nebulizer and regular doses of infant medication were prescribed, along with lots of rest.
It didn't take long for Haiden to fully recover, but that event only added to my fear of high temperatures and how close his got to being in the danger zone.
Why a good thermometer is important
Like many things in life, I wish I had the knowledge and information then that I have now. Braun Thermometers surveyed over 1,000 United States moms with children aged 10 and under. I have to tell you, there are some misconceptions around fevers that I want to help clear up!
First, 82% of moms believe fever can give their child brain damage. The truth is, most fevers aren't dangerous and don't cause brain damage. A fever is most often a sign that your child has a strong immune system that's helping them get well faster.
I also learned that 4 out of 10 moms believe that using the back of her hand on the child's forehead is a good way to check for fever. I honestly don't disagree with this, but it definitely needs to be done with a reliable thermometer in the other hand to get an actual temperature reading.
My response to the survey findings is, parents need to know about accurate thermometers. All these moms should know the best thermometer for babies and the best thermometer for kids to use as their children grow. I'm so happy I have the answers for them!
The best thermometer for baby, toddlers and kids for accuracy
Did you know the ear canal is the best site to measure a fever because it's so close to the eardrum? Since the eardrum shares the blood supply of the brain's temperature control center, the ear canal allows for a more accurate reading of the body's core temperature.
So now we know that an ear thermometer is the best way to measure temperature. But which ear thermometer is the best?
I can tell you that the Braun ThermoScan 5 ear thermometer is the #1 brand among pediatricians. This particular model has proven more accurate than forehead or rectal thermometers.
Braun ThermoScan 5 Ear Thermometer Review
Why is the Braun ThermoScan 5 Ear Thermometer so great? Here are just a few reasons:
This thermometer gives a fast temperature reading in just seconds.
The positioning system on the Braun ThermoScan 5 uses a light and a beep to confirm proper positioning.
The thermometer uses disposable lens filters (covers) to keep spreading germs to a minimum.
It can be used on babies, children and adults.
I used the Bran ThermoScan 5 and I can hardly even explain how happy I was with the results.
Haiden has been fighting a cold for about a week and I suspected his overall fussiness was due to not feeling well. But it can be hard for kids to verbalize their symptoms. Sometimes they just feel crummy and they can't explain it.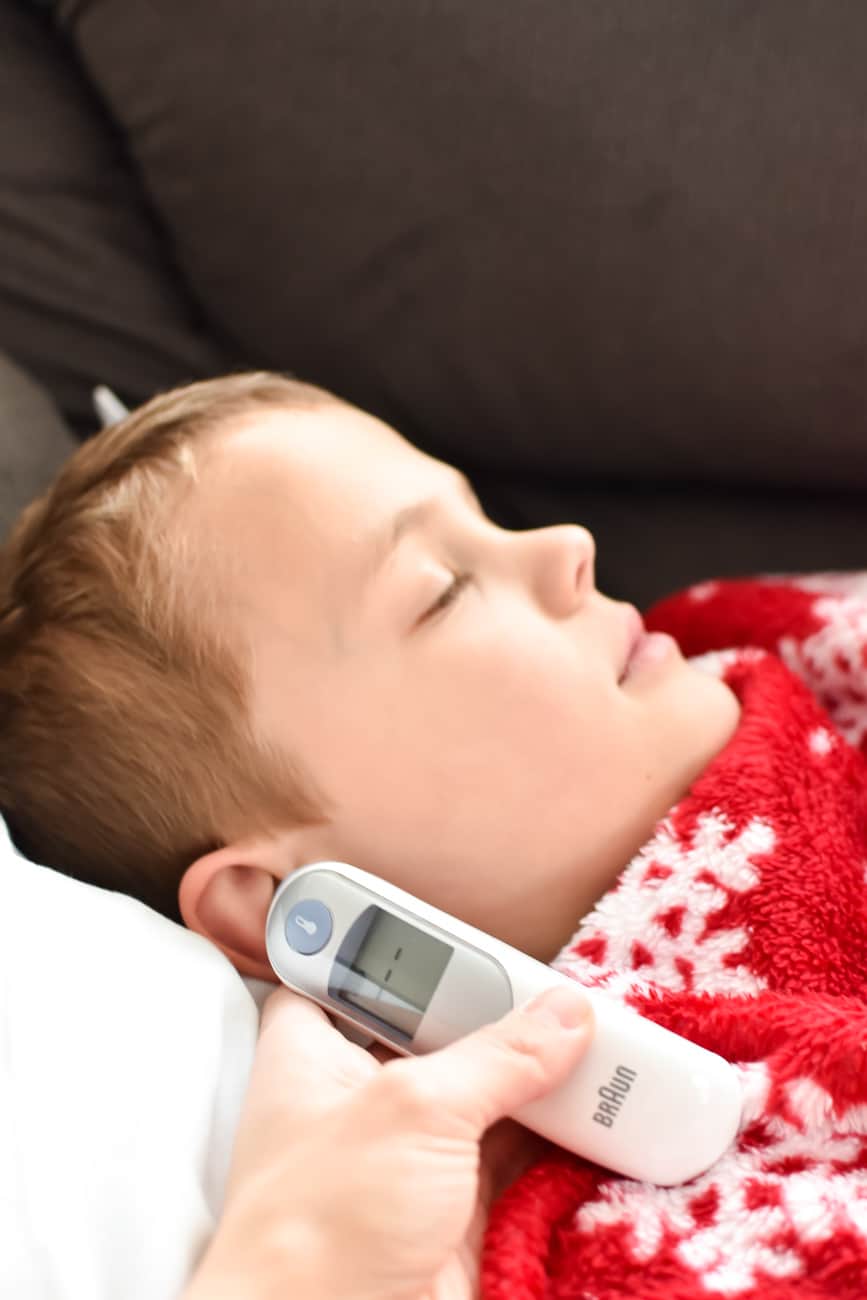 Sure enough, I gently inserted the ear thermometer in his ear. Within seconds I had a reading that put him just over 99 degrees. That's not a temperature I'd be able to feel with my hand, but it helped explain his recent inclination to cry about almost everything!
The Best Thermometer for Baby, Toddlers and Kids for Comfort
As it turns out, having to take a temperature in the ear of a baby (or an uncooperative child) isn't always easy. In addition to squirming, there's also just sensitivity to touch to consider. And sleep! Once you get a sick baby or kid to sleep, you generally don't want to wake her up.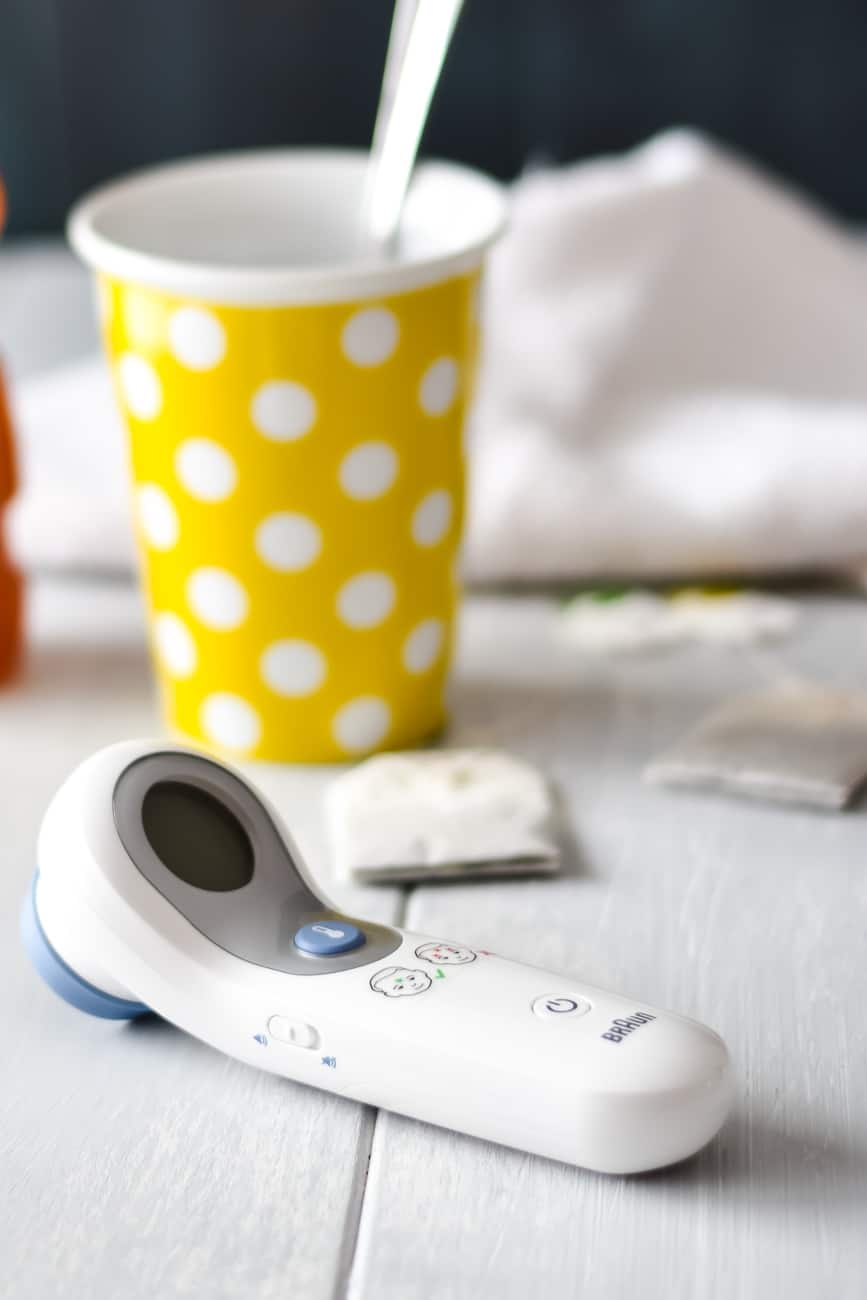 Times like these call for the Braun No touch + forehead thermometer.
Braun No touch + forehead thermometer Review
The Braun No touch + forehead thermometer offer's Braun's fastest, most comfortable and clinically accurate temperature reading. Even better, the reading can be done by touching the thermometer to the forehead or holding it up to two inches away.
Here are a few great things about this thermometer:
It's easy to use – there's no need to move or swipe the end of the thermometer across the forehead, and the reading is done in two seconds.
The screen is color coded. It lights up green, yellow or red to show the severity of the temperature reading.
It can be used on babies, children and adults.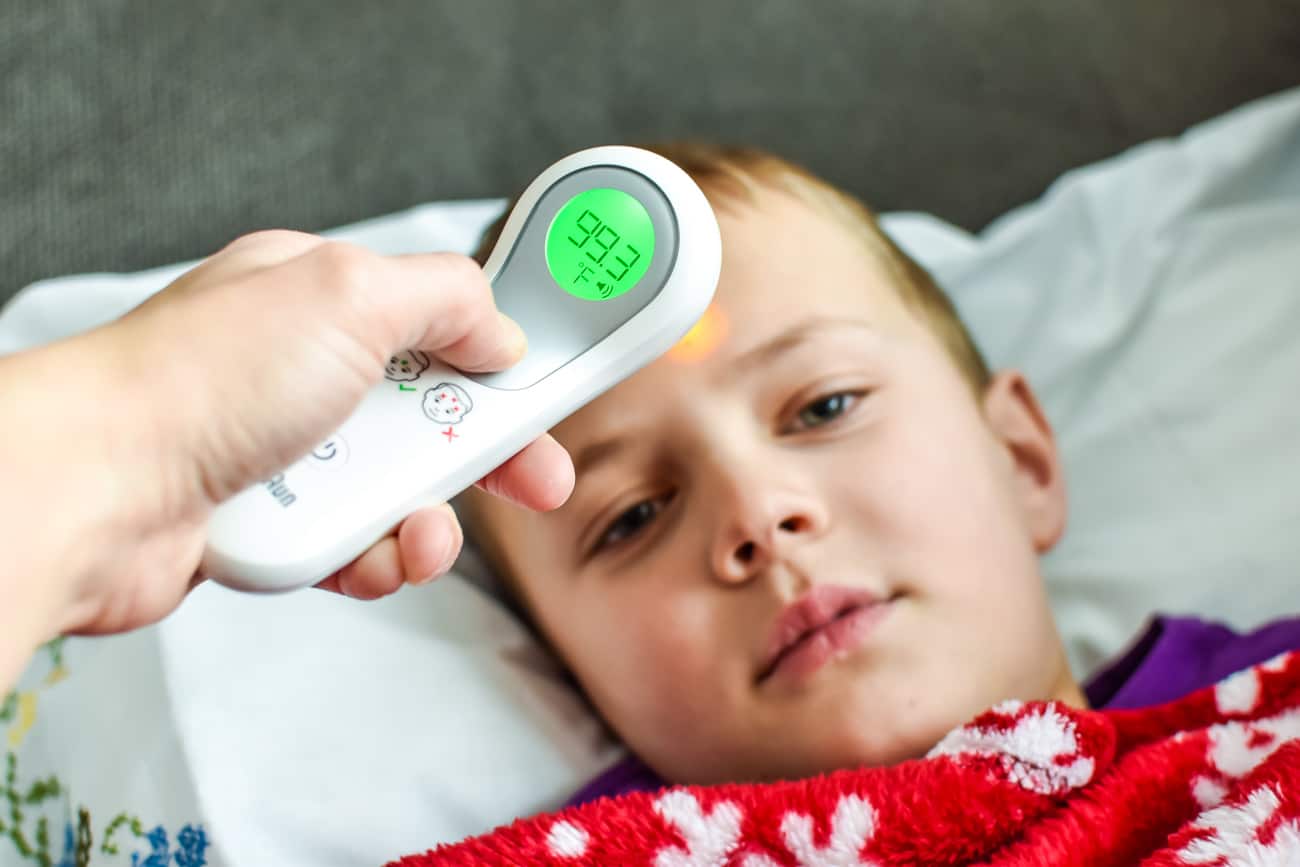 Using the Braun No touch + forehead thermometer was a breeze. Honestly, every mom needs one! The device has a light to guide where the reading is taking place, and it also tells you if you need to move the thermometer closer.
For me, the most outstanding feature is that the thermometer needs no contact to read child's temperature. Your sleeping child can stay sleeping. There's even a silent mode to help with that!
From now through February 28th, you can use this offer to earn $5 via Ibotta when you buy a Braun ThermoScan 5 at Walgreens!
Here's how the Ibotta Braun ThermoScan offer works:
Download the Ibotta app if you don't already have it.
Select the Braun ThermoScan Ibotta offer here.
Buy your Braun ThermoScan 5 at Walgreens before February 28th.
Snap a picture of your receipt and submit it via the Ibotta app
Receive your $5 rebate.
If you're new to Ibotta, don't worry! The app walks you through exactly how to use it to get your rebates. As long as you purchase the right products and have your receipt, you'll find Ibotta incredibly easy to use.
Sorry – this giveaway has ended.
Enter the giveaway!
I'm so excited to share that I'm also giving away a Braun ThermoScan 5 thermometer AND a $50 Walgreens gift card to one lucky winner!
Ready to win? This giveaway is for:
1 Braun ThermoScan 5 thermometer.
1 $50 Walgreens gift card.
This giveaway ends at 11:59pm CST on February 15, 2018.