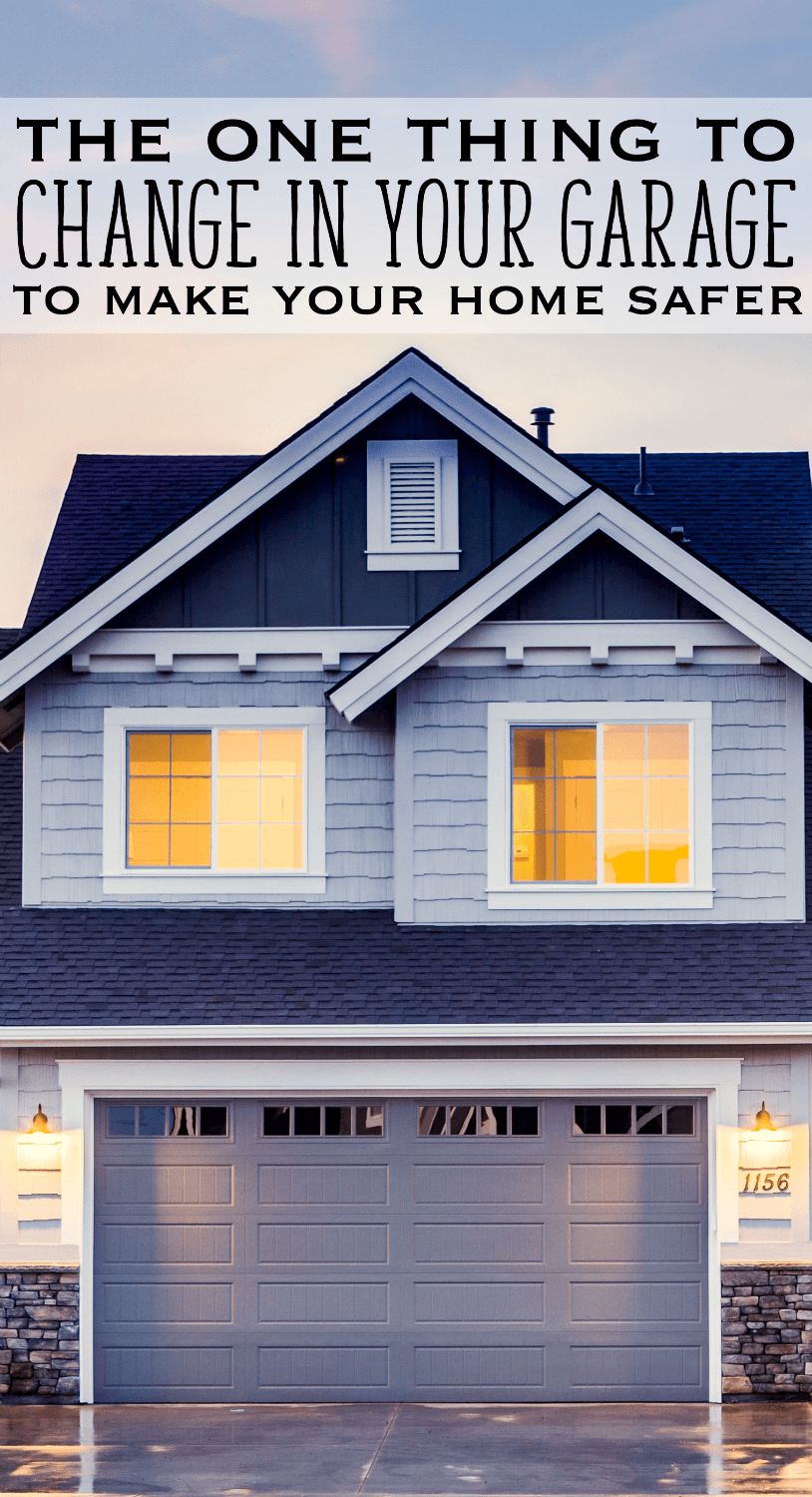 I love tech and I think the best devices are those that make our lives easier, better and/or more efficient.
More and more smart home products are cropping up every day, and I've been working to find the products that are the best fit for moms like me. After all, I'm pretty sure we all could use that certain something that makes our lives even just a little bit easier!
Verizon has been an enthusiastic sponsor of my developing smart home. A few months ago they provided me with a suite of Nest products to help make my home safer and more secure. They also sent me a Tile to help me out when my brain is especially scattered.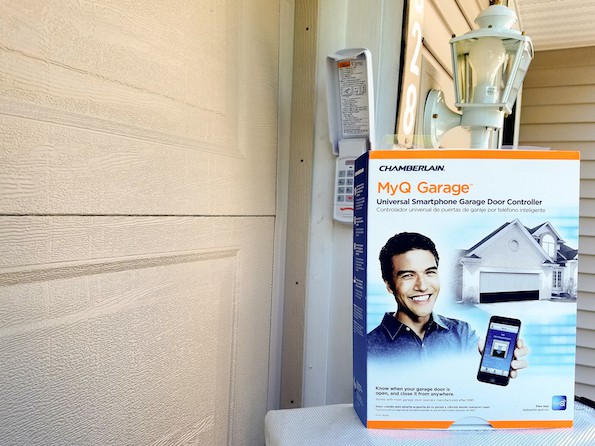 The newest addition to my smart home is a Chamberlain MyQ Garage, a device that allows me to monitor, open and close my garage door right from my smart phone. I'm using a Samsung Galaxy S7 but the MyQ can be controlled from any Apple or Android smartphone or tablet!
I've only had the MyQ for a few weeks, but it already saved my home from a terribly easy break-in, theft or damage. Wait. Is it still called a break-in if I leave a door wide open? Keep reading 🙂
Before I get to my story, I want to be honest with you. Installing and setting up the MyQ wasn't the smoothest process. Honestly, part of it was my fault for not following the directions in order, but the manual is a bit confusing, too.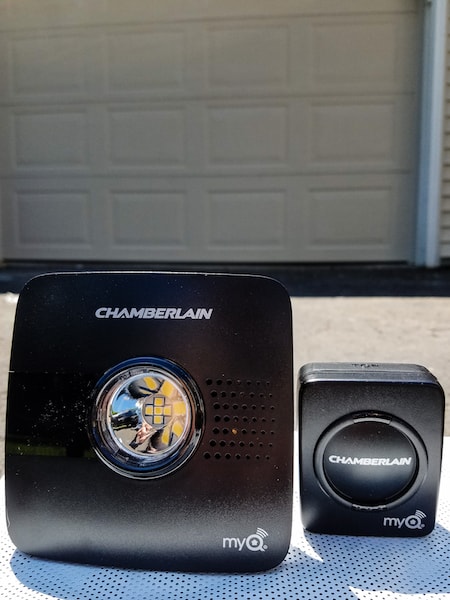 I'm including details on the issues I had so you know what could come up if you get your own MyQ Garage. The most important thing to remember is that I worked through all of them, and so can you!
The Chamberlain MyQ app wouldn't recognize the serial number. This resulted in a call to support where I realized I had accidentally skipped a page in the manual. The device needs to be connected to your home wifi network before you register the serial number.
I struggled with programming the MyQ to work with my Overhead Door garage door opener. According to Chamberlain, All Overhead Door garage door openers manufactured after 1996 are compatible. Ours fit that profile. But the app needed the color of the Program button on the garage door opener. It took a while on a stepladder, then some help from Google, then more time on the stepladder to find the button. After I found it, there wasn't an option for a white button. More Googling was required to tell me I needed to push the button to see the color when it was lit.
I couldn't attach the Chamberlain MyQ hub to the garage ceiling. The hub came with a bracket and screws, but you can see from the below image that we have a drop ceiling with acoustic tiles. I can't attach anything with screws.

I ended up using 3M Command Strips to attach the bracket to the ceiling frame. I waited an hour for the adhesive strips to set then slid the hub onto the bracket.  It was more time up and down the stepladder, but the strips have held for three weeks now!
Once I got over the speedbumps in installing the MyQ it took about 10 more minutes to program and sync it up. Ever since, it's been fully operational.
Now, back to my story of how I accidentally left my house wide open for an intruder or thief.
I recently went to New York for the Blogger Bash conference while my family went out of town to a family cabin at the same time.
My early flight was delayed for five hours, so I had been up since before 5am, working with the airline to find new flights. Between that and the usual craziness of leaving home for a few days, I was only focused on getting myself to the airport on time when I hopped in the cab.
That night, I was meeting with some fellow conference attendees when I noticed a new notification icon on my phone. Here's what it showed when I opened it: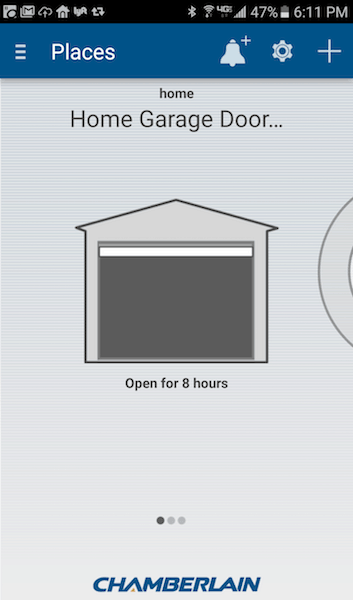 In my haste I had forgotten to close the garage door that morning. That's a huge OOPS! Fortunately, the MyQ sent a signal through the magical wireless universe and I was alerted to my mistake. I'm so grateful I could correct it in the app. One tap and the door was closed.
Let me be clear. I was in New York, the garage door was in Minnesota. One tap secured my home from across the country and fixed the dumb mistake I made.
The MyQ allows you to create alerts for a variety of situations you might want to know about. I get an alert if the garage door has been open for longer than eight hours. I also get an alert if it's open for more than 30 minutes between 10pm and 6am.
On top of all that, the MyQ can pair with my Nest Learning Thermostat to assist with home and away modes. I still need to explore that option and see how it works with a whole family coming and going through the garage, but it's definitely an exciting prospect!
The Chamberlain MyQ Garage retails for $129.99 and can be purchased from Verizon.