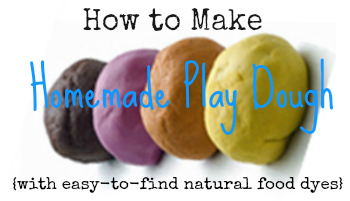 I know a lot of parents are averse to food coloring. So am I, but probably not for the same reasons; I just hate the mess!
Want to hear my Why I'm a Lame Mom confession?  I recently tried making homemade play dough, but I didn't want to use artifical food coloring in it. So I gave Haiden and Piper the pale, beige dough and expected them to still think it was fun. Don't bother asking me why I was actually surprised when they didn't want to play with it!
I'm admittedly not crafty, and I'm pretty proud of myself when I find DIY kids activities that I can actually put together for my kiddos to enjoy. Since plain, insipid-looking balls of dough didn't quite do it for them, I figured I could find a natural way to make the dough a bit more exciting.
I just learned that natural dyes can easily be made at home, and that it's easy to dye homemade modeling dough with items that are found all over the grocery store!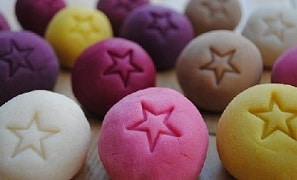 Recipe for Homemade Play Dough with Natural Dyes
1. Combine the following three ingredients in a bowl:
2 cups flour
3/4 cup salt
2 tablespoons cream of tartar
2. Divide the flour mixture into four equal heatproof bowls.
3. Mix up each of the following natural dyes:
Natural brown dye recipe:
1/4 cup boiling water and 1 tablespoon cocoa powder, mixed.

Natural yellow dye recipe:
1/4 cup boiling water and 1/2 teaspoon turmeric, mixed.

Natural orange dye recipe:
1/4 cup boiling water and 1 and 1/2 teaspoons paprika, mixed.

Natural pink dye recipe:
1/4 cup liquid from canned beets (boiling hot) OR 1/4 cup brewed berry tea (boiling hot)
4. While each dye is still hot, add a 1/2 tablespoon of vegetable oil to the liquid and immediately pour it into one of the bowls of the flour mixture.
5. Mix each dye vigorously into the flour mixture. knead it on a flat surface or plate until fully combined.
Note: if you make all your dyes at the same time you'll need to reheat them to near-boiling before adding them to the flour to ensure the salt dissolves and all the ingredients blend together. 15-30 seconds in the microwave should do the trick!
To store: Refrigerate the homemade dough wrapped in plastic wrap or sealed in airtight containers.
Have fun!
Image Credit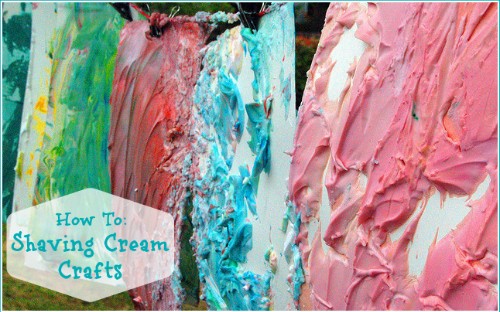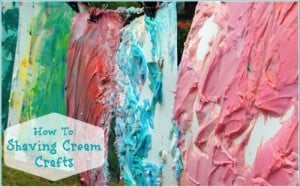 Looking for more craft ideas for toddlers? Check out how to make shaving cream art. It's a fun, sensory activity for little hands!