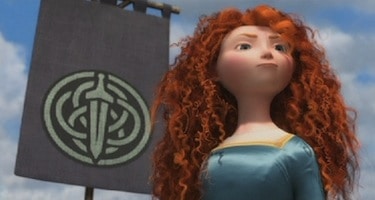 This is fun!
Super fans of Disney/Pixar movies have discovered the excitement of scouring the screen in search of the Hidden Gems the filmmakers sneak into each feature film:
WALL-E's explorations and adventures turn up a Mike Wazowski (of Monsters, Inc.) car antenna ball, and the telltale Luxo Jr. ball can be seen in a child's room as Carl Fredricksen's balloon-lifted home sails past her bedroom window in Up.
Disney/Pixar's brand new, epic action adventure movie,  Brave features more than a few hidden gems. I have the inside scoop on 2 of them, but there are plenty of others if you look hard enough!
Here are two hidden gems that Disney is publicly talking about: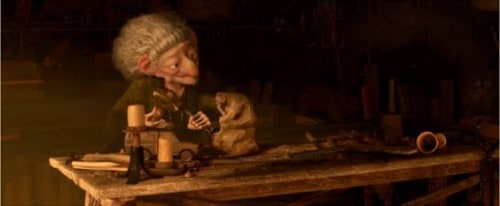 The Witch, an eccentric crone disguised as a woodcarver specializing in whittling wooden bear figurines and conjuring haphazard spells, showcases her mysterious and inexplicable knowledge of the future with a carved figurine of the infamous Pizza Planet truck, an iconic delivery vehicle that's appeared in nearly every full-length feature film from Pixar Animation Studios since 1995's Toy Story.
A carving of Sulley, the lovable blue monster slated to return to the big screen in 2013's Monsters University, appears on a piece of wood in the home of the Witch.
I think I have zero attention to detail. I saw Brave once, then learned about where a few of the hidden gems were before I screened  it a second time. I have to say, I didn't see either of these (or any other ones!) the second time I watched it, and I knew exactly when and where to look!
Oh, well, there's always a 3rd time to look for them, since I'm definitely going to see Brave again soon! You can see my Brave review here!
Like BRAVE on Facebook and follow BRAVE on Twitter to stay on top of all the Brave news!