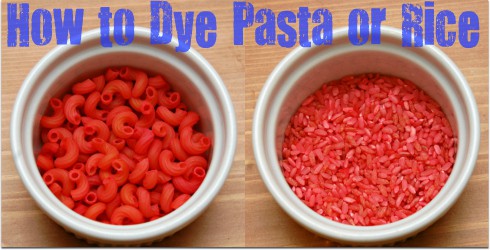 Dyed pasta and rice is an easy way to inject a little extra fun into arts and crafts projects. Macaroni necklaces and lots of other activities become way more exciting when the materials are a rainbow of different colors!
How to Dye Pasta or Rice for Toddler Craft Projects
Supplies needed:
Uncooked pasta or rice (a pound of either works perfectly for the gallon-size bags)
Dinner plates
Put three or four paper towels on a clean plate.
Pour the pasta or rice into a zip-top bag. Don't fill the bag up to the top, you'll need some room to shake the materials together.
Add one tablespoon or rubbing alcohol to the bag and 5-6 drops of food coloring.
Seal the bag and shake everything together for about 30 seconds, or until all the pasta or rice is coated.
Dump the bag out onto your prepared plate. Let it dry for 2-3 hours, or overnight. If the weather's warm it can be put outside to dry faster.
Have fun with your new and exciting crafty material!
I dyed the pasta and rice on my own, while my little ones were asleep. It's a super-easy project that could easily involve little hands, but I have a confession: I have a sort of phobia of any sort of mess involving color. I understand that it sounds a little crazy-I'm no stranger to an array of doubting and incredulous looks when I tell people that I can hardly talk about, let alone look at, smeared paint, sloppy projects and most other color-related messes.
Being nauseated by certain types of messes is arguably one of my biggest struggles. I can't explain why it gets to me, and it's even harder to explain to people that it's not the "neat-freak" in me that wants to keep my kids and personal spaces clean. It's just something in me that physically can't handle seeing that type of mess in person, on television, in photos or anywhere in my line of vision.
It's also a parenting challenge. I understand that creativity is a big part of early-childhood education, and the last thing I want to do is squash that facet of my little ones' developing minds and personalities. I regularly do a variety of projects and crafts with Haiden and Piper, and they have a variety of art supplies at their disposal. But I can hardly write the words "finger paint" without feeling sick to my stomach. At this point in our lives, the messier materials are left for my kiddos to use with my husband or my super-creative sister.
But, I digress. In short, I think toddlers could easily shake up the bag and have a hand in the dying process. I just need to keep the mess to a minimum, so my kids will just enjoy the finished product.
Valentine's Day is right around the corner, so I dyed my pasta and rice red for our first project, which I'll share tomorrow. The whole pasta/rice-dying process was far cleaner than I expected it to be, which is a big victory for me! I'll definitely be repeating the process in different colors for new projects going forward!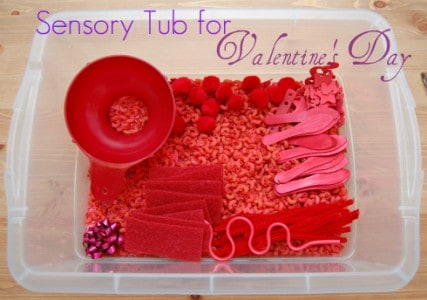 Now that you have dyed pasta and rice, learn how to make a sensory tub for little hands to learn and explore!
I'd also love to hear ideas on how to get over my hang-ups with paints and messes. If you have any suggestions, please leave a comment!