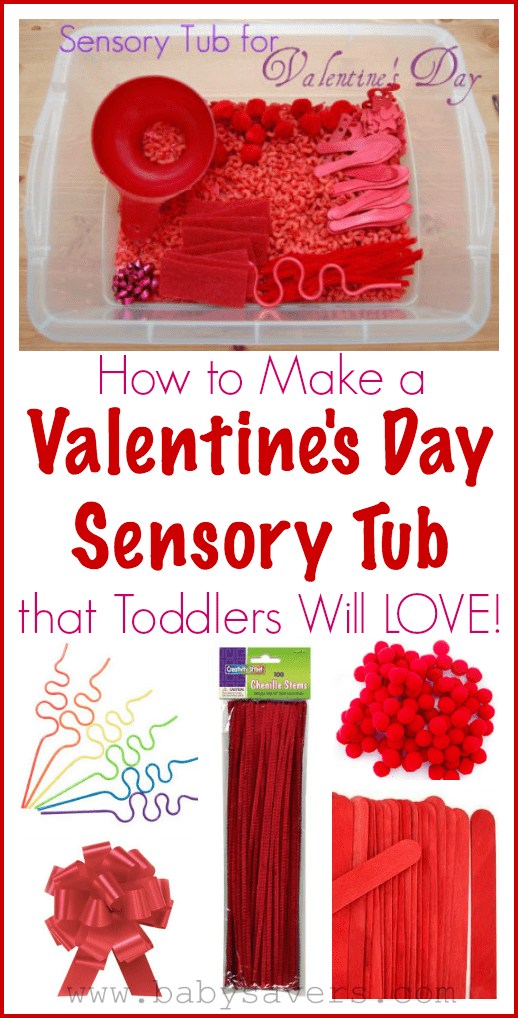 I don't think there's anything like Pinterest to get inspired to be a better baker, cook or interior decorator. Granted, most of my attempts to make pretty things aren't even close to pin-worthy, but that doesn't stop me from trying out one new recipe or DIY tutorial after another!
If you're looking for ideas for early-childhood education or just fun projects to do with your kids, there's no better resource than Pinterest. One of my most recent obsessions has been creating homemade sensory tubs for toddlers and preschoolers.
Before I learned about Pinterest, it would have never crossed my mind to make one of these containers to use in my own home. Now, my admittedly uncrafty, mess-averse self is overflowing with ideas for various sensory tubs for new and fun experiences for Haiden and Piper!
Since I'm not really the creative type, I thought that creating a tub with a red theme for Valentine's Day would be an easy way to jump into the project.
I've had the idea to start making these tubs for a few months, so I picked up a few Christmas clearance items and visited Dollar Tree a few times last month with this project in mind. I also made some red pasta and rice as the "filler" for the tub. See my post on how to dye pasta and rice for instructions.
A closer look at the image above will show you that there's nothing complicated or hard to find in the sensory tub I made. I started with a clear Rubbermaid storage box similar to this one to hold the contents. They're priced around $6 both online and in stores like Target and Walmart. I think the box capacity should be between 12 and 30 quarts to allow enough room for exploration, but I also recommend use what you have and seeing if it works!
After I had the container in hand, making the sensory tub was easy. The biggest challenge (and it wasn't much of a challenge at all!) was that I had to buy most of the items in multi-color packs, so I had to sort out all the red pompoms, pipe cleaners and other supplies! Here's what's included:
Dyed red macaroni
Dyed red rice
Red pipe cleaners
Red wooden craft sticks (sorted from a multipack purchased at a local dollar store)
Red foam letters and numbers sorted from a Christmas multipack
Red foam words and shapes sorted from a Christmas multipack
Red twisty straws from a Dollar Tree multipack
Red scrubbers from a sponge/dishwashing pack
Red plastic strips saved from toy packaging
To help my little ones explore, I added a
canning funnel
(it just happened to be red!) and two scoops saved from cans of baby formula (I knew they'd come in handy!). I think
small sandbox toys
, along with spoons and other utensils would also be fun to help little ones discover the contents of the tub.
Aside from an early-childhood class I brought Haiden to when he was an infant, this is both of my kids' first experience with a sensory tub. It's been really fun to see the different ways they play with it!
Piper, 2, will play with the sensory tub for a long time, and she's really great about following my directions to keep the contents inside the tub. She doesn't do a lot of "pretend" play, and she's very happy sifting the rice and pasta through her fingers, scooping pieces up with the baby formula scoops I dropped in there, and picking through the foam pieces to find individual letters and numbers.
Haiden, 3, has a shorter attention span, and he'll spend a few minutes pushing the contents around before moving onto another toy. If Piper continues to play with the tub, he'll return to play with it for a few minutes, then switch to something else. If I sit down with him and provide some guided play ideas, he'll stay focused on the tub for much longer.
Some guided play ideas that I've suggested include:
Pushing the wooden paddles through the rice like a snowplow
Putting the gift bows on any combination of contents for "presents"
Standing up the pipe cleaners in a pile of rice and pasta, then blowing on them like candles on a birthday cake
After making this little tub I'm even more inspired and excited for future sensory tub ideas!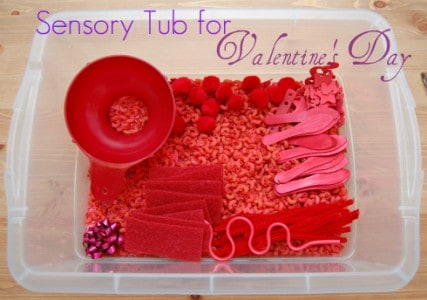 Have you ever made a sensory tub? What themes would you like to make?