Nearly two weeks ago, I made my very first trip to Disneyland in Anaheim, California.
I was beyond excited to visit the park, but it was extra-important because the visit was a part of a press trip to cover the grand opening of Cars Land!
Radiator Springs Racers is going to be one of the greatest attractions Disney has ever designed and built. A great attraction takes you somewhere, it takes you to another place, and that's what Radiator Springs Racers does.

~Kevin Rafferty, Concept Writer and Senior Director, Walt Disney Imagineering
1. The walk to the ride is almost as fantastic as the ride itself ::
As soon as we entered the main entrance to the park, our first destination was the Radiator Springs Racers ride.
The path to the ride was nearly as spectacular as the ride itself!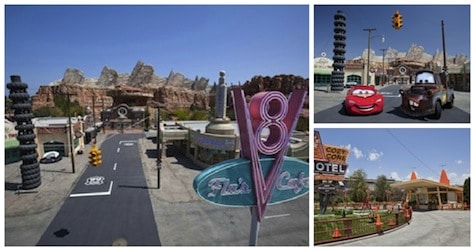 Entering Disney California Adventure park is like walking into another world, thanks to the all new Buena Vista Street.
Buena Vista street is inspired by Los Angeles in the 1920s, the time when Walt Disney and all his dreams and ambition first arrived in California. From trolly cars to period archetecture, Buena Vista Street is a magical way to kick off anyone's visit!
As we progressed through the park, I entered Cars Land and stepped right onto Route 66. From a visitor's perspective, it felt so authentic, like I was walking directly into the Cars movie!
I could have spent hours meandering slowly down Route 66 and taking in every authentic little detail that made it so incredible! Since we were in a hurry to get to Radiator Springs Racers, I had to make do with a few quick photos and brief observations: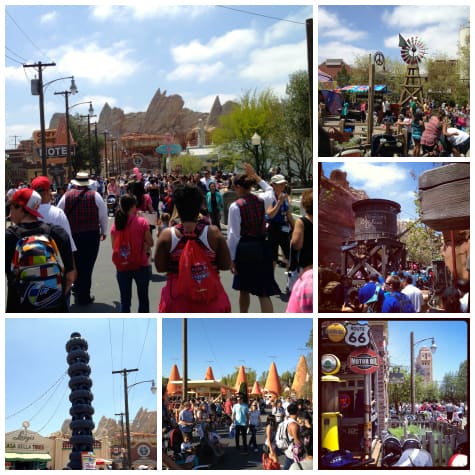 There are real, three-dimensional versions of plenty of landmarks from the film, including the sprawling Ornament Valley mountain range, Luigi's Casa Della Tires and Flo's V8 cafe.
Plenty of veritable road signs tell as much of a story on Route 66 as the life-size buildings and attractions! Fictional brands featured in the movie are advertised along the way, and some signs with silly sayings and puns can be found if you look hard enough!
2. Radiator Springs Racers is a Scenic Road Trip…and… ::
Once you get to the boarding area of Radiator Springs Racers, you buckle yourself into one of eight different colored cars. Since the ride is called, "Racers" it's expected that the car will just take off and zoom away. Instead, it takes you on a cruise through Ornament Valley's countryside and the little town of Radiator Springs. Here are just a few of the landmarks the ride takes you past:
Luigi's Casa Della Tires
Ramone's House of Body Art
Racing "school" with tips directly from Doc Hudson
Even after the race (see #3), passengers are brought through Taillight Caverns, which is a stunning, slightly soothing way to conclude the ride.
3. It's a thrilling action ride! ::
After seeing the sights of Radiator Springs, your car is suddenly alongside another car, and all passengers experience a countdown to a car race!
The cars race neck-and-neck through the desert, around the Cadillac Mountain Range around Willy's Butte and pasta Radiator Falls waterfall until one car (and the passengers!) are declared winners of the Piston Cup.
4. It's so much more than just two cars racing against each other ::
Yes, the ride is a race, which I'm sure the younger set (who are at least 40″ tall) look forward too. But I so much appreciated the amazing detail inside the ride that truly makes it an adventure that's worth the long wait times!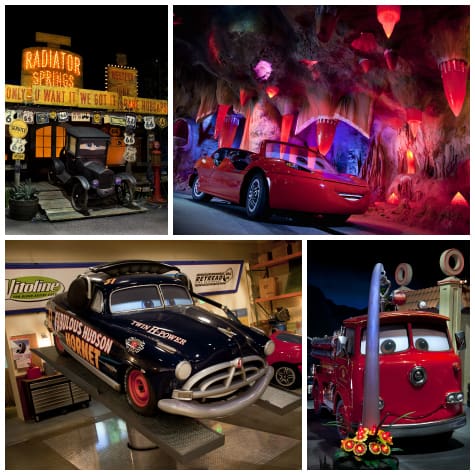 The leisurely start to the ride introduces riders to many life-size and lifelike characters straight out of Cars and Cars 2. Even as a 30-something women and mom of two I think my jaw actually dropped when our car rounded the first corner and we came face-to-face with the first cars in the ride.
In the ride, the cars have mouths that move, they talk to the passengers and they entertain everyone. It's truly beyond description. Walking on Route 66 to get to Radiator Springs Racers is magical, but riding the ride is like being 100% immersed in the movie.
5 . It's located in Disney's Califronia Adventure :: an entire experience upon itself, the fresh setting is the perfect gateway to the magical Cars Land.
To be honest, I didn't really realize Disney California Adventure was a park completely separate from Disneyland until I got the trip itinerary in my inbox. Even then, I didn't know what to expect. Walking into DCA, stepping onto Buena Vista Street, was pure magic. Disney has a special way of transporting guests, making them forget the outside world and live in a dream for the day, and Disney California Adventure does exactly that.
While we spent a good portion of the day experiencing Cars Land, I was happy to spend several hours exploring just a portion of the rest of the attractions the park offered. I'll be writing more about other amazing parts of Disney California Adventure, but I have to say that it took very little convincing to talk my husband into going to California for our next family vacation!
Disclosure: Disney provided my transportation and accommodations for the event that included this movie screening. All opinions expressed are entirely my own.