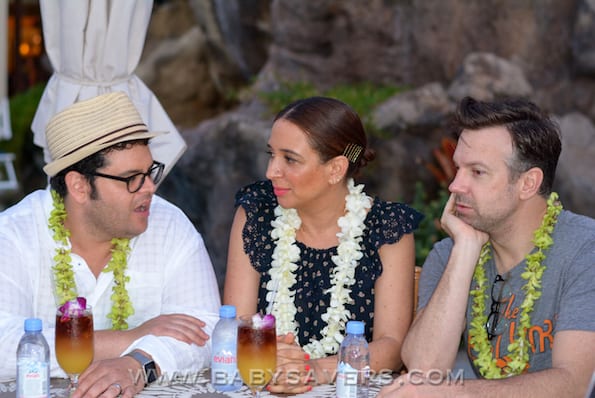 It's certainly not everyday that I wake up in Hawaii, do beach yoga at The Four Seasons Maui, go to the Maui Tropical Plantations Zipline and finally attend an extravagant luau at The Four Seasons.
There's no question that it was an amazing day, but I didn't even mention the best part: I also had a time slot scheduled to interview a group of amazing comedians starring in The Angry Birds Movie just before the luau!
Interviewing Josh Gad, Maya Rudolph and Jason Sudeikis was a fantastic experience that I had built up in my head over the past few weeks.
I knew it was going to be entertaining (it was!).  I was sure it was going to be funny (it definitely was!). But I didn't anticipate the thoughtful, interesting and relaxed conversation the three of them had with my group of influential mom bloggers!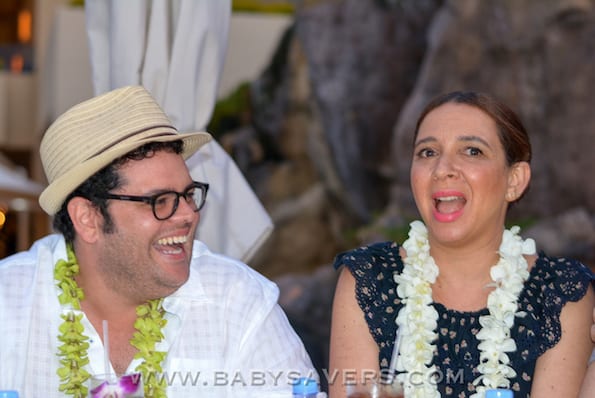 Josh Gad, Maya Rudolph and Jason Sudeikis on The Angry Birds Movie, Parenting and Much More:
It was clear that it was going to be a good interview when Maya Rudolph sat down at the table and said, "This sucks, right?" while sweeping her arms to indicate the resort, the luau, the ocean and just Hawaii. As we laughed, Josh Gad jumped in and said, "I regret that they didn't stick with Detroit."
Maya Rudolph (MR): The Motor City
Jason Sudeikis (JS): It feels more apropos to the storyline…
Josh Gad (JG): …To the struggle of our birds. 
Jason Sudeikis: We'd all go down to the plant and see how engines are made. 
Me: Isn't that where 8 Mile is, too? 
Maya Rudolph: Tie it in!
Jason Sudeikis: There could have been a rap battle!
Maya Rudolph: Did our [interview] start already?
Jason Sudeikis: There's no angrier bird than Eminem.
Maya Rudolph: But did our time start already?
Jason Sudeikis: Oh, I don't know. 
Josh Gad: This is great! 
Jason Sudeikis: Let's start.
Question: I would love to hear how each of you felt when you first got the call that they were turning Angry Birds into a movie.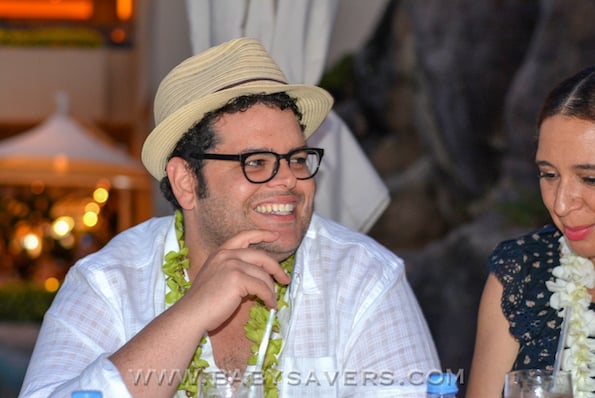 JG: At first, I was like, well…I don't know if this is such a good idea. John Cohen, the producer, showed me this incredible 20 minute presentation that just sold me. Immediately. The movie was so much more than just a mobile app adaptation. And the cast was incredible. 
MR: I agree! Mainly just about the cast part. To be fair, I think I came on pretty late in the game. You guys were already recording.
JS: Yeah.
JG: That was the roughest day. We lost Beyonce about 2 days before you. [laughs]
JS: We bounced back stronger than ever.
MR: They were like, "How can we get a layman's Beyonce?" [laughs] "Like, the poor man's Beyonce."
Question: How did you prepare for your role? Did you have to research birds? What did you do?
MR: I've eaten a lot of chickens. And eggs. I play a chicken so that helped.
JS: That's the beginning and end…of their lives.
MR: I still don't know which comes first.
JS: Ornithology…that's what it is, right? Ornithology…
JG: You know who was very big on ornithology?
MR: Barack Hussein Obama?
JG: That's right. Another president, actually. I only know this because I'm reading a book. A man named Theodore Roosevelt.
MR: Teddy?!? My boy Teddy?
JG: The one that the bear is named after.
JS: Look at this! I feel like I should know more.
MR: Did you do homework?
JG: I decided that I knew this question would come up tonight, so I read as many books as possible before the mommy blogger interview.
MR: I feel like Teddy Roosevelt was into a lot of stuff.
JG: He was really into ornithology.
JS: He wanted to shoot [birds] right?
JG: He wanted to kill them but that doesn't mean he didn't love them. [laughs]
Question: Do you kids watch those surprise egg-opening YouTube videos? 
Everyone: No…
MR: I feel like I've heard of the lady that talks…Oh! The lady that opens toys. 
She has the most popular YouTube channel. She makes millions!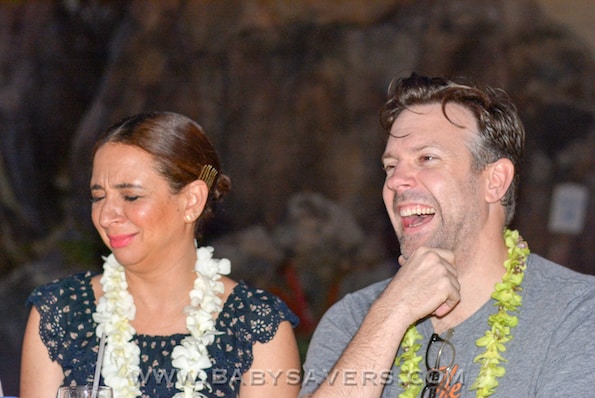 JS: Really? 
MS: Why are we doing this?
JG: I'm going through my head, trying to figure out when I'm going to get my camera and start opening presents in front of it. 
JS: We had to get up at 4:30 in the morning to fly today from New York with our 2 year old for the first time ever. He brought a little backpack for the first flight. We wrapped up a bunch of his toys in tissue paper so we could give them to him and he'd be like, presents! 
Talk about bad parenting. We're still letting him watch Beyonce videos and I show him videos of Savion Glover tap dancing. He's like, "Da Da, tap dancing!" If you ask him to dance he'll do it, but let's be real, it's more like clogging at this point. 
MR: I found my son physically under the covers in the middle of the day with my iPad watching the whole new Beyonce album!
JG: My daughter still watches "Singing in the Rain". She hasn't really gotten into Beyonce yet. She's obsessed with "Charlie and the Chocolate Factory" the original. She's not into Johnny Depp. Terrified of the Johnny version. 
The Angry Birds Movie says, It's ok to get angry. How do you talk to your kids about dealing with that?
JS: "Use your words" comes up a lot. 
MR: In my son's preschool they've been teaching the kids to take a breath. They say, "Smell the flowers." then "blow out the candle." They love to do it!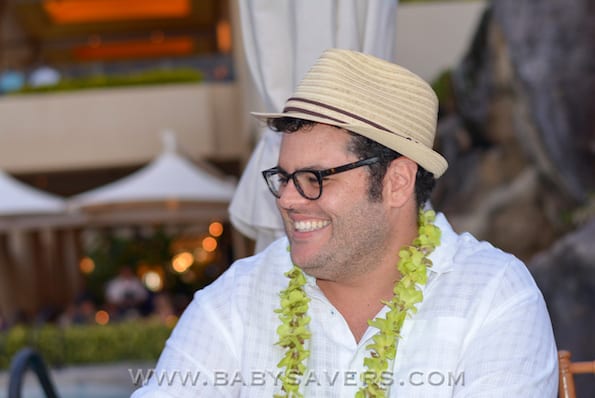 JG: My daughter's school uses colors. So red is angry, blue is calm, yellow is happy, green is calm. So we'll talk like, "How can we get to yellow."
I tell you, "Inside Out" was a great motivator to have some of these conversations about emotions with my kids, because it gave her a context. It helps her identify all the things going on in their minds. 
Have your children seen The Angry Birds Movie yet? 
JS: It was his first movie! I put him on my lap, and he sat there the whole time. Really, the only stuff he's watched up to this point are Beyonce videos and tap dancing. Compelling stuff, but only about four minutes long. 
So he sat there the whole time, the best is that he was sitting on my lap and he just crossed his legs like I was his little Barcalounger. I was like, "This is all right." 
What do you think your kids reactions to The Angry birds Movie will be? 
MR: They're psyched about this movie. My kids have been asking me what my bird does because all the other birds have the powers you learn in the game. But they don't know about my bird. 
JG: It's a The Usual Suspects moment. 
Just like Maya Rudolph's kids, my own kids are super excited for The Angry Birds movie. I had the opportunity to screen it last month, and I'm excited for them to see it!
Check out the newest trailer for The Angry Birds Movie:
The Angry Birds Movie is in theaters everywhere. Get your tickets today!
About The Angry Birds Movie:

In The Angry Birds Movie, we'll finally find out why the birds are so angry.

The movie takes us to an island populated entirely by happy, flightless birds – or almost entirely.

In this paradise, Red (Jason Sudeikis, We're the Millers, Horrible Bosses), a bird with a temper problem, speedy Chuck (Josh Gad in his first animated role since Frozen), and the volatile Bomb (Danny McBride, This is the End, Eastbound and Down) have always been outsiders. But when the island is visited by mysterious green piggies, it's up to these unlikely outcasts to figure out what the pigs are up to.

Featuring a hilarious, all-star voice cast that includes Bill Hader, Maya Rudolph, and Peter Dinklage, as well as Kate McKinnon, Keegan-Michael Key, Tony Hale, Tituss Burgess, Ike Barinholtz, Hannibal Buress, Jillian Bell, Danielle Brooks, Latin music sensation Romeo Santos, YouTube stars Smosh, and country music superstar Blake Shelton, who writes and performs the original song "Friends," the Columbia Pictures/Rovio Entertainment film is directed by Fergal Reilly and Clay Kaytis and produced by John Cohen and Catherine Winder.

The screenplay is by Jon Vitti, and the film is executive produced by Mikael Hed and David Maisel.
Disclosure: Sony flew me to Maui and covered most expenses to facilitate this and other experiences related to The Angry Birds Movie.