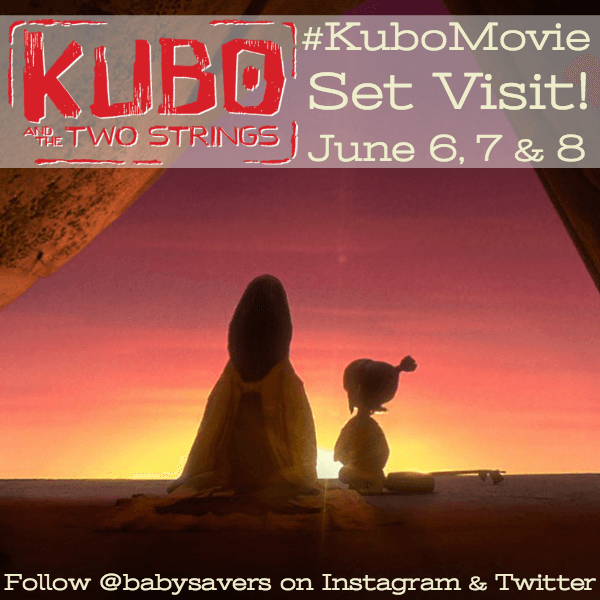 Have you ever stopped to think about what goes into the stop-motion animated films that are so enjoyable to watch?  I hadn't, until my visit to LAIKA and my behind-the-scenes look at the new movie, Kubo and the Two Strings.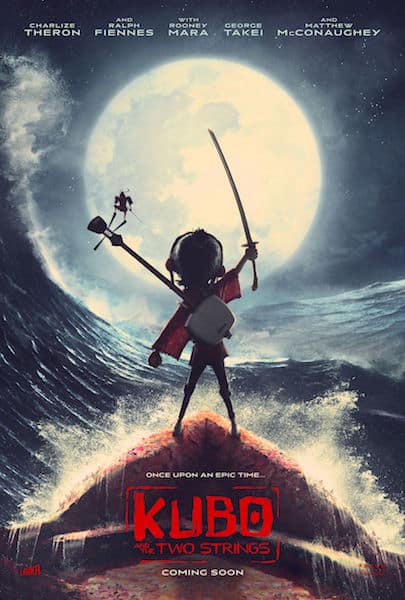 I had no idea that there were so many crew members working long hours all week to capture just a few seconds of footage for this stop-motion animated film.  With so many moving parts, working together and being on the same page is crucial.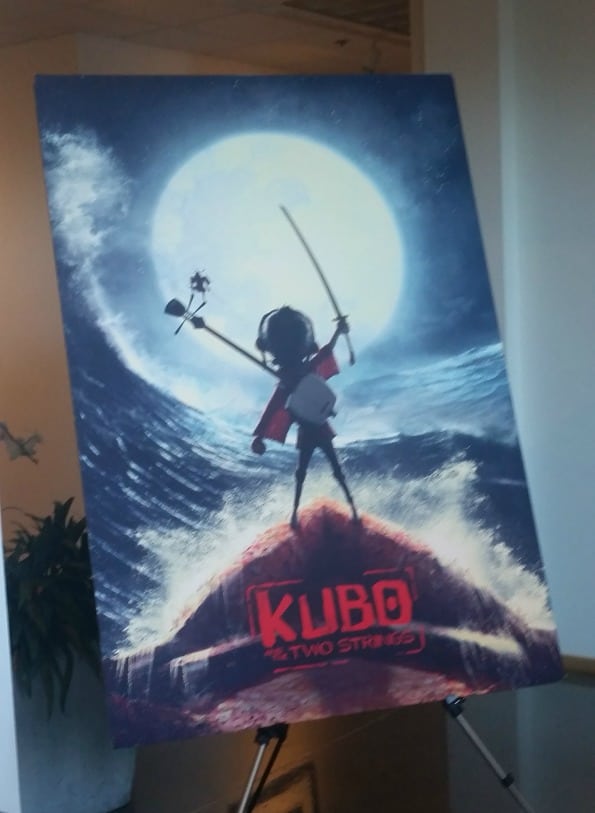 I'll introduce you to some of the amazing crew behind this new movie next time, but for now I wanted to share some really cool photos that I took on my set visit to show you a few of the many things that has gone into Kubo and the Two Strings.
Planning in a Stop-Motion Animated Film
A TON of planning had to be done long before anything could be filmed for Kubo and the Two Strings.  Not only have the scenes been scripted, but the costumes, facial expressions, words, and movements of the characters have also been planned out.
A week's worth of work usually produces just a few seconds of footage and having to go back and re-shoot something costs a lot of time and money.
Having a detailed storyboard, a continuity department to keep track of facial expressions, "character bibles" housing all of the information about a character (such as the way that they walk, the way that they run, etc.), and costumer boards all help them be as efficient as possible when they are finally ready to shoot.
Puppets in a Stop-Motion Animated Film
I think it is really unique that physical puppets are used in these films.  These puppets are way more advanced that what I usually think of as puppets.
They are constructed of heavy duty material to withstand months and months of filming, and there are usually 20-30 or more of each puppet around.
When puppets get damaged, they get sent to the "Puppet ER." These puppets look SO lifelike in person!
Rigging Mechanisms in Stop-Motion Animation
Stop-motion is shot at 24 frames per second with lots of teeny tiny movements.  All of the puppets have framing inside and are rigged up on the outside by mechanisms that can help the animators control the movements.
The rigging is edited out with computers later, but it is really neat to think about.  Some of the puppets also had features on them such as fur or capes that needed to blow in the wind – and the animators wanted it to be real.  So, the capes that some characters wear in the movie have wiring built into them so that it can be controlled very precisely.
The Monkey character has a silicone covered fur for a more realistic look.  There are so many little details involved in animating the puppets–it blows me away!
3D Printing for a Stop-Motion Animated Film
Laika was the first studio to use 3D printing to make their animated faces.  They started doing this back when they filmed Coraline and their techniques and processes just keep getting better and better. They're at the top of their game with Kubo and the Two Strings!
They took the idea of replacement animation and combined it with modern techniques.  LAIKA models and animates the faces in the computer, then sends the faces to a 3D printer rather than hand-sculpting them all.
In fact, Laika won a Technical Oscar just a few months ago for pioneering the technique of 3D printing for stop-motion films!
Sets in a Stop-Motion Animated film
The sets were so cool to see!  All of the Kubo and the Two Strings sets are placed up on blocks or lifts to be about waist high and they all break apart so that the animators don't have to crawl all over the set when they are animating.
Sometimes an animator can spend weeks using the same set so it is critical that everything stays in place.  Do you see the papers in the left-hand corner?  All of those are glued down to make sure they don't blow away while filming.
Props in a Stop-Motion Animated Film
Every single prop in Kubo and the Two Strings looks incredibly lifelike, but shrunken down in size.  There are lots of prop boards that the crew works off of to make sure the texture is right, the color is right, and that the material they use to create the prop looks right under the studio lights and can hold up under the heat generated from those lights.
Do you see the orange,yellow and red leaves toward the right-hand side of the above image?  Those are not hand cut but they ARE hand-glued to a boat for one scene in the movie.  They had to make three of the boats, and even the pattern of the leaves are identical on all three of the boats.  Talk about attention to detail!
Computer Imaging in a Stop-Motion Animated Film
While most of what you see in Kubo and the Two Strings really exists in the physical world, computer imaging is used to fill in some gaps and save a little bit of time and resources.
Some of the items that were put into the film via computer really surprised me because they looked so lifelike!  This is because a lot of research goes into every graphic created.  The animators base all computer images off of something physical.  They take a physical sample and put it under the stage lights to make sure the computer image has the right lighting and shadows and movement.
The main characters and any other character with a speaking role are all physical puppets, and all of the sets are real – they're just sometimes extended with computers.  For example, you'll see The Hall of Bones in the movie which is home to a large 16-foot tall puppet.  There was no way they could build a set big enough for this puppet so instead they built one physical wall and then extended it out with a green screen.
Check out this short video with some more behind-the-scenes footage:
Kubo and the Two Strings arrives in theaters on August 19, 2016.  Keep checking back here for more details, including lots of behind-the-scene photos from the set visit to LAIKA and mind-blowing facts on how the movie was made!
About Kubo and the Two Strings:

An epic action-adventure set in a fantastical Japan from acclaimed animation studio LAIKA.

Clever, kindhearted Kubo (voiced by Art Parkinson of Game of Thrones) ekes out a humble living, telling stories to the people of his seaside town including Hosato (George Takei), Akihiro (Cary-Hiroyuki Tagawa), and Kameyo (Academy Award nominee Brenda Vaccaro).

But his relatively quiet existence is shattered when he accidentally summons a spirit from his past which storms down from the heavens to enforce an age-old vendetta.

Now on the run, Kubo joins forces with Monkey (Academy Award winner Charlize Theron) and Beetle (Academy Award winner Matthew McConaughey), and sets out on a thrilling quest to save his family and solve the mystery of his fallen father, the greatest samurai warrior the world has ever known.

With the help of his shamisen, a magical musical instrument, Kubo must battle gods and monsters, including the vengeful Moon King (Academy Award nominee Ralph Fiennes) and the evil twin Sisters (Academy Award nominee Rooney Mara), to unlock the secret of his legacy, reunite his family, and fulfill his heroic destiny.
Find out where Kubo and the Two Strings will be showing at a theater near you!

Disclosure: Travel and most expenses were covered to facilitate the trip to LAIKA and learn more about Kubo And The Two Strings.  All opinions are my own.