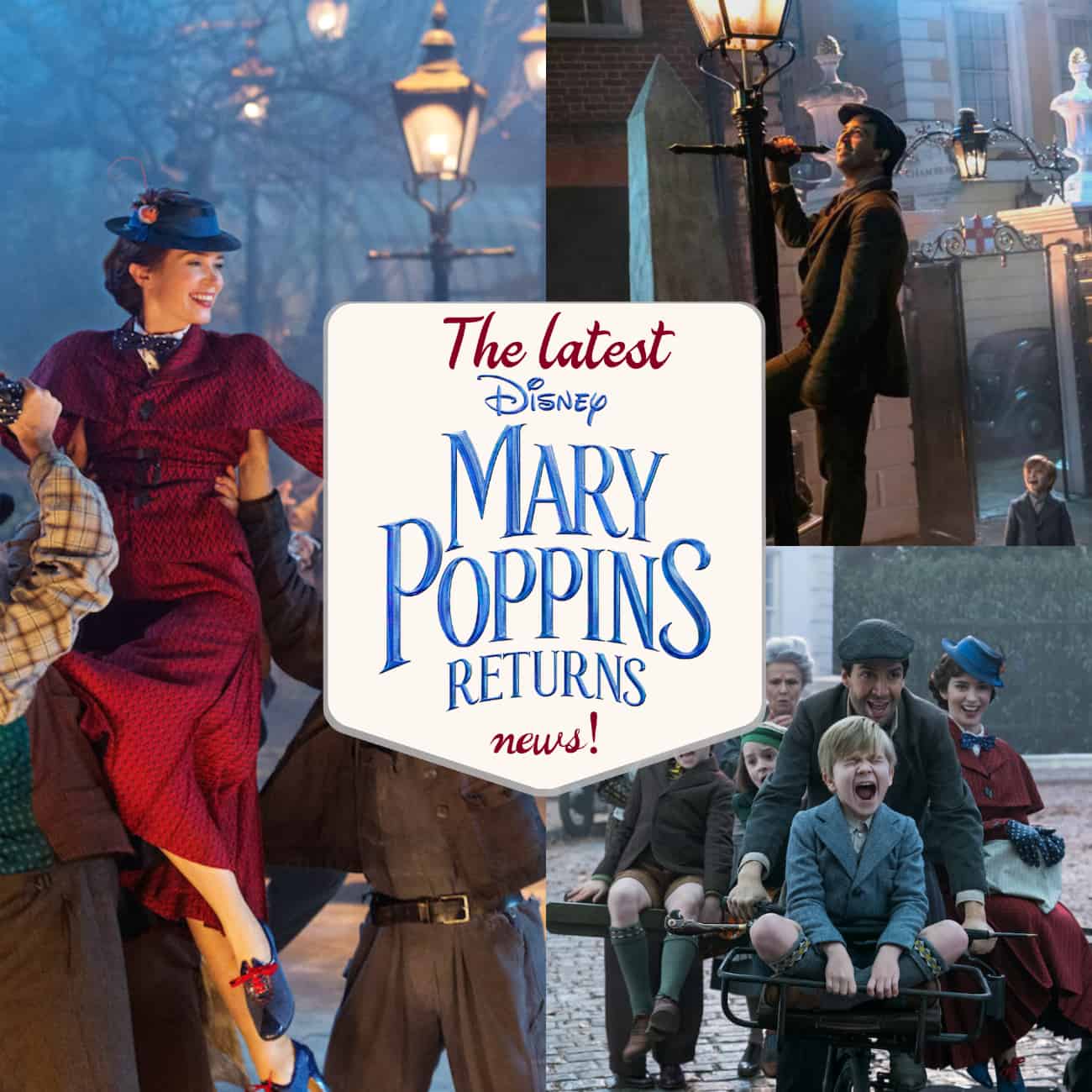 I've been waiting and waiting for a new Mary Poppins Returns trailer. The first and only Mary Poppins Returns teaser trailer was released way back in March and the internet has been waiting for more movie details ever since!
It's also been over a year since I shared the first images from the Mary Poppins Returns movie. While I don't have a new trailer to show you, I do have a few pictures to share!
Mary Poppins Returns Cast
Before I do that, though, I also have a few updates to the original cast list I had posted. Here's a more complete cast list.
Who are the kids in Mary Poppins Returns?
The children in Mary Poppins Returns are essential to the movie — these kids are talented! Joel Dawson is a newcomer, but the other two have credits from Game of Thrones and Miss Peregrine's home for Peculiar Children, among other shows and movies.
| | |
| --- | --- |
| Joel Dawson | Georgie Banks |
| Pixie Davies | Anabel Banks |
| Nathanael Saleh | John Banks |
The Rest of the Cast of Mary Poppins Returns
Here are more of the key players in Mary Poppins Returns:
| | |
| --- | --- |
| Emily Blunt | Mary Poppins |
| Meryl Streep | Topsy |
| Colin Firth | William Weatherall Wilkins |
| Emily Mortimer | Jane Banks |
| Ben Whishaw | Michael Banks |
| Lin-Manuel Miranda | Jack |
| Angela Lansbury | Balloon Lady |
| Julie Walters | Ellen |
| Dick Van Dyke | Mr. Dawes Jr. |
| David Warner | Admiral Boom |
| Jim Norton | Mr. Binnacle |
| Jeremy Swift | Gooding |
| Kobna Holdbrook-Smith | Frye / Weasel |
| Steve Carroll | Tramp |
| Ian Conningham | Shamus |
| Tarik Frimpong | Angus |
Check it out! In addition to Dick Van Dyke we're now going to see Angela Lansbury make an appearance in the movie!
Mary Poppins Returns Photos
While I don't have additional information on the story or details around any of the pictures, it's pretty clear that at least a few are mid-song.
Like this photo of Emily Blunt being lifted up. that's almost certainly a musical number, right?
…and don't you agree that this picture of Lin-Manuel Miranda scaling a street lamp with a group of happy torch-carriers MUST be the triumphant end to another song?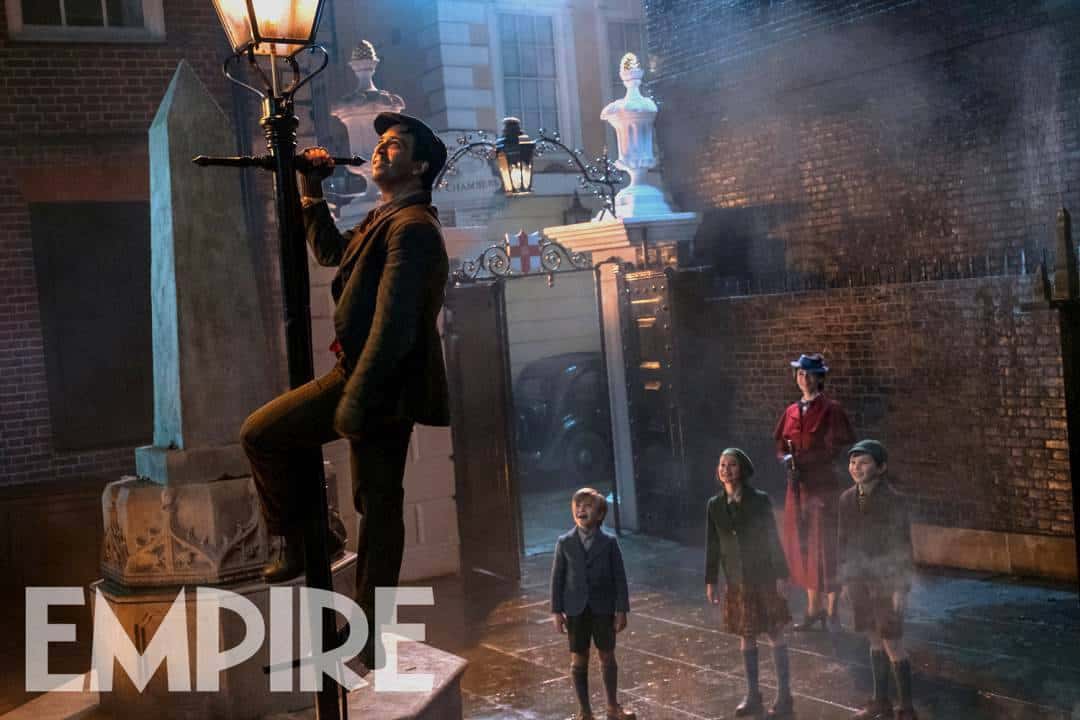 I can't tell if this is scene (recently shared by Empire Magazine) is part of the above sequences. I feel like it's the beginning of a big musical number. That's what I'm hoping, anyway!
I also have a few photos that showed up earlier this year. I've been hanging onto them to share them with more details, but I'm not waiting any longer!
I love this photo of Jane Banks, John Banks, Ellen,  Annabel Banks, Jack, Mary Poppins and Georgie Banks!
I just love the expressions on every single face in this picture. I can't wait to see this scene!
This is just one last Mary Poppins Returns picture that likely goes along with one of the musical numbers mentioned above.
Mary Poppins Returns will be in US theaters on December 19, 2018! Click here to get more details and check local showtimes as they become available.
Save this image on Pinterest to share the Mary Poppins Returns news: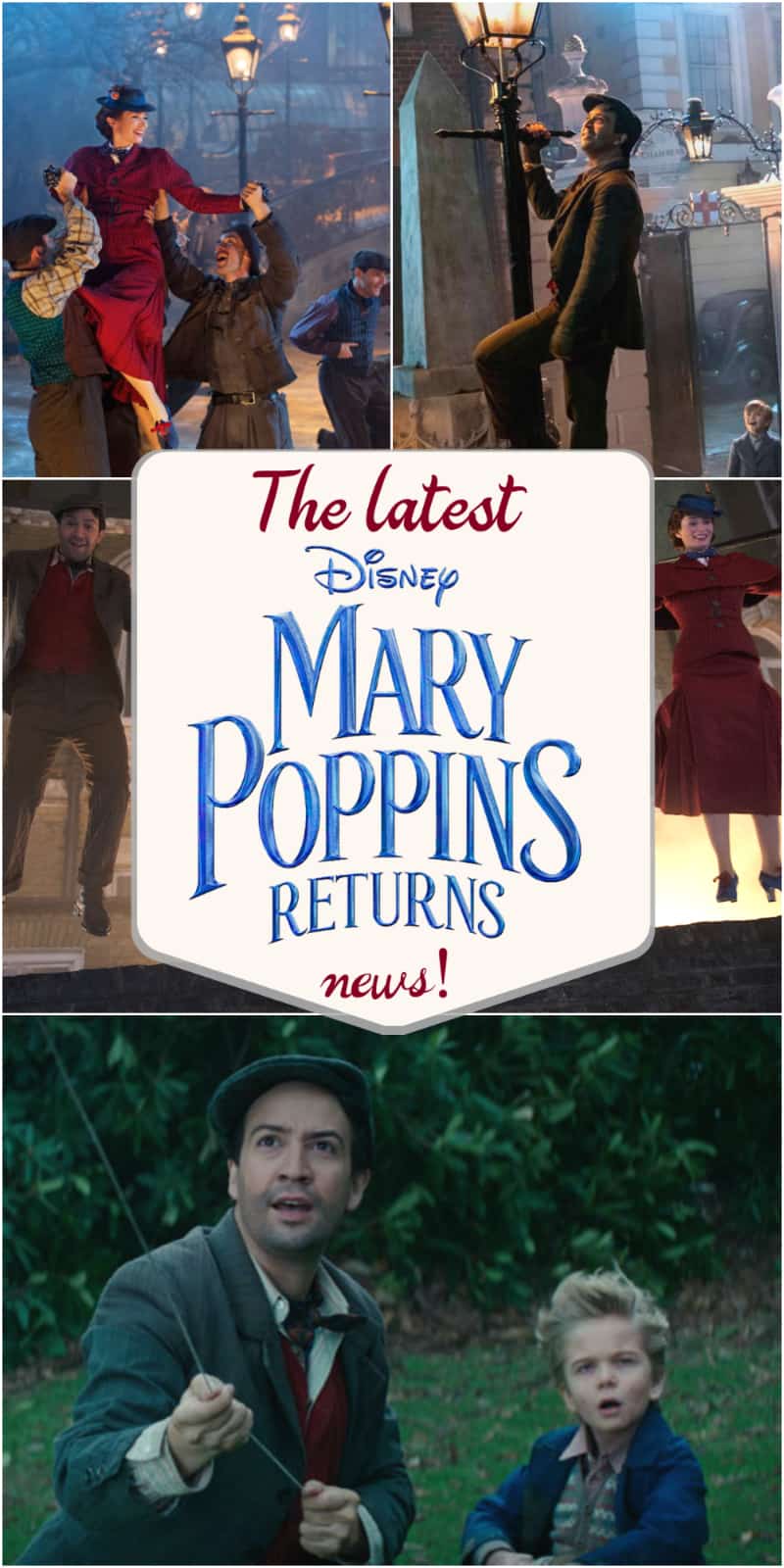 Watch the Mary Poppins Returns teaser trailer here:
About Mary Poppins Returns
In Disney's "Mary Poppins Returns," an all new original musical and sequel, Mary Poppins is back to help the next generation of the Banks family find the joy and wonder missing in their lives following a personal loss.
Emily Blunt stars as the practically-perfect nanny with unique magical skills who can turn any ordinary task into an unforgettable, fantastic adventure and Lin-Manuel Miranda plays her friend Jack, an optimistic street lamplighter who helps bring light—and life—to the streets of London.
"Mary Poppins Returns" is directed by Rob Marshall and the screenplay is by David Magee. The screen story is by Magee & Rob Marshall & John DeLuca and it's based upon the Mary Poppins Stories written by PL Travers.
The producers are John DeLuca, p.g.a., Rob Marshall, p.g.a. and Marc Platt, p.g.a. with Callum McDougall serving as executive producer. The music score is by Marc Shaiman and the film features all new original songs with music by Shaiman and lyrics by Scott Wittman and Shaiman.
The film also stars Ben Whishaw as Michael Banks; Emily Mortimer as Jane Banks; Julie Walters as Ellen; Pixie Davies, Nathanael Saleh and introducing Joel Dawson as the Banks' children, with Colin Firth as William Weatherall Wilkins; and Meryl Streep as Mary's cousin, Topsy. Angela Lansbury appears as the Balloon Lady, a treasured character from the PL Travers books and Dick Van Dyke appears as Mr. Dawes, Jr., a retired chairman of the bank that's now run by Firth's character.
PL Travers first introduced the world to Mary Poppins, the no-nonsense nanny in her 1934 book "Mary Poppins." But the subsequent adventures of Mary Poppins and friends remained on the pages of the seven other PL Travers' Mary Poppins books…until now. "Mary Poppins Returns" is drawn from the wealth of material in these additional books.
The film takes place in 1930s Depression-era London, 24 years after the first film was set. Michael Banks works for the same financial institution that employed his father. He still lives at 17 Cherry Tree Lane with his three children, Annabel, John and Georgie, along with Ellen, their housekeeper.
Jane Banks carries on in her mother's tradition as she campaigns for workers' rights and provides a helping hand to Michael's family. When the Banks family suffers a personal loss, Mary Poppins magically re-enters their lives. With Jack's help, she brings joy and wonder back into their home at Cherry Tree Lane.