I can't believe it's been over a month since I was in Maui for The Angry Birds Movie press junket. That moment of receiving the itinerary and having minor heart palpitations over a few items on it feels like so long ago!
The first itinerary item that made my palms sweaty was ziplining at Maui Tropical Plantations. We did it on the first day and my Maui ziplining video shows exactly how much I ended up enjoying it!
This was the other agenda item that left me feeling shaky:

I've said in the past that I'm not ashamed of being called a scaredy-cat, and I actually think my fear of water-related activities are a big reason why I'm not adventurous. I'm not a strong swimmer, and the only two times I've snorked in my life have been bad experiences.
The first time I snorkeled was on a spring break trip to Cozumel, Mexico. My low confidence in my swimming got the best of me and I ended up having a panic attack in the water. Luckily I was wearing a life vest and a guide was nearby, so I spend the rest of the excursion drinking margaritas on the catamaran with another woman who didn't even attempt to swim.
The second time I snorkeled was on my honeymoon. It was nice, shallow water on one of those private cruise islands. My husband was hardly even surprised when I had hardly even started to explore and I got stung by a jellyfish.
After those two experiences I haven't been inclined to snorkel again, and I never felt like I was missing anything. But this was clearly an adventurous press trip, and I always want to make the most of any trip. It was settled: I was going to go snorkeling!
I knew I had made the right decision when we approached the Kai Kanani snorkeling center at Makena Beach at sunrise. Check out the view: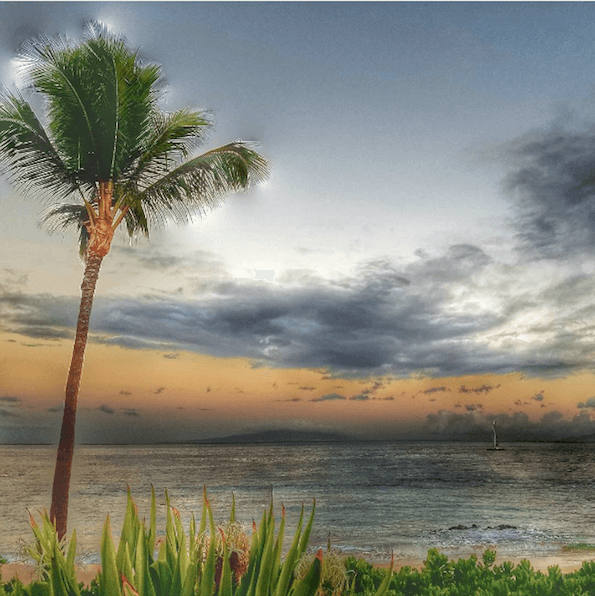 That boat way out in the distance slowly made its way to the shore as we waited: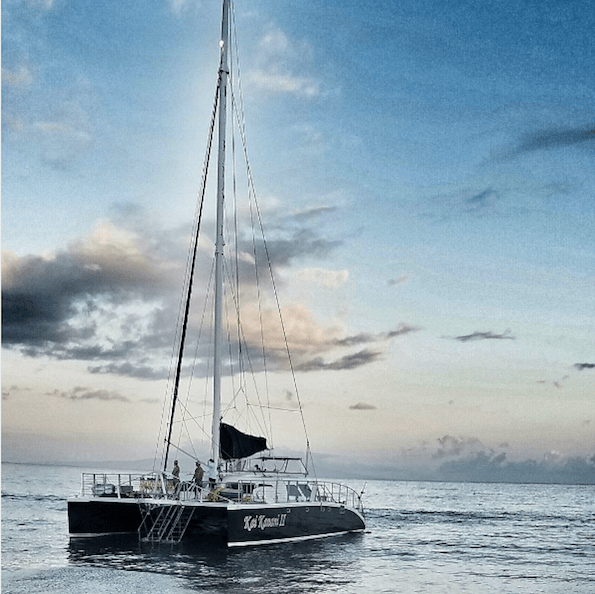 As we boarded I was relieved to see plenty of crew members all suited up to go in the water with us. I was also happy to be fitted for a floatation device AND given a boogie board to keep me afloat.
The captain brought us to both Molokini Crater and Maui's Turtle Town for some amazing snorkeling experiences. We had strict instructions to not touch the sea life and I was happy to keep a safe distance from all the amazing creatures!
After the snorkeling excursion Enza from enzasbargains.com, Diane from philzendia.com and I had a chance to explore more of our Bird Island (Maui) on our own. We remained close to our resort, because there's no real reason to leave if you're staying at The Four Seasons!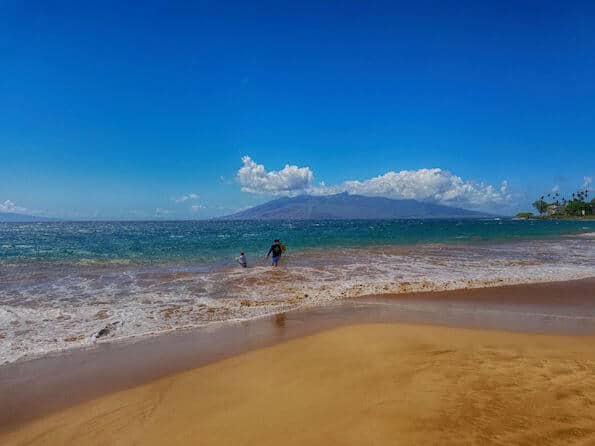 It was a crazy windy day, but we couldn't leave without spending some time on the beach at the resort!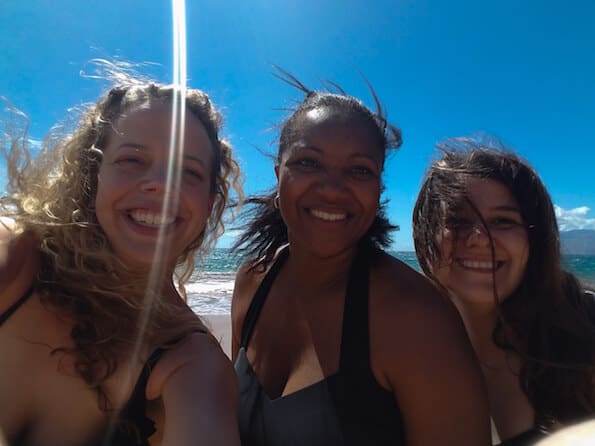 I wanted my family to know I was thinking about them even though I was far away: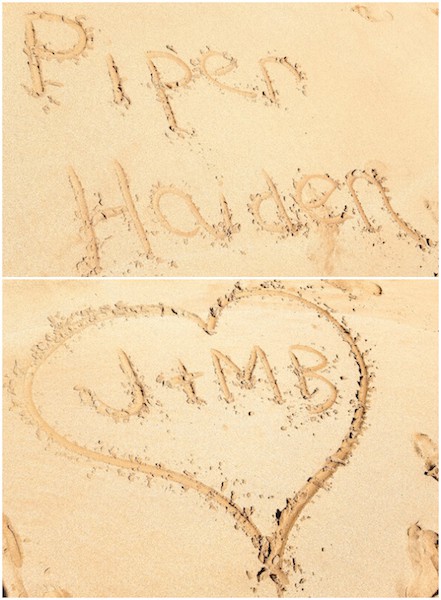 We made a little inspirational video washing all our worries away:
Enza and I never know when we'll see each other next so we needed just one more picture together.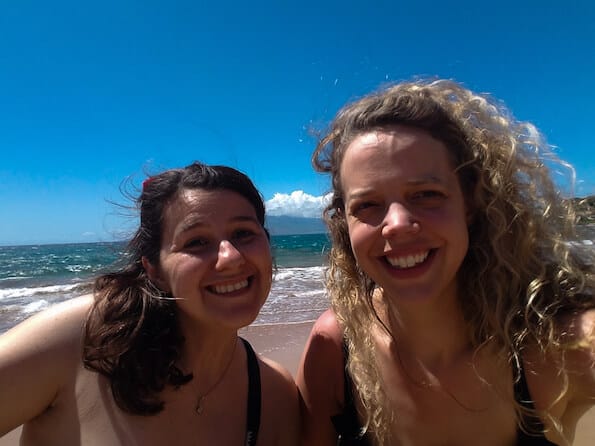 Then I discovered my favorite way to wrap up a day of exploring Bird Island: a poolside drink in a whole pineapple!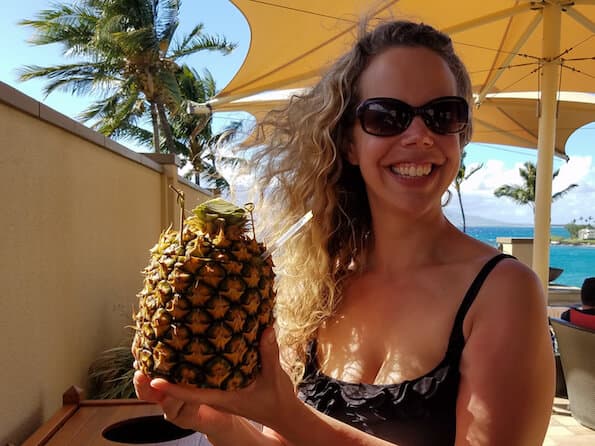 Later this week I'll be sharing the amazing interview I did with Maya Rudolph, Josh Gad and Jason Sudeikis just before we all joined a luau at the Four Seasons Resort Maui!
Don't miss how I soared like an Angry Bird in my Maui Tropical Plantations zipline review and read how I experienced anger management while doing yoga at The Four Seasons Resort Maui!
Check out the newest trailer for The Angry Birds Movie:
The Angry Birds Movie opens in theaters everywhere on May 20th. Get your tickets today!
About The Angry Birds Movie:

In The Angry Birds Movie, we'll finally find out why the birds are so angry.

The movie takes us to an island populated entirely by happy, flightless birds – or almost entirely.

In this paradise, Red (Jason Sudeikis, We're the Millers, Horrible Bosses), a bird with a temper problem, speedy Chuck (Josh Gad in his first animated role since Frozen), and the volatile Bomb (Danny McBride, This is the End, Eastbound and Down) have always been outsiders. But when the island is visited by mysterious green piggies, it's up to these unlikely outcasts to figure out what the pigs are up to.

Featuring a hilarious, all-star voice cast that includes Bill Hader, Maya Rudolph, and Peter Dinklage, as well as Kate McKinnon, Keegan-Michael Key, Tony Hale, Tituss Burgess, Ike Barinholtz, Hannibal Buress, Jillian Bell, Danielle Brooks, Latin music sensation Romeo Santos, YouTube stars Smosh, and country music superstar Blake Shelton, who writes and preforms the original song "Friends," the Columbia Pictures/Rovio Entertainment film is directed by Fergal Reilly and Clay Kaytis and produced by John Cohen and Catherine Winder.

The screenplay is by Jon Vitti, and the film is executive produced by Mikael Hed and David Maisel.
Disclosure: Sony flew me to Maui and covered most expenses to facilitate this and other experiences related to The Angry Birds Movie.