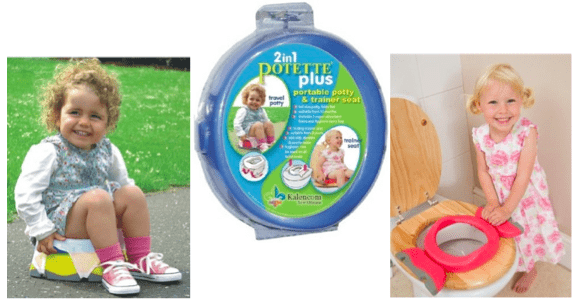 Wondering about the most portable potty seat? Look no further than the Kalencom 2-in-1 Potette Plus
!
Full size travel potty that folds flat into a trainer seat; contoured seat for your child's comfort and hygienic, trainer seat can be used on all toilet seats.
Non slip, durable and comfortable; improved sturdy, well balanced rubber base helps keep your child feel secure.
Legs lock into place when opened, folds flat so it can fit in a purse or diaper bag.
Uses self absorbing, disposable liners that discard like a diaper.
I personally bought this potty seat when I started potty training at 18 months. We used it consistently for a long time and I still take it with us when we go out of town on long car rides!
There are some great reviews, too!
My 2 year old is pottying training, and while she does ok on "big potties," sometime public ones can be pretty gross (public parks, beaches, gas stations, etc) and sometimes the seats are way too big. I was initially looking for one of those little quad-folding plastic seats but after reading a lot of negative reviews of those (too flimsy, slippery, etc) , the Potette caught my eye. 
I couldn't be more pleased with this purchase and wouldn't hesitate to recommend this heartily to anyone who is traveling with a child or who is looking for an easy-to-tote potty seat for being out and about in public places. This is going on the list of things I recommend to other moms (and dads)!
The best part about the Potette Plus is that the price usually hovers between $10 and $15. Amazon Prime members can get free shipping and others can get free shipping when you spend $49 or more.