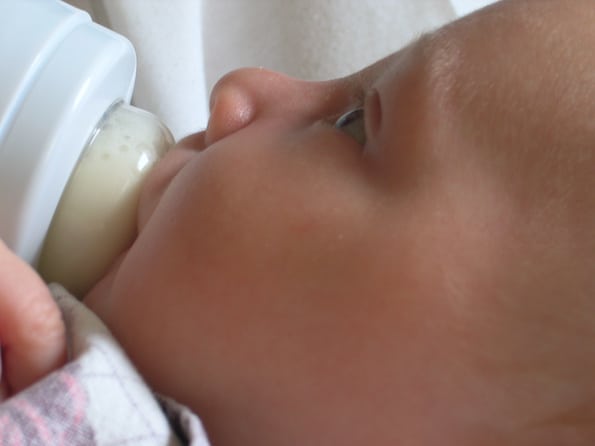 Every new parent faces an overwhelming number of things to decide both before and after the birth of a child. On top of the critical labor and deliver decisions, there are things like childcare, diapers and feeding to think about.
Breastfeeding and formula feeding can be a hot topic, but today I just want to share some information about formula and offer a great giveaway. Pediatricians say breastfeeding is best for babies and Parent's Choice supports that.
My own babies were formula fed. We started them on the brand that was provided at the hospital, but it wasn't long before they were switched to a store brand. We had a few reasons for switching from the name brand formula, primarily because higher price simply does not indicate higher quality.
Click MORE or just keep reading to enter the $100 Visa gift card giveaway! 
It turns out that there are a lot of other good reasons for using Parent's Choice formula, is the store brand of baby formula exclusively found at Walmart:
Parent's Choice is nutritionally comparable to all the expensive baby formula brands, including Enfamil, Similac and Gerber.
It meets all infant formula nutritional standards and recommendation of the American Academy of Pediatrics.
Parent's Choice is clinically proven to be as well tolerated at Enfamil and Similac.
It's clinically proven to support growth and development.
About Parent's Choice Infant Formula
Like all other Parent's Choice baby products, Parent's Choice baby formula is as nutritious and safe as national brands at an affordable price.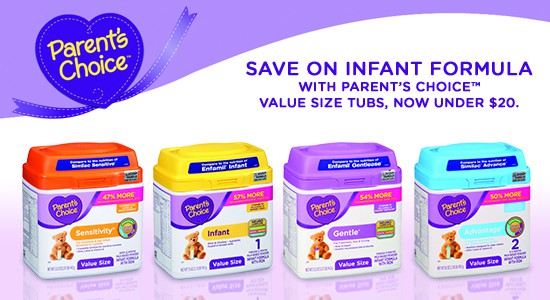 Value sizes of Parent's Choice Premium Powder Formula, Parent's Choice Advantage Tub Stage 2 Formula, Parent's Choice Sensitivity Canned Powder Infant Formula and Parent's Choice Gentle Infant Formula each have special savings for under $20 at Walmart right now!
With the special value on those sizes right now, you could feed your baby an average of 60 4oz bottles for under $20!
Be sure to leave a comment and tell me why you'd like to win this #ParentsChoice

This post is provided by Lunchbox on behalf of Parent's Choice. All opinions are my own and not edited by anyone else. Please see my disclosure policy for more information.