The classic campfire treat gets an upgrade with this delicious s'mores dip recipe! Chocolate and marshmallow are combined into a melty goodness that can be scooped up with graham crackers, cookies, fresh fruit or plenty of other dippers!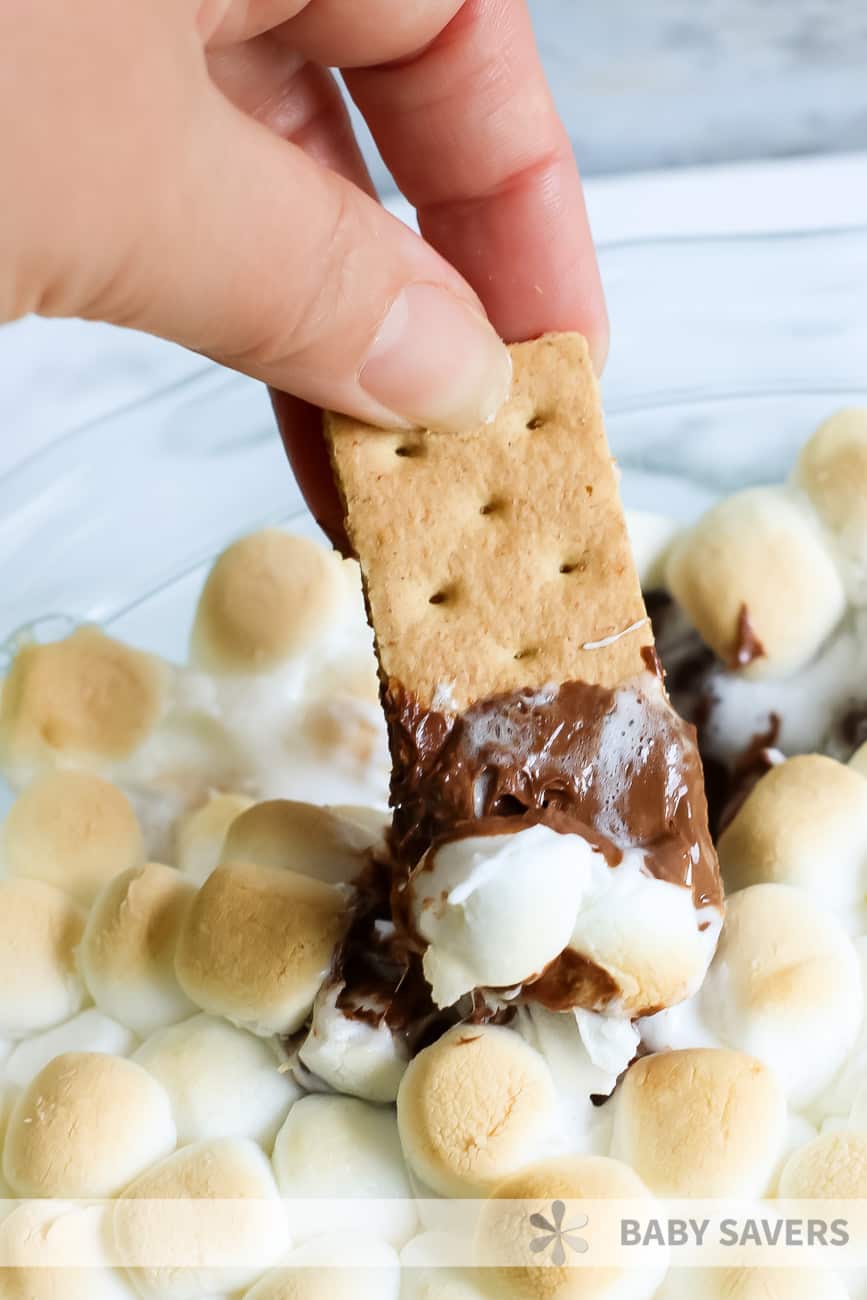 There are certain flavor combinations that always inspire a yuummmm reaction. Chocolate, marshmallow and graham crackers is absolutely that for me.
I don't understand how some people only associate s'mores with camping. Camping is not for me. In fact, I love not camping. But s'mores? I could eat s'mores every day and never get tired of them.
But I do agree that sometimes eating one of those sandwiched treats at home doesn't feel right. Making them in the microwave changes the texture of the graham cracker. The marshmallow doesn't get that golden, toasted outer crust.
And, have you ever burnt chocolate or a graham cracker while microwaving? It happens so much faster than you might think.
And the smell. The smell of burning graham crackers will make you think your entire house is burning down. Your microwave will never smell ok after that.
So, there are absolutely better ways to enjoy the flavors of s'mores without attempting to recreate the exact camping treat indoors.
Examples:
S'mores ice cream is an absolutely amazing treat that combines chocolate and marshmallow flavors into the base, and also mixes in graham crackers and more marshmallow bits. It's so good!
These S'mores cookies are always an amazing treat, but I especially love making them in the winter.
About this S'Mores Dip Recipe
This dip recipe is great because it's super easy and super versatile. This section will tell you the ingredients for the dip and a list of delicious foods for dipping.
Ingredients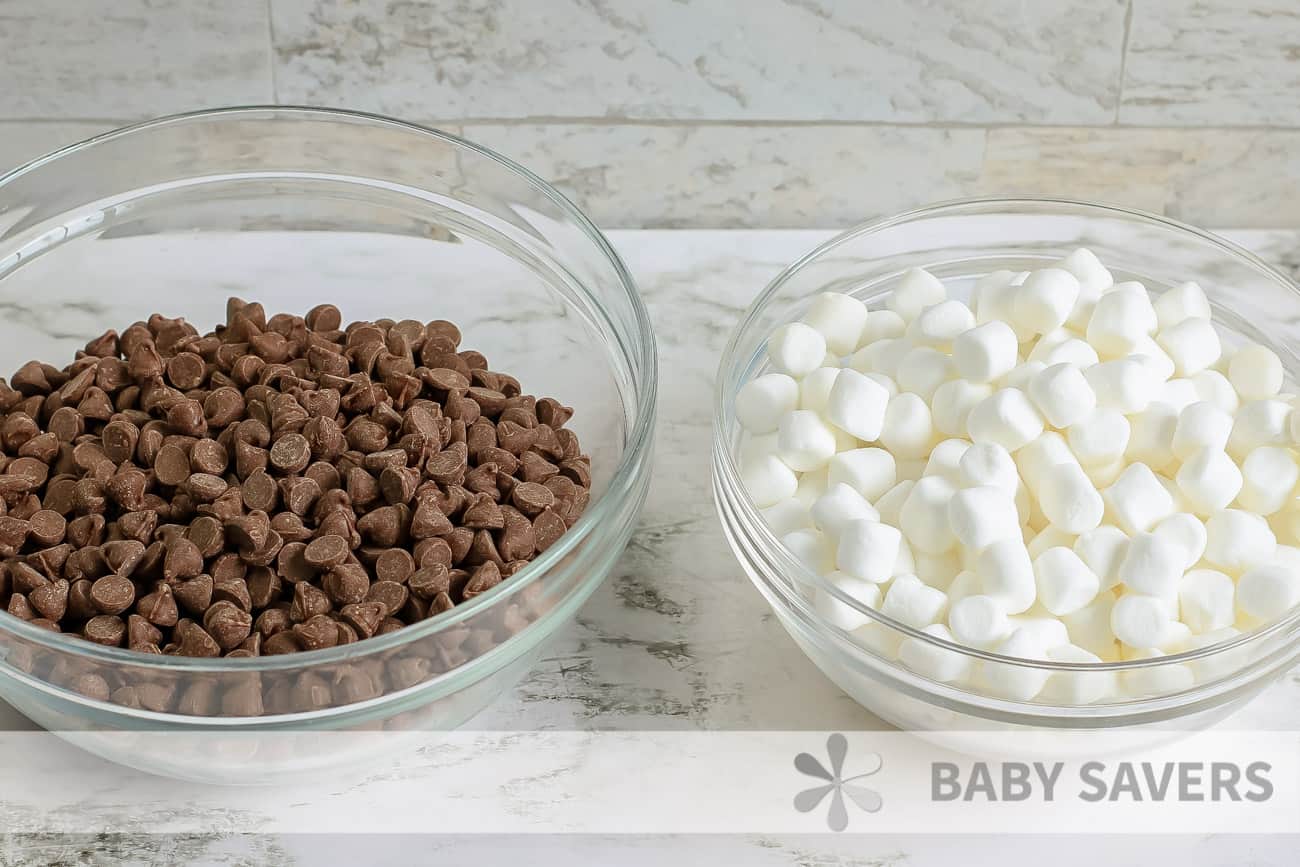 Here's a list of the ingredients you'll need to make S'mores dip. This list is to help you make sure you have everything you need before getting started.
Exact quantities of these ingredients can be found in the printable recipe card at the end of this post.
Milk chocolate chips
Miniature marshmallows
If you're doing any of the variations listed below, your ingredients could change. Check your pantry for the following items:
Creamy peanut butter
Butter
Fresh strawberries
Strawberry jam
Butterscotch chips
White chocolate chips
Semi-sweet chocolate chips
How to reheat the leftovers
Chances are good that this dip will be destroyed when you put it out for just about anyone!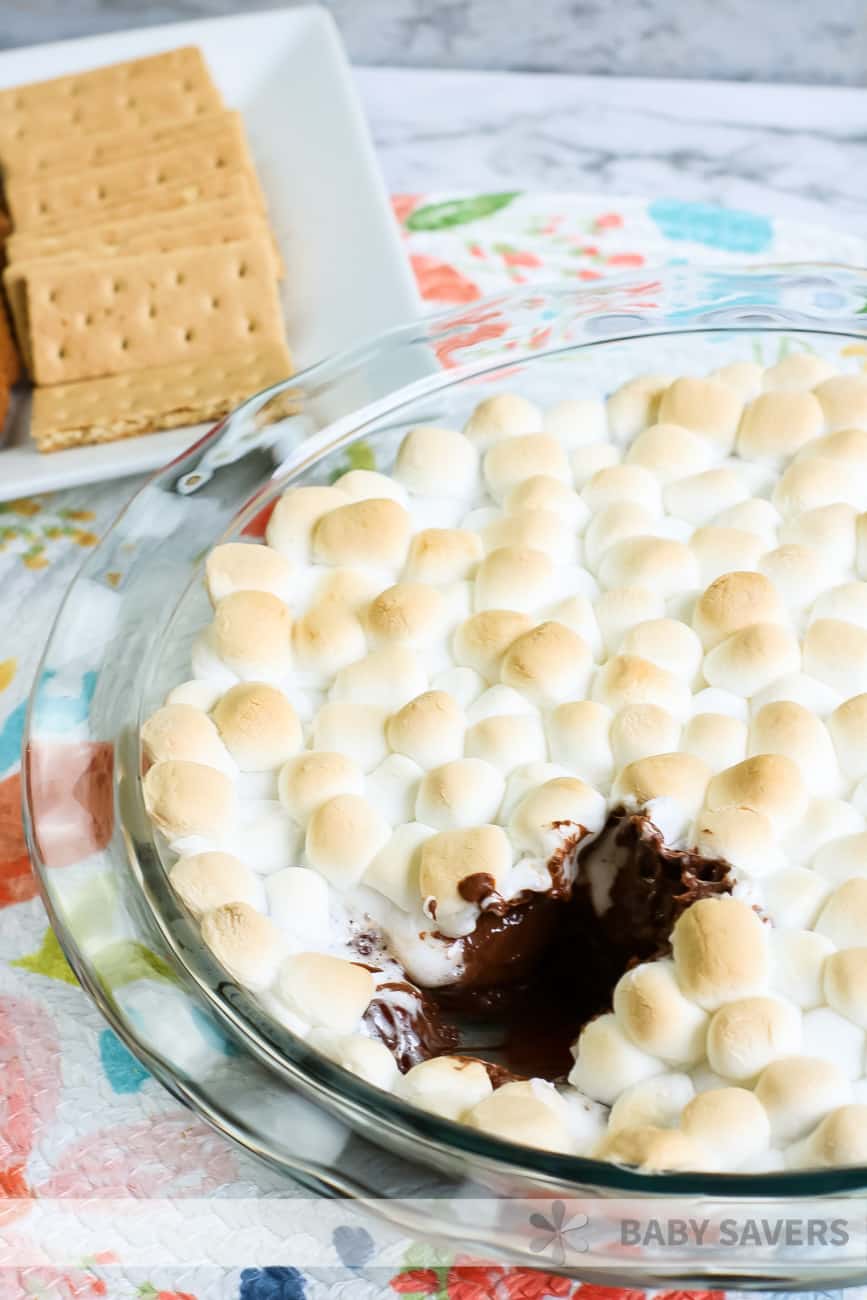 But in the off chance that you have leftovers, you should cover the dish with plastic wrap and refrigerate it. This will keep it fresh, but it will also turn your dip into a solid (delicious!) piece of chocolate and marshmallow.
Luckily, reheating is easy, and you can soften up the dip very quickly. Here's how:
Remove the plastic wrap from the pie plate. Microwave the dip at 50% power in 30-second increments.
Keep a close eye on it – you don't want those marshmallows to expand too much! It's ready when the chocolate is melted again.
Foods to dip in dessert dip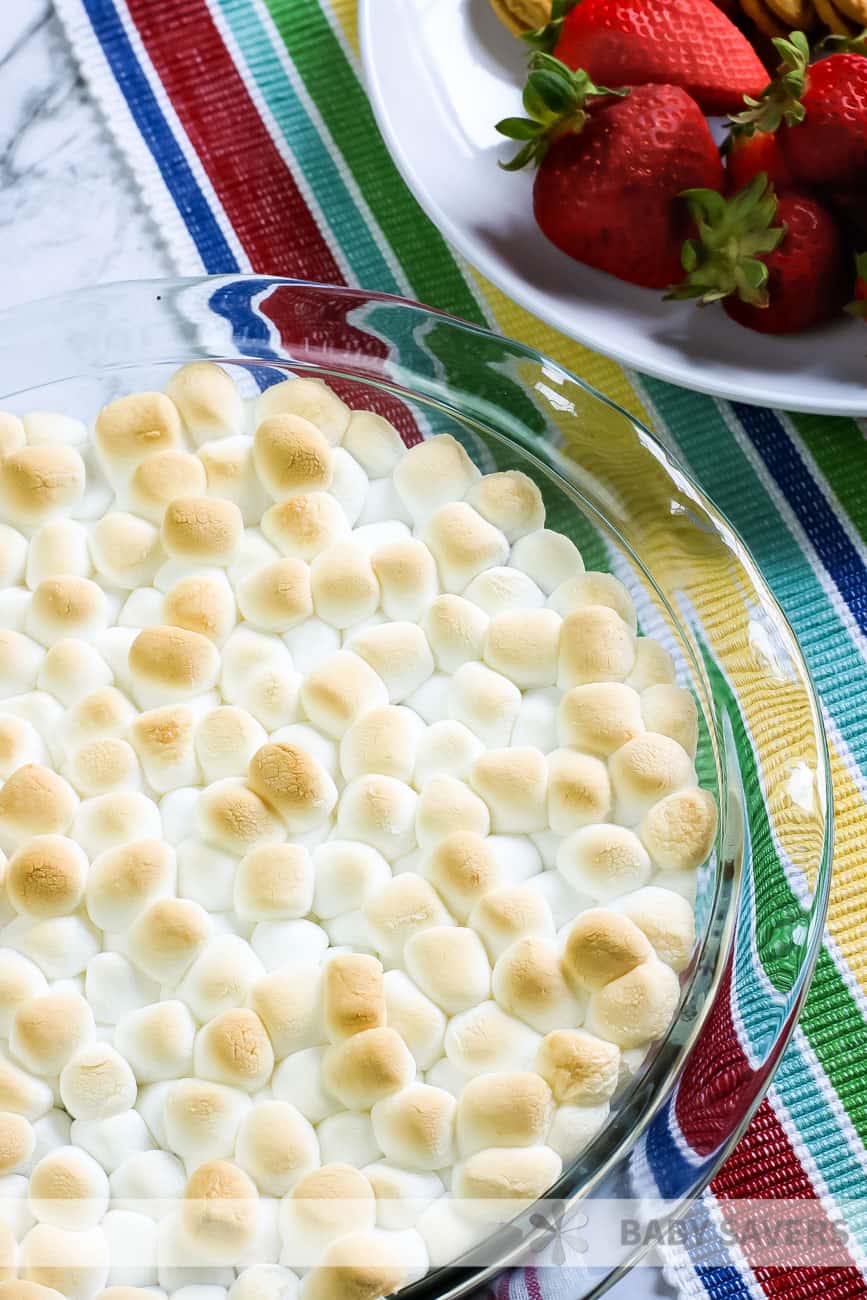 The obvious choice is the perfect dipper for S'mores dip: graham crackers! But there are several other foods you can dip into this recipe. Here are my ideas:
Strawberries
Fresh pineapple (bites or spears)
Bananas
Pretzels
Ritz crackers
Potato chips
Apple slices
Gingersnap cookies
Tip: Poke fruits and softer items with toothpicks or skewers before putting them out for others.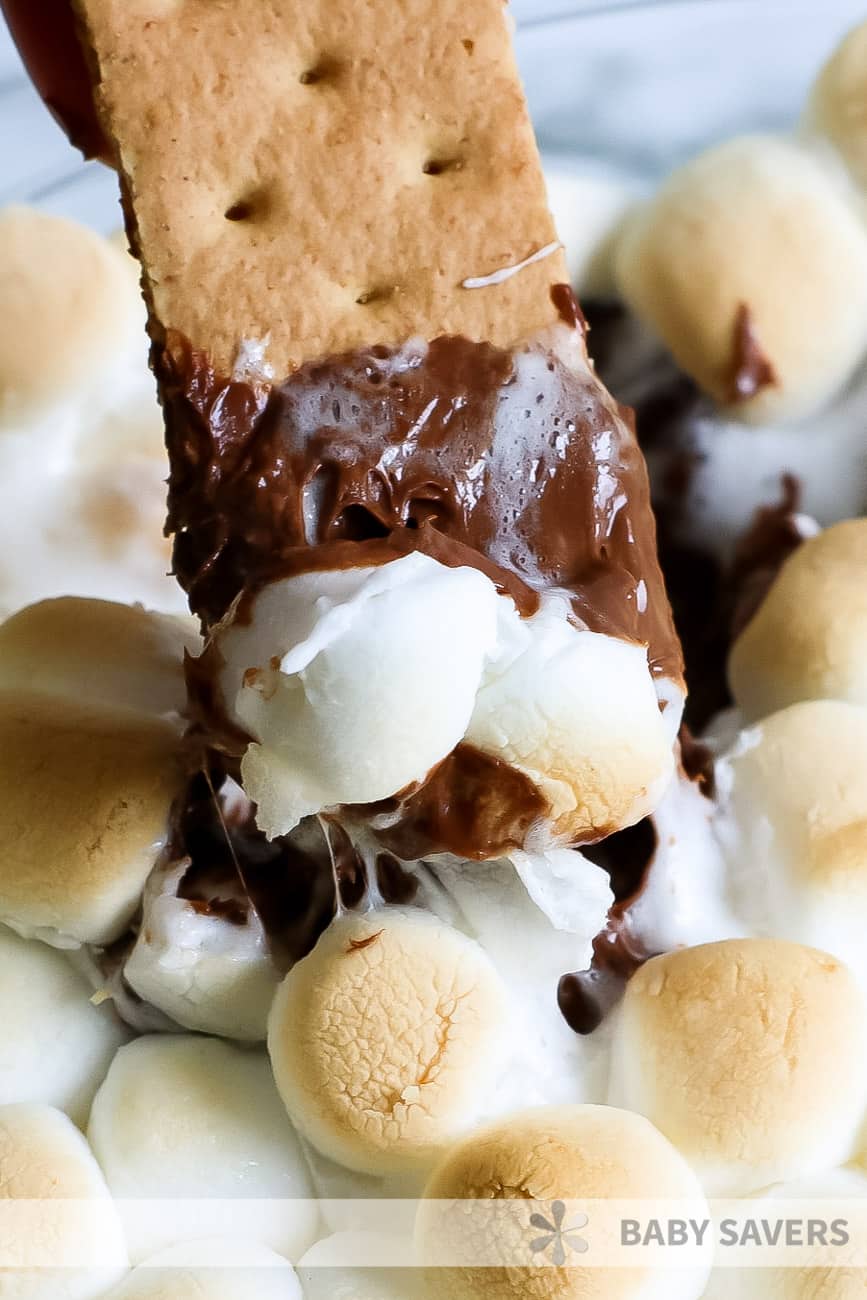 Recipe Variations
I love this dip exactly as it's written. It's easy and delicious. But it's also predictable. Thankfully, there are easy ways to change it up!
You can make your s'mores dip exactly suited to your tastes or offer some variety to your family by using one of these ideas.
Peanut Butter S'Mores Dip
Put 1/2 cup of creamy peanut butter and 2 tablespoons butter into a microwave-safe bowl. Microwave in 30 second intervals until it's melty and stir until spreadable.
Spread the peanut butter mixture on the bottom of your dish before you add the chocolate chips. Then follow the rest of the directions.
Strawberry S'Mores Dip
Thinly slice 6-8 fresh strawberries and combine them with 2-4 tablespoons strawberry jam. Layer them over the chocolate chips and follow the rest of the recipe directions.
Butterscotch S'Mores Dip
Follow the recipe below and but use 1 cup butterscotch chips in place of 1 cup of the chocolate chips. Stir them together before adding the marshmallows.
Zebra S'Mores Dip
Follow the recipe below but substitute use 1 cup of white chocolate chips in place of 1 cup of chocolate chips. Stir them together before layering on the marshmallows.
Semi-Sweet S'Mores Dip
Substitute semi-sweet chocolate chips for some or all of the milk chocolate chips. Follow the recipe to make the dip.
How to Make S'Mores Dip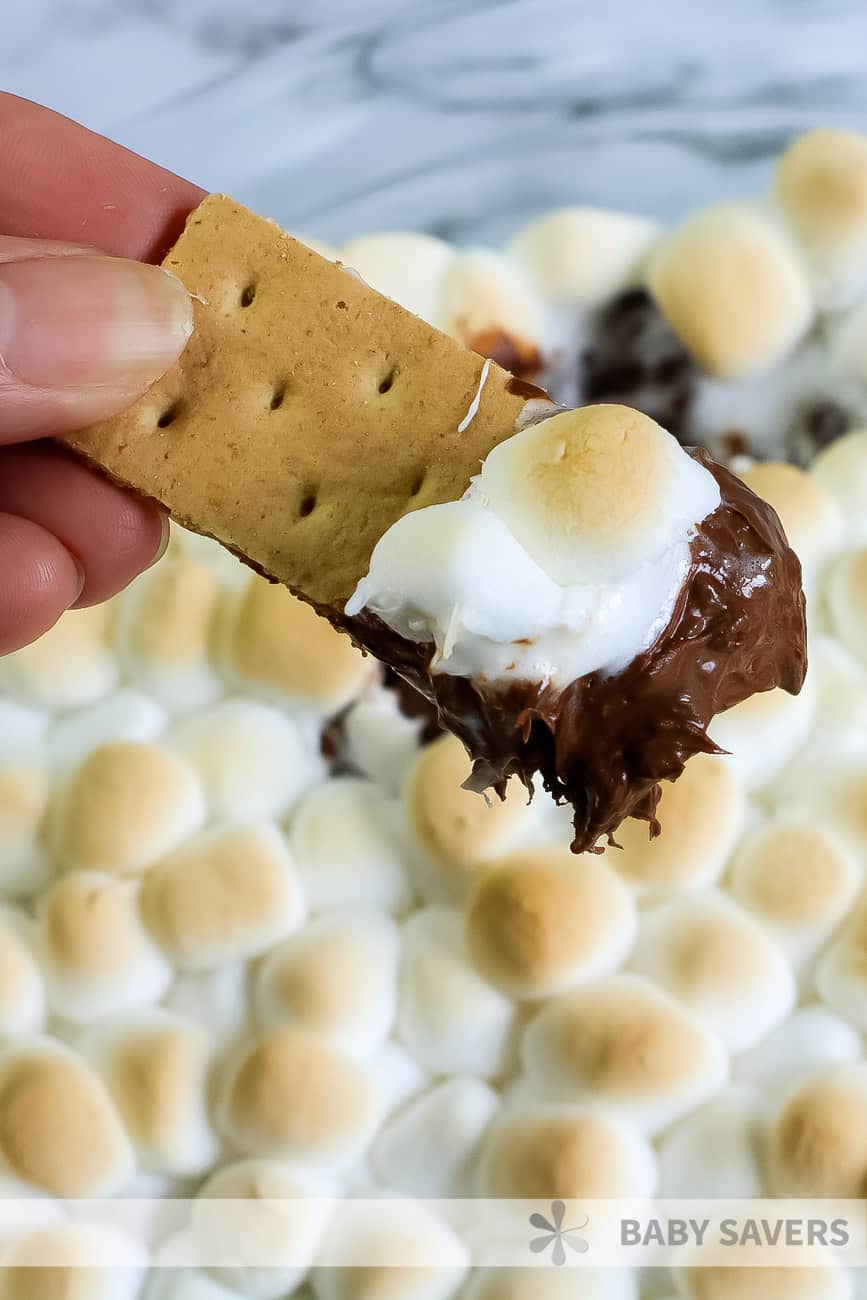 The truth is, homemade s'mores dip is super easy. You just need to be careful with the baking time and temperature.
If you bake it too long or at too low of a temp and the marshmallows won't be soft and fluffy. They'll be hard and chewy.
If you bake it at too high of a temperature, the marshmallows will burn before the chocolate can melt.
So, just follow these instructions and you'll have a perfect dip to share!
1. Butter a 9-inch glass pie plate and pour spread chocolate chips evenly across the bottom.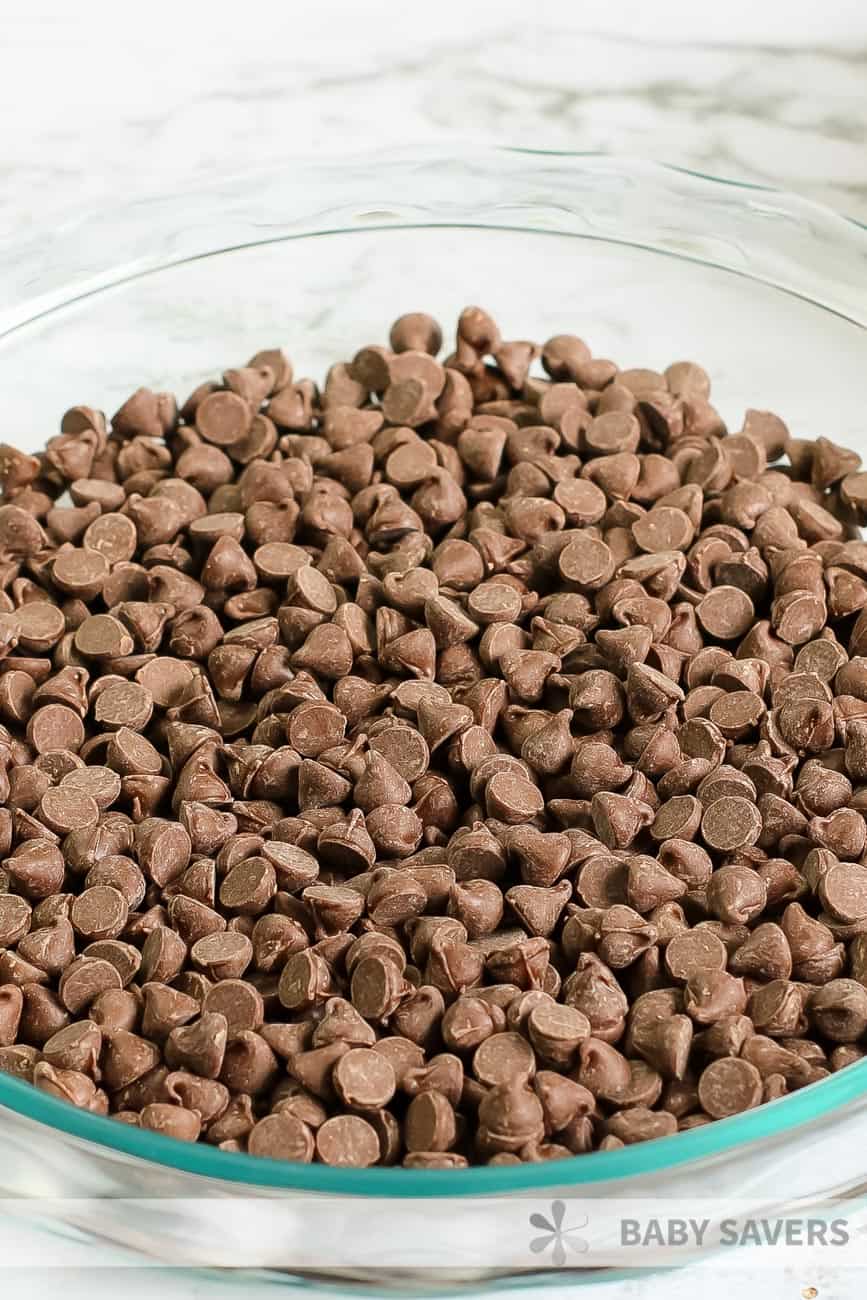 Put marshmallows on top of the chocolate chips.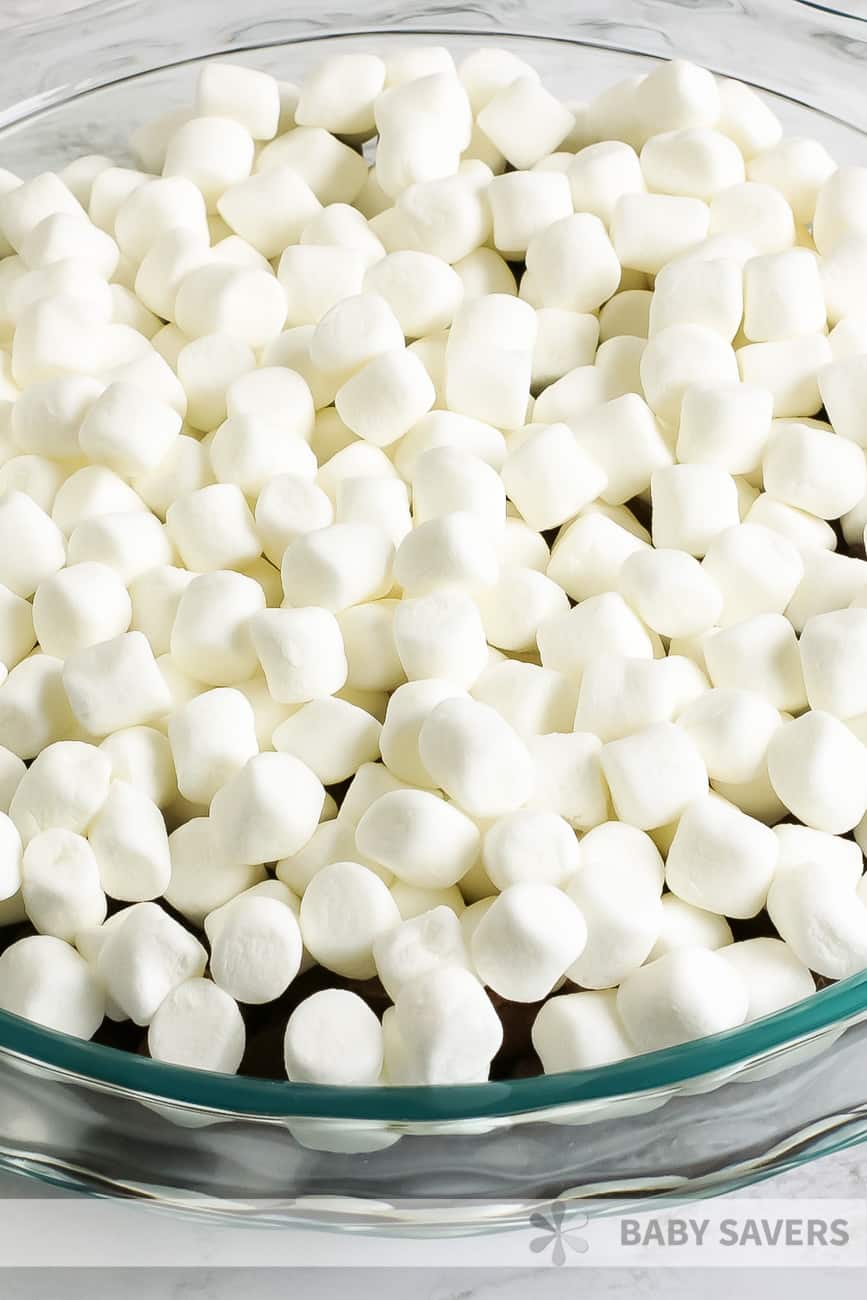 Bake at 350 degrees for 8-10 minutes.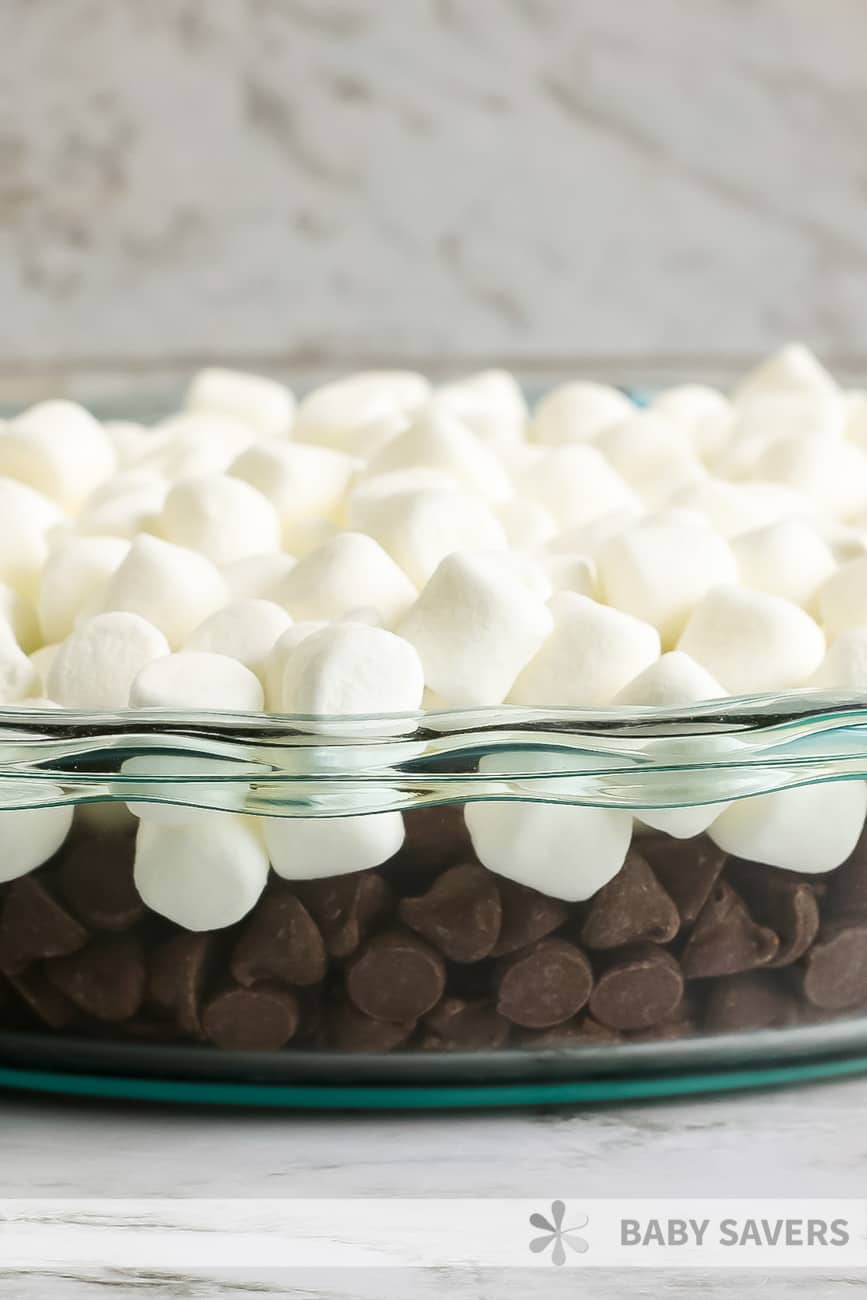 Serve immediately with all your fun foods to dip and scoop!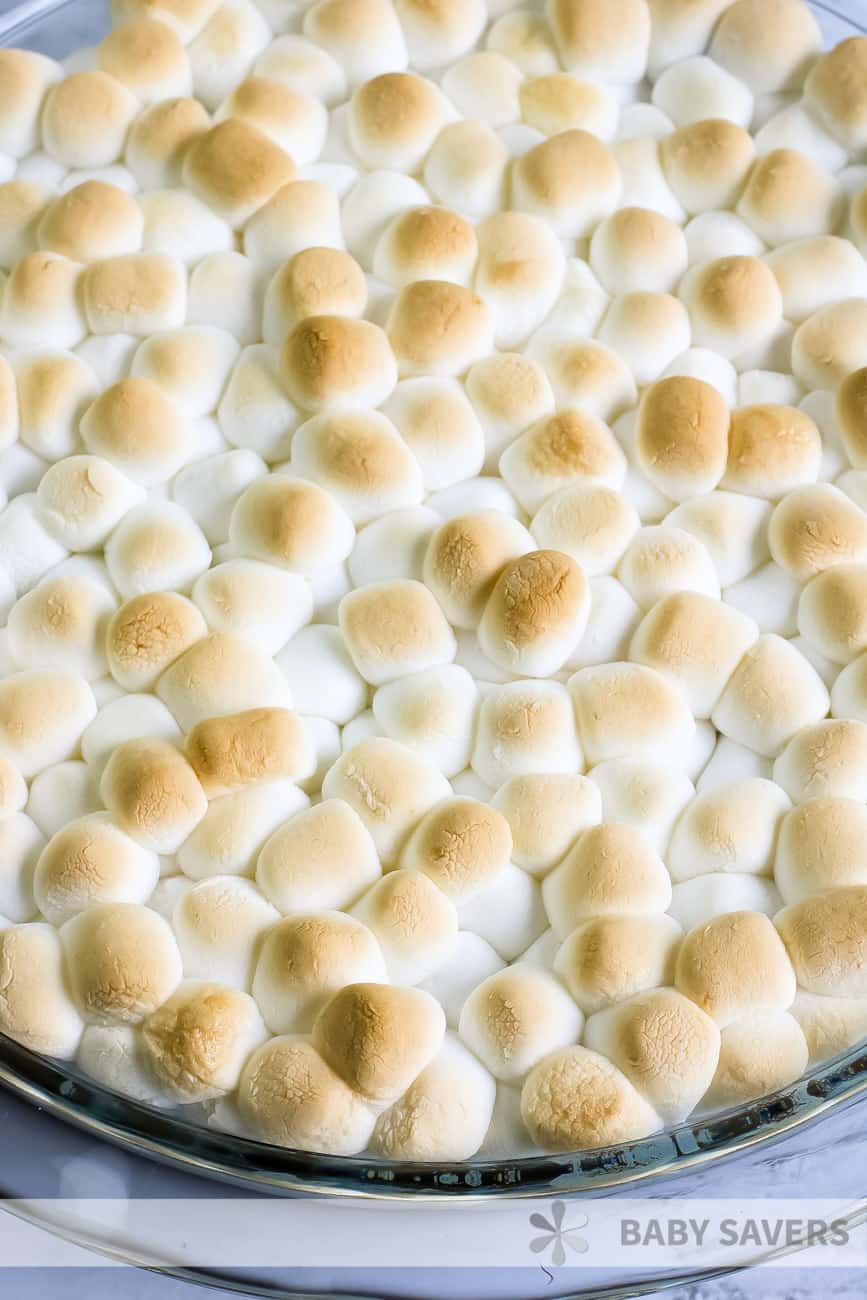 Yield: 12
S'Mores Dip Recipe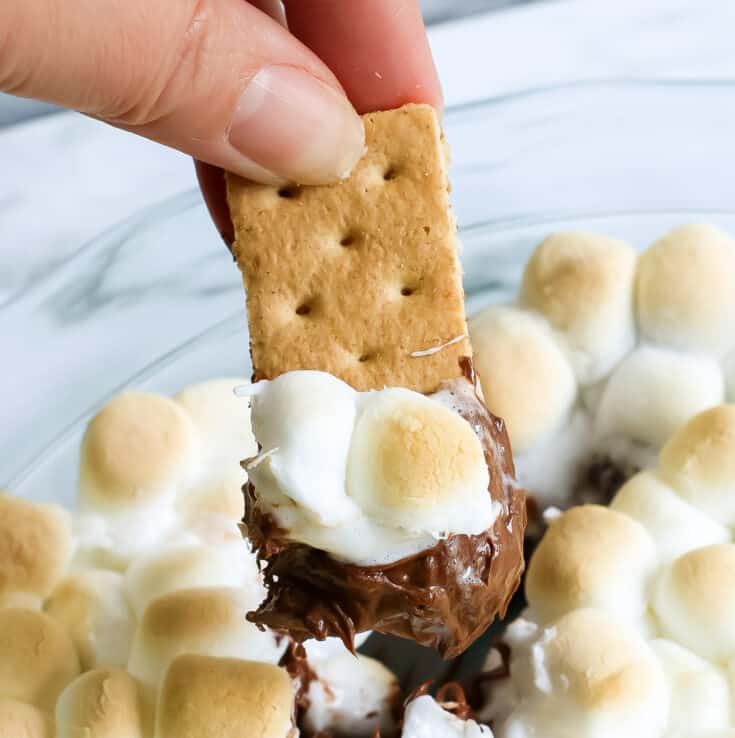 This easy s'mores dip recipe takes the flavors of your favorite campfire treat and turns them into a melty, gooey, chocolate and marshmallow dip!
Ingredients
2 cups miniature marshmallows
3 cups milk chocolate chips
Instructions
Preheat the oven to 350 degrees.
Butter a 9" round pie plate and spread chocolate chips evenly across the bottom of the plate. Top with marshmallows.
Bake in the preheated oven for 8 to 10 minutes or until the chocolate has melted and the marshmallows are golden. Do not overbake.
Serve with your favorite sweet treats to dip.
Notes
Be aware that the milk chocolate morsels may not liquify or melt down, but they will be glossy when melted. Do not overcook.
If your marshmallows don't turn toasted and golden, put them under the broiler for a few seconds. Watch carefully so your dip doesn't burn.
Nutrition Information:
Yield:
12
Serving Size:
1
Amount Per Serving:
Calories:

251
Total Fat:

12g
Saturated Fat:

8g
Trans Fat:

0g
Unsaturated Fat:

4g
Cholesterol:

10mg
Sodium:

40mg
Carbohydrates:

32g
Fiber:

1g
Sugar:

26g
Protein:

3g