We love a great animated movie and Sonic the Hedgehog 2 is the whole package! These memorable and funny Sonic the Hedgehog 2 quotes from the movie will remind you of your favorite moments in the film!
The first Sonic movie had tons of memorable movie quotes, and the newest movie in the franchise has just as many.
We love movie quotes! One of our most popular articles is 50 Frozen 2 Quotes. Check it out!
About Sonic the Hedgehog 2
Sonic the Hedgehog 2 is an action-adventure family movie based on the video game distributed by Sega. A combination of animated characters set in a live-action film, Sonic 2 is a sequel to the 2020 blockbuster Sonic the Hedgehog.
Sonic the Hedgehog 2 synopsis
After Sonic and his family settle in the peaceful town of Green Hills, the hedgehog is ready for more freedom, more adventure and more heroism.
His human "parents," Tom and Maddie, travel to The Four Seasons in Hawaii for Maddie's sister's wedding, but Dr. Robotnic, along with his new partner Knuckles the echidna, returns to Green Valley in search of a special emerald that Knuckles claims gives the holder ultimate power.
Sonic teams up with his own new friend, Tails, to find the jewel before it falls into the hands of evil. Their dramatic and hilarious journey cements their friendship, and makes them wonder if there's more to Knuckles than his vengeance.
You can watch the Sonic the Hedgehog 2 trailer here.
Ready for movie quotes from Sonic the Hedgehog 2? Keep reading!
Cast of Sonic the Hedgehog 2
There's a big cast in this movie, so I won't be listing everyone. I do want to highlight the main characters and the actors who play or voice them.
| | |
| --- | --- |
| Character | Actor |
| Sonic the Hedgehog | Ben Schwarz |
| Tails (Miles "Tails" Prower) | Colleen O'Shaughnessey |
| Knuckles the Echidna | Idris Elba |
| Tom Wachowski | James Marsden |
| Maddie Wachowski | Tika Sumpter |
| Dr. Robotnik | Jim Carrey |
| Rachel | Natasha Rothwell |
| Randall | Shemar Moore |
| Sheriff Wade Whipple | Adam Pally |
| Agent Stone | Lee Majdoub |
| Commander Walters | Tom Butler |
Will there be a Sonic the Hedgehog 3 movie?
By the way, if you're wondering, will there be a Sonic the Hedgehog 3 movie (yes, the THIRD), the answer is YES, and more!
There's a post-credits scene in Sonic the Hedgehog 2 that gives a pretty big clue that at least one more movie is coming, but we can do better than clues!
In February 2022, Paramount Pictures and Sega Corp announced two amazing new projects in the works for Sonic and other characters from the Hedgehog universe.
First, Paramount and Sega have already started developing Sonic the Hedgehog 3, but we don't know when it will be released.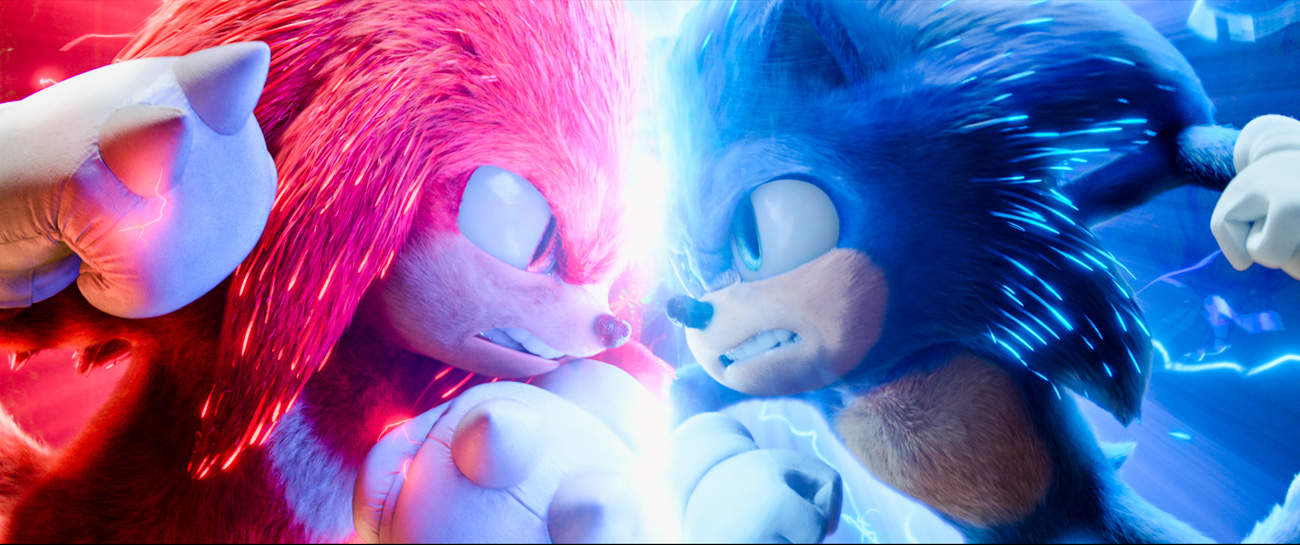 At the same time they announced a third Sonic movie, they also announced that Sega and Paramount+ are creating the first original live-action Sonic the Hedgehog series for Paramount+!
The series is set to feature Knuckles, and Idris Elba will return to voice the hilarious character that debuted in Sonic the Hedgehog 2! Given how many great lines and quotes came from Knuckles, I'm sure the series will have tons of funny lines.
Sonic the Hedgehog 2 movie quotes
To make this part of the article easier to read, I'm breaking out the movie quotes by character. That way, you'll be able to easily find what you're looking for!
Sonic the Hedgehog quotes from the movie
I've been called many names. Vengeance. The Spiky Supernova. But you may call me…Blue Justice!
No need to thank me, citizens. All in a night's work for Blue Justice.
Blue Justice. Trademark pending.
Quick stretch. Little snack. And here we go.
Don't worry, nobody is going to get hurt.
Mind if I drive? Better buckle up.
I'm sorry, I don't speak duct tape.
Your negative attitude is not helping.
Bombs, bombs, bombs. They're bombs.
Holy sherbet!
Don't panic. This is only a drill.
I just got goosebumps. Wait a second. Did you steal that from Oprah?
I miss you Longclaw. I'll make you proud.
If I die, don't look in my closet.
Face it. You're never going to get my power.
Today's forecast calls for a 100% chance of adventure.
I make this look good!
Did your butt just turn into a helicopter?
Oh great. The Winter Soldier.
I don't know how you got back, but you made a big mistake coming here.
Let's talk about your new outfit. It's like Professor X meets Mr. Monopoly.
I need you to use the ring to save me. Like right now.
Ok, quick version: Robotnik is back.
Ok, this is what we're gonna do. Step 1: light taunting. Step 2: I have no idea.
Bad time to say this, but I don't actually have a plan.
For a guy named Knuckles, you are really bad a punching.
I have no training at all. Yet here I am, ahead of you. That's got to be embarrassing.
Being a hero isn't about taking care of yourself. It's about taking responsibility for other people.
Tom quotes
I love that you want to help make a difference, but you're being reckless…pretending to be Batman.
You put people in danger, and that's not what heroes do.
You've got some more growing up to do.
There will come a moment when your power will be needed. But you don't choose that moment. That moment chooses you.
This is gonna sound really crazy, but I'm going to need to see that ring for just one second. One second.
This is your moment to be the big hero.
We stick together. No matter what.
Dr. Robotnik quotes
My only companion is a rock named Stone.
I've been striving to make fungi into a functional drink of choice.
It's time to say goodbye to this piece of shittake planet.
Au contraire, mo frere. The mistake was thinking you'd won.
I've discovered the source of ultimate power…it's been on my vision board for years.
You petulant space bumpkin. You destroyed my favorite hand.
Sonic, meet Knuckles. My new BFFAE, bestest friend for ever and ever.
Papa's got a brand new stache!
It's so nice when diabolical evil lives up to the hype.
It's cold in here. Let's turn up the heat!
I think I just threw up in my mouth.
Hedgehog, it is time to say goodbye to humanity. Welcome to the new norm.
Did someone call an uber?
Agent Stone quotes
He's back!
You brought something…some kind of…space porcupine?
Tails quotes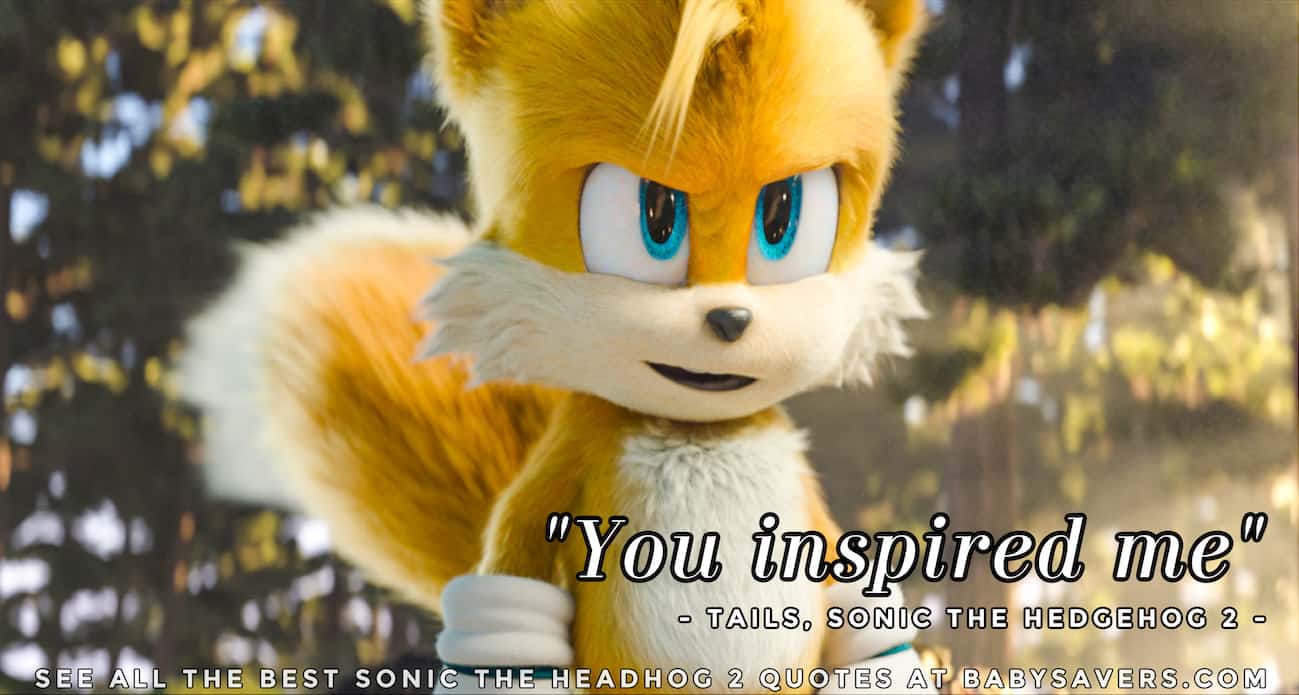 I can't do this, Sonic. I'm not brave like you.
I just hope we're not too late.
You're very heavy!
Hahaha. A butt-copter!
Only Sonic the Hedgehog could win a dance battle that epic.
You inspired me.
Knuckles quotes
You think these machines are a match for me? I will shatter them like the bones of a fallen…oh. They are stairs.
Do I look like I need your power?
I am an echidna warrior.
I will destroy this planet.
Stand still and die.
You're no match for me. I've been training for this for my entire life.
You're unskilled, untrained, unworthy!
You saved me first which clearly gave you a tactical advantage I do not understand.
I've been trying to destroy you since the moment we met.
I'm a million percent muscles.
I don't understand. Why am I angry at the enemy ball? … But if my quest ends where I am standing, why run at all?
Sheriff Wade quotes from Sonic the Hedgehog 2
Welcome to the Wade Cave. Which is something I hope to someday say to a woman who's not my mom.
Like the Staypuf Marshmallow Man from Ghostbusters!
So is that…your dad?
I knew a guy in middle school named Knuckles. He could fit his whole fist in his mouth. If it's that guy, we're screwed.
I'm done playing games, pal. You're going to tell me what I want to know, and I'm asking you for the last time: What would you like on your bagel.
Other Sonic the Hedgehog 2 quotes
Quotes from Rachel (Maddie's sister)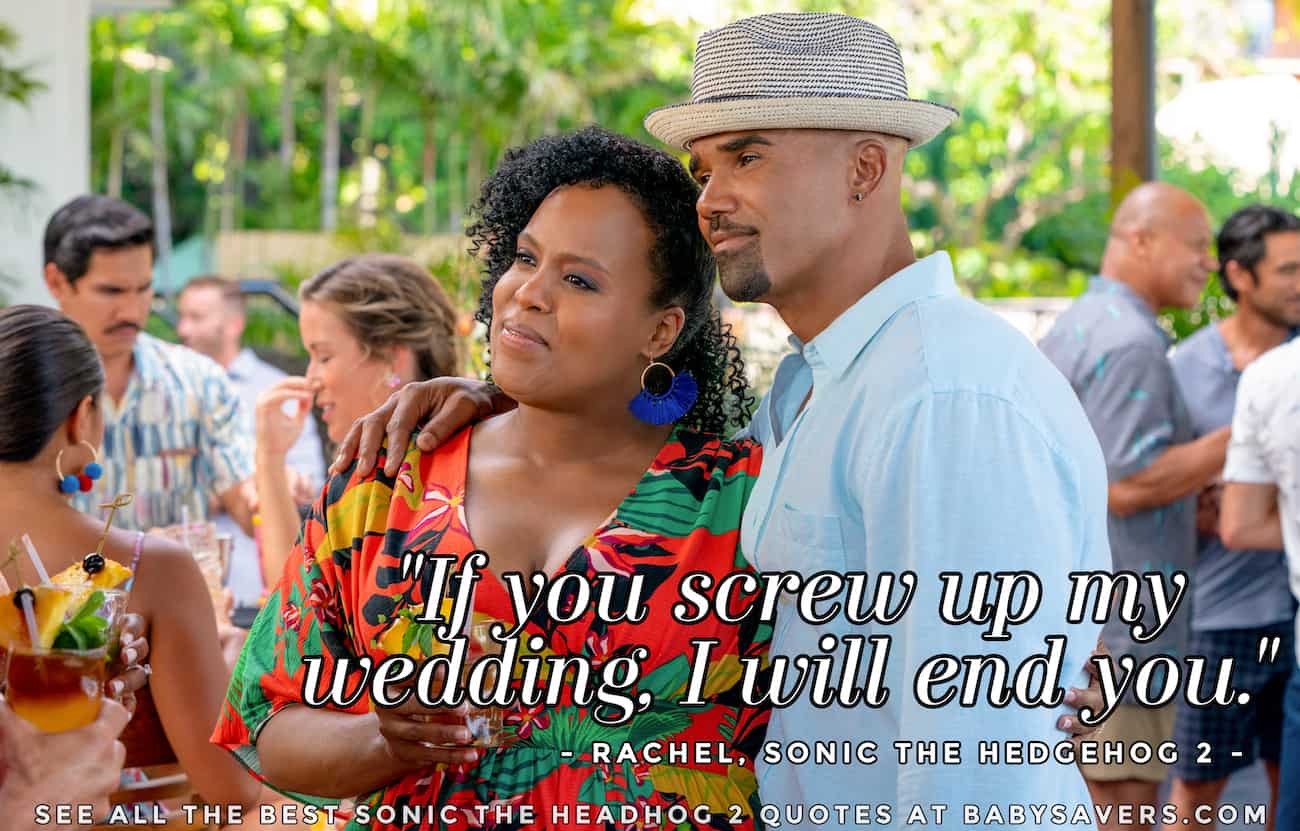 If you screw up my wedding, I will end you.
Have you lost your mind?
Randall, don't look at him. Look at me.
Randall, put the ring on my finger.
Randall, look at me! Ring! On my finger.
Put a ring on it! Please, love.
Snow my god.
Oh Lord. There's two of them now.
Hell hath no fury like a bride scorned.
Movie quotes from Randall, Rachel's fiancée:
Listen, I don't know if you're aware. Rachel does not care for you at all.
Seriously bro, you got work to do.
Quotes from Longclaw
This world has been chosen for a very important reason.
You have a heart like no creature I've ever known.