Frozen 2 quotes
I'm so excited to share so much about the Frozen 2 fun I've had, including all of the best Frozen 2 quotes from your favorite characters!
Don't worry, this article is full of information, but it's all spoiler-free!
I absolutely loved everything about Frozen 2. The story was riveting, the animation was mind-blowing and the characters were so entertaining.
The quote I loved the most? It's definitely the one where Olaf speaks about control and uncontrollable circumstances when he's playing with children. Scroll down to see the exact line from the movie about Olaf controlling what you can.
I also included a really nice image at the end with that Olaf control quote on it. You can save it for when you really need to read it!
And the music. The music! I'm listening to the soundtrack right now. By myself. There's not a child in sight and I'm just enjoying the songs of the movie!
If you're thinking of seeing Frozen 2, don't hesitate — just see it! I promise you won't regret it. Your family will thank you!
Don't miss theses fantastic Frozen 2 coloring pages to keep your little ones busy with Anna, Elsa, Olaf and more!
My experience of the movie was brought to the next level because Disney treated our family to a fantastic family night out, including braids, dinner, merchandise and movie tickets! You can read all about it my Frozen 2 parent review post!
The Best Frozen 2 quotes from every character
This list of Disney Frozen 2 quotes is broken up among all of the main and supporting Frozen 2 characters. Keep scrolling to find the quotes from these entertaining characters:
Anna Frozen 2 quotes
Elsa quotes
Olaf Frozen 2 quotes
Pabbie the Troll quotes
Kristoff Frozen 2 quotes
Frozen 2 quotes from Queen Iduna
Yelana
Honeymaren and Ryder lines from Frozen 2
Queen Iduna and King Agnarr of Arendelle
Lieutenant Destin Mattias
Remember, none of these quotes are from the original Frozen. They're all from Frozen 2! If you don't recognize some of these characters, don't worry. There are pictures of each of them and a little reminder of their part in the movie before I share each of their memorable statements.
If you love movies and quotes, I have some more articles for you to read! Read my favorite Alice Through the Looking Glass quotes about time, Toy Story 4 quotes from the cast and these Hotel Transylvania 3 quotes from the press conference.
Anna Quotes from Frozen 2
Anna is our heroine. Younger sister to Elsa, Anna is desperately supportive of her sister, longing to maintain the connection they forged by the end of Frozen. Still, Anna lets nothing get in the way of protecting and saving her home and the people of Arendelle.
Anna is voiced by Kristen Bell throughout the movie. Young Anna is voiced by Hadley Gannaway.
"Who cares when there's danger when there is love?" – Young Anna
"Whoa, Papa! That was epic!" Young Anna after the story of the Enchanted Forest.
"Do you think the forest will wake again?" – Young Anna
"Two sisters, one mind." – Anna
"When will you see yourself as I see you?" – Anna to Elsa
"You'll always have me." – Anna to Elsa
"We made a promise not to shut each other out." – Anna to Elsa
"Promise me we'll do this together." – Anna to Elsa
"I believe in you, more than anyone. Or anything. If anyone can save Arendelle, it's you." – Anna to Elsa
"I climbed the North Mountain, survived a frozen heart and saved you from my ex-boyfriend. So, you know, I'm coming." Anna to Elsa.
"If you don't want me to chase you into fire, then don't run into fire!" – Anna to Elsa
Elsa Frozen 2 Quotes
Elsa is Queen of Arendelle and Anna's older sister. She was born with the power of ice and snow. Elsa's powers continue to grow in Frozen 2, prompting her quest into the Enchanted Forest with Anna, Kristoff, Olaf and Sven.
Elsa is voiced by Idina Menzel. Young Elsa is voiced by Mattea Conforti.
"Fear is what can't be trusted." – Elsa
"You can't just follow me into fire!" Elsa, to Anna
"You said you believed in me and whatever I had to do." – Elsa
"Everyone I've ever loved is here within these walls." – Elsa
"Are you someone out there who's a little bit like me? Who knows deep down I'm not where I'm meant to be?" – Elsa
"Every day's a little harder as I feel my power grow. Don't you know there's part of me that longs to go into the unknown?" – Elsa
"I have always been a fortress, cold secrets deep inside." – Elsa
Olaf quotes from Frozen 2
Olaf is an unforgettably optimistic snowman. He was created by young Elsa in the beginning of Frozen, and reappeared when Elsa's began honing her powers in the movie. Olaf loves his friends, warm hugs, and fun facts.
Olaf is voiced by one of my favorite actors, Josh Gad, and I love all of these Olaf Frozen 2 quotes!
"I'm just living the dream, Anna." – Olaf
"Sven promised to read me a bedtime story." – Olaf
"You do the best voices! Like when you pretend to be Kristoff." – Olaf
"This will all make sense when I am older." – Olaf
"When you're older absolutely everything makes sense." – Olaf
"Water has memory." – Olaf
"The Enchanted Forest will bring transformation." – Olaf
"Quick question. Is this whole, "putting us in mortal danger" going to be a regular thing?" – Olaf
"I wish it would stay this way forever. Fall mocks us with change." – Olaf
"Turtles can breathe through their butts." – Olaf
"People blink 4 million times a day." – Olaf
"Wombats poop in squares." – Olaf
"Men are six times more likely to be struck by lightning than women." – Olaf
"Oh, come on! It'll be fun. Unless we get stuck here, you starve and I give up." – Olaf, to Anna.
"How do you guys cope with the ever increasing complexity of thought that comes with maturity?" – Olaf, to the children of Northuldra.
"We're calling this controlling what you can when things feel out of control." – Olaf, explaining how he's playing with the kids in the forest.
"Samantha? [snorts] I don't even know a Samantha!" – Olaf
I think that last quote in the list was one of the best lines in Frozen 2! I laughed so hard at Olaf's Samantha moment!
Grand Pabbie the Troll Quotes from Frozen 2
Grand Pabbie is the Troll King. He's elderly and wise, with healing powers. He understands much of Elsa's magic and the king and queen look to Pabbie for wisdom.
Grand Pabbie is voiced by Ciarán Hinds.
"We have always feared Elsa's powers were too much for this world. Now we must hope they are enough." – Pabbie
"The past is not what it seems. You must find the truth." – Pabbie
"The truth needs to be found. Otherwise there is no future." – Pabbie
"Find who is calling to you. They may have answers." – Grand Pabbie to Elsa.
"Magic is very alluring. Without you, she may lose herself to it." – Pabbie to Anna, about Elsa.
"Be careful, the spirits will challenge you every step of the way." – Grand Pabbie
Kristoff Frozen 2 quotes
Kristoff is an outdoorsman, best friend to Sven the reindeer and romantic partner to Anna. He's helpful, supportive, and often voices what he believes to be Sven's thoughts.
Kristoff is voiced by Jonathan Groff.
"When did I become the one who's always chasing your heart?" – Kristoff
"My love is not fragile." – Kristoff
"You feel what you feel and your feelings are real." – Kristoff, speaking as Sven
"I'm here. What do you need?" – Kristoff
That last line is my favorite Frozen 2 quote. It's so refreshing is it to have a leading man fully support his love while she's in full warrior mode!
Queen Iduna of Arendelle quotes
Queen Iduna is the Anna and Elsa's mother, and her quotes come from flashbacks and memories. Iduna is voiced by Evan Rachel Wood in the movie.
"Sleep my darling, safe and sound. For in this river, all is found."
King Agnarr of Arendelle quotes
King Agnarr was the leader of Arendelle with his wife, Queen Iduna. He was Anna and Elsa's father, and he appears in a scene with Young Anna and Young Elsa.
King Agnarr is voiced by Alfred Molina in Frozen 2.
"That night, I came home King of Arendelle." – King Agnarr
Lieutenant Destin Mattias quotes
Destin Mattias was King Runeard's lieutenant and Prince Agnarr's (Anna and Elsa's father) personal guard when Agnaar was a child. Mattias was in the Enchanted Forest with the Northuldra and other members of the Royal Guard.
Lieutenant Destin Mattias is voiced by Sterling K. Brown.
"Protect Arendelle at all costs!" – Lieutenant Mattias
"That was magic! Did you see it?" – Lieutenant Mattias
"Where did you learn magic?" – Lieutenant Mattias
"I see him in your faces." Lieutenant Mattias to Elsa and Anna, about their father.
King Runeard of Arendelle quotes
King Runeard is the grandfather of Anna and Elsa. He was the king before their father became King of Arendelle. It was during his visit with the Northuldra that the mist of the Enchanted Forest locked away those left inside.
King Runeard of Arendelle is voiced by Jeremy Sisto.
"Magic makes people feel too powerful, too entitled. It makes them think they can defy the will of a king." – King Runeard
Yelana quotes
Yelana is the leader of the Northuldra, part of the group in the Enchanted Forest with members of the Arendelle Royal Guard.
Yelana is voiced by Martha Plimpton.
"We are called Northuldra. We are the people of the sun." – Yelana
"We only trust nature. When nature speaks we listen." – Yelena
Honeymaren and Ryder quotes
Honeymaren is a member of the Northuldra. She and her brother Ryder were born in the Enchanted Forest after their people were trapped.
Honeymaren is voiced by Rachel Matthews in Frozen 2.
"Why do lullabies always have to have some terrible warning in them?" – Honeymaren
Ryder is the sister of Honeymaren and a member of the Northuldra. He shares Kristoff's love of reindeer, but he longs to see the world beyond the Enchanted Forest. Ryder is voiced by Jason Ritter.
"I know nothing about women, but I do know that we have the most amazing way of proposing!" – Ryder
I had to stop myself from adding more to this list! These are my favorite Frozen 2 movie quotes.
There are so many other smart, memorable, and funny quotes from Frozen 2 that I would end up sharing the entire script if I listed all of them!
As promised, here's the Olaf quote image: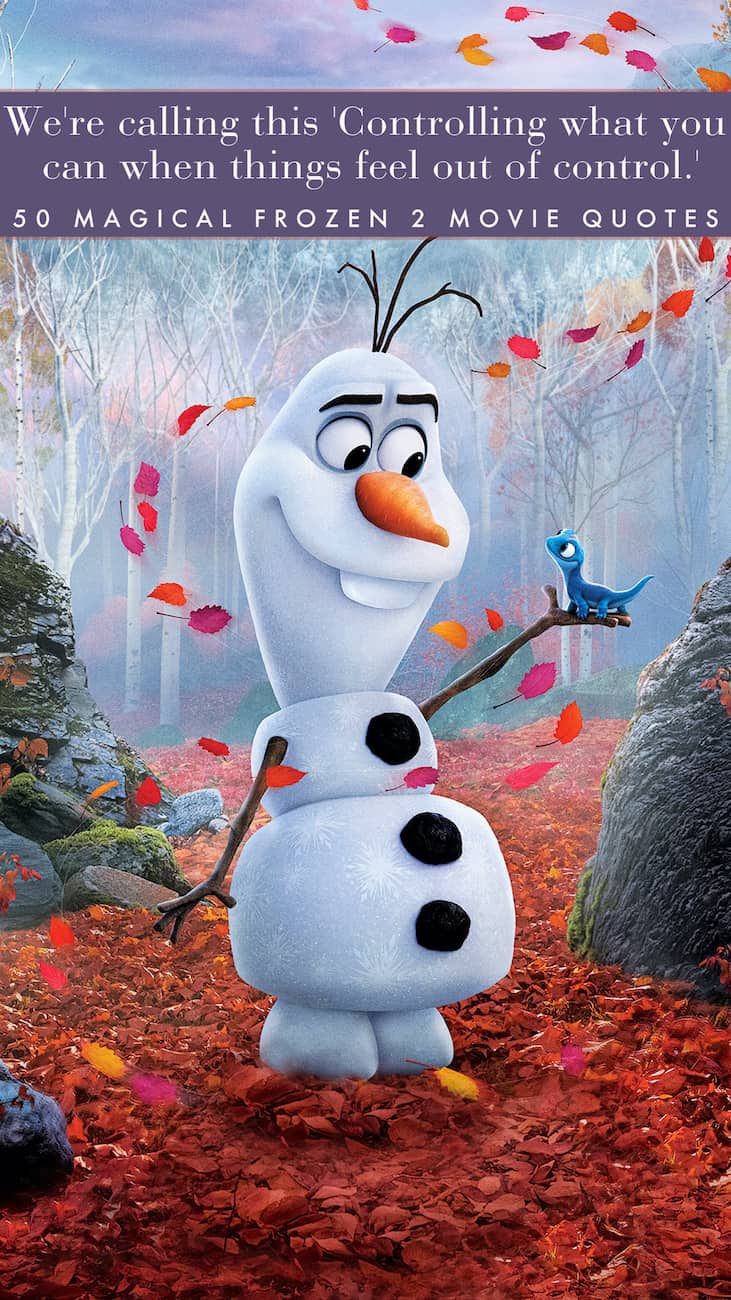 Be sure to watch the movie and let me know your best quotes from Frozen 2!
Learn more about Frozen 2 here!
About Frozen 2:
In the original Frozen, Elsa feared her powers were too much for the world. In Frozen 2, she must hope they are enough.
Why was Elsa born with magical powers? What truths about the past await Elsa as she ventures into the unknown? As Anna and Elsa head to the enchanted forests and dark seas beyond Arendelle, they find the answers are calling her but also threatening her kingdom.
Elsa will face a dangerous but remarkable journey together with Anna, Kristoff, Olaf and Sven.
From the Academy Award®-winning team — directors Jennifer Lee and Chris Buck, producer Peter Del Vecho and songwriters Kristen Anderson-Lopez and Robert Lopez — and featuring the voices of Idina Menzel, Kristen Bell, Jonathan Groff and Josh Gad, this movie will take you on an adventure into the unknown.