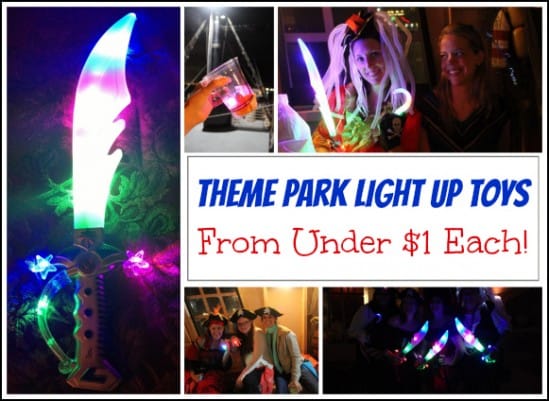 One fantastic sponsor for Brandcation earlier this month was FlashingBlinkyLights.com.
As it turns out, FlashingBlinkyLights.com is a great place to shop for cheap light up toys. I had never heard of this business before, but I don't think I'm going to forget about it now!
Flashing Blinky Lights supplied an array of super-fun light up toys to take our Destin pirate cruise to the next level. From multi-colored swords and hooks to fiberoptic hair extensions, blinking rings and light up ice cubes, we were set to party!
The best thing about
Flashing Blinky Lights
is obviously their pricing. You need to see exactly how cheap these toys are to believe the prices. Almost everything pictured in the above video is under $4!
I'm a blogger who loves to travel, and I love taking my family to Disney World. If you've been there, you know that as soon as night falls, vendors are lining the streets with carts full of light up toys–some are $20-$30!
Do yourself a favor and save money on your Disney trip. You know your little ones are going to want a light up toy. YOU might even want one 🙂 Order up a few cheap light-up toys from Flashing Blinky Lights (there are princess wands, pirate toys and light up bubble guns, among many others!) and stash those toys in your suitcase when your packing. Surprise your kids when they ask you for a toy, and everyone will stay happy!
Another great thing about Flashing Blinky Lights is that you can order in bulk and get a quantity discount for a lot of items they sell. That can make for some winning birthday party favors at extra-low prices!
Check out Flashing Blinky Lights and let me know what you think!
Thank you to my friend Trisha for some of the photos in this post and for planning this fun adventure!
Disclosure: Flashing Blinky Lights provided product samples at the Brandcation event I attended. All opinions are my own.