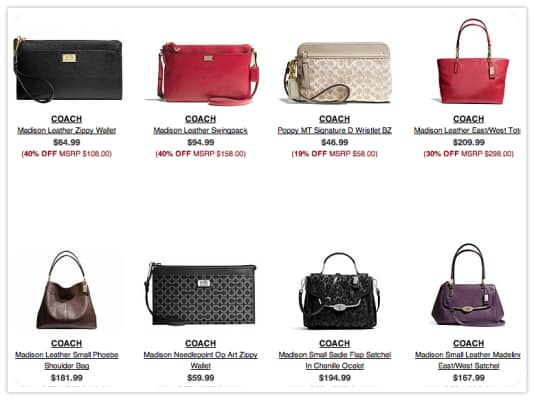 Hurry over to 6pm.com, where you'll find a great new selection of Coach bags and accessories discounted by up to 45% off original prices!
I absolutely love classic bags by brands like Coach. I figure I can spend $25 on cheap purses 5 or 6 times a year or I can spend more and get a genuine leather bag I'll use for an extended period of time.
The best part is that I generally buy a new high-quality purse about once every two years, and what I buy goes into a "rotation" because brands like Coach are made to last! By my calculations over the past few years, I've literally saved money with this shopping strategy compared to my old one!
There's a huge selection of Coach products at 6pm right now, but these discounts mean they'll start selling out soon! 6pm.com also always offers FREE shipping, so there's no additional costs on top of the listed prices!