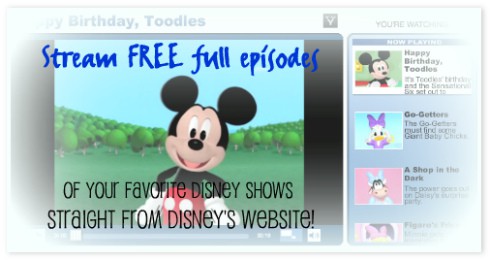 I just learned a secret: Anyone can go over to the Disney Junior site on disney.go.com and access over 30 FREE full episodes of excellent Disney animated shows!
Here are just a few of the shows that are available right now:
Mickey Mouse Clubhouse
Little Einsteins
Jake & the Neverland Pirates
Chuggington
Handy Manny
There are several other shows featured on Disney Junior's site, and all can be streamed right from your computer for your kiddos to watch and enjoy!
We don't have cable so my own little ones have very little exposure to any these shows. I'll definitely be clicking on those links for some free rainy day entertainment!