Last week I shared my #IcedDelight chocolate caramel frappe recipe. I think my husband is addicted to them! He only stopped making them when we ran out of whipped cream.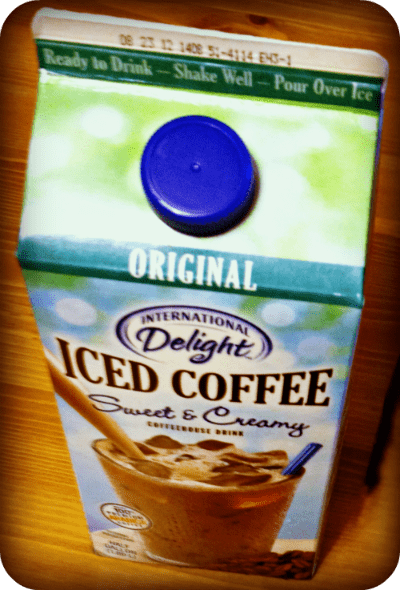 Today, I wanted to share that I'm still amping up our summer by finding new and fun ways to use International Delight Iced Coffee in the kitchen. We definitely still love our iced coffee beverages in the hot Minnesota weather, but the fun thing is that International Delight Iced Coffee can be used for baking as well as beverages!
I know a lot of people don't like to turn the oven on when it's hot outside. Neither do I, but I love to bake so much that I can't avoid it. To attempt to beat the heat, I try to bake early in the morning, late at night or on cloudy days. It still warms up the house, but my family thinks it's worth it!
It didn't take much thinking to make me think that International Delight Iced Coffee would add a nice, light mocha flavor to regular brownies! Using a brownie mix saved a lot of time and makes for an easy, great-looking dessert!
These brownie bites are just as easy as making a pan of brownies from a mix, but they look and taste so much better!
Making them in a muffin pan also makes them extra-portable, meaning we can bring them with us if we're heading out for a summer activity or to a barbecue where I promised to bring a dessert.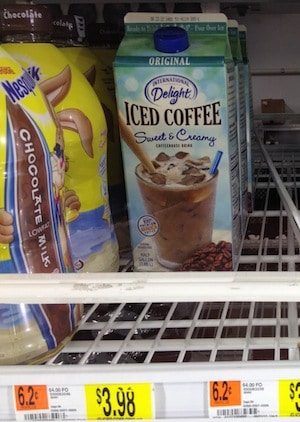 I went to Walmart for my carton of Original International Delight Iced Coffee. It also comes in Mocha and Vanilla flavors. I think any one of those flavors would taste fabulous in this recipe!
Each International Delight #IcedDelight Iced Coffee comes in a half-gallon size and costs $3.98 at Walmart. They're in the refrigerator section right alongside the chocolate milk.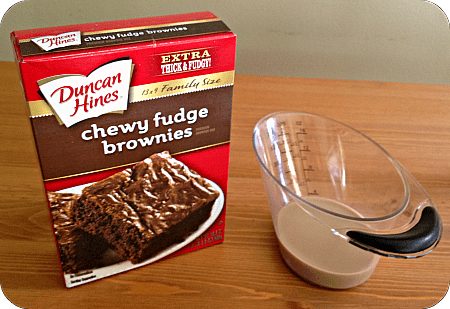 I brought my Iced Coffee home, took out a brownie mix I already had in my pantry and my trusty old muffin tins.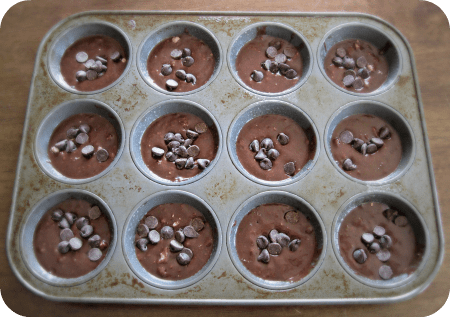 Chocolate Chip Mocha Brownie Bites Recipe
Ingredients:
1 "family size" brownie mix (to make a 13×9 pan)
3 eggs
1/3 cup vegetable oil
1/4 cup International Delight Iced Coffee
1/2 cup chocolate chips
Directions:
Preheat your oven to 350
Grease 2 12-cup muffin tins
mix brownie mix, eggs, oil and International Delight Iced Coffee in a bowl with a wooden spoon (about 50 stirs).
fill each muffin tin about halfway with brownie batter.
Drop a spoonful of chocolate chips on top of each muffin cup of brownie batter
Bake at 350 for 20 minutes.
Cool and enjoy.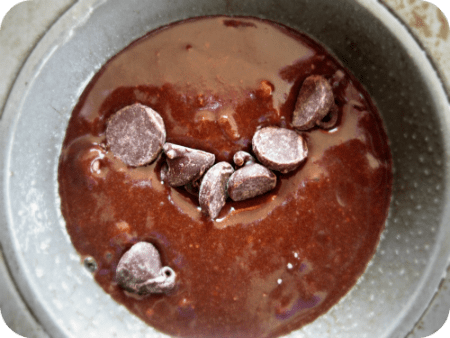 The chocolate chips sink into the brownie batter a little bit, but the completed brownie bites are so chocolatey they definitely don't need any frosting. Even better, they're a bit crispy all the way around the edges, making them extra-delicious!
These Chocolate Chip Mocha Brownie Bites are perfect for taking along if you need to bring a treat somewhere. They're more stable than cupcakes and look nice right out of the pan!
Find out more about International Delight by liking them on Facebook or following them on Twitter. Search for the #IcedDelight hashtag on Twitter to find more homemade recipes!
I am a member of the Collective Bias™ Social Fabric® Community.  This shop has been compensated as part of a social shopper insights study for Collective Bias™ and International Delight #IcedDelight #CBias #SocialFabric