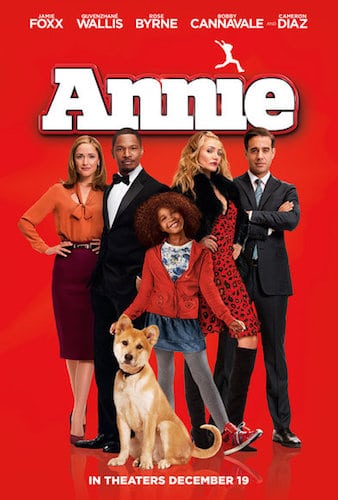 When I was in New York for the Annie press junket I had the amazing chance to interview Jamie Foxx, Quvenzhané Wallis and Will Gluck the day after I screened the movie.
Note: Annie is wonderful! See my review of Annie for more information.
You would think this would be a once in a lifetime opportunity for a little blogger like me, especially doing this right after interviewing Cameron Diaz and Bobby Cannavale.
Nope! I can hardly believe it myself, but this was the second time in four months that I interviewed Jamie Foxx, Quvenzhané Wallis and Will Gluck! Someone needs to pinch me, because stuff like this just does not happen to people like me!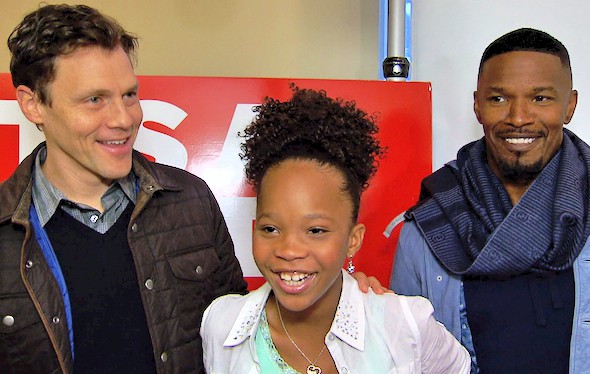 If you're not familiar with the names, here's a quick rundown:
Jamie Foxx  ::  Oscar-winning actor who starred in Ray, Django Unchained, Dreamgirls and plenty of other hit films. He plays Will Stacks in Annie.
Quvenzhané Wallis  :: Plays the title role of Annie in Annie. She's an Oscar-nominated 11 year old actress who has starred in Beasts of the Southern Wild and 12 Years a Slave.
Will Gluck  ::  Director, producer and screenwriter of Annie. Previous films include Friends with Benefits, Easy A and The Michael J. Fox Show, among many others.
One previous encounter with these celebrities wasn't enough to ease my nerves before interviewing them. Thankfully, the three of them walked into the room, sat down and were ready to get down to business!
Here are the highlights of my interview with Jamie Foxx, Quvenzhané Wallis and Will Gluck:
How does it feel to be able to remake a classic?
How does it feel? We always get this question. When you make the movie you don't feel it at all. It's always afterwards when people ask you that. 
What we wanted to do was we wanted to keep what connected with us in the original Annie. The story of optimism, of hope and of never giving up. Of finding your place in life and finding your family. That's the feeling we wanted to take and connect with the bones of the great music.
And we wanted to make [this] 'Annie' our own. As long as we kept those touchstones we felt that we could go off a little bit and make it what we wanted to do. 
We felt we did that. We felt the spirit comes out of the movie. We did a lot of nods to the "old" 'Annie'. As soon as a lot of people see [the number] 'Maybe' they realize, 'Oh, ok. Everyone can relax. It's 'Annie'. It might go a little to the left, but it's 'Annie'.
JF: If you look at remakes today…everybody's doing them. 'The Green Hornet'. '21 Jump Street'. I think it's great to grab a wonderful brand and have a wonderful actress with it.
Quvenzhané was nominated at such an early age and now she's stepped into this iconic role. I just thought it would be the right time. Then Jay Z remaking Hard Knock Life. It just seemed really fresh. 
There are so many big names behind this film as producers. How did that come about? [To Will Gluck] Was it your idea to remake the film? 
WG: Will [Smith] and Jay Z got the rights. They talked to the original writers. They got everyone excited about it, then I came on board. 
Having Jay Z attached to the film is like having the keys to the music castle. He opened up the doors. I met Sia through that. Then I got Quvenzhané Wallis on board and Greg Kurstin. Having his imprimatur on it…everyone lays down at your feet. So it was good! 
Jamie to Quvenzhané: Talk about where you're from and how this whole big world has opened up to you. 
QW: I'm from louisiana. Before I was acting, I was going to school and I was on the A/B honor roll. I'm still on the honor roll, so that's good.  Everything was going well.
Then my mom asked me to go auditions so I went. Then everything started happening. It was something that I liked so I kept doing it. It wasn't like acting was a one-time thing. It was something that I really liked. 
To Quvenzhané Wallis: How did you like being on a Macy's Thanksgiving Day Parade float? 
JF: I saw that! 
QW: Will you chillax?!?
JF: You didn't call me!
QW: I didn't have any service! Ok, so it was really being in the parade and doing the dance routine was really fun but it was super cold and it started snowing!
One of the girls, the smallest one, Nicolette, a snowflake fell on her hair. I was like, 'You have a snowflake in your hair, look! You have the perfect snowflake!' Then I put it on my glove and it just melted. Then I kept doing the parade and it was really fun! 
To Quvenzhané Wallis: What were some of your favorite things about filming in New York City? Had you been here before? What kind of things did you like doing around town while you were here? 
QW: I had been here. It was really fun while filming because everyone on set was really nice.
WG: Who's your favorite actor?
QW: So it was all really fun…
WG: No, no…who's your favorite actor?
QW: So it was just really fun!…
JF: You know what? I'm out of here!
Did you take advantage of the city? Did you go to Dylan's Candy Bar or the museums? I know you were really busy because you were working, but did you get to do any fun stuff while you were in New York?
QW: For acting class, we went to Dylan's Candy Bar and we went on an adventure, like a scavenger hunt for acting.
So we went on a scavenger hunt, and he said to find a candy store. I kept seeing different ones and he was like, 'Nope, not that one.' Then we walked to Dylan's Candy Bar and we walked to a whole bunch of other places. We also used the bikes (featured in the movie) because it would have been a long, long walk. 
What was your favorite music number? They all looked like so much fun!
QW: 'I Think I'm Gonna Like it Here' because it's something that I wouldn't be able to do at home. If I did I'd be in major trouble. It was also really fun working with Rose [Byrne] and doing the dance routine.
How did you prepare for the role of Annie? 
I did acting classes, dancing classes and singing lessons. It was just something that I really liked because I wasn't a professional at it, but I liked singing and dancing at home before this.
[To Quvenzhané Wallis] I think you have a beautiful singing voice. Do you have any plans to do more of it in your career?
JF: Album!
QW: I would love to do another movie with singing. I would love to make another song or album.
WG: Who's your favorite singer??
QW: So it would all be like…
WG: Like a singer who's an older guy…?
QW: but it's all really fun.
JF: This is crazy!
To Jamie Foxx: You're a dad. You take all the things about fatherhood and you put them into this role where you have to be disconnected then become emotional. I'd love for you to talk about that. 
JF: Having young kids, having daughters. It prepares you for movies like this. That's the emotions you get to. It was easy to get to that emotion because I have that experience. I have two girls. There was just a lot of fathering going on. 
Let me tell you, this was a fun interview, and it was pretty heartwarming to see how close the three have become through the making of Annie!
It's crazy to me that I now feel like I have some real insight into the people behind the movie, and I hope that you feel like that, now too!
Be sure to read my Annie review to find out how much I loved the movie and why I think it's definitely worth seeing!
Annie is now in theaters everywhere! Gather up your family and get your tickets now!