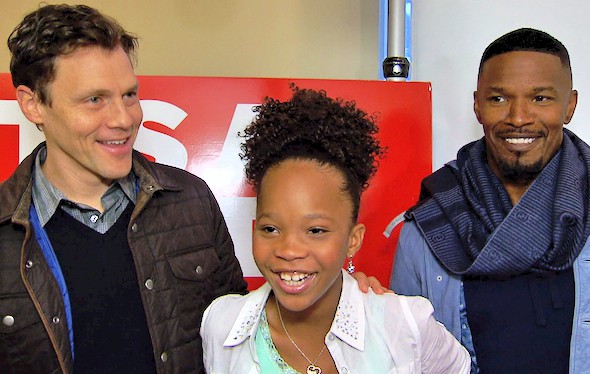 How excited was I when I received this email a few weeks ago?
Hi Marybeth! 

I wanted to reach out about a special screening of ANNIE next week for Big Brothers Big Sisters which will feature a surprise introduction from Jamie Foxx, Quvenzhané Wallis and director Will Gluck. 

We have a roundtable opportunity with Jamie,Quvenzhané and Will for press prior to the screening surprise. 

Timeline is below.  Let me know if you're interested in covering 🙂

Wednesday, September 10th

THEATRES AT MALL OF AMERICA

2:30PM  – Check in

3:30PM – Interviews

5:00PM – Talent surprise Big Brothers Big Sisters at screening
My response was an immediate yes, YES, YES! Once I had all the details in place I started prepping to meet the stars of Annie and learn more about both them and the film!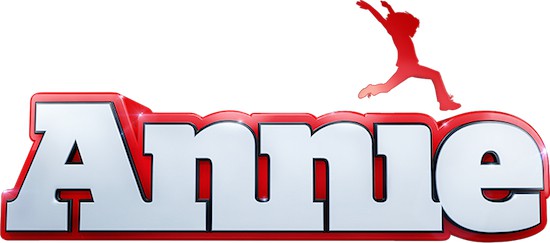 I had already seen a few Annie trailers and I thought it looked fantastic. If you haven't seen any, there's one ready for you to watch at the end of this post.
If you're wondering about the movie, 2014's Annie it is a remake of the 1982 classic with an all-star production team, a modern setting and a killer cast! 
I got to take part in an intimate group interview with local news outlets and a few other bloggers, which means I had chance to get up close and personal with both Jamie Foxx and Quvenzhané Wallis!
Here are the highlights of the interview:
What makes giving back to kids [see why they were in Minnesota below] so important? 
Jamie Foxx (JF): You don't understand what it means when you come to the school. Those kids are going to have that for the rest of their lives. When they see [Quvenzhane], they see themselves. They may not become a huge star, but what she taught them is, 'No matter what your dream is, don't ever give up on it."
Unfortunately, we don't give a lot to our school system. I mean, they really need it when we show up. It's fantastic. 
What makes Annie a great story? 
Will Gluck (WG): The story of Annie is a great story and a great message, because it's about trying to find your families. No matter what you think your family is. It's about finding family. Often it's not what you think it is. 
Quvenzhané, what did you do when you found out you got the role of Annie? 
Quvenzhané Wallis (QW): When I ended the phone call, we just jumped up and down and I just started screaming on the side of the road!
What about Annie appeals to you? 
QW: The thing I like about the movie is that a dude. Well, a man, sees this girl and he's like, 'I don't want this girl…but this is a girl who can help my campaign.' But it all goes together and at the end, he finds out he really likes this girl. 
What was it like working with Jamie Foxx? 
QW: He's funny. 
JF: Mmmmm!
QW: Handsome.
JF: Mmmmm! 
QW: …and really nice. 
All in all, Quvenzhané Wallis was quite sweet and Will Gluck was personal and very supportive of his actors. What I loved most of all was the close interaction with Jamie Foxx. The best part? Reviewing my pictures and checking out his many facial expressions!

I put together that little collage of the variety of expressions I captured on Jamie Foxx's handsome face just for fun! Read on for more news on Jamie Foxx and Annie.
Why were Jamie Foxx and Quvenzhané Wallis in Minneapolis?
The really fantastic thing about their visit to Minnesota was the reason why they came. Quevenzhane and Jamie made a surprise visit to a high-poverty school in a Minneapolis suburb. The school, Northpoint Elementary, is a part of the national Turnaround Arts program, which brings theater , music and dance to in-need schools that have reduced arts education.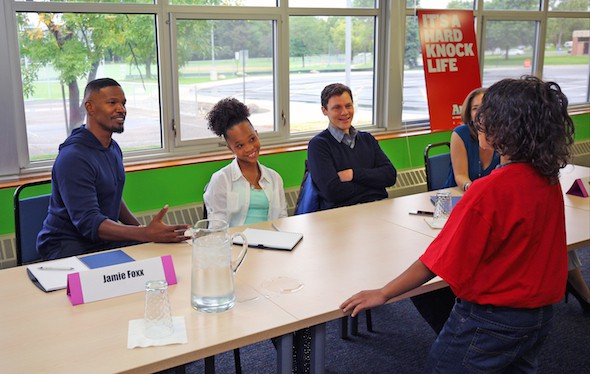 Northpoint Elementary is doing its own theatrical production of Annie this winter, and both Quevenzhane and Jamie helped students prepare for their production. They gave the kids performing advice and heard them sing before heading to the Mall of America.
There was a special screening of Annie that was only for members of the area Big Brothers Big Sisters organization. None of the attendees knew the stars would be in attendance, and they all super-excited by the surprise introduction by Jamie Foxx! Here's a clip of the surprise:
A Broadway classic that has delighted audiences for generations comes to the big screen with a new, contemporary vision in Columbia Pictures' comedy Annie. 

Director/Producer/Screenwriter Will Gluck teams with producers James Lassiter, Jada Pinkett Smith & Will Smith, Caleeb Pinkett, and Shawn "JAY Z" Carter, Laurence "Jay" Brown, and Tyran "Ty Ty" Smith with a modern telling that captures the magic of the classic characters and original show that won seven Tony Awards.

Celia Costas and Alicia Emmrich serve as Executive Producers.  The screenplay is by Will Gluck and Aline Brosh McKenna, based on the musical stage play "Annie," book by Thomas Meehan, music by Charles Strouse, lyrics by Martin Charnin, and on "Little Orphan Annie," © and ® Tribune Content Agency, LLC.

Academy Award® nominee Quvenzhané Wallis (Beasts of the Southern Wild) stars as Annie, a young, happy foster kid who's also tough enough to make her way on the streets of New York in 2014. 

Originally left by her parents as a baby with the promise that they'd be back for her someday, it's been a hard knock life ever since, with her mean foster mom Miss Hannigan (Cameron Diaz). 

But everything's about to change when the hard-nosed tycoon and New York mayoral candidate Will Stacks (Jamie Foxx) – advised by his brilliant VP, Grace (Rose Byrne) and his shrewd and scheming campaign advisor, Guy (Bobby Cannavale) – makes a thinly-veiled campaign move and takes her in. 

Stacks believes he's her guardian angel, but Annie's self-assured nature and bright, sun-will-come-out-tomorrow outlook on life just might mean it's the other way around.
Watch this fantastic trailer for Annie now!
Thanks so much to Sony Pictures Entertainment for inviting me to this event. 
Annie arrives in theaters on December 19, 2014. Will you be seeing it in the theater?