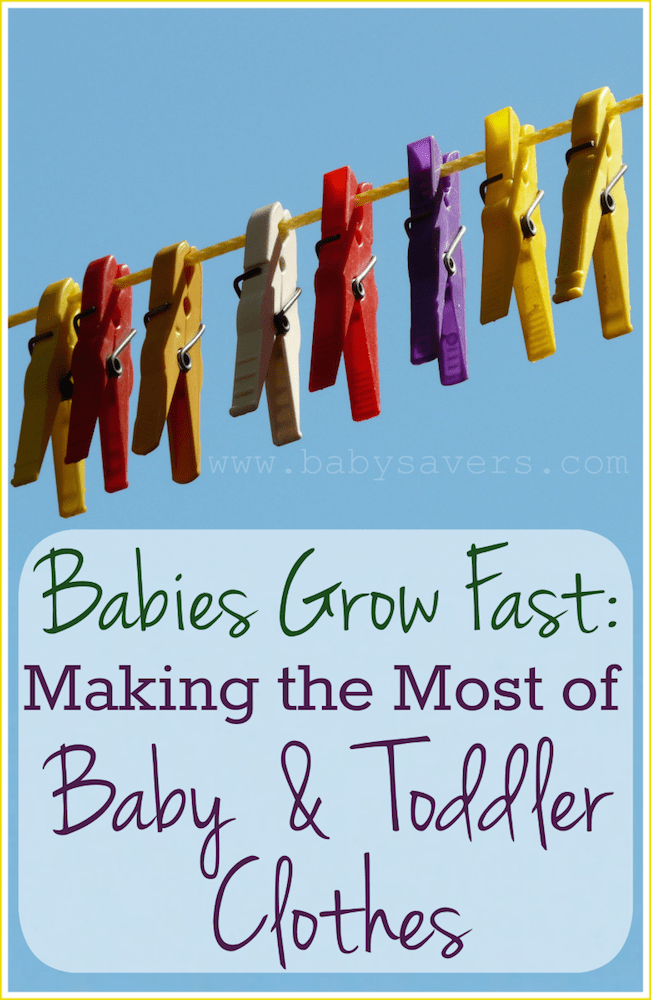 They grow like weeds is such a cliche…but it's true. Nearly anyone mother will tell you that she had clothes her baby hardly even wore because she just grew too fast.
The thing is, it takes years for those crazy growth spurts to slow down. It's not until little ones are moving out of the toddler stage that you can expect their clothes to fit them for more than a few months.
In addition to the rapid outgrowing of baby's wardrobe, it's no secret that babies, toddlers and little kids are incredibly hard on clothes.
Of course, none of this is anything to really complain about. After all, if the above points are true, that means we have active, growing children. I wouldn't trade that for anything!
At the same time, there are measures that we can take to make the most of baby and toddler clothes. If you want to know how to save money on baby clothes (and make the most of the clothes your children already have) keep reading:
How to Save Money on Baby and Toddler Clothes:
1. Don't equate price with quality: expensive brands just do not equal long-lasting quality. Further, our littlest ones generally outgrow any clothes long before they wear them out!
2. Take advantage of hand-me-downs (and reciprocate!): It just makes sense that babies outgrow clothes before they wear them out when you think about all the hand-me-downs out there. I was thrilled when my sister-in-law gave me a small box of cute baby boy clothes. I passed along plenty of my son's clothes to friends, and most of them were surprisingly returned in amazingly good condition.
3. Shop for current and future sizes. Don't pass up an item with an amazing price just because it won't fit right now. Focus on price and if you'll need the item, not when you'll need the item. A few well-labeled totes will keep the future items organized without much work at all. Before my first baby was born I had totes labeled all the way up to size 5T. For an unborn baby!
4. Set a budget or a maximum price per item and stick to it. When I was pregnant with both my babies, I was crazy about shopping for them. I shopped in retail stores, at yard sales, thrift shops, consignment stores and anywhere else you can think of. My secret? I was committed to never spending more than $1 per item. Are you thinking I had nothing but time to scour stores and hit every garage sale in sight? The truth is, I was working full time and I still managed to find a lot of items at Gymboree, The Children's Place, JCPenney, Target and Walmart plus plenty more that was gently used at yard sales and the like. It can be done!
I do understand that $1 per item is a bit unrealistic for most people. I started this blog because people said I had a unique skill of saving money on baby stuff–I get that I'm an exception! but that doesn't mean you can't learn how to save money on baby and toddler clothes in a way that works for you.
Tip: The Garanimals 21-piece layette set pictured above is just $35 and it's eligible for free shipping. That's just $1.67 per item!
5. Be a smart shopper: Shop for affordable clothing with a quality guarantee (like Garanimals!)
Garanimals clothing is carefully designed to provide babies and kids with affordable fashion and comfort while guaranteeing quality, value, and ease of shopping to parents.

Garanimals is made for newborns as well as young children (up to 5T) and is sold exclusively at Walmart stores and at Walmart.com.
This set of two pairs of 2-piece Garanimals pajamas is just $10.88 and eligible for free shipping!
Check out this Garanimals video to imagine your baby in the brand, then see the vast selection of clothes available for babies, toddlers and little kids!
https://www.youtube.com/watch?v=aviciX0vqOU
Garanimals separates for sizes from newborn to 5T start at just $3.88! They're also seriously cute.
Check out all the Garanimals clothes today and let me know which item is your favorite in the comments below!
This is a sponsored conversation written by me on behalf of Garanimals. The opinions and text are all mine.