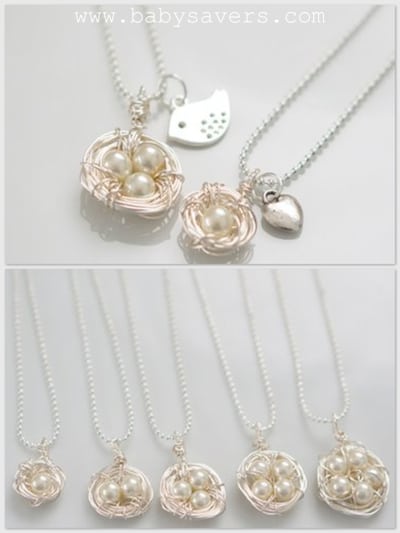 Like almost every other female on the planet, I love birds in both jewelry and home decor, which is why I fell in love with all these Bird Nest Necklaces that are on sale at Belle Chic right now!
The regular price for a Bird Nest Necklace with up to 3 Swarovski pearl "eggs" is $35 and each additional Swarovski egg is usually an extra $5. Right now, you can get a Bird Nest Necklace with up to 5 Swarovski pearls in the nest for just $21.99 with FREE shipping!
Perfect for Mother's Day!

Since becoming a mama myself, I've fallen in love with these whimsy little mama bird inspired pieces.

Just like a nest found in nature, no two of our nests will be alike. Some are wrapped tightly, some are organic with a bit of whimsy.

No matter what, each nest is wire-wrapped by hand using only the finest Swarovski pearls & fine silver wire. Your nest necklace will hang from an 18″ stainless steel chain. Your necklace will include swarovski 'egg' pearls and will include up to 5 eggs at NO additional charge!
Check out the Bird Nest Necklaces on BelleChic.com while they're still available!