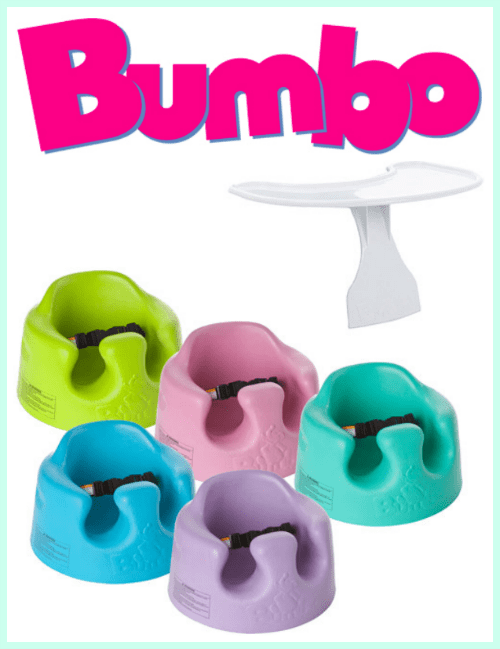 When I look at baby registries a Bumbo Floor Seat is on nearly everyone's list. It's no wonder–the Bumbo Floor seat reviews across the internet rave about this great product. Add the Bumbo Play Tray and you have a fantastic combination!
The Bumbo Floor seat was designed to seat young babies who can't sit up by themselves yet. As soon as your baby can support their own head you can seat them in the Bumbo Floor Seat. The seat has many technical design features that supports the babies posture allowing them to interact with their surroundings.
Note: Special thanks to the following sites for helping me out with personal photos of their adorable babies in the Bumbo Floor Seat since my own photos ended up unusable: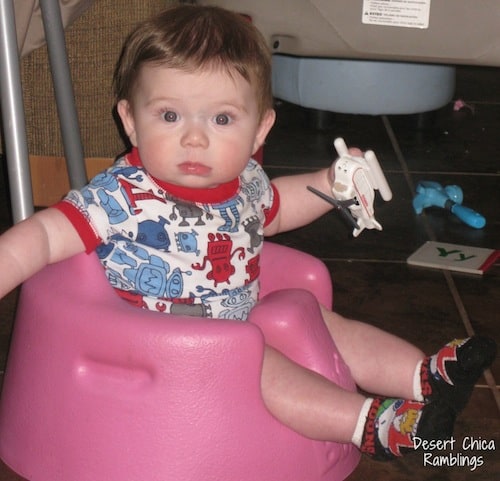 Photo Credit: Desert Chica Ramblings
While I think every parent loves holding their baby, there are times when mom or dad having two hands free is an advantage while playing and spending time with their little ones. Reading books, singing and doing finger plays are all easily and traditionally done with a baby in your arms. The Bumbo Floor Seat allows you to do the same activities while giving baby a different perspective and giving you more freedom to move!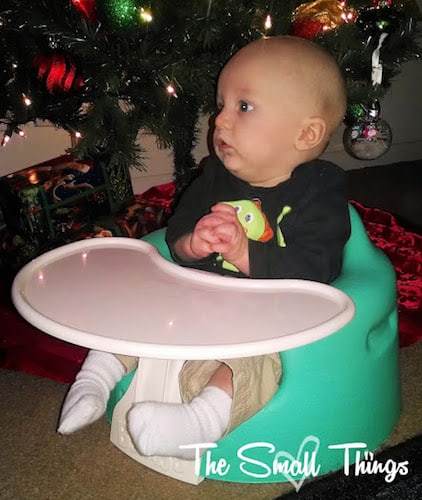 Photo Credit: The Small Things
The Bumbo Play Tray is an awesome optional accessory to add to the Bumbo Floor Seat. When baby is small, bright, manipulative objects can be placed on the tray for distraction and entertainment. As baby grows, the tray can hold snacks. Even better, it gives baby snack time in a seat he or she is already comfortable in, making that transition a little easier!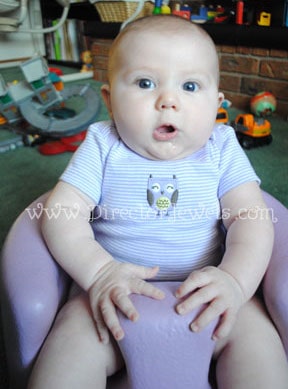 Photo Credit: Director Jewels
Safety and the Bumbo Floor Seat
As with all baby products, it's important to be familiar with all the safety guidelines for the Bumbo Floor Seat. While every owner should read the manual, here are the instructions that need to be followed when using the Bumbo:
Always use with the restraint belt
Only use the Bumbo Floor Seat on the floor or level ground surface.
Never use the Bumbo Floor Seat on raised surfaces such as tables, counters, chairs, beds or near stairs. Even a belted baby can cause the Bumbo seat to slide or move from raised surfaces.
Always stay with and watch your baby during use.
Never use the Bumbo floor seat as a booster seat, high chair, car seat, bath seat or child carrier.
Never use the Bumbo Floor Seat in or near water.
Read the manual before use. For more information, see www.bumbo.com.
The Bumbo Floor Seat can be purchased at many retailers including Amazon and Walmart and has an MSRP of $39.99. The Bumbo Play Tray has an MSRP of $11.99. But it can typically be found under $10 on Amazon.com.

Be sure to check out the Bumbo Floor Seat Cover in three different washable patterns. It's the perfect way to keep your seat clean and protected and it's less than $10. Bumbo also makes a few other great products that support their goal of making infant and toddler products that help solve everyday parenting challenges while encouraging child exploration, parent and child interaction and quality family time. Take a look at these items: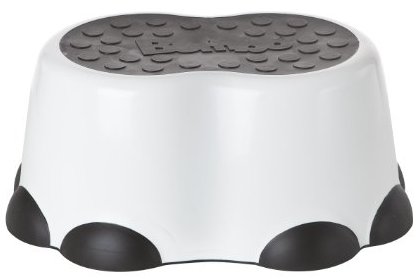 Bumbo Step Stool :: MSRP $14.99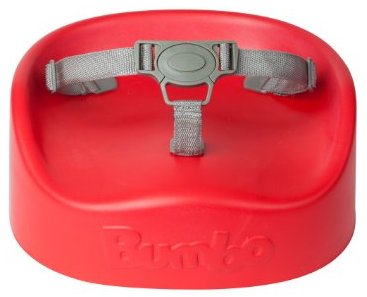 Bumbo Booster Seat :: MSRP $39.99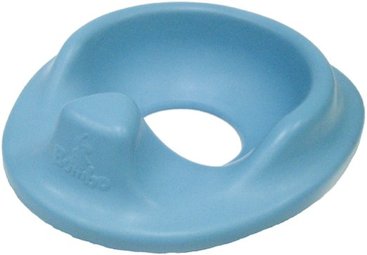 Bumbo Toilet Trainer :: MSRP $34.99
Do you have a favorite Bumbo product? Share what you love about it in a comment below!