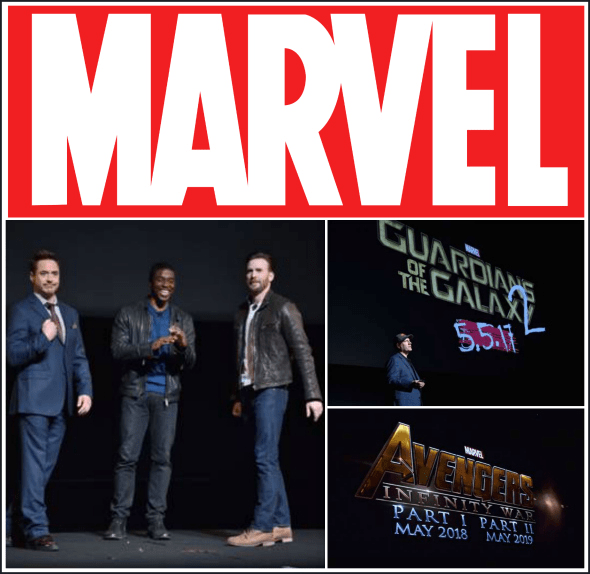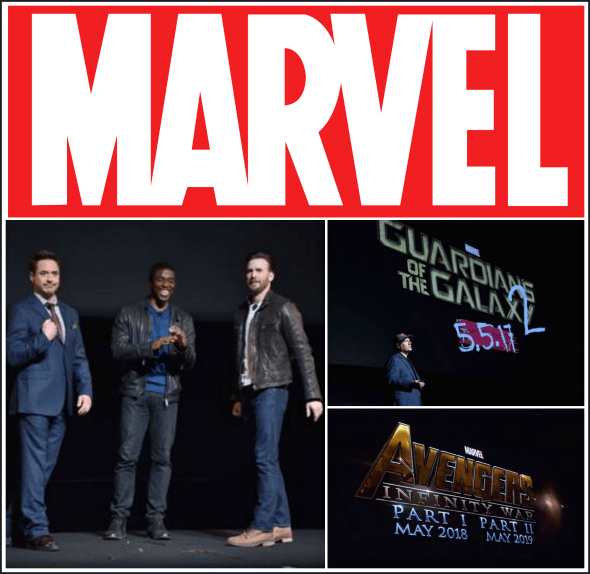 Just a few days ago Marvel Studios announced some amazing news about the Marvel Cinematic Universe.
If you're not a Marvel fan, why not?!?! I'm convinced that anyone who enjoys movies would be a fan of Disney's Marvel franchise if they gave it a chance.
If you are a Marvel fan (yay!), you're going to be more than a little excited about what I have to share:
The films (and stars!) that will make up Phase 3 of the Marvel Cinematic Universe were revealed. They'll feature a mix of fan-favorite characters and select heroes who will be making their big-screen debuts.
I'm telling you, I'm pretty sure there was magic on the stage of the El Capitan theater when the announcement was made. Robert Downey Jr. (Ironman), Chris Evans (Captain America) and Chadwick Boseman (the future Black Panther) all made appearances during the special event!
The key information announced was the list of upcoming Marvel films and release dates through 2019:
2015 – 2019 Marvel Studios Films & Release Dates
 5/01/15  ::  AVENGERS: AGE OF ULTRON
 7/17/15  ::  ANT-MAN
 5/06/16  ::  CAPTAIN AMERICA: CIVIL WAR
11/04/16  ::  DOCTOR STRANGE
 5/05/17  ::  GUARDIANS OF THE GALAXY 2
 7/28/17  ::  THOR: RAGNAROK
11/03/17  ::  BLACK PANTHER
 5/04/18  ::  AVENGERS: INFINITY WAR PART I
 7/06/18  ::  CAPTAIN MARVEL
11/2/18  ::  INHUMANS
 5/3/19  ::  AVENGERS: INFINITY WAR PART II
There is so much amazingness in our Marvel Studios future, I don't even know which film to be the most excited for! As always, I'll share all the entertainment news and details as it hits my inbox, so be sure to come back here for the latest news!
For full coverage of Marvel Studio's announcement on October 29, 2014, visit Marvel.com.