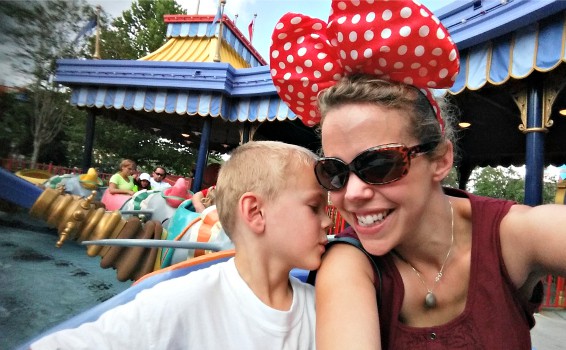 As I was planning our most recent trip to Disney World it crossed my mind that this trip should be so much easier now that my little ones aren't babies.
It only took until our first day into the vacation for me to realize that thought was absolutely untrue. Different? Yes. Better? Of course (but I think life just gets better and better–every Disney trip I've had was better than the one before). Easier? Nope!
I love Disney World, and I love taking my family there. But it's not the easiest vacation to take. At the same time, there are certain things a parent can do that make the trip even more difficult and challenging before you set foot into a theme park. And there are certain things that can relieve stress and give you more space for enjoying your trip.
One of those things is a Disney stroller rental.
My kids are five and six years old. Long before we left for our Disney World vacation, a stroller didn't even cross my mind as something we'd need to bring with us. In the summer months before the trip we went to the Minnesota State Fair and several Minnesota festivals. While both Haiden and Piper walked through those outings, it wasn't a secret to anyone around us that they were exhausted by the end of the day.
It struck me that, unless James and I were on board with carrying kids through a busy theme park in a hot climate, we'd better plan on bringing a stroller. But lugging a stroller through airports and keeping track of it through cross-country flights isn't ideal, especially when our kids wouldn't even want to ride in a stroller until we were at Disney World.
Solution: A Disney Stroller Rental.
I reached out to Simple Stroller Rental before we left for Orlando and they hooked us up with a Disney stroller rental: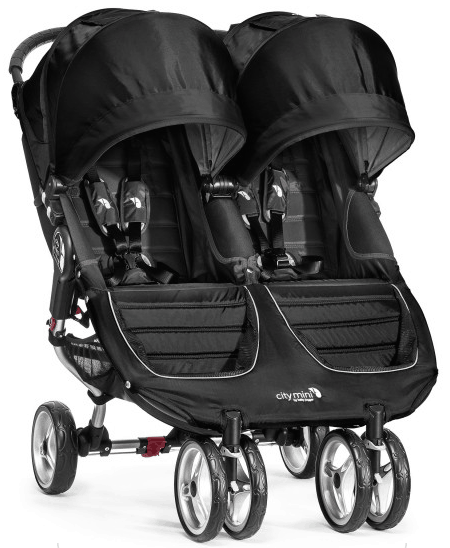 A Baby Jogger City Mini Double from Simple Stroller Rental!
I'm sure you're asking why wouldn't I want a Disney stroller rental right from Disney World?
1. Convenience: We stayed in IHG hotels off Disney property. Our stroller from Simple Stroller Rental included FREE delivery and pickup from any Orlando-area hotel or vacation residence. Official Disney strollers are only available to be picked up and dropped off at one location in each park. Disney strollers aren't available to rent at the Disney water parks and double strollers aren't even available for rent at Downtown Disney!
2. Price: Our offsite stroller from Simple Stroller rental had a total cost of $91 for 8 days of use. That's just over $11 a day, and it was in our possession every day. According to this page, an official Disney double stroller rental is $31 a day. That means a Disney stroller rental for only our days at Disney World would be $155.
A single stroller from Simple Stroller rental for 8 days has a total cost of $69. A 5 day Disney stroller rental from Disney World only for use in the parks is $75.
3. Area of use: It bears repeating that the Disney double stroller rental from Simple Stroller Rental was with us for our entire vacation, not just when we were on Disney-owned property. Further, the official Disney stroller rentals are only available to at one spot in or near the gate at each park (they're not available at water parks). That means on park days you won't have your Disney rental stroller for the long walks to and from your car, waiting in line at the entrance, trips between Disney parks and anything else you'll do that day.
5. Stroller Features: We didn't rent an official Disney stroller, and I didn't take pictures of one, but this Disney stroller rental picture was easily found on Flickr. Here's what a double Disney stroller rental looks when it's right from Disney World: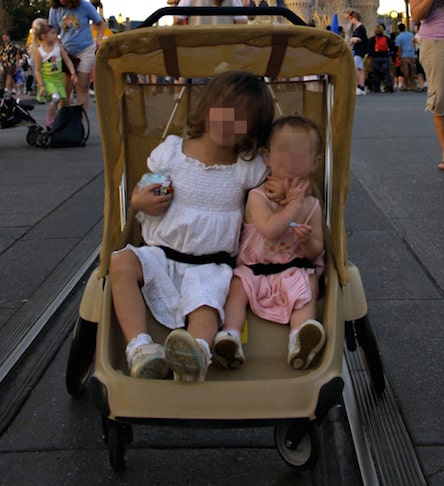 The "official" Disney rental strollers are hard, plastic, low to the ground and just big enough for a bigger kid to ride with a small toddler. My two bigger kids would be squished together in it (in 90-degree heat)! There's a storage bag on the back with a hanging fabric cup holder. That's it for features. No reclining, no adjusting, no 5-point harness.
This is one of the Baby Jogger City Mini Doubles you'll get if you rent your double stroller for nearly half the price from Simple Stroller Rental: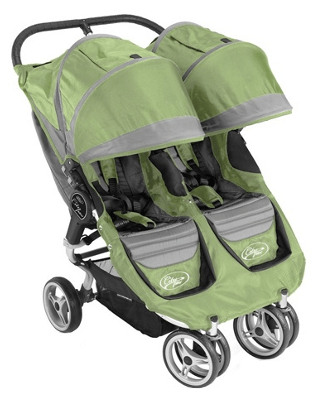 The Baby Jogger City Mini Double is the most basic Disney rental stroller you'll get from Simple Stroller Rentals. Here are the features:
Quick-Fold Technology – Simple lift & fold
Swivel front wheels – for precise maneuverability can lock into place for long distance strolling
Lightweight wheels
Padded seats – reclines to a near flat position
Large multi-position sun canopies – with clear view windows
Rounded handlebar
Front wheel suspension provides a smooth comfortable ride
Seatback storage compartments
Under seat storage basket
Adjustable five-point safety harnesses
Foot operated rear parking brake
Fold strap – to keep stroller folded for transportation or storage
Note: If you spend $5-15 more for your total rental, you'll get an even better stroller with more features! If you need a single stroller the price goes down.
In addition to the amazing stroller at a lower price than the super-basic Disney World rental stroller, there are so many other advantages to renting a stroller from Simple Stroller Rentals for your use at Disney World:
Every stroller is inspected, steam cleaned and sanitized before it's delivered to you. You'll also get free use of a parent console so you'll have cup holders and storage at your fingertips! Further, you can add optional items onto your stroller rental, like car seat adapters, Boogie Boards so bigger kids can hitch a stroller ride and even ERGOBaby carriers to pair babywearing with stroller riding!
I highly recommend using Simple Stroller Rental rather than the Disney stroller rental at the theme parks! You can easily make your reservation online and see real-time availability of all their products. Simple Stroller Rentals is a fantastic way to save money, save time and lessen the stress of your vacation!
Disclosure: SimpleStrollerRental.com provided a Disney stroller rental for our use during our trip.