I stockpiled baby wipes big time before my first baby was born. It seemed that I was pregnant at a magic time where a little coupon clipping and a little work resulted in ridiculous baby deals.
At the time it never occurred to me that either baby or I really wouldn't even like the wipes. I didn't know different brands had different textures, that different cleansers in wipes could affect baby's skin.
Thankfully, I didn't run into a situation that could have rendered my extreme baby couponing useless. The wipes I bought worked fine for us, and I was just happy that I didn't have to re-strategize my bargain shopping to find deals on different baby wipes while figuring out how to be a mom to brand new baby!
Since that time, I've heard from plenty of parents, and almost everyone has an opionon on "best baby wipes" and those that were less effective. Everyone has different preferences, but, overall, I think I can safely state that every parent wants a baby wipe that cleans effectively and that's not too rough on baby's soft skin.
Now Huggies baby wipes have  Triple Clean Layers, which means you no longer have to make the choice between getting your baby clean or using a baby wipe that's gentle on their skin.
Huggies wipes with new Triple Clean Layers are helping parents solve this issue: these baby wipes are gentle enough on baby's skin but thick enough to clean the mess!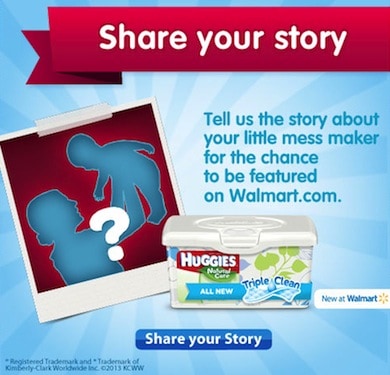 Huggies wants you to put their wipes to the test! Visit the "I am a Huggies Wipes Tester!" page and share how you'll put Huggies wipes to the test. Then, pick up a pack of Huggies baby wipes with Triple Clean Layers at Walmart and try them in your real-life challenges. You and your baby could be featured on the Walmart.com page!
For a limited time, Huggies is also offering a coupon that you can receive via text. Just dial **BABY on your phone, and you'll almost instantly get a link to a printable coupon! Stay on the line and you'll learn more about Huggies Triple Clean Layers.
The coupon will only be available for a limited time, so use it when you pick up a pack of Huggies with Triple Clean Layers at Walmart's everyday low prices!
Disclosure: This post was written by Marybeth and provided by Lunchbox. As always, opinions and thoughts expressed are my own.