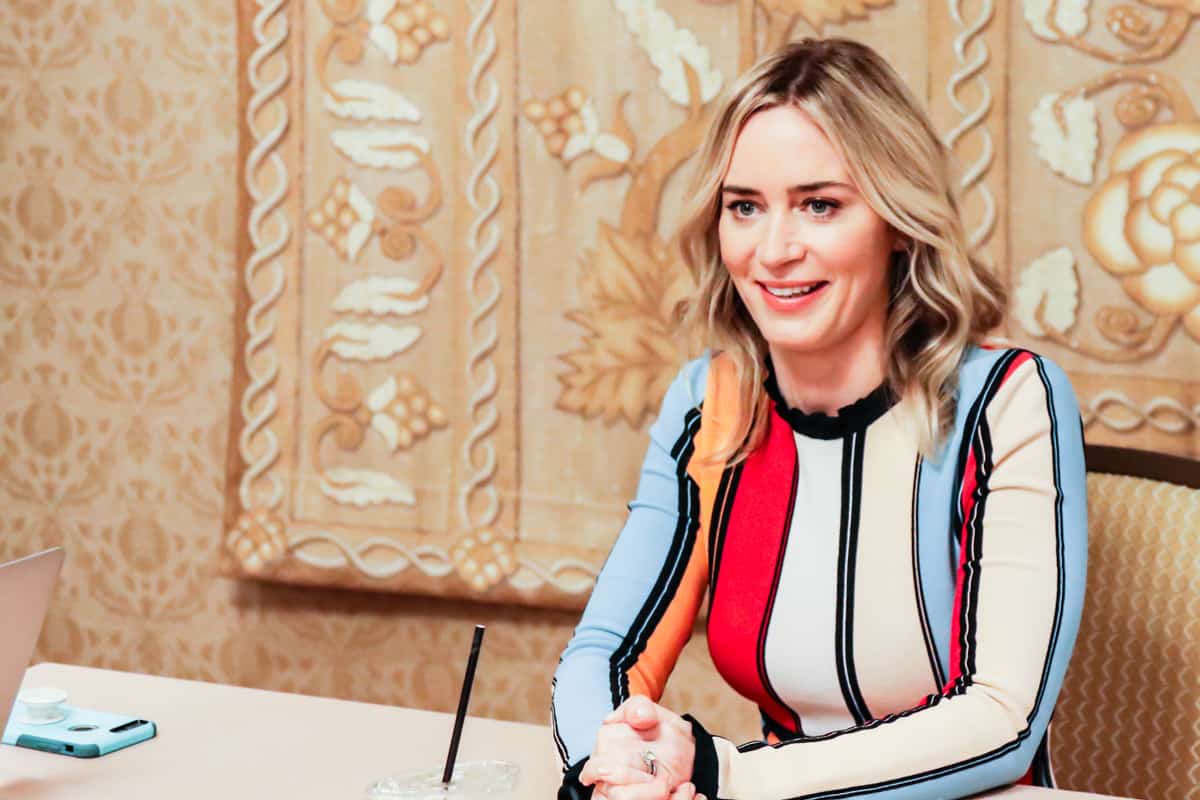 I recently had the amazing opportunity to interview one of the most talented actresses of my generation, and it was everything I had hoped it would be!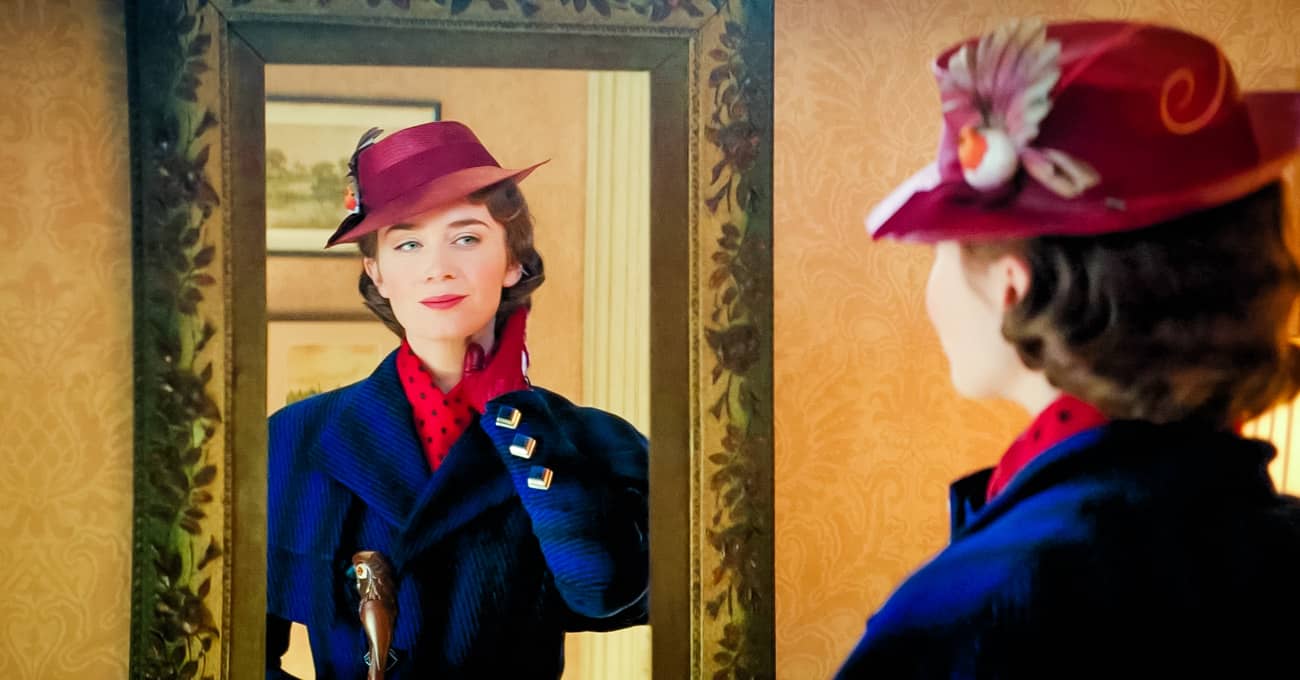 Emily Blunt stars as Mary Poppins in Mary Poppins Returns, and I was able to sit down with her and hear her thoughts on motherhood, performing, costumes and so much more!
How has Mary Poppins impacted motherhood for you?
Emily Blunt: I feel like my whole household is full of imagination and childlike wonder because my kids are so young. So Ido feel like I've sort of rediscovered life through their eyes.
Hazel is a bit disappointed that there aren't dolphins in her bathtub, so I feel like, in a way, Mary Poppins has shot me in foot. I know I'm only going to be less than.
All their friends are going to be like, "your mum is Mary Poppins, that's so cool." And my own kids are going to say, "You should see it. It's not." They're going to be like, "She is so not Mary Poppins."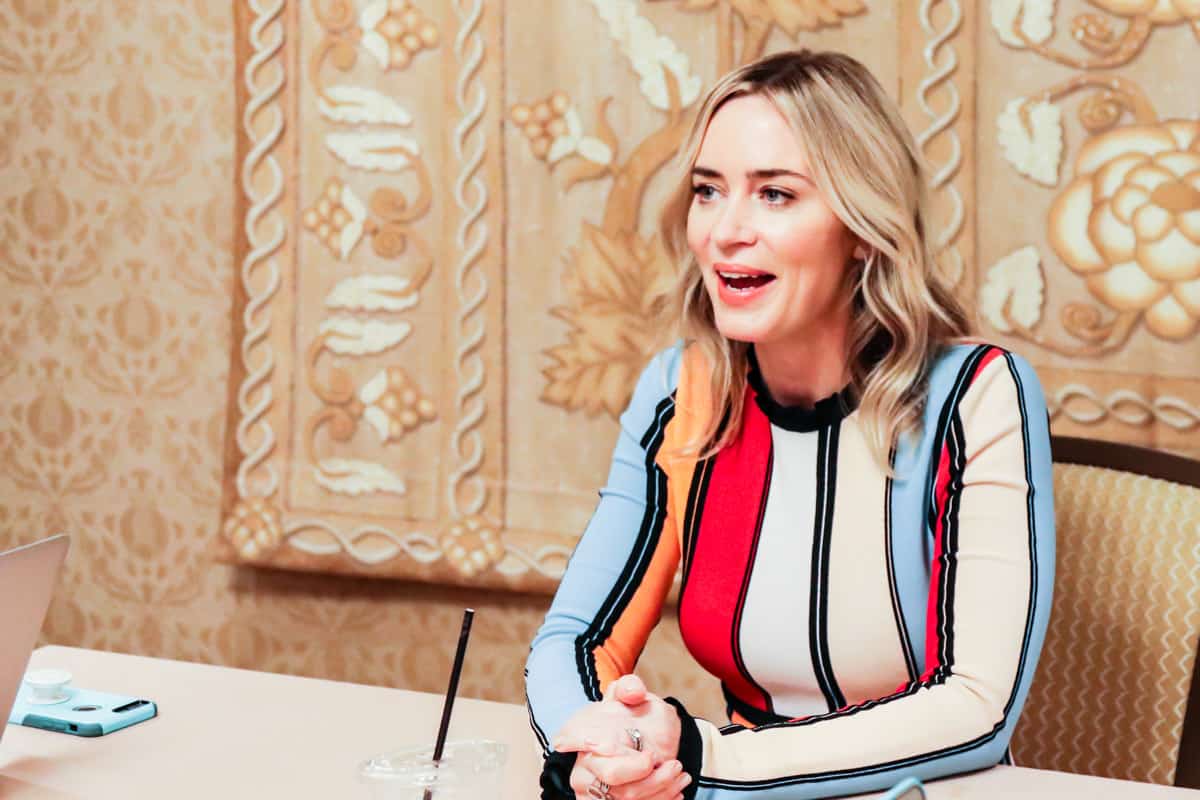 What was the moment when you were like, "I'm Mary Poppins."?
Emily Blunt: I would say it was the arrival scene where I'm dangling 60 feet from a crane and Rob Marshall played the amazing orchestral music from the speakers so that it was very transporting and really exciting. But I was kind of terrified.
I thought I was alright with heights and then I was up there and…I'm not.
I remember hanging up there and looking down to Lin-Manuel Miranda. But that was the moment because I had the coat, the hat, the umbrella, the feet. The kite.
It was one of the only moments I had to block out the fear of how iconic she was. This was the moment I was hit between the eyeballs with it.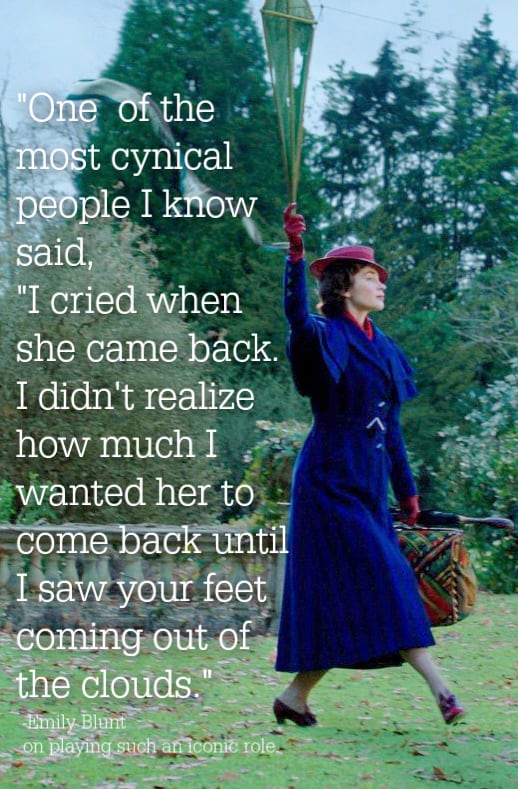 I landed and we did the scene, and one of the crew guys came up to me and said, "I got really emotional watching that." It was so sweet, because Mary Poppins is back.
We've waited 54 years and people have told me, some of the most cynical people I know said, "I cried when she came back and I didn't realize how much I wanted her to come back until I saw her, saw your feet coming out of the clouds. It was so cool.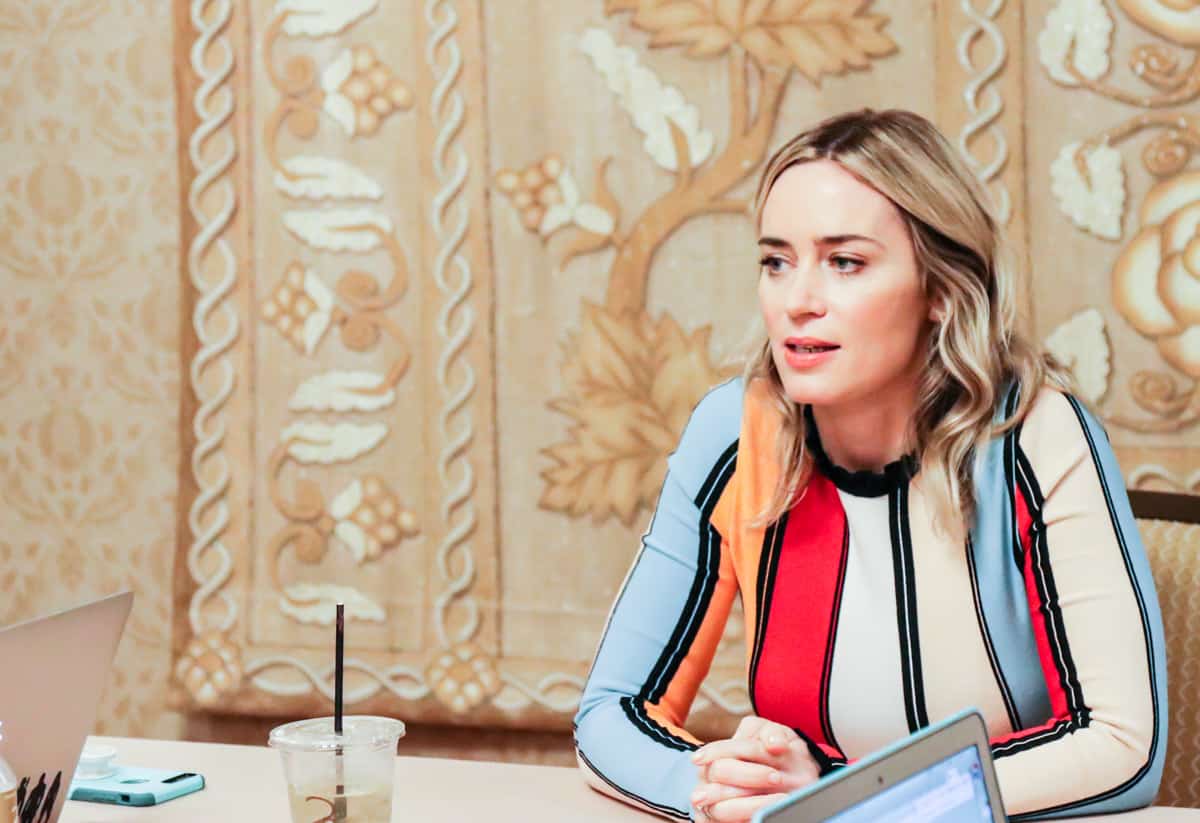 What was your favorite costume in Mary Poppins Returns?
Emily Blunt: I really loved the red suit with the skirt that flowed out when I danced with 30 lamplighters.
Rob Marshall really wanted a Ginger Rogers type of look, and it's not accurate for the time period to have a skirt that opened up like that.
So the great Sandy Powell created all these very tight pleats so that it looked very chic and straight-line. But when I turned, the whole skirt kind of opened up. She's just so exciting to work with, Sandy Powell.
All the costumes are so extraordinary, but I think the red suit was pretty epic. I loved it.
What was the biggest challenge of being Mary Poppins in Mary Poppins Returns?
Emily Blunt: The dancing was a bit daunting because I'd never done thsoe sort of big, show-stopping Hollywood numbers. But we were in safe hands with the great Rob Marshall and his incredible choreographers.
I feel like Lin-Manuel and I were sort of on par with dancing abilities so we were in it to just get there. If I had been dancing with Justin Timberlake, that would have been really embarassing.
But on a deeper note, I think the initial idea of taking her on because she's so iconic and Julie Andrews is so iconic and the character has this searing imprint on people's lives.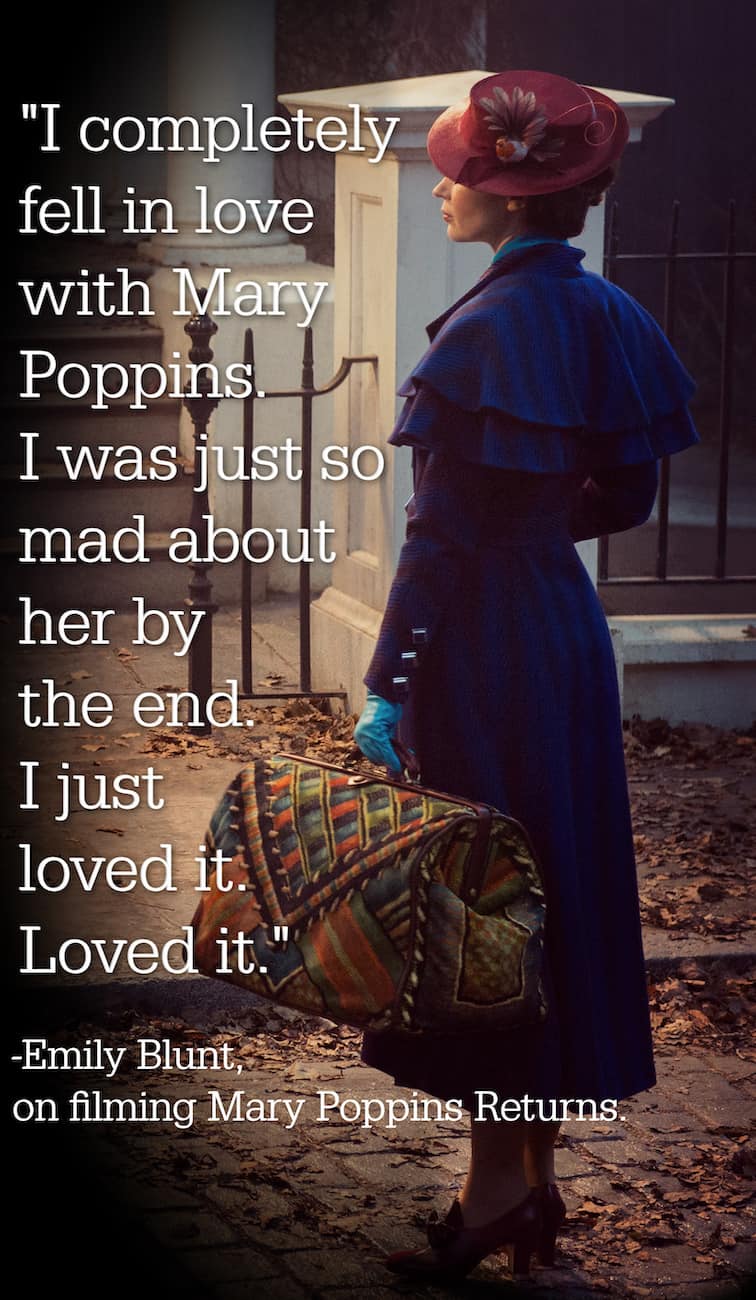 It's often the first movie that anyone ever saw, and so I needed to get over myself and approach her as I would any other role, and allow everyone's gasping reaction when I said I was going to take on Mary Poppins.
There's just so much energy coming at you that you have to allow that to be white noise and just approach Mary Poppins as I would any other character. Then I just completely fell in love with [Mary Poppins]. I was just so mad about her by the end. I just loved it. Loved it.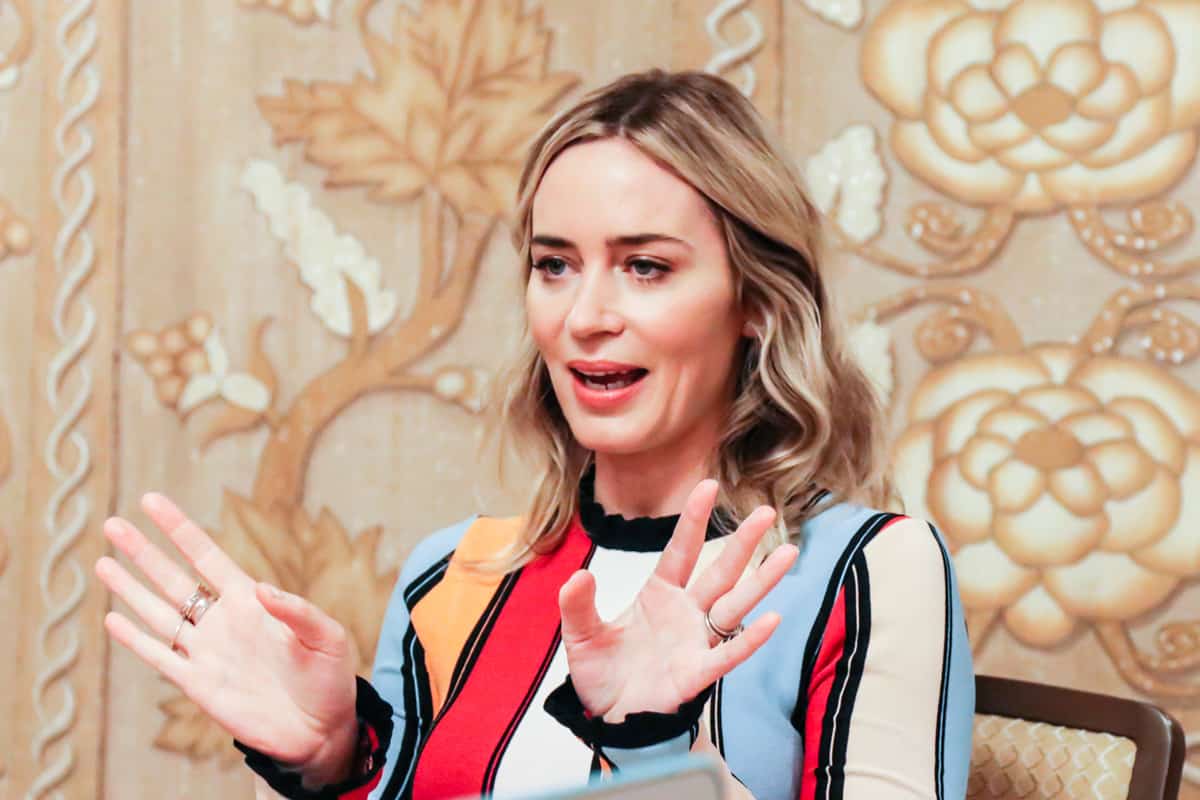 How to you feel about having your own version of Mary Poppins in Mary Poppins Returns?
Emily Blunt: I think [Mary Poppins in Mary Poppins Returns] is much closer to how she is in the book. That's how I played her. In the book she's incredibly rude and vain and funny and enigmatic and weird. She's sort of bizarre and layered. For me, it was sort of, "how do I find those cracks of humanity in a super human."
I said to Rob Marshall, "I really want all the sternness and this sort of imperious quality to her to drop when she goes into these fantasies. She should be like an adrenaline junkie. Sheshould have that sort of duality to her character.
When she goes into these adventures, you've got to see her childlike wonder and her thrill and enjoyment of it. Then when it's over, she pretends none of it happened and she had nothing to do with it.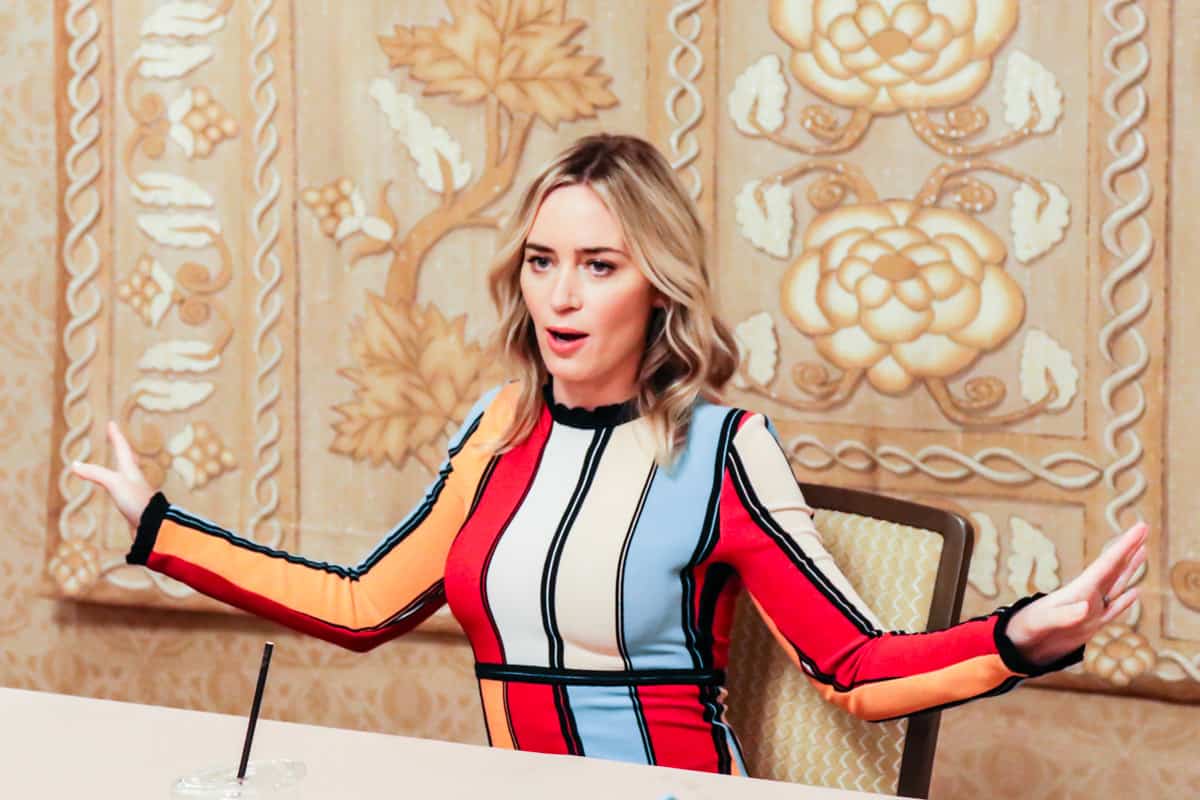 What was it like working with Dick Van Dyke?
Emily Blunt: Working with Dick Van Dyke…It was just so overwhelming, because he's so sprightly and cool. Just a gorgeous human. He walked on set and he just said, "I feel the same spirit here that was on the first movie." Of course, we all wanted to cry.
We'd sit around him and just want him to tell us stories about the original and he sang "Jolly Holiday" to me. It was just like, "That's it. I could die now and be happy. It's just lights out."
I think my other moment of, "Oh my God, I'm playing Mary Poppins," was in the scene with him where he had that beautiful monologue and we're all crowded around him. He finished the monologue and, in the scene, he crosses his arms and looks up at me. I just remember looking at those iconic blue eyes and I was like, "Wow. that was so wild."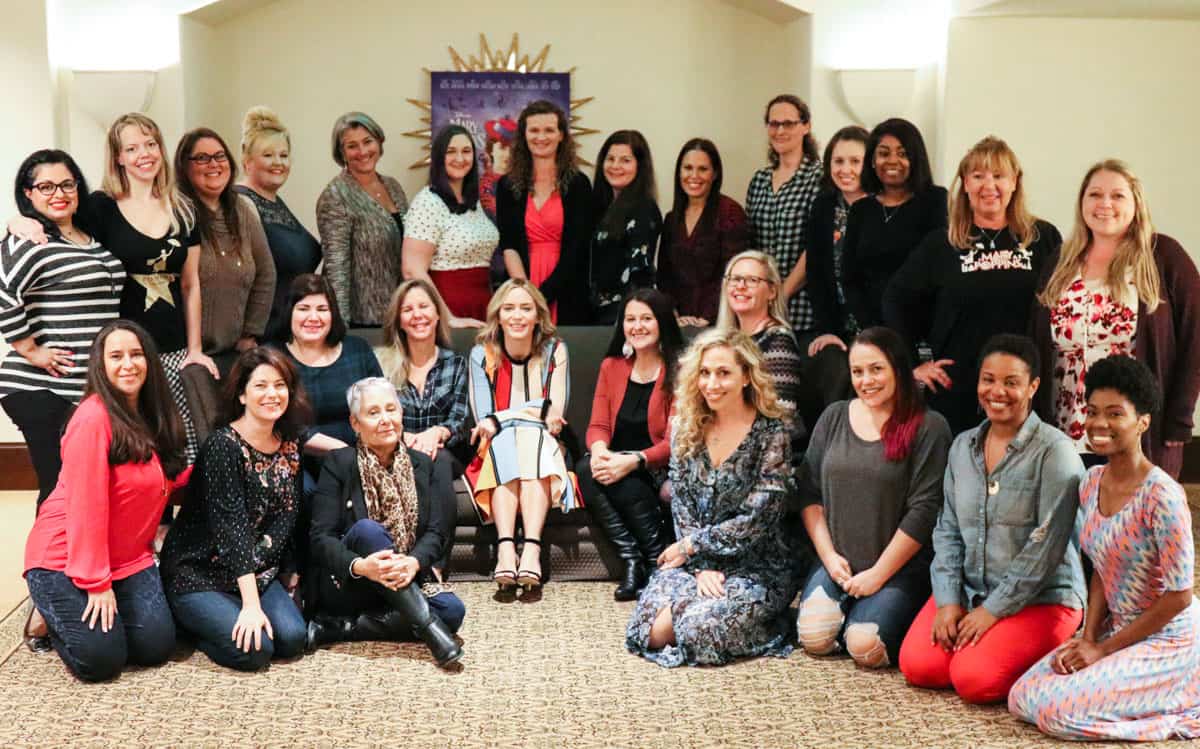 Emily Blunt's Mary Poppins is also available in three different Funko Pop! vinyl figures. Check out how cute they are:

Entertainment Earth gave me my own Mary Poppins Returns Funko Pop! vinyl. You can buy yours here!
Mary Poppins Returns opens on December 19, 2018. Get your tickets and see local showtimes now!
follow these social media accounts to stay on top of everything Mary Poppins Returns:
Like Mary Poppins Returns on Facebook
Follow Walt Disney Studios on Twitter and search for #MaryPoppinsReturns
Follow Mary PoppinsReturns on Instagram
Mary Poppins Returns arrives in theaters everywhere on December 19, 2018. See more details and information about your local showtimes here!
Watch the newest Mary Poppins Returns trailer: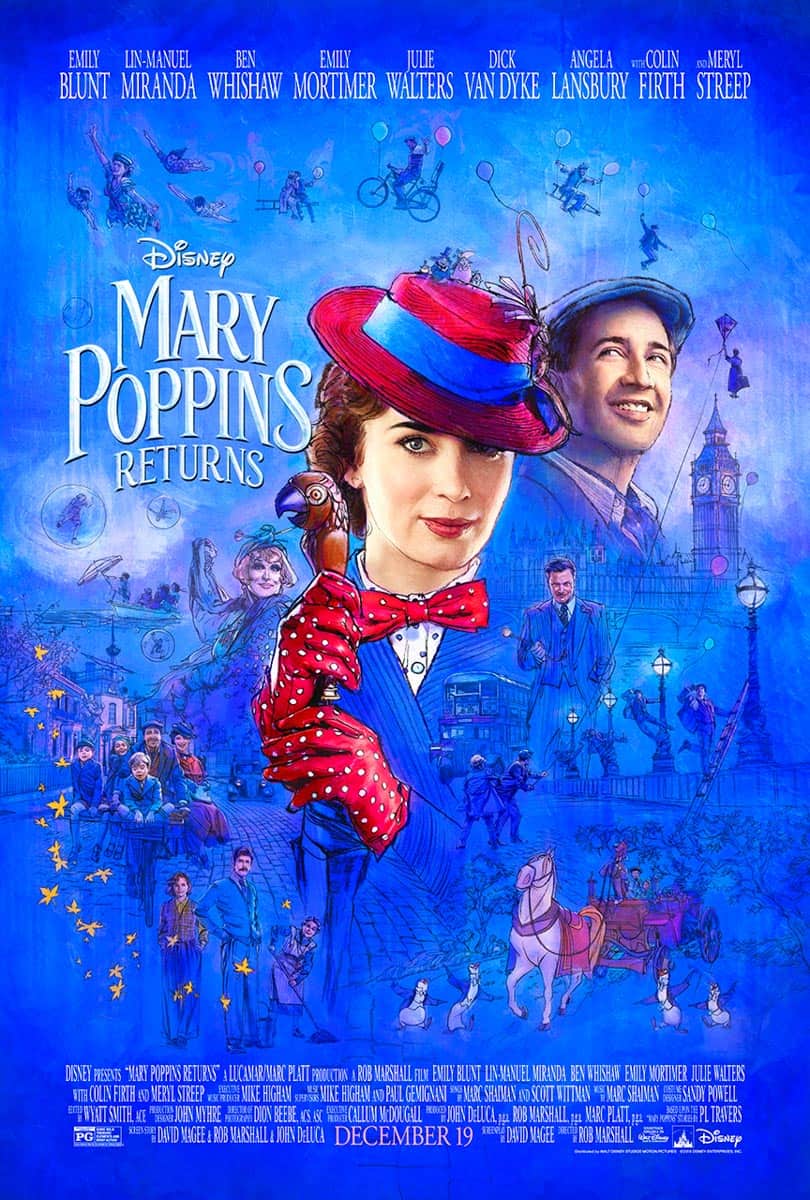 About Mary Poppins Returns
In Disney's "Mary Poppins Returns," an all new original musical and sequel, Mary Poppins is back to help the next generation of the Banks family find the joy and wonder missing in their lives following a personal loss.
Emily Blunt stars as the practically-perfect nanny with unique magical skills who can turn any ordinary task into an unforgettable, fantastic adventure and Lin-Manuel Miranda plays her friend Jack, an optimistic street lamplighter who helps bring light—and life—to the streets of London.
"Mary Poppins Returns" is directed by Rob Marshall and the screenplay is by David Magee. The screen story is by Magee & Rob Marshall & John DeLuca and it's based upon the Mary Poppins Stories written by PL Travers.
The producers are John DeLuca, p.g.a., Rob Marshall, p.g.a. and Marc Platt, p.g.a. with Callum McDougall serving as executive producer. The music score is by Marc Shaiman and the film features all new original songs with music by Shaiman and lyrics by Scott Wittman and Shaiman.
The film is set in 1930s Depression-era London, almost 25 years after the original Mary Poppins took place. The grown Michael Banks works for the same financial institution that employed his father. He still lives at 17 Cherry Tree Lane with his three children, Annabel, John and Georgie, along with Ellen, their housekeeper.
Jane Banks continues in her mother's honor as she campaigns for workers' rights and offers a helping hand to Michael's family.
When the Banks family suffers a personal loss, Mary Poppins magically returns to their lives. With Jack's help, she brings joy and wonder back into their home at Cherry Tree Lane.
The film also stars Ben Whishaw as Michael Banks; Emily Mortimer as Jane Banks; Julie Walters as Ellen; Pixie Davies, Nathanael Saleh and introducing Joel Dawson as the Banks' children, with Colin Firth as William Weatherall Wilkins; and Meryl Streep as Mary's cousin, Topsy. Angela Lansbury appears as the Balloon Lady, a treasured character from the PL Travers books and Dick Van Dyke appears as Mr. Dawes, Jr., a retired chairman of the bank that's now run by Firth's character.