Today we're sharing a brand new Erin Condren Trolls review! With stationery, school supplies, stickers and more This epic planner collection is for Trolls fans of all ages!
I'm a sucker for planning and organizational products. I've said before that actually using them is one of my big challenges, but I could explore, research and shop for them all day long!
And I have to say, Erin Condren makes some of the best planners and products out there! I just looked and my first Erin Condren Life Planner review back in 2011!
Since then, I've published an Erin Condren calendar review (a product that's not offered this year, but fingers crossed for the future) and a totally honest Erin Condren Deluxe Monthly Planner review. When the time comes, you'll also want to check out my Erin Condren Black Friday Sale details.
Today, I'm happy to share my thoughts on a whole collection of products. This Erin Condren Trolls review will show you a bunch of products I received to review, plus my thoughts on all of them.
All of the items reviewed today are featured in the all new Erin Condren Trolls collection! So grab some glitter, put your hair in the air and let's get this review started!
About Trolls
Chances are really good you know who and what Trolls are, especially considering the hit movies Trolls and Trolls World Tour.
There's also Trolls: The Beat Goes On on Netflix and Trollstopia on Hulu. But, just in case you're still learning about the little gang, here's a quick overview:
Trolls are colorful, happy little creatures who think singing, dancing and hugging are the best things in life. They live in Troll Village and solve problems with love, friendship and scrapbooking.
Fan favorite characters from Trolls include:
| | |
| --- | --- |
| Poppy | Queen of the trolls |
| Branch | A survivalist, also Poppy's best friend |
| Biggie | A big friendly troll with a pet worm |
| Cooper | A long-necked guy who plays the harmonica |
| Satin & Chenille | Stylish twins |
| Guy Diamond | Made of glitter with an autotune voice |
| Smidge | A small, super strong female with a deep voice |
PS: If you want to make a super fun shirt featuring Poppy, you can check out my how to bleach dye article for a free cut out and instructions for a super unique design.
About the Erin Condren Trolls Collection
The Erin Condren Trolls collection is a collaboration that only brings more color and happiness to your favorite Erin Condren products!
Designed to infuse brightness and light into your organization system, the new Trolls collection features new office products and school supplies for fans of Poppy, Branch and classic Good Luck Trolls.
There are all sorts of tried and true, favorite Erin Condren products in the collection, all reinvented with new designs and characters!
New Trolls Designs
There are three new designs or styles that tie the whole Trolls collection together. They are:
Trolls Friendship
Poppy Metallic
Good Luck Trolls
Here's a picture of the varieties: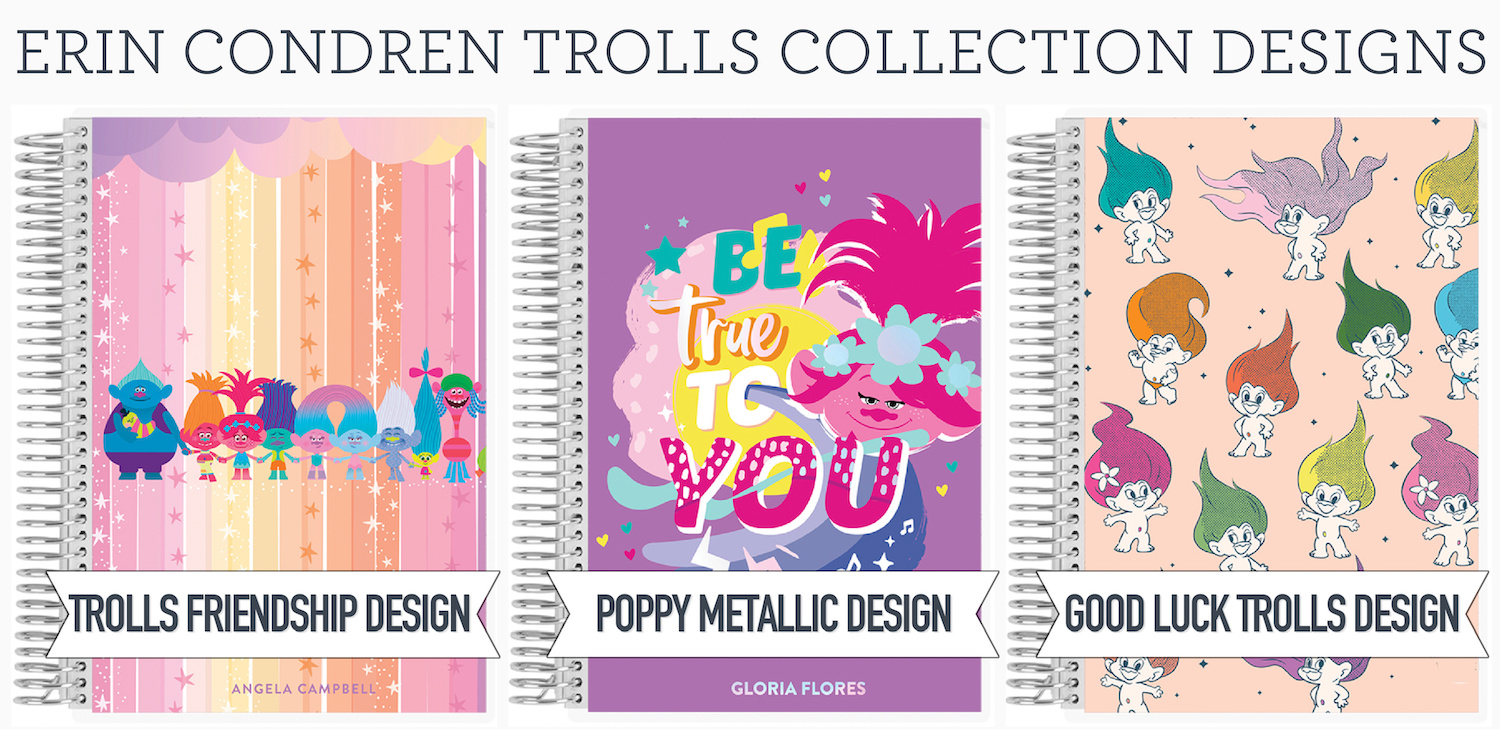 It's also important to note that, while the Trolls Friendship and Poppy Metallic designs can't be changed at all, the Good Luck Trolls Design comes in your choice of background color for all products!
I know I wouldn't have chosen that peach design if I'd had a choice, so here's a few different ideas for how you could choose your own style: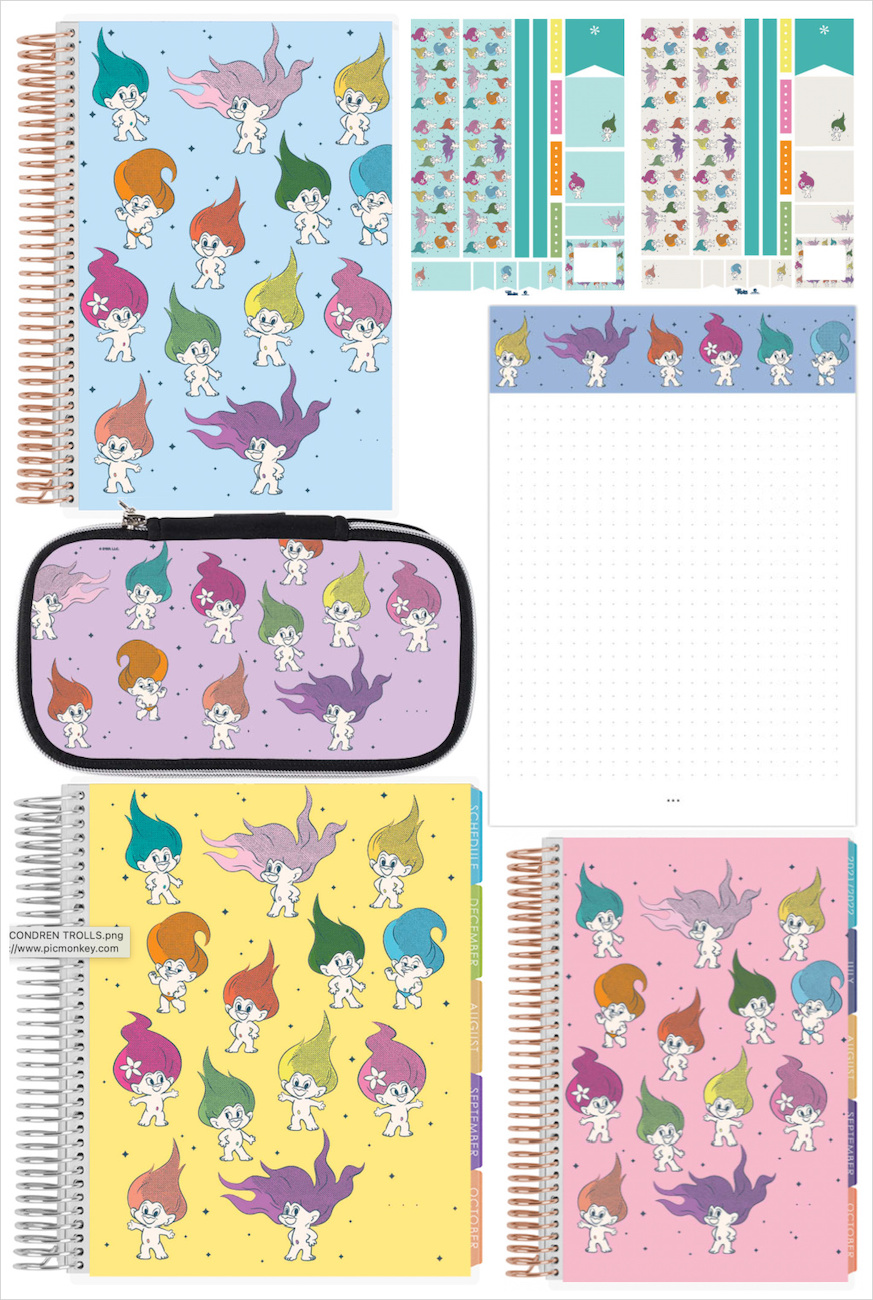 Products in the collection include:
All of these products are available in all three of the new Erin Condren Trolls designs unless noted.
| | |
| --- | --- |
| The Erin Condren LifePlanner | |
| A5 size Erin Condren Life Planner | |
| Monthly Planner | |
| Erin Condren Academic Planner | |
| 7×9 Notebook | |
| 8.5×11 Notebook | |
| Erin Condren Handwriting & Story Journal | |
| Pencil Case – only available in Good Luck Trolls design | |
| Sticker Sheets | |
| List Pads | |
| Notepads | |
Erin Condren Trolls Review
I was thrilled with the variety of items I received from the Erin Condren Trolls collection!
Here's what was in my big surprise box:
The Erin Condren LifePlanner with hourly layout in Good Luck Trolls
Erin Condren Kids Handwriting and Story Journal in Trolls Friendship
7 x 9 notebook in Trolls Poppy Metallic
Pencil case in Good Luck Trolls
Two lined notepads in Trolls Poppy
The Erin Condren Trolls Kids Creativity Bundle with the following items:
Trolls Friendship Kids Handwriting Story Notebook
Colorful Twistable Crayons
Trolls Friendship Sticker Sheet
Rainbow Accordion Zipper Pouch
You can watch a video of my daughter, Piper, and I unboxing the Erin Condren Trolls haul here:
We thought the whole package was pretty awesome, and there really wasn't anything we didn't like. At the same time, there were some standout items that really grabbed out attention.
The first was the LifePlanner with the hourly layout. The stickers, the planning spread that covered every hour and the cute design made it one of our favorites.
The next was the Handwriting and Story Journal. As soon as I saw it I knew my 6 year old niece would go crazy for it.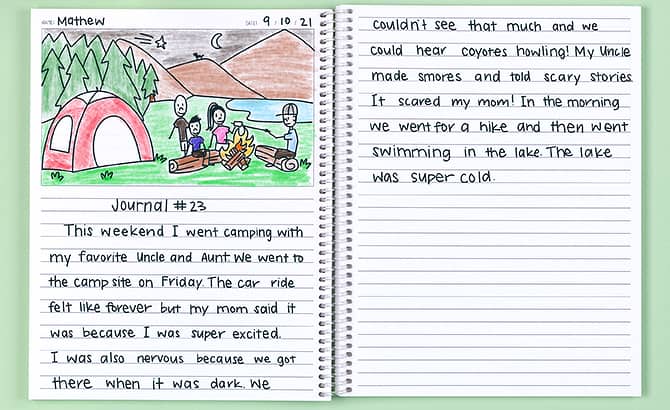 The fun Trolls design would catch any kid's eye. The big pages with clear, bold handwriting lines and a sizable space to draw are also close to perfect.
I know that girl will be making up illustrated stories as soon as she gets her hands on this unique notebook.
Finally, (as you can see in the video!) we're both in love with the Rainbow Accordion Zipper Pouch. I mean…
It's colorful, fun and creative…just like Trolls!
Overall, both my daughter and I are super excited about receiving and reviewing so many items from the Erin Condren Trolls collection. It's all amazing Erin Condren products that you know, with a fun and colorful Trolls twist!