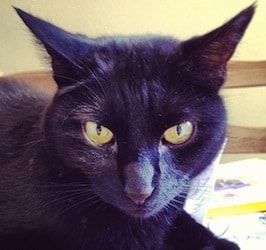 Cats have a special relationship with their owners, and my own relationship with my kitties is no exception! From how we came to own our cats to how they greet us and acknowledge our presence, we now have a place to share the unique, once-in-a-lifetime events and everyday moments that make our cat/owner relationships unique.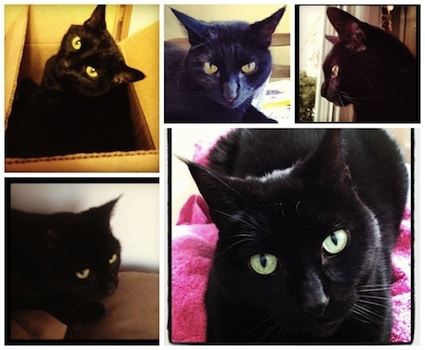 I have two cats, Belle and Nova. If I were to describe their personalities in a quick statement, I'd say that Belle is calculating and mean, while Nova is needy and mean. Regardless, I love my kitties–they're mine and I love caring for them.
Belle accepts love and affection when she wants it. It's rare for her to wind herself around my ankles, nuzzle me or sit on my lap. There are times, however, when I can pet her, rub behind her ears and make her purr like a running motor.
Other times, however, I know I should not get in her way. She's been known to chase me, and she doesn't back down when I want her to back  away from an open door or an unsafe situation. Most of the time, she stands her ground so firmly I'm afraid she's going to jump at me and sink her teeth into me! Those are the times that I let her have her way.
Nova is a sweet, affectionate cat. With my husband and me. No one else can get close to her without her hissing and batting at them. When she's on her own with just me, she likes to sit in my lap or right alongside me. She even lays across my workspace while I'm busy typing away for this website!
Nova sleeps on our bed every night, and she's relentlessly affectionate if she gets the slightest indication that she's in the wrong spot. If I try to scoot her over to make more room for my legs, she often lays on my chest, then my husband's chest, then my chest, and back and forth, making me with wish I had just lived with my limited space!

Every cat has a story, and Purina Cat Chow is committed to telling and highlighting the real stories of everyday cat owners. Purina recently released a new national television commercial campaign inspired by stories of real cat owners.  Those cat owners and their cats are even featured on new Purina Cat Chow packages!
Even better, The Purina Cat Chow Real Stories Project is looking for cat stories!
The Purina Cat Chow Real Stories Project is a nationwide search to find, showcase and celebrate cat stories that highlight the special relationships between cat people and their cats, as well as the many ways our cats are always there for us.

Purina Cat Chow is asking you to share your story for an opportunity to be one of five grand prize winners who will each receive a $5,000 cash prize, a one year supply of Purina® Cat Chow® brand cat food for one cat, and have their cat relationship story told through a Purina Cat Chow brand online video.

Purina Cat Chow will also recognize the stories of five runners-up with a $1,000 cash prize each and one year supply of Purina® Cat Chow® brand cat food for one cat. In addition, 40 stories will receive an honorable mention and a $100 gift card. The Contest will award more than $30,000 in prizes.
It's easy to enter the contest: just visit YourCatStory.com by July 31st and submit your cat relationship story. 
Want to read another great story about cats and their owner? Visit Thrifty Jinxy and read her cat story!
Purina® Cat Chow® partnered with bloggers such as me to help educate us all about their Real Stories Project. As part of this program, I received compensation for my time. They did not tell me what to say. Purina Cat Chow believes that consumers and bloggers are free to form their own opinions and share them in their own words. Purina Cat Chow's policies align with WOMMA Ethics Code, FTC guidelines and social media engagement recommendations.