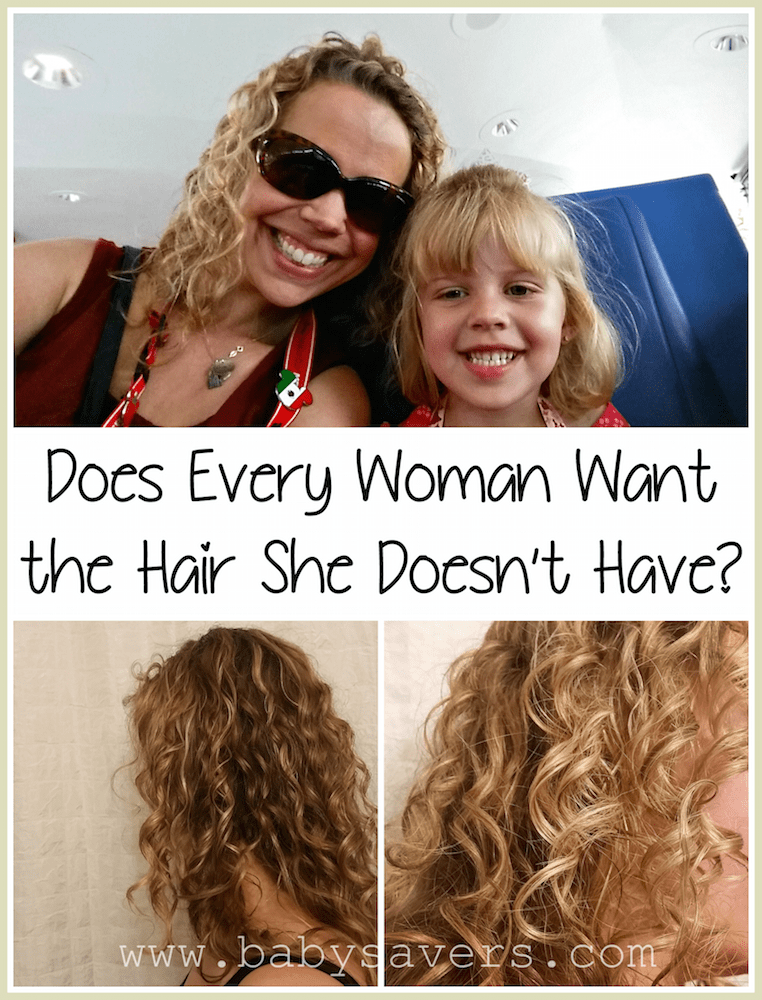 I have more interesting hair articles here!
I'm convinced that almost every woman wants the hair they don't have. That's why I've become really, really good at pretending my hair is straight and blond, instead of the crazy curly but boring brown mop that it actually is.
I'll start with the color. I recently heard the expression, In Minnesota, if you're born blond, you'll stay blond. Considering I'm a Minnesota mom blogger who was born blond, that definitely holds true for me!
I have no regrets about regularly highlighting my hair to keep it lighter than nature intended it to be. Messing with my curls, however, is a different story.
I think I speak for all naturally curly-haired ladies when I say I've been told four billion times, "I wish I had your curly hair!"
When I hear that, I can only think, all I've ever wanted is to have straight hair! 
This is my hair in its naturally curly (but not naturally brown!) state: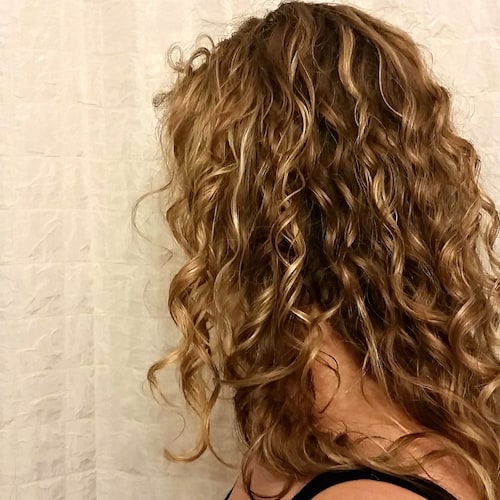 If it looked like this or any of the pictures in the top photo every day, I don't think I'd have issues with my hair.
The problem is that, on any given day, there's no way to know what my hair will look like until product has been applied, scrunching has been done, time has passed and most of the strands are dry.
That means that I won't know if I'm having one of those "good hair days" or even a decent hair day until it's too late to do anything else with it.
Since I clearly don't like how much time and effort it takes to maybe make my curly hair look good, I tend to straighten it with some products, a hair dryer, and a flat iron. It definitely still takes a lot of work, but I have much more confidence in how it will end up looking.
That's why I'm sporting straight hair in almost every picture of me on this site: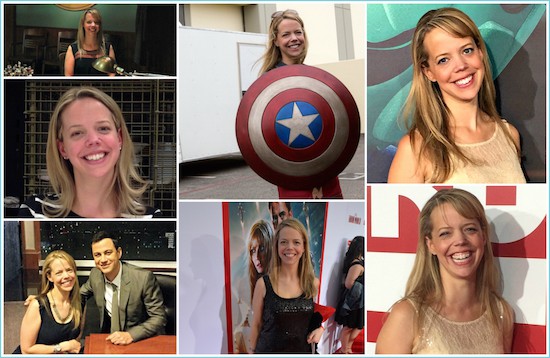 Long story short, I like my hair straight. I wish it could just be straight all the time. Because of that, I've tried to permanently straighten my hair twice in my life.
The first time I tried to have straight hair all the time I had my sister and my best friend use an at-home Ogilvie straightener kit.
Even though it was at least 10 years ago I can still remember what a disaster it was.
After the home straightening treatment my hair was so fried I had to have at least 6 inches cut off. My hair was a mess of wavy strands, straight locks and curly pieces. All this did was result in me spending way too much time trying to make my hair look okay until the treatment grew out.
The second time I tried to permanently straighten my hair was a few years ago when I tried a professional Brazilian Blowout treatment. I bought a voucher for the service through Groupon so I didn't pay close to the standard price (thank goodness!). But I have to say that, AFTER the blowout my hair looked an awful lot like the before pictures that were hanging up in the salon!
After all that, I've decided to stick to my normal routine when it comes to my hair. The curls can be unpredictable and straightening it with a flatiron can be time consuming, but at least I won't be stuck with a mess I can't do anything with!
Disclosure: This is a paid post for Verizon's #SwitchersRemorse fun campaign.  If you switched away from Verizon and are regretting it, don't worry. They're making it easy for customers to come back. For more information, head over to your local Verizon store or check out the details on Verizon's website.