Is your hair dry, damaged or dehydrated? Is it curly or oily? Everyone's locks could use some special treatment, and these amazing DIY hair mask recipes are the perfect way to treat your hair!
I was braiding my hair recently and I was struck by how thin and brittle the ends were. I think I've gotten used to fixing my daughter's perfect, never-bleached, never heat-styled hair!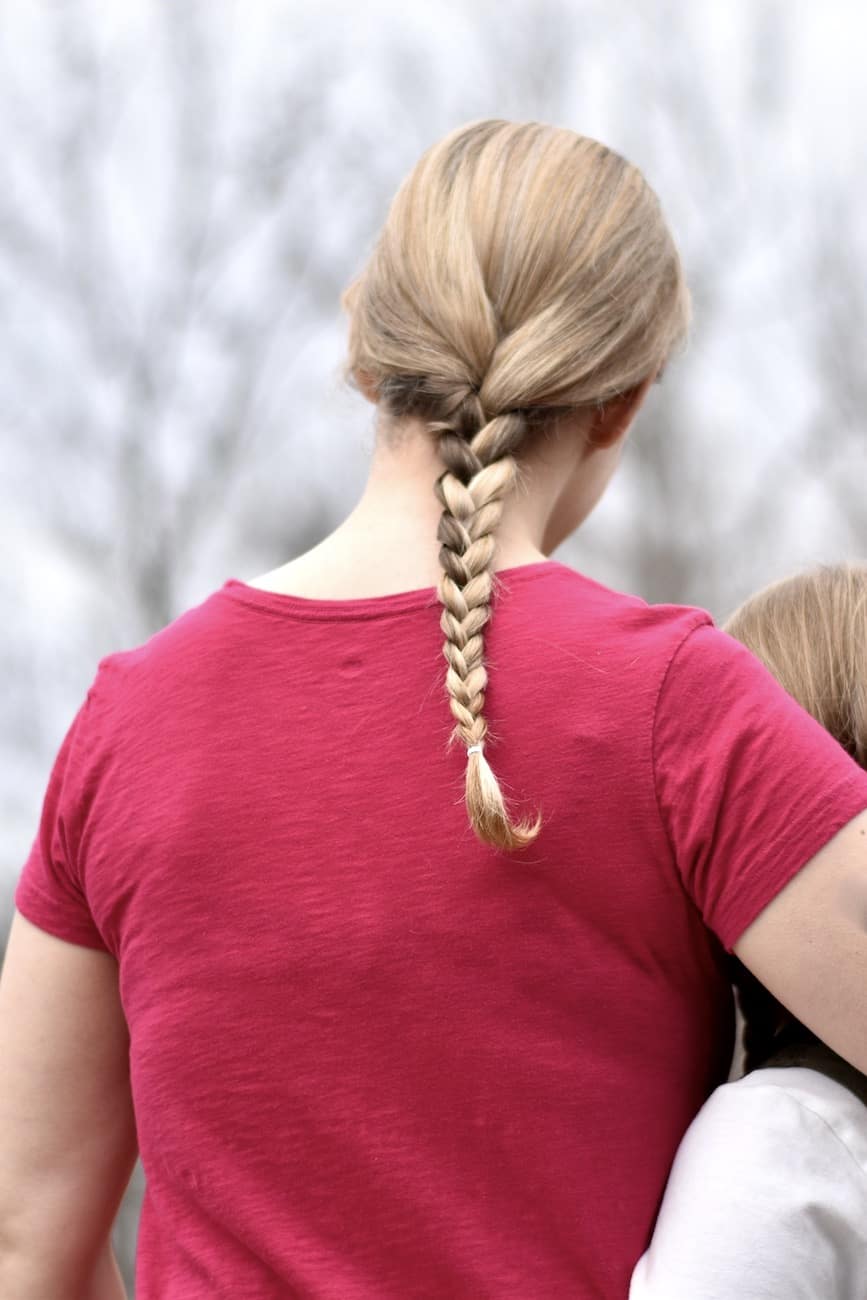 I knew it had been way too long since my last trim, but I was still really surprised at how dry and fragile the ends felt.
You can't see it in the first picture, but my hair is naturally curly, porous and very prone to dryness. But I never knew why it ended up so dry until I did some research.
When I went looking and found a list of all the ways hair can become damaged, I was seriously surprised.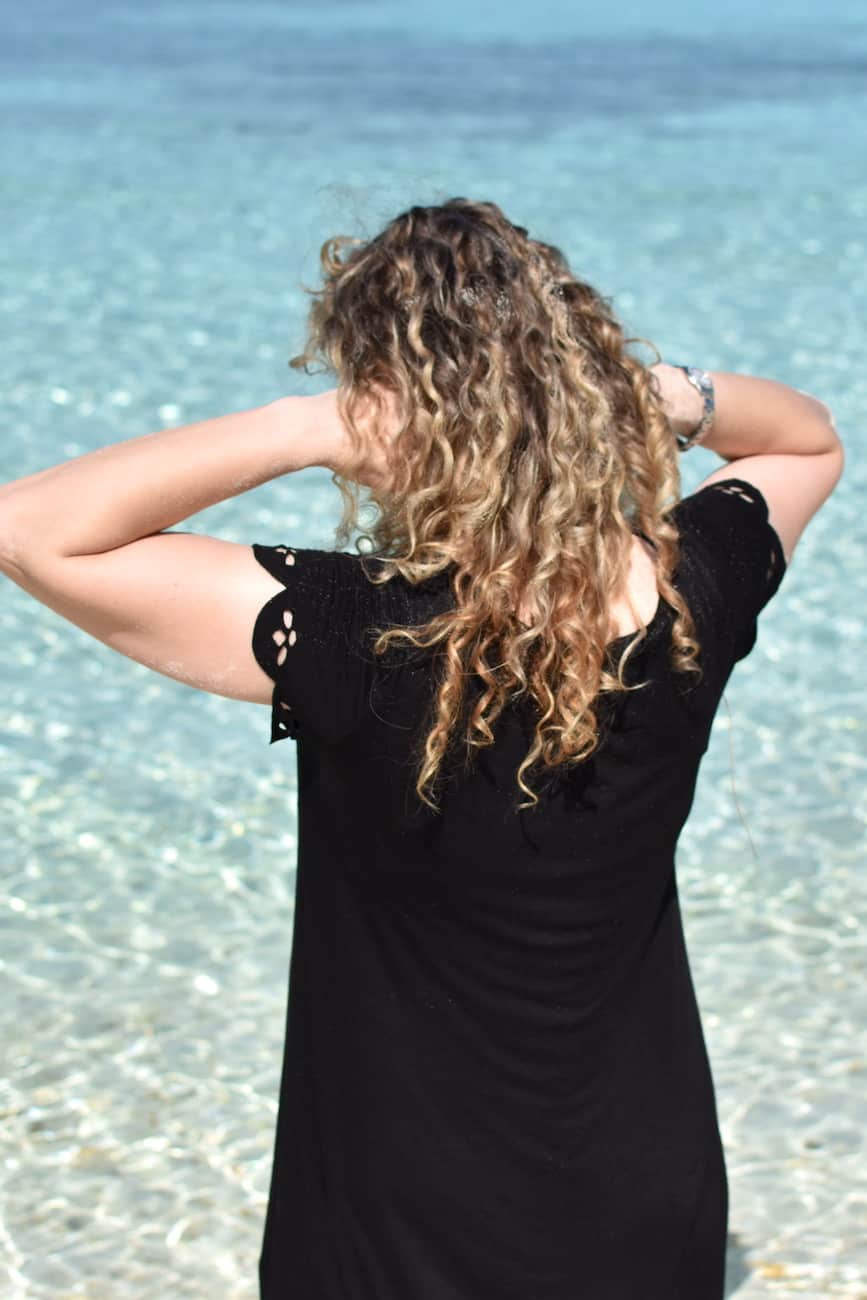 I mean, I know the obvious ones: dying, bleaching, heat styling, blow-drying and products are the big offenders in my life, but there are so many others.
FYI, the right hair color will do minimal damage to your hair? Read my Madison Reed review to learn about the best home hair dye!
Did you know that hair ties, cold weather, air pollution, and water that's too hard or too soft can also destroy your hair?
While trimming the ends is the most efficient way to get rid of damaged hair forever, there are a few things you can try first before you decide to schedule a trip to the salon.
You can make your own DIY hair masks at home using everyday ingredients such as honey, coconut oil, and avocado. When you use them right, they're like magic potions for your hair! That's because the right combination of ingredients will go a long way toward healing your hair, and they'll also make your locks healthier.
If you're interested in more homemade hair product recipes, you definitely need to make my DIY hair gel for curly hair and my DIY hair detangler!
So, check out these DIY hair mask recipes and get ready to lather away that dehydrated, brittle and damaged hair forever!
Is your hair damaged?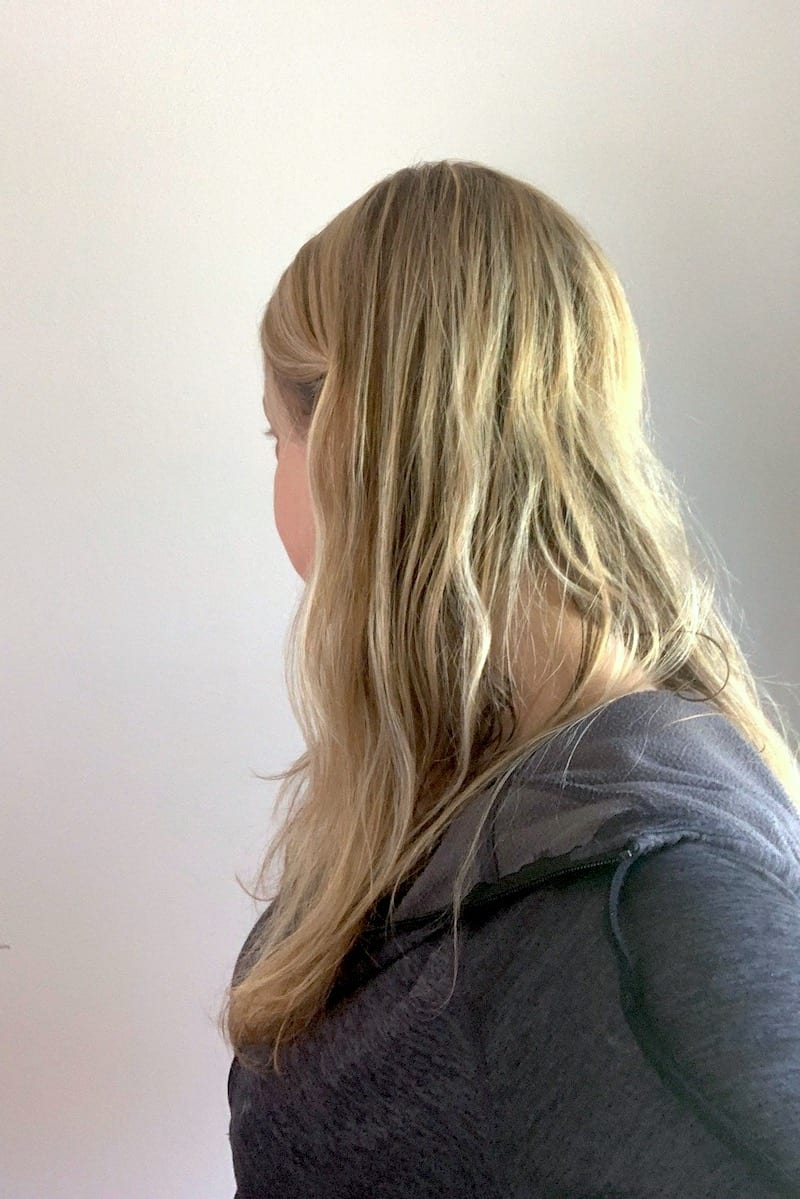 TIt's sometimes hard to know if dry hair is just dry or if it needs serious help. There are several ways to see if your hair is damaged. Here are a few:
Stretch your hair: According to Martha Stewart, you should stretch your hair to test it. When your hair is wet, hold an individual hair at the middle and gently pull the end. If it stretches, then returns to the original length your hair is in good shape. If it pulls but doesn't bounce back, your hair has lost elasticity and a hair mask will help restore it. If it breaks, your hair is damaged.
Test your tangles: If your hair starts becoming tangled when wet when you're usually able to comb or brush through it, your hair's cuticle has likely been damaged. Many of these masks will help smooth the cuticle down.
Do the touch test (recommended by L'oreal): Hold a one-inch section of hair between two fingers and gently pull them down your hair all the way to the ends. Healthy, moisturized hair feels smooth all the way to the ends. Uneven, rough or coarse sections are signs of damaged hair.
If your hair is damaged, never fear! The first step is to get a trim to snip off the ends. That's usually where the worst of it is. You should also use DIY hair masks to help get your healthy hair back on track.
All the Homemade Hair Mask Recipes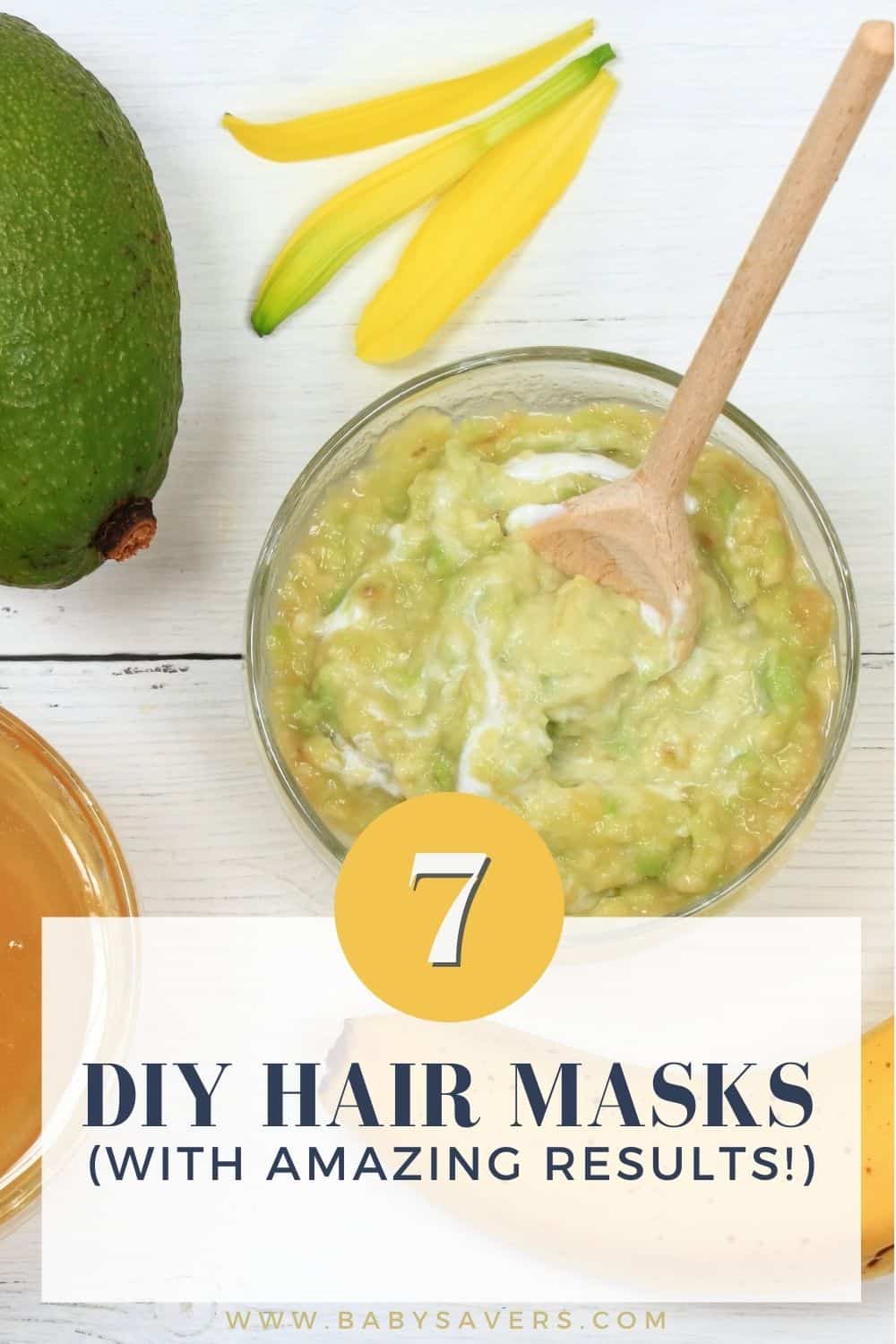 Banana and Olive Oil Hair Mask
A combination of bananas and olive oil in this DIY hair mask recipe will revamp your hair!
Bananas are rich in vitamins and minerals like potassium that can strengthen your hair. They'll even balance the pH in your scalp.
Bananas are a great way to hydrate and moisturize your dry, damaged, and brittle hair. They leave an amazing aroma too!
The other ingredient in this recipe, olive oil, is rich in vitamin E and healthy fats. They can make your hair sleek and shiny.
Olive oil also provides moisture to your scalp and has the power to heal the damage that will otherwise lead to split ends and breakage.
In addition to the rest of the amazing benefits, this combination is a great DIY hair mask for hair growth.
Here's what you need to make this moisturizing homemade hair mask:
Ingredients:
1 ripe banana
1 tablespoon extra virgin olive oil
Instructions:
Mash the banana with a fork until it has a pureed consistency.
Add the olive oil and blend until smooth.
Apply the homemade mask with your fingers to wet hair. Rub it into your scalp and massage it down to the ends. detangle strands with your fingers as you coat them with the mask.
Let the DIY mask penetrate your hair for 15 minutes and then rinse.Wash as usual.
Coconut Milk and Avocado Hair Mask
Avocado is a restorative miracle worker that can reverse damage caused by overexposure to harsh chemicals and heat. Plus, it helps keep frizzy hair under control.
Honey and coconut milk go great with avocado! Once you combine all three and apply them to your hair, you'll notice that your locks are silkier and more hydrated than ever.
If you're looking for a DIY hair mask for curly hair, this is the recipe for you! This one also encourages hair growth.
Here's what you'll need to make the coconut milk and avocado mask:
Ingredients:
1 tablespoon honey
3 tablespoons unsweetened coconut milk 
1/2 avocado
Instructions:
Combine the coconut milk, avocado, and honey in a blender.
Add an extra tablespoon of coconut milk if the mixture isn't thin enough.
Wet your hair and comb the mask from the roots to the tips of your hair.
Cover your hair with a plastic shower cap, then wrap it in a warm towel.
Let the mask sit for 30 minutes, then rinse until the water runs clear.
Honey, Egg, and Apple Cider Vinegar Hair Mask Recipe
If your hair is practically begging you for a drink of water, then you need to try this rehydrating hair mask with honey, egg, and apple cider vinegar.
The combination of these ingredients provides nourishment and hydration to your otherwise dry hair without weighing it down.
If you have long hair, you'll probably need to double this recipe.
Honey, Raw Egg and Apple Cider Vinegar Hair Mask Ingredients
2 teaspoons raw honey
1 egg, lightly beaten
1 tablespoon apple cider vinegar
Instructions:
Combine all the ingredients in a bowl and mix them by hand.
Apply the mixture to dry hair.
Leave it on for about 40 minutes to an hour and then wash your hair as you'd normally do
Honey, Apple Cider Vinegar, and Coconut Oil Hair Mask
Your hair always looks better when it's flowy, shiny, and lightweight.
If your hair is losing its bounce and shine, you can its glossiness with this honey, apple cider vinegar and coconut oil mask.
Ingredients:
3 tablespoons raw organic honey (but regular honey works too)
2 tablespoons apple cider vinegar
2 tablespoons coconut oil
Instructions:
Blend the honey, apple cider vinegar, and coconut oil in a bowl
Apply the mixture to your damp hair
Leave it on for about 30 minutes
Rinse thoroughly then shampoo your hair and scalp as you usually would.
Avocado, Egg, and Olive Oil Hair Mask
We tend to underestimate the amount of damage styling tools, hair dye, and products can do to your hair. But you can completely transform your hair with this amazing avocado, egg, and olive oil mask.
This mask works because it contains lots of omega-3 fatty acids that strengthen hair. It will also give it a natural shine. It's full of antioxidants which help get rid of free radicals.
The avocado in this mask will moisturize your scalp while moisturizing your hair.
This is an amazing DIY hyair mask fro frizzy hair, because the natural oils in the avocado and egg will help smooth and tame your hair.
Ingredients:
1 whole avocado, peeled, pitted and cubed
1 egg yolk
1 tablespoon of olive oil
4 teaspoons of honey
Instructions:
Mash the avocado with a fork, then mix with the rest of the hair mask ingredients in a bowl.
Apply it to your wet hair using your fingertips, coating from the root to the tips.
Wrap your hair into a bun and cover it with a shower cap
Set your hairdryer to low heat and low power, and heat your shower cap-covered hair for 5 minutes to activate the ingredients.
Let the mask sit on your hair for 20 to 30 minutes, then rinse in the shower as usual
Coconut Milk, Honey, Rosemary, and Castor Oil Mask
This is a great overnight hair mask! The longer you leave it in, the better it will work.
For years, hair enthusiasts have relied on the power of coconut milk to prevent hair loss, get rid of dandruff, and moisturize dry and damaged hair.
The honey in this mask acts as a natural moisturizer and adds shine to dull hair and dry strands. The castor oil contains omega-6 fatty acids and ricinoleic acid, which improves blood circulation when massaged on the scalp.
Rosemary oil is an essential oil that has been known to prevent premature graying, It can also prevent hair follicles from dying off from lack of blood supply.
Try using this homemade hair mask for damaged hair and split ends. If you love the texture of your hair after the first time, start using it once a week.
Ingredients:
1/2 cup full fat coconut milk
3 tablespoons of regular or raw honey
5 drops rosemary essential oil
2 tablespoons castor oil
Instructions:
Mix the coconut milk, honey, rosemary and castor oil in a bowl with a whisk until the mixture is smooth and easy to spread.
Apply the DIY mask to your scalp and hair with your hands and comb it through with a wide tooth comb. Put on a shower cap and keep the mask on for at least an hour. Overnight is even better.
Rinse your hair well, using your fingertips to scrub your scalp. Follow with shampoo and conditioner.
DIY Hair Mask for Oily Hair
The lemon juice in this homemade hair mask recipe will cut through the oil in your hair and scalp, while the honey, egg yolk and aloe vera gel penetrate the hair shaft adding strength and shine.
Ingredients:
1 tablespoon lemon juice
2 teaspoons honey
1 egg yolk
1 tablespoon aloe vera gel
Directions
Whisk the egg yolk until smooth, then whisk in the lemon, honey and aloe vera gel.
Apply the mixture to your scalp. Lightly smooth any leftover mask down your hair. let it set for 20 minutes.
Rinse with lukewarm water until the water runs clear. Follow with your usual shampoo and conditioner routine.