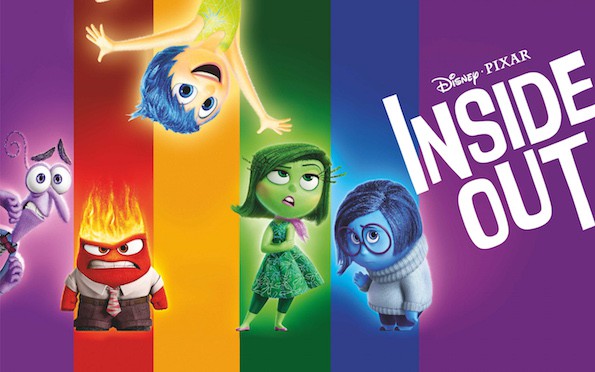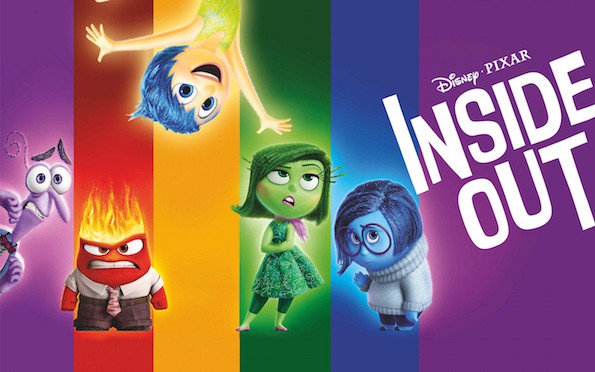 You may have heard that Disney-Pixar's Inside Out is arriving on Blu-ray and DVD combo pack on November 3rd, but did you know that Inside Out is available on Digital HD and Disney Movies Anywhere NOW? Watch it today!
Even if you haven't seen Disney-Pixar's Inside Out, you probably know that there are so many fun characters. Joy lights up the screen, and Anger and Fear are so over-the-top you can't help but laugh.
But if you've seen Inside Out, you know that Sadness and Bing Bong are unexpected, yet absolutely unforgettable characters.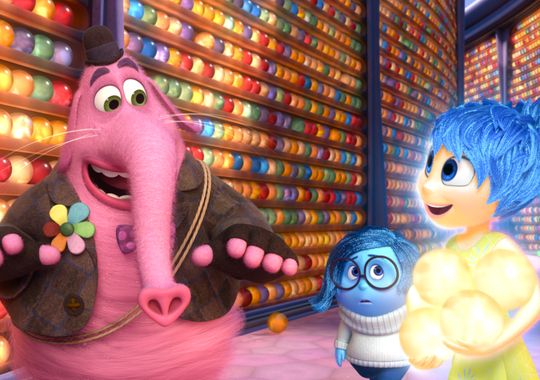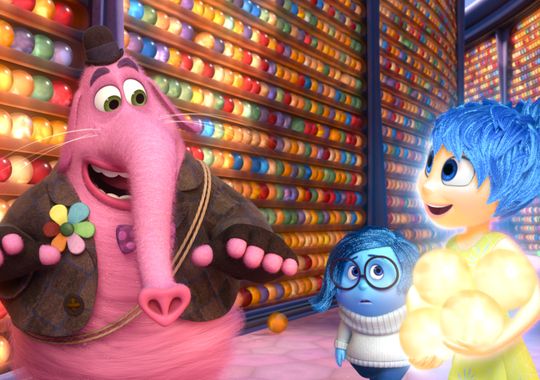 In my opinion, they're two of the sweetest characters Pixar has ever created, and they're remarkable for a number of reasons.
A few weeks ago, I was in San Francisco on an epic Disney press trip for the in-home release of Inside Out, the upcoming release of Disney-Pixar's The Good Dinosaur and the efforts Miles from Tomorrowland is making to encourage more girls to explore STEM fields.
The press trip gave me the honor of sitting down with Phyllis Smith (the voice of Sadness) and Richard Kind (the voice of Bing Bong) to talk about their roles in Inside Out.
The interview session got off to a hilarious start. 25 bloggers were poised to snap a photo when Richard Kind and Phyllis Smith walked into the room.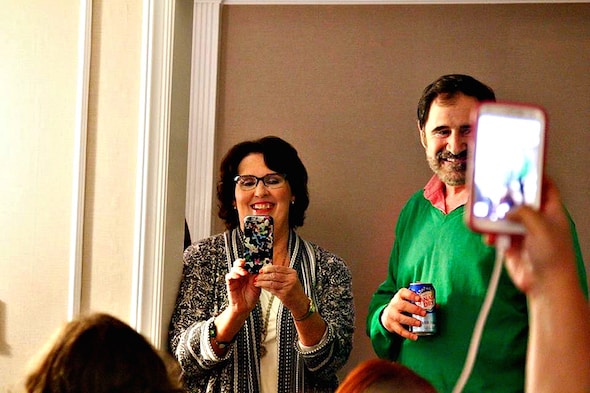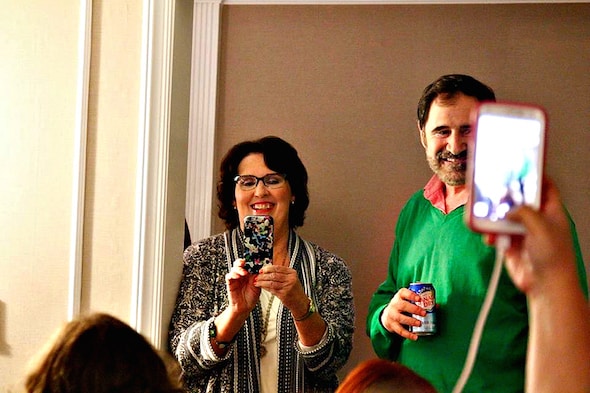 Instead, Phyllis Smith had her phone out and was taking our picture as she walked in! She looked so genuinely pleased, happy and sweet from the start, it was impossible not to love her! (Thanks to MamaLatinaTips.com for sharing her picture with me!)
The interview just got better and better from that point on!
Were you surprised at the popularity of your characters?
Phyllis Smith (PS): I've seen [Inside Out] a couple of times. I don't really know how popular it is, to be honest.
Richard Kind (RK): How popular your character is?
PS: Yeah, because…
RK: All right, I'll tell you. It's popular.
PS: I saw it in St. Louis and just one or two people came up to me. I'm just in a little vacuum. I don't really know how it is. I'm glad that people are enjoying it. Every time I make somebody cry I go, "YES!" [laughing]
RK: First of all, I'm not at all surprised at how popular Phyllis' character is. It's a perfect voice performance and a perfectly written part by these guys. It's such a touchy character. No one wants to be sad, yet we identify with it. 
I'm taken by your performance; although it's down in the dumps, it's not depressive. It's simply said. I think that's an amazing thing that they and you did. 
PS: I, in turn, loved your character [Bing Bong]. The heart of that character is everywhere.
RK: To be honest, I agree with you. I loved Bing Bong. I really did. 
How were you able to stay in character?
PS: I can honestly say I didn't sit in the car and think of horrible thingsor anything before I went in. I just really tried to be truthful with whatever the line or the scene that we were doing. 
Pete Docter is such a wonderful director. If I wasn't at a point where he wanted me to be, he was able to give really clear direction. I just tried to say the line as truthful as I could. 
RK: One thing Pete [Docter] is especially good at when he directs is he's charming. He says, "Wow, that's fantastic. Look what you brought to the table." Ronnie was the same way. I think that's their personalities because I don't think they were trained as actors and directors. I think it's just inherent in their genetics. 
PS: Yeah, they have heart along with all of their knowledge. They've been doing it so long. They just know what they want, and they know how to glean that from the actors without making it seem like you're a total failure. 
RK: Right. There's a thing called Minnesota Nice where they smile at your face but underneath they're not smiling. 
PS: [To ME!!!] Is that you?
RK: Forgive me, it's an expression. It's not a condemnation. But these guys truly smile. I don't think there's anything negative. That's the type of people they are. 
What were your favorite scenes? 
PS: Oh wow, there were so many. I think [Bing Bong] just steals it when he says, "I have a good feeling about this."
RK: Oh, it kills me. Look, I believe that scene was about 40 seconds longer when I saw it. 
PS: I do too. The first time we saw it.
RK: So it was a little longer. I think they had to cut it down because it was just too much. It still hits home. 
What part of yourself went into your character? 
RK: Certainly my energy. I can be loud. I think I'm more animated off stage than I am on stage. 
I happen to think that I'm a nice man. I live my life with morality and ehtics. I'm more positive than I'm negative. I think Bing Bong is free of negativity. There's a purity to that guy. 
I like to tap into it. I can't say I do it in my life because I'm not that good of a person. But I loved the heart. I appreciated all of that. I knew what I had to deliver.
[To Phyllis Smith] How did you get your start?
PS: By God's grace. I say that honestly. I had been a dancer and I had an injury. So my career as a dancer was at the end of its life. I needed to work…and I ended as a receptionist, then in casting for 19 years. 
I worked in casting for really lovely, good casting directors. Then "The Office" came along. I was working for Allison Jones. 
We were doing the second day of pairing the leads up in the casting process. And the director of the pilot had me read the character of Pam.
I had read with thousands–I mean thousands–of actors over those 19 years. When he asked me about reading the Pam character, I went in and read. They didn't tell me they were auditioning me. 
I supposed I was honing a craft all those years that I didn't know I was honing because I was reading with actors and knowing what worked and didn't work. 
In all seriousness, I think God knew the inner desires of my heart and allowed me to have a new career in my older age. 
What message to you hope people take away from your character?
RK: I have to admit, I don't. I can't answer it. I don't do that. I just interpret.
All in all, it's no surprise that Richard Kind was nothing but gregarious and engaging. He's been entertaining for so long, and it was a thrill to meet him!
But Phyllis Smith…she was just the best! I don't know if there's a nicer person out there, and I want her to be my aunt or my neighbor. I'd love to hear her opinion on everything in the world, along with all of her stories about working in the entertainment business!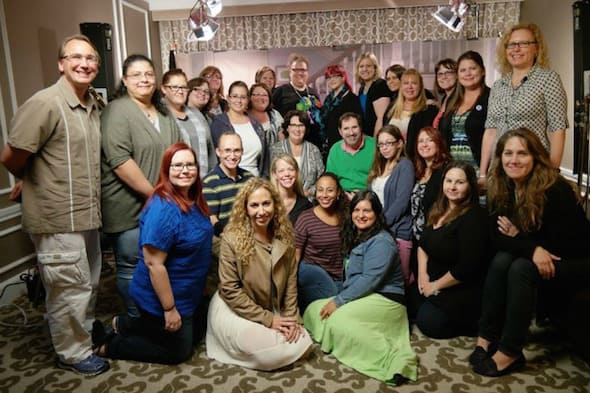 These two made Inside Out even more special for me, and I can't wait to watch it at home!
About Inside Out:

Do you ever look at someone and wonder what's going on inside their head? Disney-Pixar's "Inside Out" takes an exciting and hilarious journey into the mind to find the answer.

Based in Headquarters, the control center of 11-year-old Riley's mind, five emotions are hard at work, led by lighthearted optimist Joy.

She strives to make sure Riley stays happy as she operates alongside fellow emotions Fear, Anger, Disgust and Sadness.

It's "an instant classic," raves Richard Roeper, Chicago Sun-Times.

Experience it like never before on Disney Blu-ray!
If you've never seen Inside Out check out the official Inside Out trailer. Be prepared, you're going to want to see the whole movie after watching it!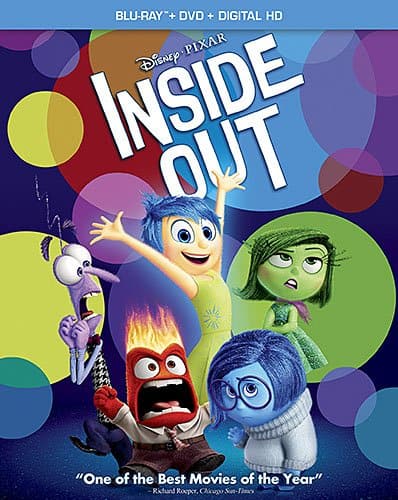 Buy Inside Out on Digital HD and watch it today, or pre-order the Blu-Ray DVD combo and have it delivered on its release date!