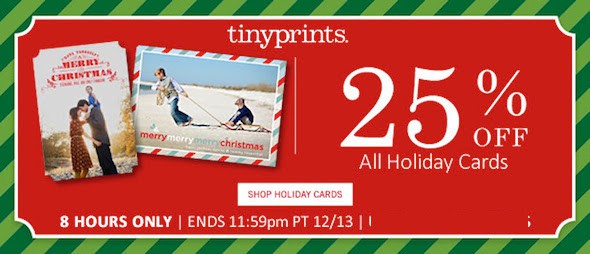 I'm loving these Tiny Prints flash sales, and I think tonight's sale is the best one so far, especially since it's not too late to get your customized holiday cards!
Starting at 4pm Pacific Time (that's 7pm Eastern time, 6pm CST) today and ending at 11:59pm PT, you'll save 25% on ALL holiday cards AND get FREE SHIPPING when you use a special Tinyprints.com promo code that will be released just before the sale starts.

I love that Tiny Prints is not only still offering to get you your holiday cards on time, they're actually offering them to you at a discount with FREE shipping! Even better, Tiny Prints produces high quality products that everyone seems to love, so you're sure to find something you like!
Be sure to order up your holiday cards tonight to get in on this great deal! Check back here at 4pm PST (or a few minutes before) to get the promo code.