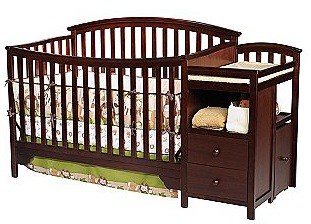 Kmart's Baby Sale starts today and runs through 10/31. Almost all in-ad baby items are available online. Make it easy on yourself and order your items online, then have them shipped to your local store free of charge! Plus, you can save $10 on orders of $60 or more with Kmart.com promo code OCT4SAVINGS. 
Here are the deals found in this week's ad:
Disney walker was $50, NOW it's $35
Disney bouncer was $40, NOW it's $29
Disney diaper bag was $15, NOW it's $12
Disney stroller/car seat travel system was $140, NOW it's $119
Eclipse 4-in-1 crib was $250, NOW it's $199
Houston Crib & Changer set was $250, NOW it's $199
Toddler's character furniture in Dora the Explorer, Disney Princess, Disney Cars and Sesame Street are on sale buy 1, get 1 50% off
The Tender Vibes bassinet was $60, NOW it's $49
Character layette items are buy 1, get 1 50% off.
Baby gates are buy 1, get 1 50% off.
Pronto high-back booster car seat was $35, NOW it's $25
After you've taken a look at those specific items that are mentioned in the ad, keep in mind that the following categories are also on sale:
Baby gear
Diaper bags
Toddler bedding
Toddler furniture accessories
Other infant furniture, bedding and crib mattresses
Other car seats
I have a feeling that everything will be on sale if I walk into the Kmart baby department this week!